"We Are Ready": Dangote Refinery Announces New Take-Off Date After Missing August Deadline
A new report has revealed that Dangote Refinery has set a new date to begin operations after missing the initial date
The refinery located in Lagos was expected to begin production in August 2023 after being commissioned by former president Muhammadu Buhari
Dangote Refinery would produce 650,000 barrels of refined crude products per day, giving it the potential to address Nigeria's importation challenges
Dangote Refinery has announced that it is set to finally commence refining operations by October 2023.
This was disclosed by Dangote Group's Executive Director Devakumar Edwin, who is overseeing the project.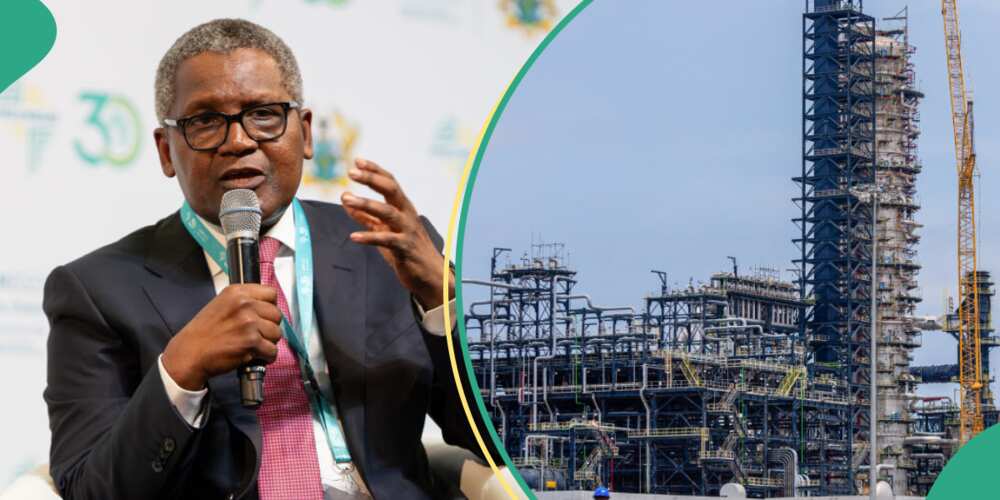 Edwin told S&P Global Commodity Insights that the refinery expects to receive its first shipment of crude oil within two weeks, and production would begin after that.
He detailed that the first output of up to 370,000 barrels per day (b/d) will be diesel and jet fuel in October, while petrol refining will commence by November 2023.
Edwin declared:
"We are ready to receive crude right now. We are just awaiting the arrival of the first vessel, and the moment it docks, we can commence operations."
Dangote Refinery Project
The Dangote Refinery has a capacity of 650,000 barrels per day, and many Nigerians, including the federal government, hope it will end Nigeria's dependency on imported refined petroleum products.
Experts have also stressed that the refinery has the potential to position Nigeria as an exporter, especially to African countries.
However, there have been doubts over the refinery in recent months due to repeated delays and missed deadlines.
On May 22, 2023, when former President Muhammadu Buhari commissioned the project, the Chairman of Dangote Group, Aliko Dangote, promised the refinery would commence operations by late July or early August.
Dangote speaks on benefits of his refinery to Nigeria's economy
Meanwhile, in another report, Aliko Dangote spoke on the positive impact of his new oil refinery on Nigeria's economy
The refinery, located in Lagos, is one of the largest in the world and is expected to be launched by President Muhammdu Buhari.
Some of the benefits expected from the refinery include export savings in manufacturing plastics and textiles.
Source: Legit.ng