Emir of Kano calls for examining Islam and marriage
 - The Emir of Kano has called for banning under 18-years old marriage in Nigeria
 - Muhammad Sanusi said this policy will save the lives and health of thousands of Nigerian woman
 - The emir added that Nigeria should follow the examples of Egypt and Morocco in interpreting Islamic law
The Emir of Kano, Muhammad Sanusi, has come out in favour of banning marriages of people below 18 years as these marriages are highly detrimental to women's health, according to the Premium Times.
The emir, who spoke at a workshop organised by the Northern Islamic Forum in Kano on Tuesday, said time had come for the Muslim community in Nigeria to accept the reality of economic recession and consequences of early marriage.
He said the era when people gave out their daughters in marriage at early ages and asked the husbands to wait until puberty was over, no bad thing as it led to divorces and other problems.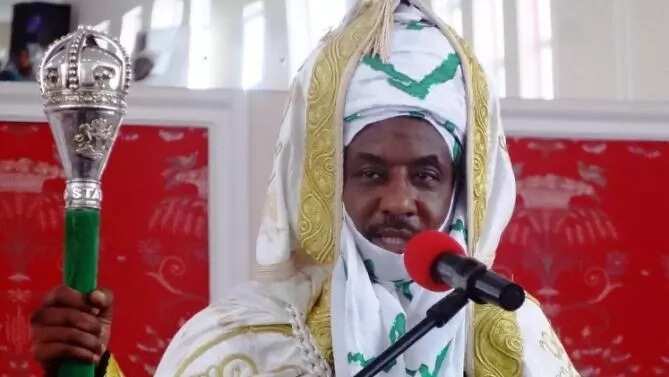 The emir recounted that in the past the rich and the poor married four wives and bore between 30 and 40 children because the economy was not only buoyant but also because people were not relying on government for sustenance.
He went on to add however that harsh economic realities now make it impossible for people to feed twice a day.
"Unfortunately our people do not change and somebody with virtually nothing still give birth to 20 or 30 children and this must stop."
READ ALSO:  Gov El-Rufai visits Senator Shehu Sani over mother's death
Mr Sanusi said there was a need to peg the marriage age now because of the challenges early marriage was posing.
According to him, the marriage age in Egypt at is presently 18 while that of Malaysia and Morocco were 19 and 17 respectively.
"Why not we here urgently call for pegging of marriage ages within Muslim Umma in Nigeria?"
READ ALSO:  Borno emirs reclaim palaces from BH after months in exile
He argued that since Nigerian Muslims also practice the Maliki School of Islam as these countries Nigeria should follow these countries example.
M Sanusi called on the relevant authorities to create a law that would punish those responsible for child neglect as, in his words most neglected children not only turned victims of social vices but also engage in terrorism.
Source: Legit.ng