9mobile reinforces customer confidence with Mega Millions Promo in Port Harcourt
As the ongoing 9mobile Mega Millions Promo reaches its half-way mark, more customers of the telco are surging with confidence as winners continue to claim their millions and smartphone winnings across the country. Family and friends of Mr Preye Abariye Andrew and Mr Kalagbor Chimenem and Chukwunonso Obi who won a million naira each were stunned as shouts of surprises filled the 9mobile Experience Centre, Port Harcourt, when 9mobile credited their accounts.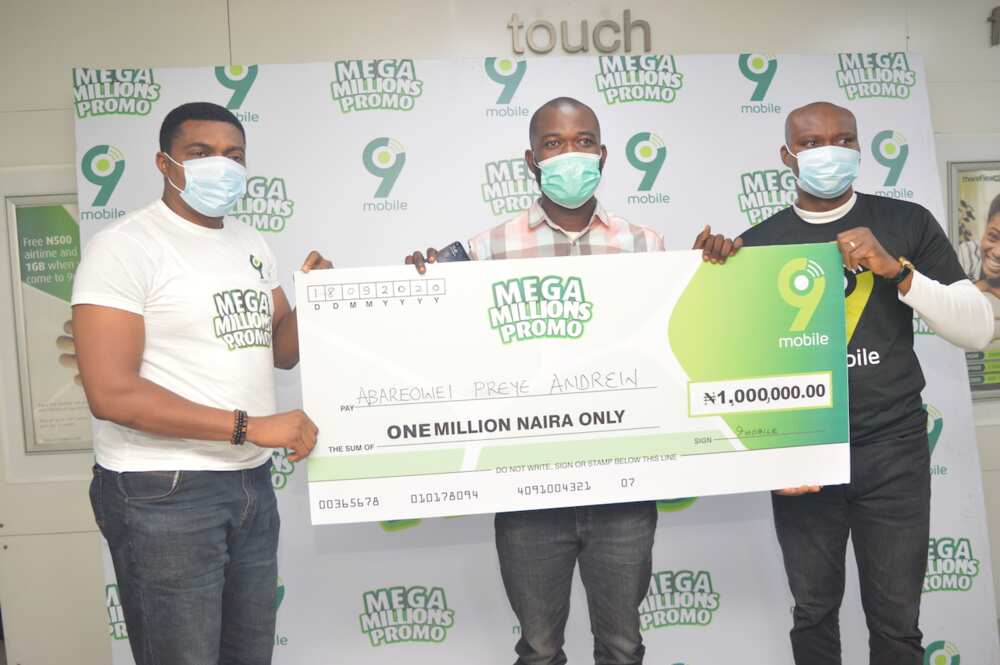 Chukwunonso Obi, 9mobile South-South Retail Sales Manager; Preye Abareowei, N1million winner and Martin Ojugbeli, 9mobile South-South Head of Region at the ongoing 9mobile Mega Millions Promo prize presentation in Port Harcourt.
The promo is designed to reward 90 lucky customers with N1 million daily, give out smartphones every hour for 90 days and reward one lucky winner with a grand prize of N10 million at the grand finale.
Mr Preye Abariye Andrew, a resident of Bayelsa state, who learnt of the Mega Millions Promo through SMS messaging was appreciative of the gesture and promised to donate part of his million naira to charity. "I have been using the line for the past eight years and I am so excited about what 9mobile is doing through the Mega Millions Promo. I urge people to embrace the promo because it is real. I will donate items to the orphanage homes and think about my future."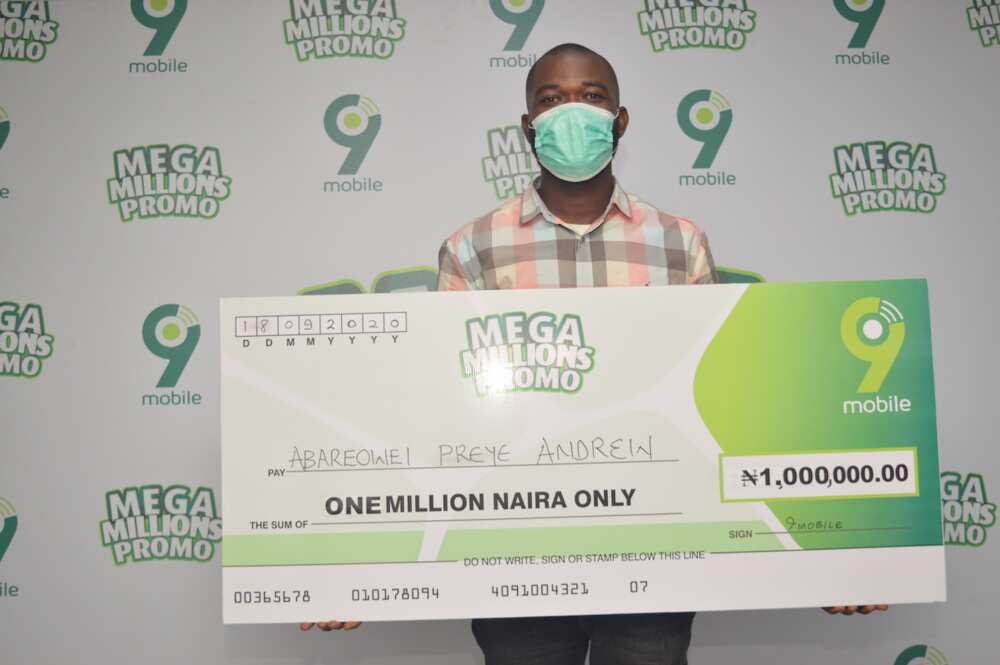 In a similar vein, Engr Kalagbo Chinedu who has been using 9mobile line for over 7 years never believed in his wildest dream that the Mega Millions Promo was real let alone winning. "Surprisingly, I got a call then I knew it was real; really, I never thought I would be a winner. Now that I am a winner, and understanding my background, I want to tell Nigerians that they should have faith in this promo, I am a living testimony and every other person can win by just recharging their 9mobile lines. I would like to channel the money into the health of my family investment and leisure."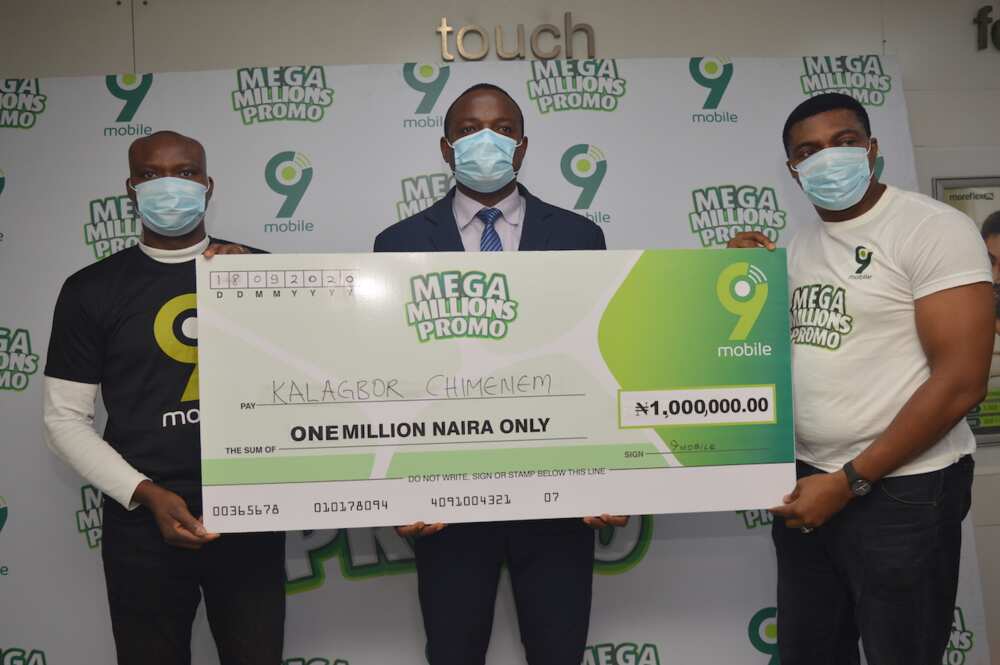 Speaking during the presentation event, in Port Harcourt, the Regional Sales Manager South-South, 9mobile, Mr Tobechukwu Nonso David, stated that: "The ongoing promo is a fantastic initiative by 9mobile to reach out during this Covid-19 pandemic. Customers who recharge N200 stand a chance to win one of two hourly smartphones, a N1,000 top-up qualifies customers for a chance to win N1million daily, while a cumulative N10,000 monthly recharge across the 90 days duration of the promo gives customers an opportunity to walk away with the grand prize of N10 million grand prize."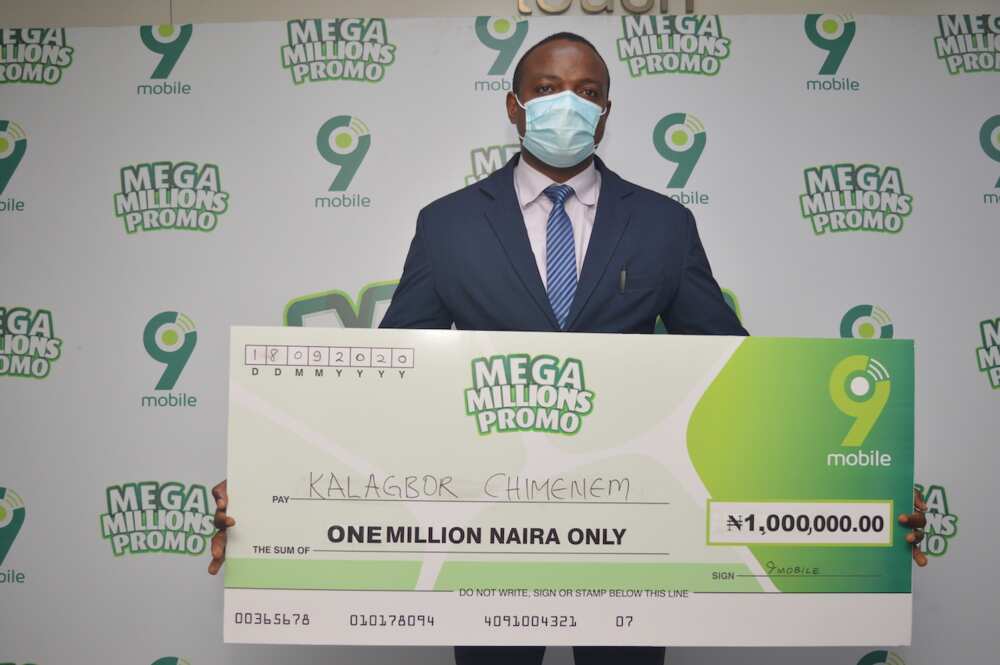 [Sponsored]
Source: Legit.ng