CDQ - Onye Eze is another great hit from the indigenous rapper. The artist, CDQ, dishes his fans with another epic club banger with the name "Onye Eze". This comes a few months barely after he served yet another perfect hit "Hallelujah" as well as "Ladies Night." The new song by CDQ will capture your attention the first time you listen to it.
The star clearly took his time to write the lyrics on this one as he goes on about the much talked House scandal between famous Instagram blogger, one miss Blessing Okoro and Onye Eze recently. His opinion is that the blogger has nothing to say and is only full of empty talk.
The melodic tune by Onye Enze will get any lover of Afrobeat dancing. It is almost impossible to listen and not get hooked. If you love gist and enjoy some drama, then definitely the drama in the banger will get you excited. Here is everything you need to know about this soon-to-blow-out tune.
CDQ - Onye Eze description
Before you rush to download the audio on iTunes or Apple music, the following are quick facts about the track that you should have in mind.
Released: 6th June 2019
Genre: Afrobeat
Label: [Merlin] KudosRecords
Length: 3:24 minutes
Lyrics
As you dance along and put the song on replay, let it not just be about the beats. Check out the lyrics below to avoid humming or singing out of context.
(Intro)
Ibile, CDQ yeah yeah, Oshey, won pe eh
(Pre-Chorus)
No be me, it belongs to onye eze, emi ko, it belongs to onye eze
That mansion belongs to onye eze, in fact everything it belongs to onye eze
(Chorus)
Awa leyan onye eze, onye eze, onye eze, awa leyan onye eze, onye eze, onye eze
Shine Peller, eyan onye eze, Sunny Nweke, eyan onye eze
Holler Holler, eyan onye eze, Oba Goal, eyan onye eze
Ahmadu, , eyan onye eze, Prince to n wa, , eyan onye eze
Nabania, eyan onye eze, Blessing Okorocha, eyan onye eze
(Verse 1)
You wan tarnish my image, I go fu*ck you up, small boy big God, won ma shut e up
You wan claim my rights, efcc burst e up, you be snitch, you be snake, you be dirty person, a ma dust e up
Onye oshi, Casanova, everyday jangilova, you dey sell spare parts, how you take know loaders dey Range Rover
Omo shikodi, awon fidi gbope, there's level to this job ma fi three crown we miliki olope
O fe koba e no be co*ndom, ma fi (?) naija we ti London
Kaka k'awon omo kana s'omi d'ode, mo kon wo bi telemundo
Wo, oya pakuru, pakuru, gbe body ko shakuru shakuru
Bi mo n se (?), mo n sha dudu, CDQ yeah yeah, eyan animashaun
Awa leyan onye eze, onye eze, onye eze, awa leyan onye eze, onye eze, onye eze
Femi Jaguar, eyan onye eze, Olumba, eyan onye eze
Mr white, eyan onye eze, IBD Dende, eyan onye eze, Oloun
Toni Coker, eyan onye eze, Akin Shitu, eyan onye eze
Sanwo Eko, eyan onye eze, Eniola Badmus, eyan onye eze
(Verse 2)
Who's jam, mama Jam Jam, Teddy A nla, eyan bam bam
Few things whe eye dey see, many levels don go down, trespass on my property
Ogun kill you from morning till 4:30, nobody family with poverty
Would you keep quiet okoro talkative
I can't feel myself, I'm too paranoid like I tiff myself
Doubting Thomas blood dey my cell, I no no why, mi o kin forh fun IG se
Everybody rushing the same ladder, o lon hiss, tori omo iya e hammer
Customer coke yato si Pepsi, no do pass yourself aunty Janeti
(Pre-Chorus)
(Chorus)
(Outro)
Cheei, Ibile, CDQ yeah yeah, gbabe, won pe e
READ ALSO: Mayorkun – True ft. Kizz Daniel: audio, lyrics, reactions
Reviews and reaction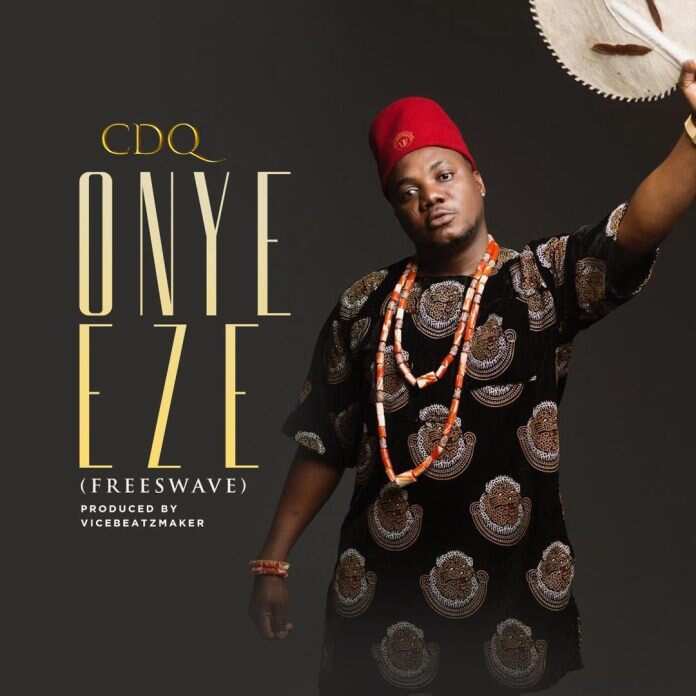 With many people loving the gist that happens in social circles, especially those involving celebrities, it is not surprising that the song has received considerable traffic. Fans and critics alike have had something to say. Check out some of the sampled views below:
Psyko Zamula: Cdq fada of hit....everything u drop dey dope.....how do u do it bro
Oluwafemi Falola: I want disappointed one bit... God bless you CDQ
Austin Chinwe: Nice one...Inspired by Blessing Okoro( CEO)!!.
Meshach Asuquo: the igbo squad
Emma Gcee: Cdq you are looking for trouble oh
Focusfuture dd: No disappointment, Sharp sharp guy
Emma Gcee: Cdq you are another breed on your own
Michael Azocli: Hard song #CDQ ✌
Olami Blues: I gbadun CDQ die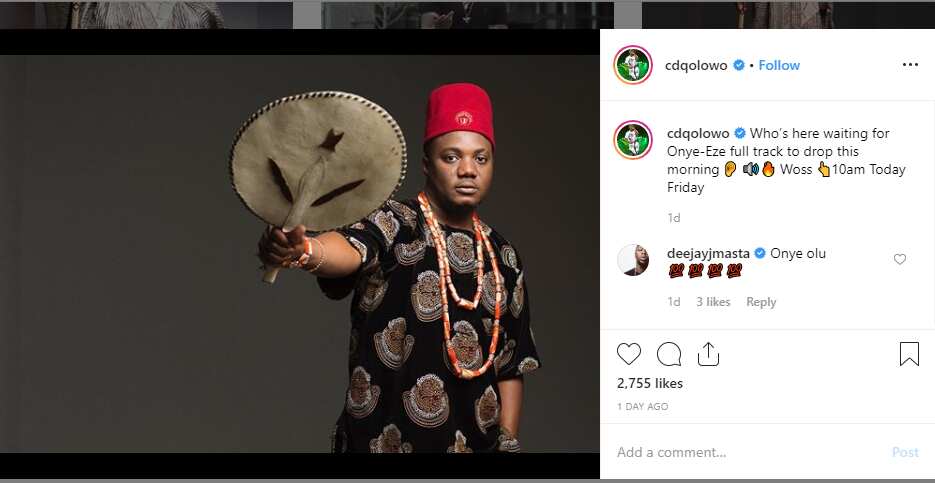 This was the teaser that he used to introduce the hot jam that he was to drop soon after. Anyone could tell that it would be fire!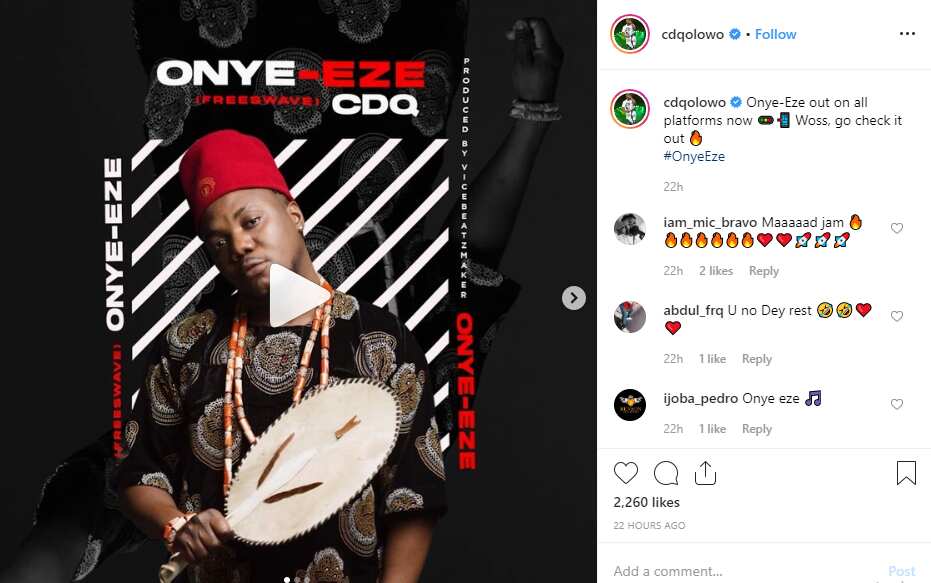 The much-anticipated banger finally dropped, and the elation was imminent.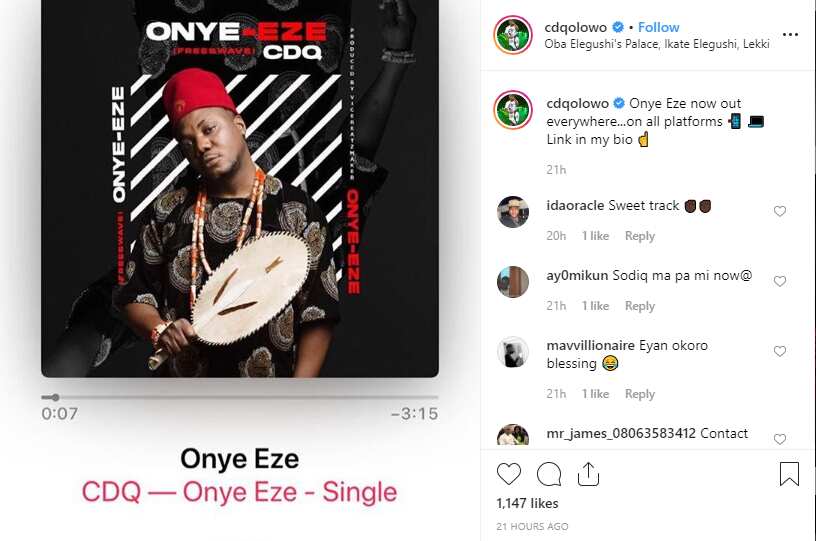 People cannot settle now that the jam is finally here. This is what a great tune does to you.
Like everything good, CDQ - Onye Eze is one that will be doing rounds on social media and clubs for a long time. The fact that it has a touch of controversy makes it even sweeter to listen to. Download the Mp3 and stay updated!
READ ALSO: