We know that you love recipes, so today, we have prepared for you the traditional Nigerian ekpang nkukwo recipe. Let us see all the details involved in cooking, serving it, and its features and nutritional value. We hope you will like it.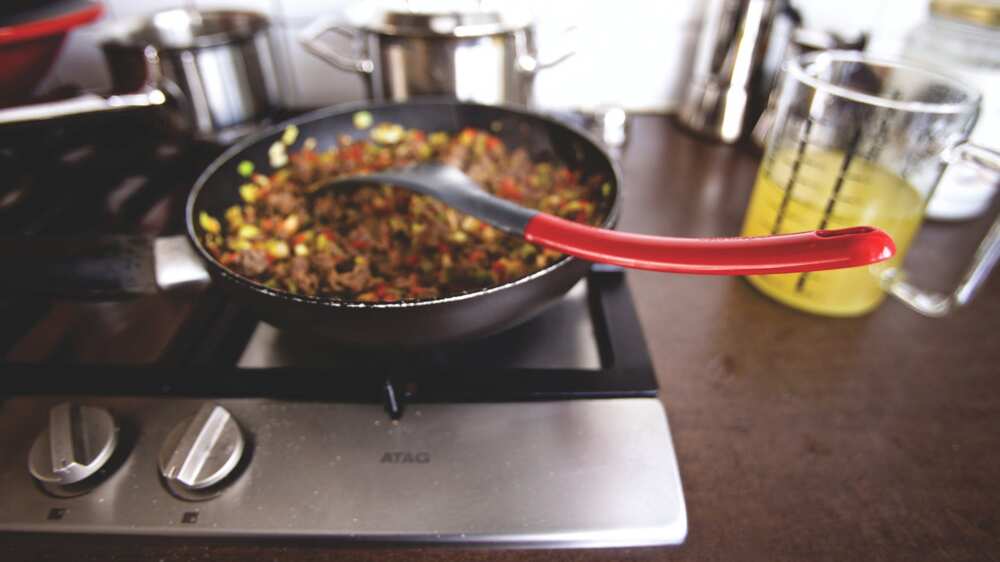 Ekpang nkukwo is one of the most favorite Nigerian foods. It takes about two hours to cook, which it makes it a bit difficult, but when you see the result, you understand that it's worth it. Most people enjoy this meal, and they are even ready to eat it over and over at any time of the day. In fact, this dish is usually served for some ceremonies and traditional celebrations like weddings or christening.
In order to make the process of cooking much easier, you have to prepare all the ingredients and all the things you need before you start cooking. Just prepare them the day before and keep in one place.
It is a perfect thing to cook with your family or friends, because it is very time-consuming, with all the peeling, grating of cocoyam and water yam, and wrapping the grated cocoyam. So, doing it with your friends, for example, is a very nice decision. The process of cooking will be faster and spending some time with your friends is always a good thing.
So, let's take a look at the ekpang nkukwo recipe.
Ingredients for ekpang nkukwo
10 medium cocoyam tubers
1 medium water yam tuber
3 cups of shelled periwinkles
1 cup of ground crayfish
1 cup of dry shrimps (optional)
1 cup of fresh lettuce, tender potato leaves, fresh cocoyam leaves or spinach
3 scotch bonnets or in case, you don't have it, you can use dry pepper
1 medium cowhide
1 dried catfish (or you can use chicken, smoked fish or beef)
2 medium onions
2 cups of palm oil
4 cups of water (or it's even better if you use chicken stock)
4 seasoning cubes
salt (to taste)
Basil leaves
You can add or remove the ingredients; it's all up to you.
Method: How to cook ekpang nkukwo
READ ALSO: How to make heavy cream at home
Before you start cooking one of Nigerian dishes, ekpang nkukwo, you have to follow some recommendations:
Wash the meat (depends on what meat you've chosen. It may be chicken, beef or even cowhide), use the seasoning and boil the meat until it's very soft. In case, you've chosen to use dried fish or any seafood, just add some seasoning and leave it for later.
Chop the periwinkles at the tail, wash them a few times in salted water and keep aside.
Now, you should mix onion with crayfish (if you use it) and pepper.
Take the cocoyam and water yam. You have to peel them very well, wash and grate into a big bowl, add 1 or 2 seasoning cubes, add some salt and two tablespoons of palm oil, mix properly (it is better to use your fingers for mixing).
Now you should wash the leaves. It does not matter if you are using tender cocoyam leaves, ugu leaves, sweet potato leaves or spinach, pull them away from the stalks and put aside.
Cut the curry leaf or scent leaf. You will need it only by the end of cooking; it may serve as a very good vegetable spice.
And now, we are moving on to the process of cooking itself:
Pour some palm oil in a large pot, so that it greases the inside of the pot. Spread all the washed periwinkles in the pot. That's how you prevent the porridge of being burned at the bottom, and it serves as the base.
Add a part of the cowhide and dried fish, if you use it, of course, and keep it all for later use.
Take the mixed cocoyam, scoop a little on one side of those leaves, you've chosen. Use your hands for that.
Wrap it until the cocoyam edges are sticking out on both ends. Be careful while putting the wrapped cocoyam into the pot
Repeat this process with all the grated cocoyam. When ready, place all of it on the low heat and boil, but don't add the water and don't stir it.
Now it's time to add about 2 cups of hot or warm water into the pot with wrapped cocoyam and leave it for 5 minutes for heating up.
When the whole mixture starts to boil, you should add all the seasonings you've prepared, like dried fish, stock cubes, pepper, onion, crayfish, shrimps or any other. Remember that you can choose the seasonings yourself. If you want to add garlic instead of onion, you can do it easily.
Cover your future ekpang nkukwo and leave it on medium heat without stirring for about 15 minutes.
Now it's perfect time to add the remaining palm oil into the mixture and stir all of it gently until all the ingredients are mixed well. The consistency should be thick and dry, but if you don't like it, you may add the chicken stock or more water and stir it properly. If you need more salt or seasonings, this is the perfect moment for adding them.
Now, you can leave it all to simmer on low heat for 5 more minutes. In case you don't like the consistency of your porridge, you can simply use a kitchen knife and cut the folded cocoyam to reduce the size, but you have to do that only when the pot is still on the stove.
In the end, add the scented leaves or curry leaves; you can also add both if you want to. Stir the contents one more time and leave the pot on the heat for three more minutes.
Now, ekpang nkukwo is finally ready, you can serve it warm with a chilled drink.
There are also some tips that can make the process of cooking the ekpang nkukwo a bit easier or even tastier according to your preferences:
In our recipe we use cocoyam and water yam together, but in case you only prefer one of them, you can easily use it without the other. The taste won't be worse, but the process of cooking may be even easier. Also, you can use cassava with all the ingredients. That can change the sense of this dish, because adding the cassava automatically makes the ekpang nkukwo turn into ekpang-iwa. In case you like something weird, you can add some banana. Nothing special is required, just add the banana to the porridge and it's done.
Nutritional value of ekpang nkukwo
This traditional Nigerian meal is not only tasty, but useful as well. It contains a lot of protein, because we use such products as fish, meat, shrimps, crayfish, periwinkles etc. Cocoyam and water yam include carbohydrates, palm oil gives us some vitamins, lettuce, spinach and scent leaves are full of minerals and so on.
Ekpang nkukwo is also used for pregnant women and nursing mothers, as this dish is full of nutrients. For pregnant women, for example, ekpang nkukwo is very goo,d as it fills the breast milk with all the good minerals and vitamins the baby needs. Also, you can feed your children with ekpang nkukwo. Why not? Children love it, plus it's very healthy food, and it tastes amazing too. It seems like you can find no cons about this food, only pros!
Remember that you don't have to eat the ekpang nkukwo while it's fresh off the stove. You can keep it for a few days in a refrigerator, and it will taste even more delicious later.
We hope this recipe was useful for you to read. Next time you think about "the right food", you should definitely remember about the Nigerian food recipes, and especially the ekpang nkukwo, which is full of "health" and you'll love its taste too.
READ ALSO: How to cook couscous perfectly