Agbada styles for gentlemen and ladies to rock in 2018
Despite the fact that a lot of modern trends are in the fashion world, however, traditional outfits are still being enjoyed and high popularity. In particular, this concerns Agbada styles ladies and men. You will find the best options for guys and ladies in the below.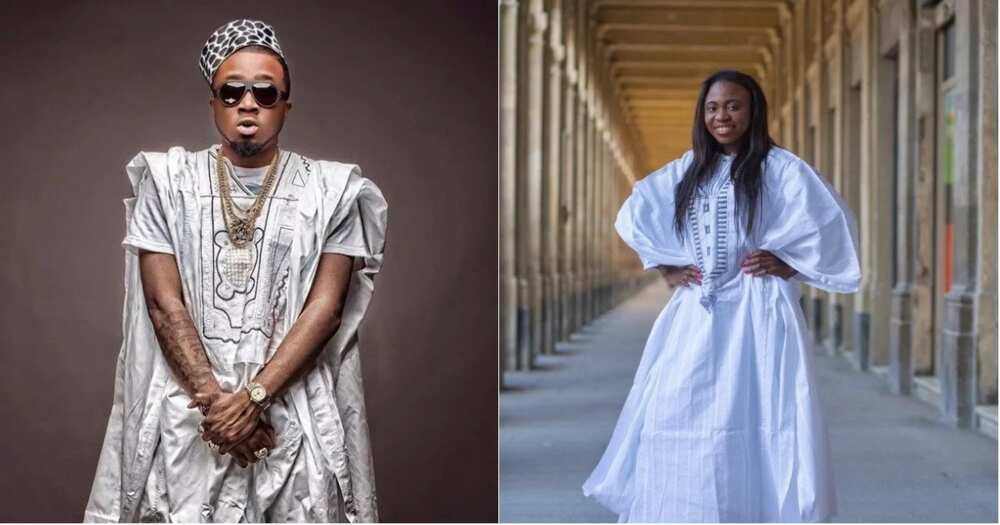 Agbada designs are usually associated with the men's wardrobe. They are often worn by the male gender on special occassions. Nevertheless, Nigerian women also use Agbada to create a comfortable clothing which is incredibly attractive.
Agbada styles for men
Do not think that a modest white color will limit your imagination. It can be diversified with additional bright elements such as refined embroidery and a cap. As for shoes, these can be ordinary sneakers. So you will be able to combine comfort with a respectable and elegant appearance.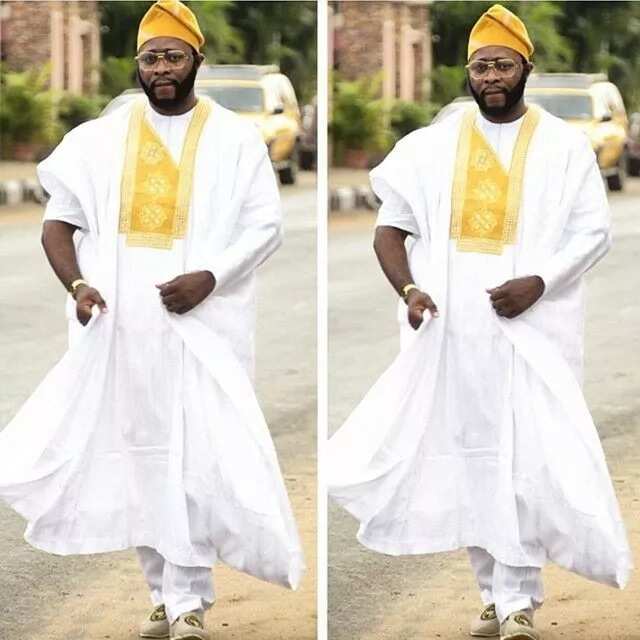 The purity of white color creates a delightful effect. A minimalistic design will make you look truly sublime.
READ ALSO: NHN couture latest styles for classy ladies - photos
There can be a variety of patterns on the fabric. For example, such interesting print as in the photo below.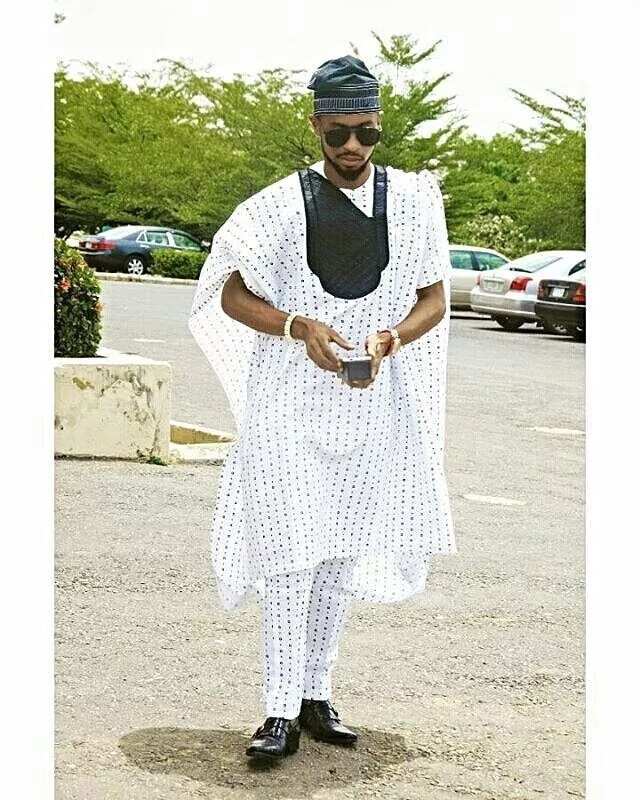 Strips also look great especially if you combine them with suitable accessories (shoes, beads, cap).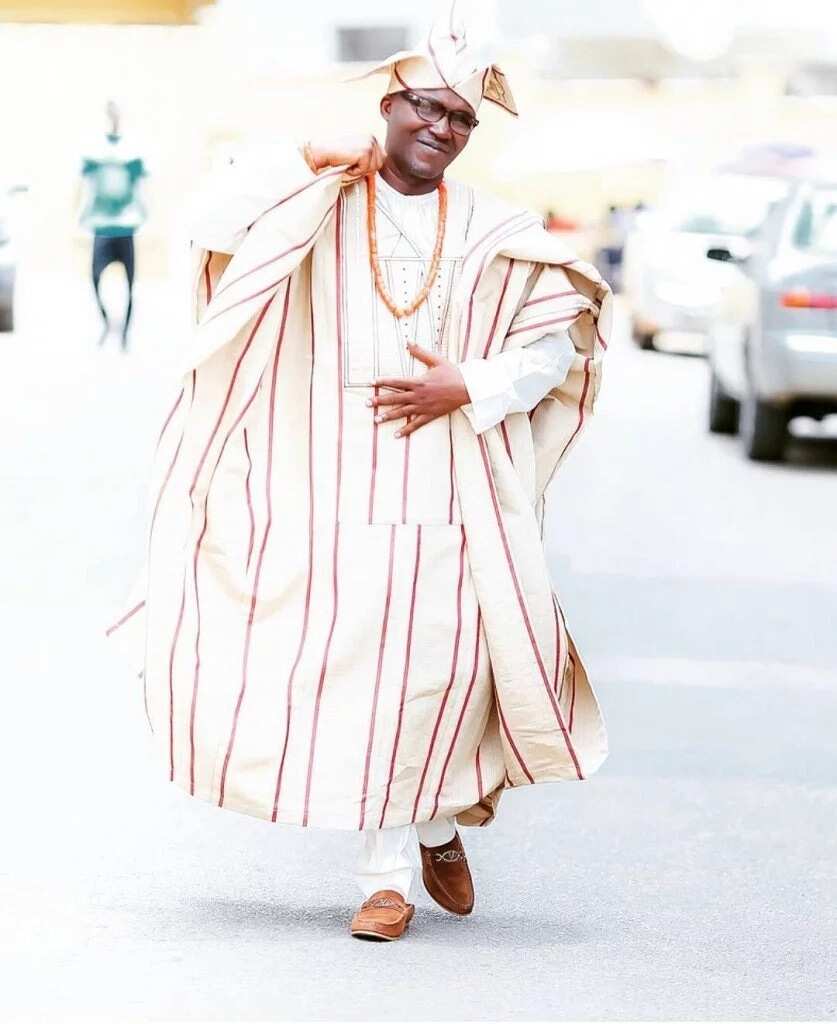 A well-considered style makes the male shoulders wider. Every girl dreams of a guy behind whose back she can hide from trouble. Well, you can create an image of such man with a broad back and proud posture.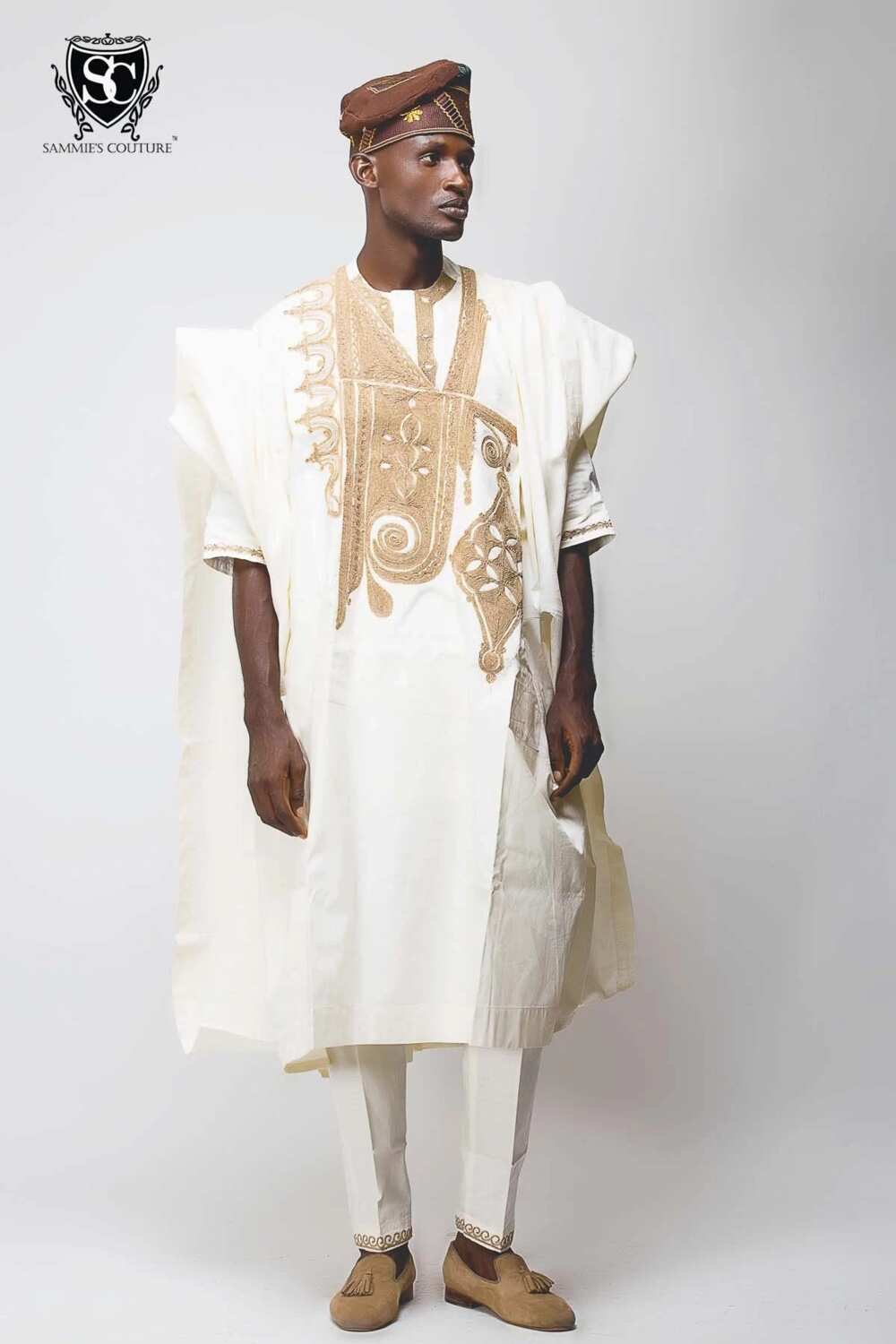 Latest native styles for guys create the impression that a man is not afraid of anything and he is able to cope easily with even the most serious problems.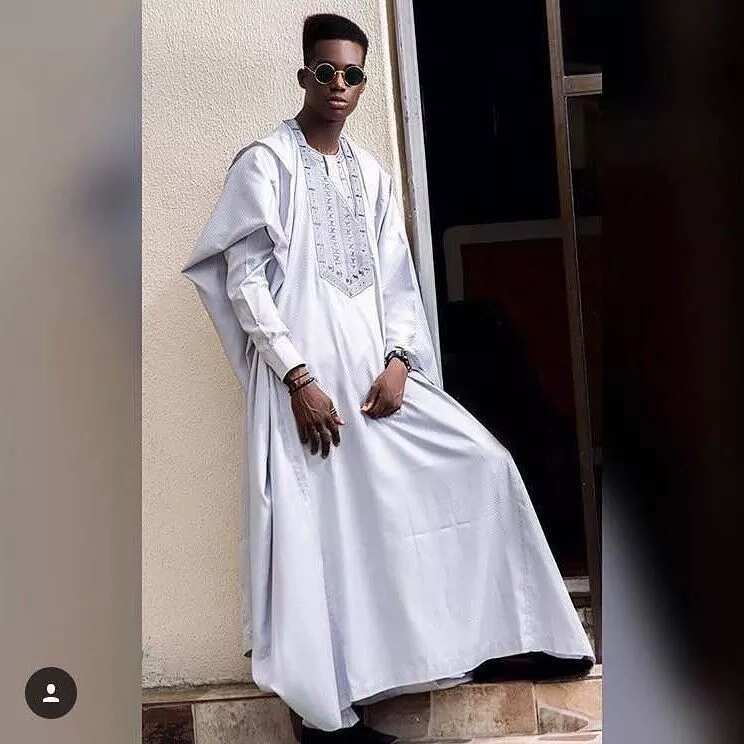 Agbada is a unique outfit because it allows guys look serious and courageous and at the same time to experience positive emotions. Light white fabric grants a sense of weightlessness.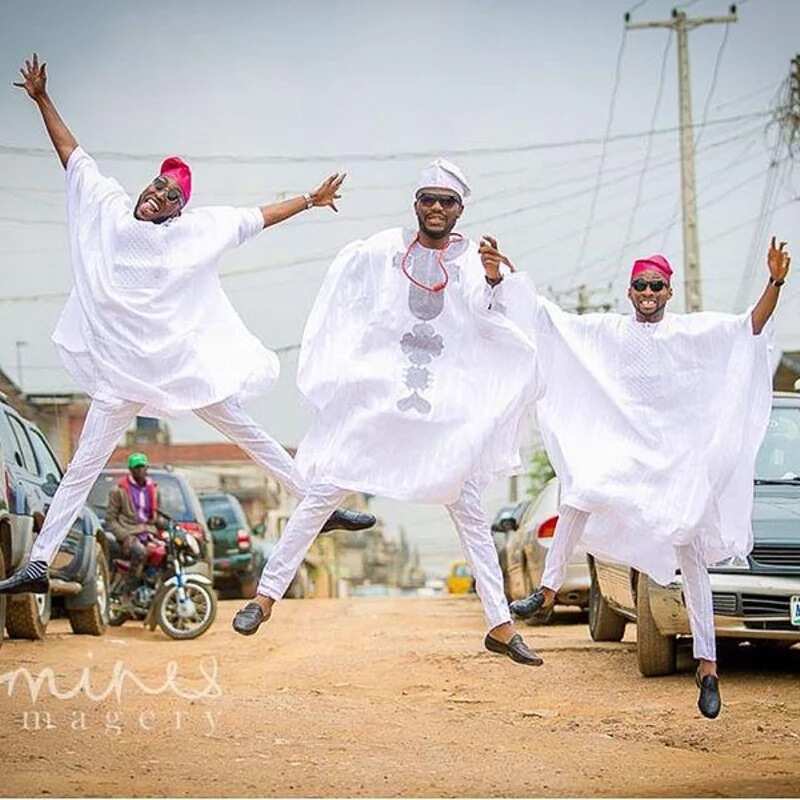 You can wear a shirt and jeans underneath. This guy below managed to combine modern style with traditional features. You can switch the buba and shokoto for a shirt and a pair of jeans.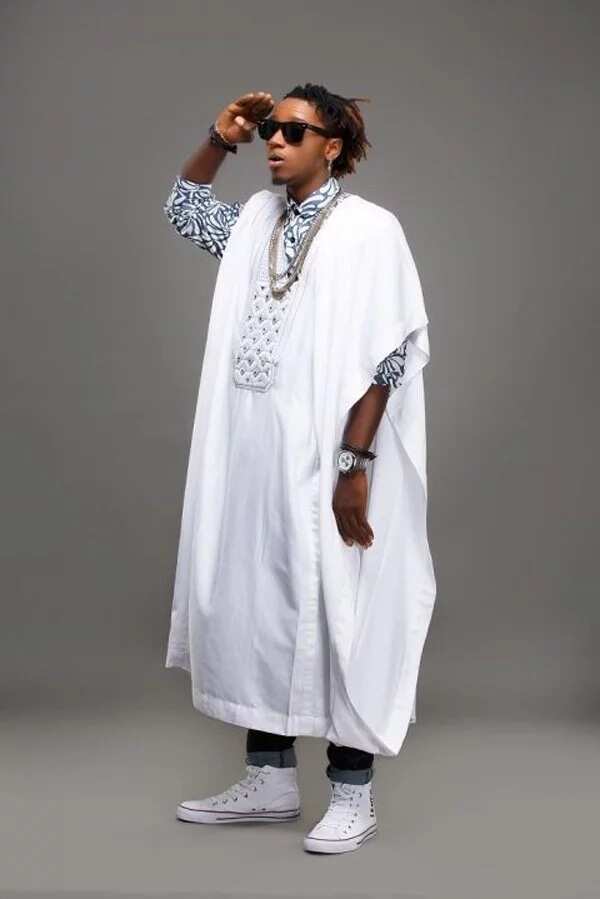 Also, white Agbada can be the perfect outfit for your traditional wedding. Such clothes will make the most important day of life beautiful and memorable.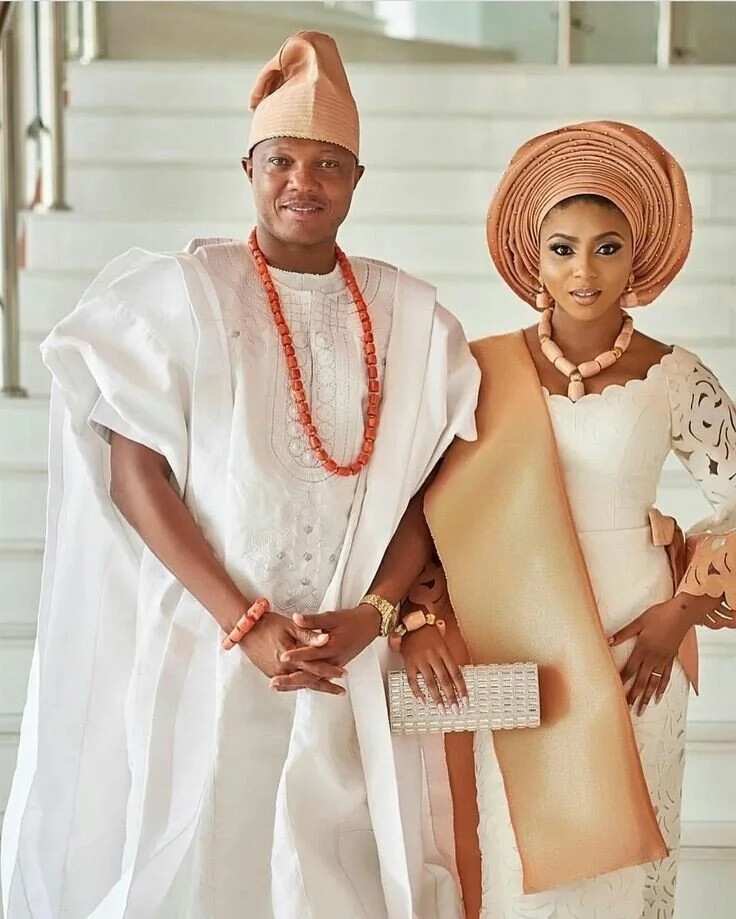 Agbada is popular not only in Nigeria but all over the world. Today, these outfits are worn not only by black men. African fashion decisively conquers the planet.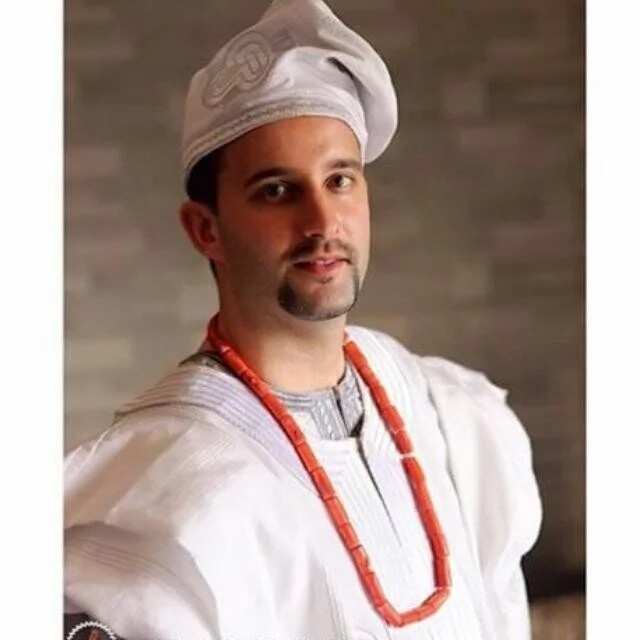 When should a man start wearing Agbada? The earlier the better! Ladies, if you want your sons to become real gentlemen, be sure to buy them such attires.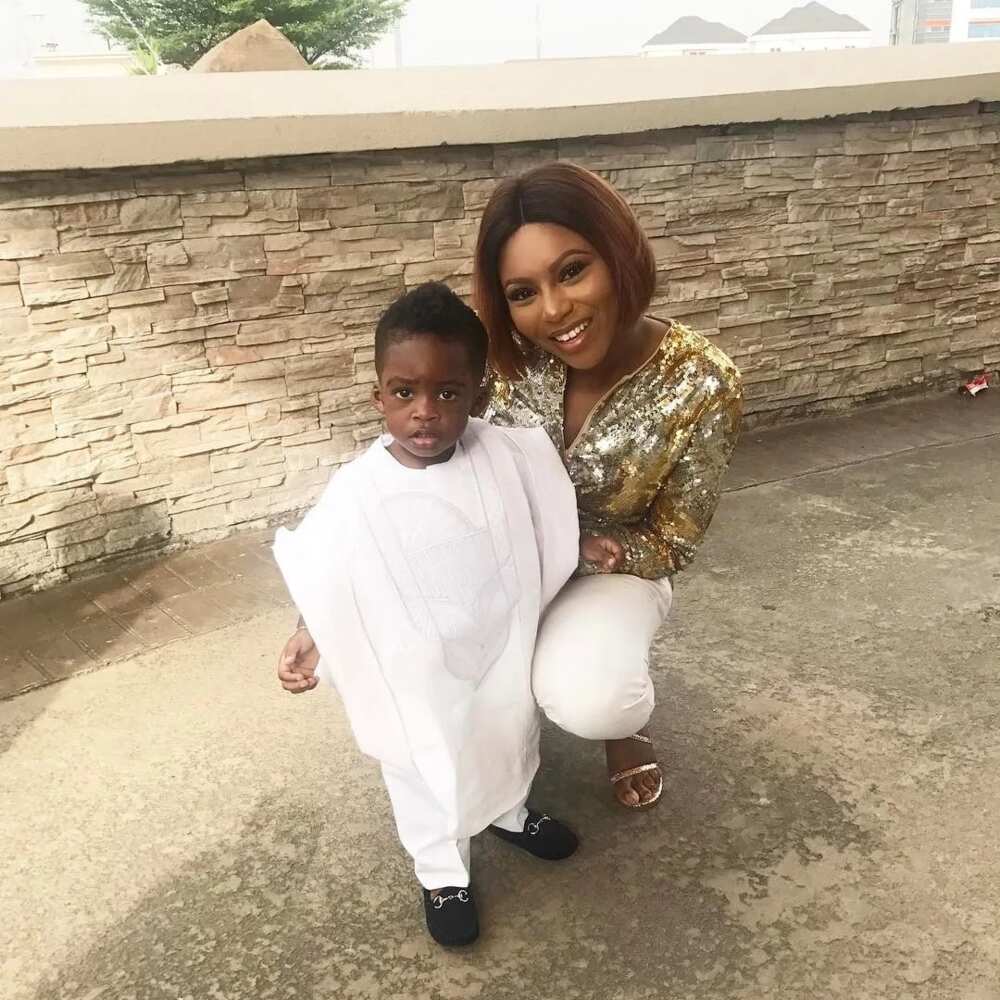 Agbada styles for ladies
Women's fashion also offers many interesting and stylish solutions in 2018. Nigerian ladies look very refined and feminine in white airy outfits.
Wear the shoes with heels and go to the theater or restaurant for a romantic dinner. Your man will be delighted!
Agbada for ladies looks very aristocratic and allows creating an image of a woman from high society.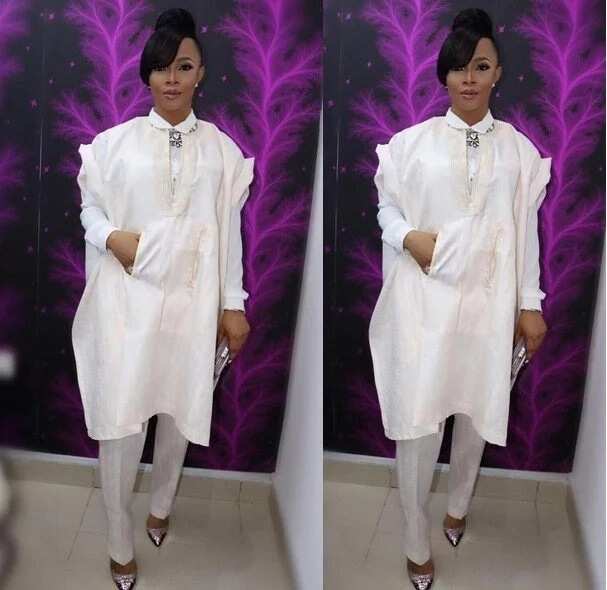 These outfits can be very voluminous and look like a white cloud. Such style lifts the mood. You will feel as if you are ready to fly away and glance at the whole world from heavenly heights.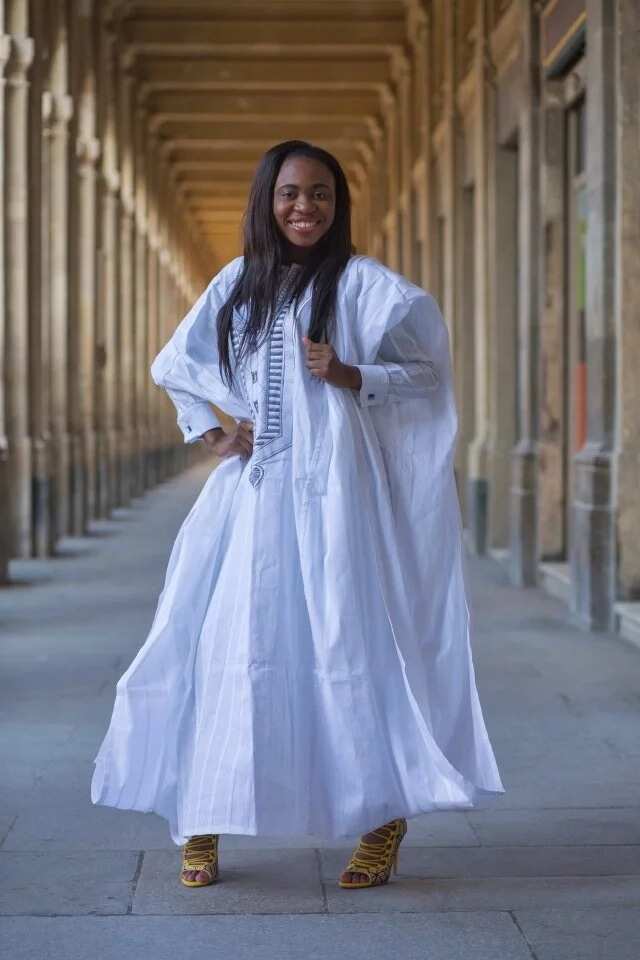 If you have slender, beautiful legs, there is no need to hide them under a long bottom. Choose a short version and put on tight pants, sandals with high heels.
The problem zone of the figure of many girls is the belly. If you want to hide it and attract attention to the legs, short Agbada is an excellent choice.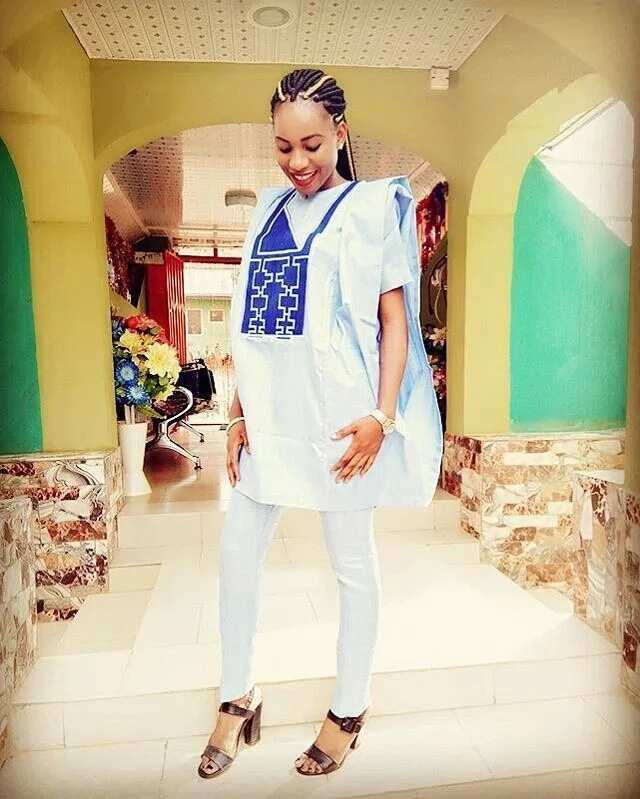 If you are a bright personality choose an attire with catchy elements. The lady in the photo below perfectly combined the pink pattern on her chest with a headdress, sandals and a small handbag.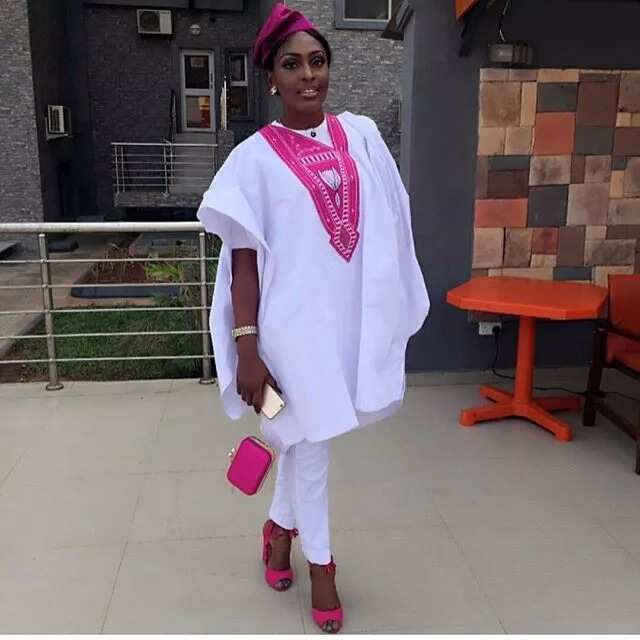 Sleeves can have any length. There are styles without them at all.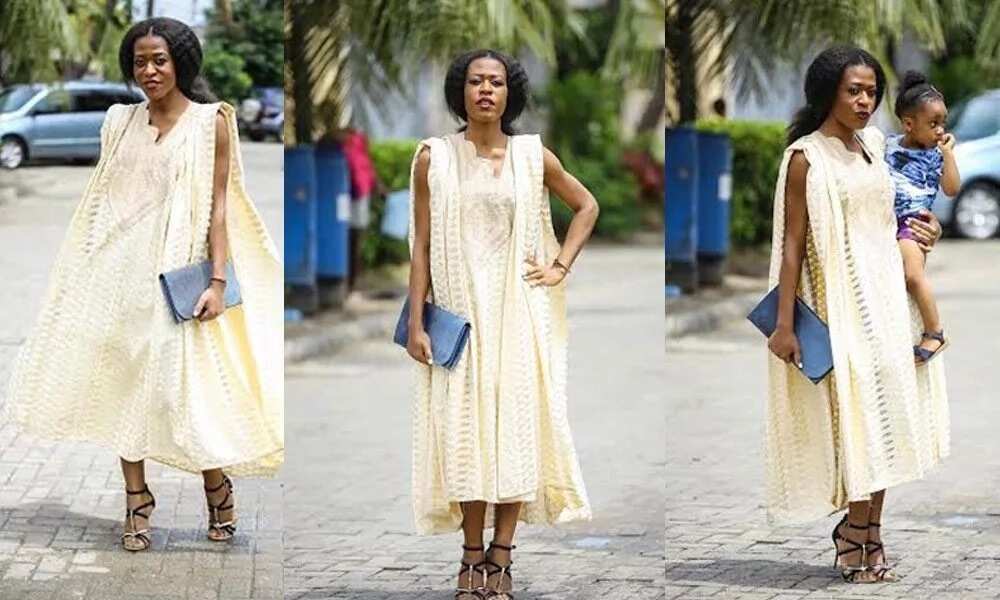 Designers decorate Agbada with very beautiful embroidery turning their clothes into real works of art.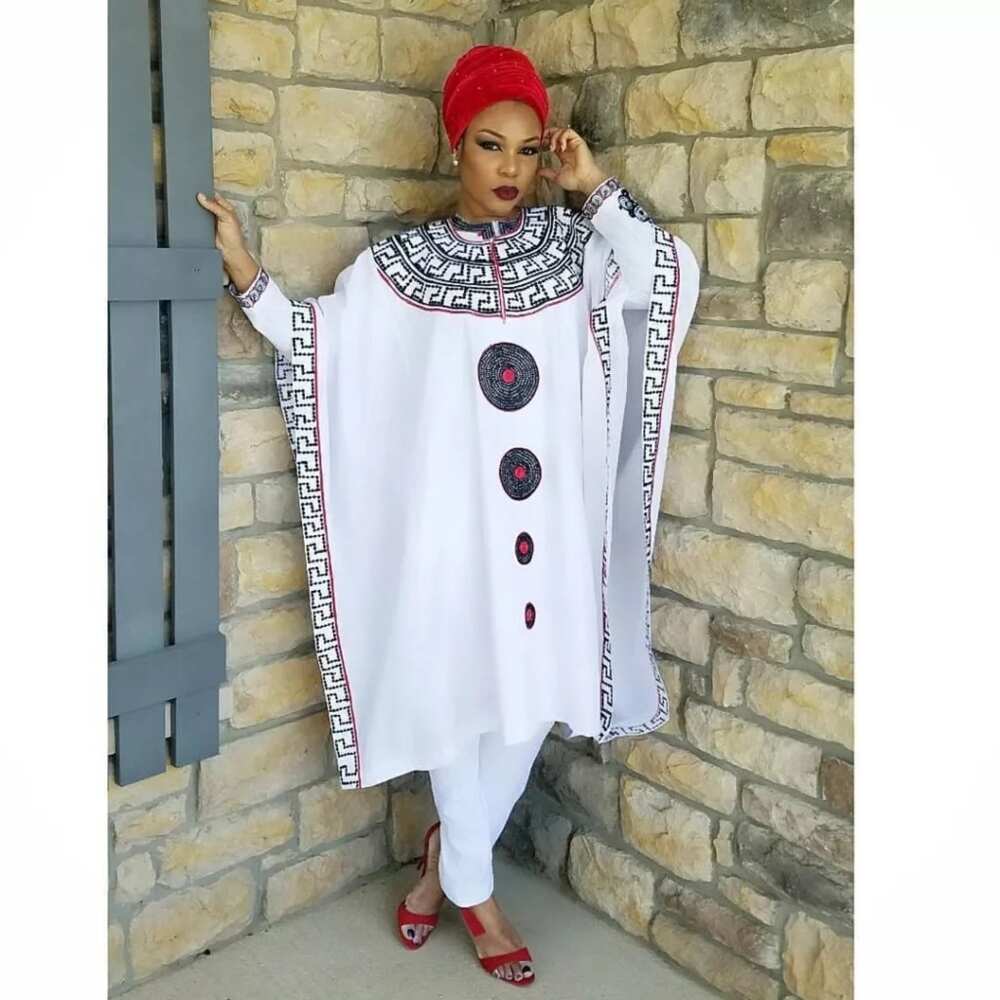 Agbada is extremely feminine if there are gentle floral patterns on the fabric. Looking at such costumes, it's hard to believe that at the very beginning these were exclusively men's clothes.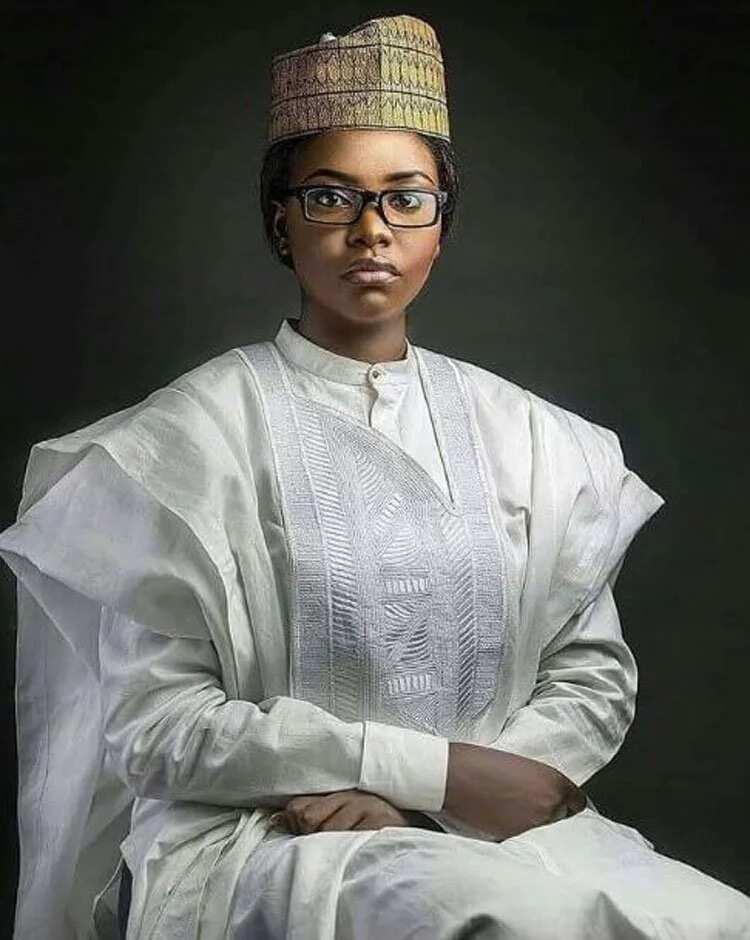 Nigerian singers and actresses also often wear white Agbada. Look at how this outfit suits delightful Yemi Alade.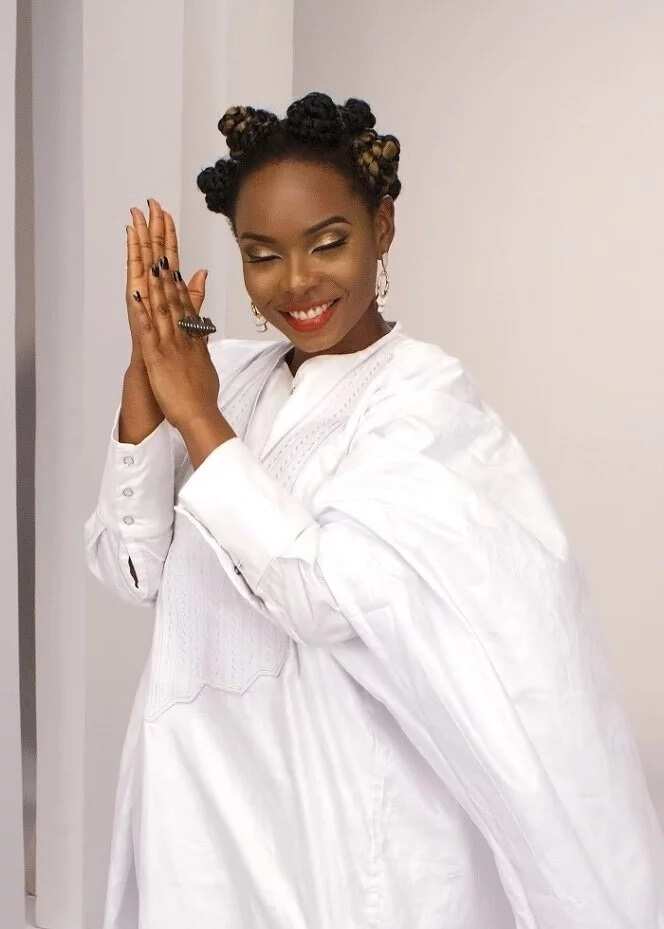 Also, admire the beautiful everyday image of our favorite star Mercy Johnson.
Really talented and worthy women do not always seek to attract the attention of fans with a short skirt or deep decollete.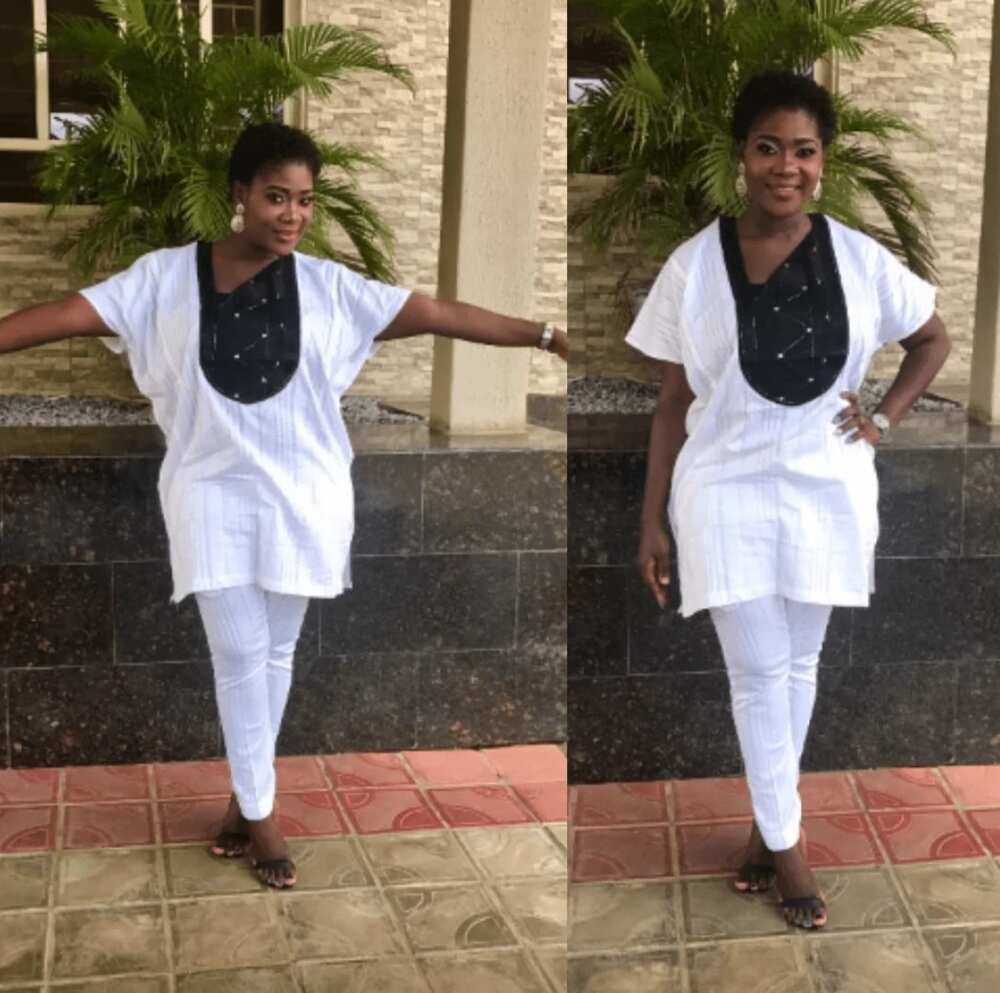 As in the case with young boys, the girl should be taught to wear Agbada from the very childhood. Look how beautiful little girls can be in white traditional attire.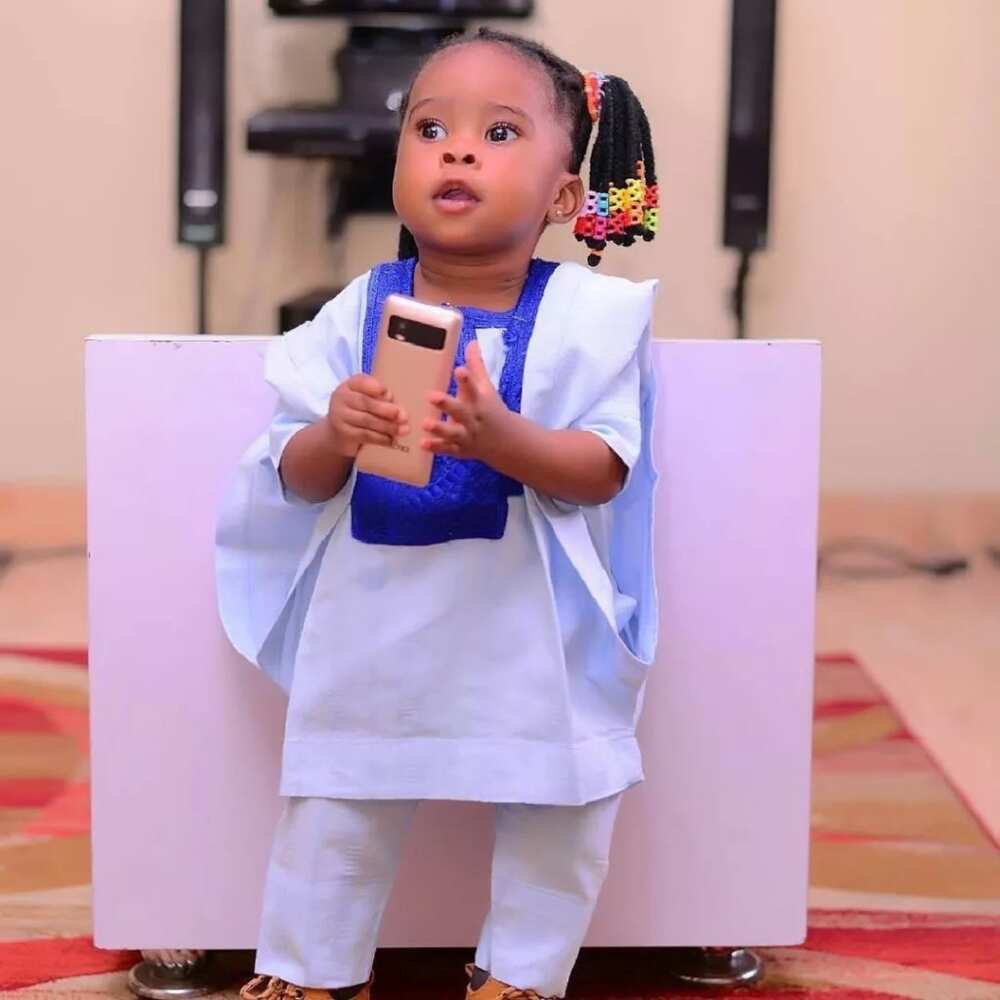 You can make it a family affair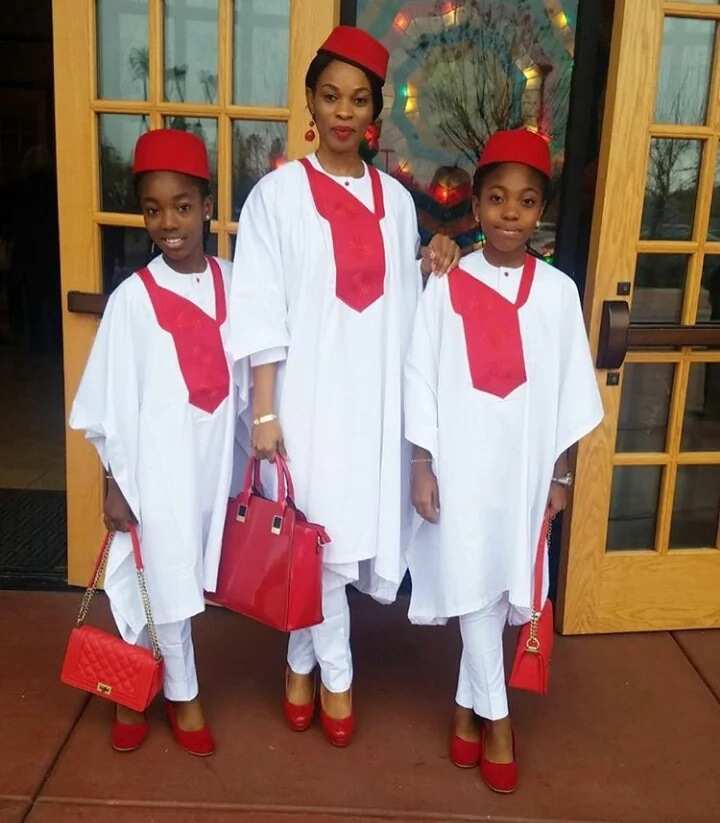 If you and your spouse like Agbada you can order costumes in the same style and appear in them at special events.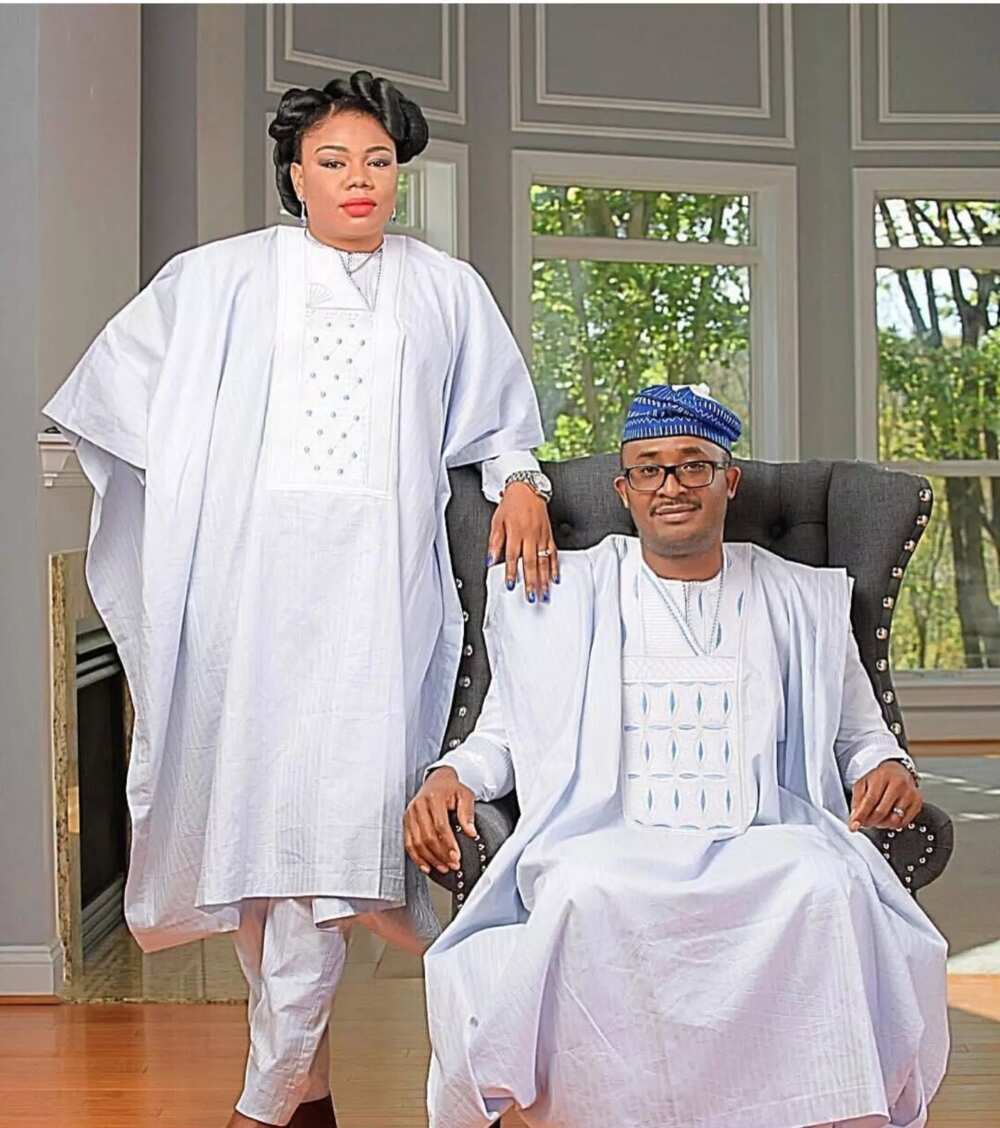 There is a huge variety of agbada styles, without effort, you can find an option appropriate that's best for you.
READ ALSO: Hot new Ankara styles for ladies
Source: Legit.ng