We are created Biafrans and we have to exhibit it in all sense of responsibility - MASSOB
The Movement for the Actualization of the Sovereign State of Biafra (MASSOB) has said the group is past the turning point of relenting on its agitation for Biafra nation.
Comrade Uchenna Madu, the factional leader of MASSOB made this statement during an interview with The Nation in Aba.
When Uchenna was asked if the MASSOB group would be willing to reconsider agitating for Biafra since the federal is taking steps towards rehabilitating the region, Uchenna said the request for secession is not because of bad road or Igbo presidency but a need for their own country.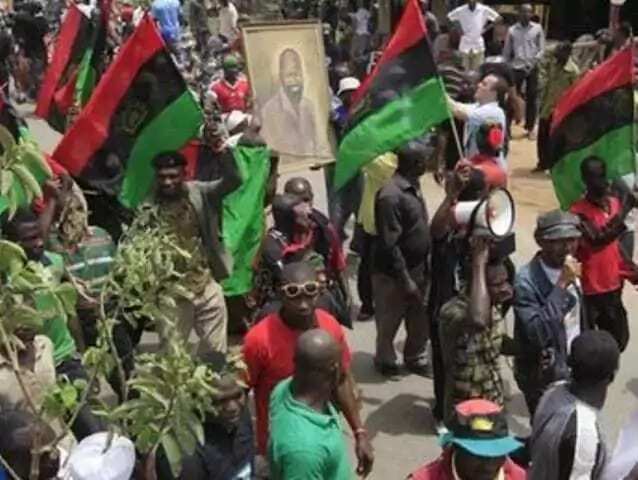 READ ALSO: Biafra warlord urges Igbos to be politically active
His words: "We can't stop, we have passed that point. Some people think that the agitation for the Sovereign State of Biafra was because of marginalization or infrastructural decay in the eastern region, No! We have passed that.
"We want Biafra, not because our roads are bad, not because Igbo man has not become the President of the country, Nigeria. We want Biafra not because of negligence of service, but we want Biafra because we are Biafrans; we are created Biafrans and we have to exhibit it in all sense of responsibility. We want to restore the ancient kingdom of Biafra as it were before the 1914 amalgamation of Northern and Southern Protectorate.
"Our people have died not because of Igbo Presidency, because of Biafra and the people that were killed in Aba and many other parts of Nigeria were being killed because of Biafra.
PAY ATTENTION: Get the latest News on Legit.ng News App
"They were not killed because of the bad roads in the southeast, second Niger Bridge or Igbo Presidency or decay in infrastructure, if they like, let them (federal government) fix everything overnight, it won't make us to stop. We have reached the point of no return, there is no way we can go back in the struggle for Biafra."
Meanwhile, the Movement for the Actualization of Sovereign State of Biafra (MASSOB), has said its drive for the restoration of Biafra cannot be deterred by the threat of Lt Gen Buratai, the Chief of Army Staff (COAS).
The Uchenna Madu led group maintained that such statement credited to the Army chief cannot stop its secession drive.
Source: Legit