- Nigeria has concluded plans with Russia to build power plants in the country
- The power plants will be located in Geregu and Itu areas of Kogi and Akwa Ibom states respectively
- The nuclear plants are expected to benefit Nigeria in the areas of manufacturing, agriculture, health, technology among other key areas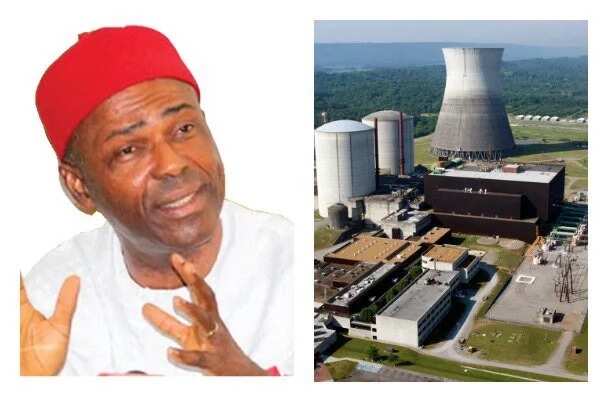 The federal government said it has concluded plans with Russia to build nuclear power plants in Kogi and Akwa Ibom states, Premium Times reports.
The power plants which will be located in Geregu and Itu areas of the two states respectively, after completion, are expected to meet the needs of Nigerians in diverse areas including agriculture, health, technology, education, manufacturing, says Ogbonnaya Onu, the minister of Science and Technology.
READ ALSO: NNPC to commence full repair of refineries in 2017
He said: "Nuclear power is considered a prominent alternative and a more environmentally beneficial solution since it emits far less greenhouse gases during electricity generation than coal or other traditional power plants.
"It is a manageable source of generating electricity and has large power-generating capacity that can meet industrial and city needs.
"It is not like the low-power technologies such as solar that might meet only local, residential or office needs but cannot generate power for heavy manufacturing," he said.
READ ALSO: NASA published the list of plants that are the best air cleansers. They must be in every home!
However, Director General, Nigeria Atomic Energy Commission (NAEC), Dr. Franklin Erepamo Osaisai while speaking at a joint coordination committee meeting for the implementation of the Nigeria-Russia Agreement on Peaceful Application of Nuclear Energy, revealed that an agreement has been reached between the two countries.
According to him, preparations are in top gear to ensure the successful implementation of the pact
He said: "This is the second meeting of the committee. There are five technical working groups (WG) handling specific areas of the agreements. They include the one on human resources development, the nuclear infrastructure, siting of nuclear power plants, financing and another on the legislative and regulatory framework."
However, Dr. Kirill Komarov, the Head of the Russian delegation, has commended Nigeria and emphasized Russian's commitments towards the development of Nigerian students.
Meanwhile, Nigerian National Petroleum Corporation (NNPC) has concluded plans to make a comprehensive rehabilitation of the nation's three refineries in order for them to optimal delivery.