Bola Tinubu's Inauguration: Nigeria Swears In New President as Buhari Hands Over; Live Updates
Asiwaju Bola Ahmed Tinubu's tenure as the 16th president of Nigeria will officially begin with his inauguration on Monday, May 29.
The inauguration event, which also officially marks the end of the tenure of President Muhammadu Buhari, will hold at Eagle Square in Abuja, starting at 10 am.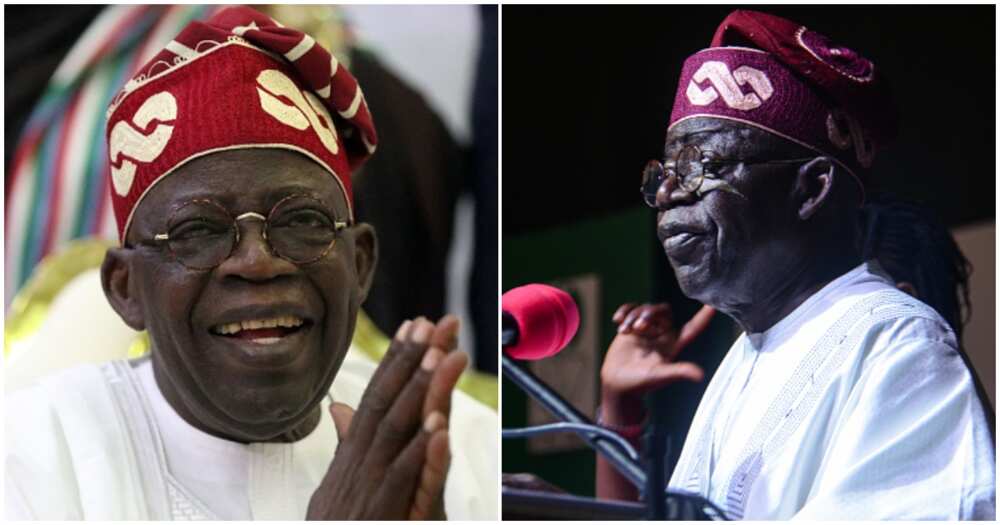 Stay tuned for Legit.ng's live updates of the event.
Off to Aso Villa: Tinubu departs Eagle Square
President Bola Ahmed Tinubu has departed the venue of the presidential inauguration at Eagle Square where he was just sworn in as President. His departure marks the end of the historic event.
President Bola Tinubu is escorted to Aso Villa in the presidential convoy.
Inauguration winds up with national anthem
The national anthem has just been recited as the presidential inauguration at Eagle Square glides to an end
21 gun salute
Twenty-one gun salutes rend the air at Eagle Square in honour of new President Bola Ahmed Tinubu.
Tinubu ends speech
"Hope is here," Tinubu says as he ends his inaugural speech.
Tinubu's point of Foreign Exchange
President Ahmed Tinubu noted that he would ensure a unified foreign exchange rate to bring an end to the wide disparity between official and parallel market rates.
"Interest rate will come down. It is currently too high, anti-people, anti-business, we have to work on all of them." -- President Bola Tinubu
Fuel subsidy gone, says Tinubu
Tinubu has said that "fuel subsidy is gone" under his administration.
Multiple taxation
Tinubu promised to review complaints on multiple taxation to enhance the ease of doing business and to attract investors
Tinubu point on power/electricity
Tinubu promised affordable electricity to homes and businesses, adding that power generation capacity will be doubled.
Tinubu on economy
"We target a GDP not less than 6% growth," Tinubu boast.
Prejudice to none, compassion to all, says Tinubu
President Bola Tinubu, said:
"I shall serve you with prejudice towards none, but with compassion towards all."
More snippets from Tinubu's speech
You have the right to go to court, Tinubu tells Atiku, Obi
"My opponents have the right to go to court," says Tinubu, referring to former Vice President Atiku Abubakar of the Peoples Democratic Party and Peter Obi of the Labour Party and others who are challenging his victory.
It's time for President Bola Tinubu's inaugural speech
President Bola Tinubu mounts the podium to present his inaugural speech.
Snippets from Bola Tinubu's speech:
"My love for Nigeria is abiding," says Tinubu in his inaugural speech.
Nigerians have endured suffering that would have made other societies crumble - Tinubu
"Our adminisration will govern only on your behalf, but [will] never rule over you," Tinubu tells Nigerians.
Entertainment time at Eagle Square
After the swearing-in of the new leaders, it's time to showcase Nigeria's cultural and musical proweress at Eagle Square.
The National Troupe of Nigeria is delivering a drama presentation.
Buhari jets to Daura
Former President Muhammadu Buhari prepares to board aircraft 001, an exclusive plane reserved solely for the Nigerian President.
This will mark his final flight aboard this distinguished aircraft as he heads to his hometown in Daura, Katsina state, departing from Nnamdi Azikiwe International Airport in Abuja.
Members of his former cabinet bid him farewell.
Bola Tinubu as military parade continues
President Bola Tinubu is back on the podium. He gives permission for the military parade to continue while he is heard thanking the dignitaries in attendance.
The air is filled with the resounding chants of "On your mandate, we shall stand" as the parade moves forward. This customary song, often sung by Tinubu's supporters at public gatherings, serves as an enthusiastic tribute, demonstrating their unwavering support wherever he makes an appearance.
President Bola Tinubu takes over, parades Eagle Square in Motorcade
As Buhari leaves Eagle Square, President Bola Tinubu starts his tour of the venue as part of the official ceremonies, acknowledging the guests, amid cheers and reading of his citation.
Former President Buhari departs Eagle Square
Nigeria's immediate past president, Muhammadu Buhari, departs Eagle Square. He will be flying to his hometown of Daura in Katsina state.
Bola Tinubu receives new national and defence flags
Former President Muhammadu Buhari has presented the new national and defence flags to President Bola Tinubu, who in turn, handed it over to CDS Lucky Irabor.
In a symbolic gesture, the new national and defense flags are currently being hoisted, signifying the dawn of the new administration.
This act serves as a visual representation of the transition of power and the commencement of a fresh chapter in the nation's history.
It's the beginning of a new tenure!
Special military parade: Lowering of national and defence flags
In a show of unity, Tinubu and Buhari stand shoulder to shoulder, casting their gaze upon the military parade.
This time-honoured tradition serves as a tribute, commemorating the peaceful transition of power.
Lowering of national and defence flags signifies the end of a dispensation. The flags will be folded and handed over through the service cheifs finally to the immediate past president, Buhari, signifying that his tenure is over.
Asiwaju Bola Ahmed Tinubu becomes 16th president of Nigeria
From today, Tinubu is no longer the president-elect. He is the new president of Nigeria.
From the podium at Eagle Square, the first family joyously extends their greetings and waves to the audience, encompassing not just Nigerians but also the world.
With this symbolic gesture, the official transfer of power becomes a reality, marking a significant moment in history.
Bola Tinubu is now invited to podium to take oath of office
Amid loud cheers and chanting of the song, "Bola Tinubu, on your mandate we shall stand....", Bola Tinubu moves to the podium.
Bola Tinubu is now taking his oath of office. He is flanked by President Muhammadu Buhari and his family.
It's official: Kashim Shettima is now the vice president of Nigeria
From today, Kashim Shettima is no longer the vice-president-elect. He is now the new vice president of Nigeria.
Oath of office: VP-elect Kashim Shettima comes first
Kashim Shettima mounts the podium alongside his wife and takes his oath of office as the vice president.
Intermittent cheers erupt from the crowd as Shettima, amidst an atmosphere of excitement, solemnly undertakes his oath of office. He's now signing the document to formalise his position as the vice-president of Nigeria.
"I, Kashim Shettima, do solemnly swear that I will not allow my personal interests to influence my official conduct or decisions... So help me, God."
CJN Olukayode Ariwoola invited to administer oath of office on Tinubu and Shettima
Justice Ariwoola moves to the podium to administer the oath of office on President-elect Bola Tinubu and Vice-president-elect Kashim Shettima.
Bola Tinubu's inauguration: It's time for opening prayers!
The imam of the National Mosque, Abuja, starts the opening prayer. The Christian prayer follows.
President Muhammadu Buhari Arrives
The resonating wails of sirens reverberate throughout Eagle Square, signalling the arrival of Muhammadu Buhari.
As he enters to fulfil his final duty as president, the atmosphere becomes charged with anticipation and significance.
Amidst the melodic tune of the national anthem, the president ascends the podium, capturing the attention of the audience.
Outgoing First Lady Aisha Buhari Arrives
Prior to President Muhammadu Buhari's imminent arrival, Aisha Buhari, the First Lady, has already made her entrance.
Dignitaries, including the vice president, stand prepared to welcome the outgoing president as he is expected to arrive at any moment.
Vice President Yemi Osinbajo arrives
The outgoing vice president, Professor Yemi Osinbajo, and his wife have arrived.
President of Ghana arrives Nana Akufo-Addo
At the venue of the inauguration, SGF Boss Mustapha extends a warm welcome to Nana Akufo-Addo, the President of Ghana, as he graces the occasion.
President-elect Bola Ahmed Tinubu arrive
The president-elect, Asiwaju Bola Ahmed Tinubu, and his wife, Remi Tinubu, have arrived. They were welcomed by SGF Boss Mustapha.
Senate president and House of Reps Speaker arrive
The president of the Senate, Ahmad Lawan, and the Speaker of the House of Reps, Femi Gbajabiamila, arrive.
Mild security breach
Moments ago, a brief episode of chaos unfolded among the security personnel at the gate, but now,
Former Kenyan president Uhuru Kenyatta arrives
Uhuru Kenyatta, the former president of Kenya, has arrived at the venue. The President of Rwanda, Paul Kagame, is also present.
The president of South Africa, Cyril Ramaphosa, is also in attendance.
Anambra state governor, Soludo in attendance
The governor of Anambra state, Charles Soludo, is present at Eagle Square. His colleague from Ekiti state, Abiodun Oyebanji, is also present.
Chief of Defence Staff Lucky Irabor arrives
The Chief of Defence Staff (CDS), Gen Lucky Irabor, has arrived.
Vice President-elect Kashim Shettima arrives
The vice president-elect, Senator Kashim Shettima, has arrived alongside his wife.
Also, Godwin Emefiele, governor of the Central Bank of Nigeria (CBN); Abdulrasheed Bawa, chairman of the Economic and Financial Crimes Commission (EFCC); and the Ooni of Ife, Oba Adeyeye Enitan Ogunwusi, have all arrived at the inauguration venue.
Service Chiefs arrive Eagle Square
To kick-off the military parade, the service chiefs and the inspector-general of police have arrived at the inauguration ceremony. Their presence marks the commencement of this grand event.
SGF Boss Mustapha, CJN Ariwoola arrive Eagle Square
Kayode Ariwoola, the Chief Justice of Nigeria (CJN) and Boss Mustapha, the Secretary to the Government of the Federation, arrive at Eagle Square.
Bola Tinubu is anticipated to be sworn in as president, with the Chief Justice of Nigeria (CJN) overseeing the inauguration ceremony.
Inauguration parade begins in full swing
Awaiting the signal from their commanding officer, the military guards stand poised, ready to commence the parade. This significant segment of the inauguration ceremony is poised to commence imminently.
The inauguration has got underway with a match parade led by Lieutenant Saleh Hassan.
As dignitaries continue to arrive, the parade is now in full swing, showcasing its vibrant spectacle and captivating the onlookers.
The parade comprises a total of six guards, representing different branches of the Nigerian military and police force. Among them, three guards belong to the Nigerian Army, one represents the Navy, another the Air Force, and the final guard represents the Police
Former president Goodluck Jonathan arrives
Nigeria's former president, Goodluck Jonathan, and his wife Patience Jonathan, have arrived. The president of the AfDB, Akinwunmi Adesina, is also in attendance at Eagle Square.
Inauguration parade starts
The inauguration ceremony officially commences with the master of ceremony now kicking off proceedings.
In their distinguished ceremonial attire, the military band members assume their positions in advance of the inauguration parade.
Political stakeholders, Festus Keyamo, Gbemisola Saraki, others arrive
Festus Keyamo (SAN), Gbemisola Saraki and other top APC chieftains have arrived at Eagle Square.
Business moguls Dangote, Femi Otedola, others arrive
VIP dignitaries have started arriving. Africa's richest person, Alhaji Aliko Dangote, and other billionaires in the country, Femi Otedola, Abdul Samad Rabiu, and others have arrived.
Welcome to Inauguration Day: May 29!
Welcome to Legit.ng's live coverage of the inauguration of President-elect Bola Tinubu. The venue of the event, Eagle Square, is currently being prepared.
There's a downpour in the early hours of the day, but it has stopped, and preparations are in top gear for the historic event.
Inauguration Dinner Holds
Ahead of the swearing in on Monday, inauguration dinners holds in Aso Rock with dignitaries in attendance. The president-elect also spoke at the dinner.
Biden's Delegation For Tinubu's Inauguration Arrives In Nigeria
The nine-member delegation billed to attend the inauguration of the president-elect, Asiwaju Bola Ahmed Tinubu, has arrived in Abuja.
The team was welcomed to Nigeria on Sunday, May 28, 2023 by the United States Mission in the West African country.
Will Buhari attend Tinubu's inauguration?
President Muhammadu Buhari and First Lady Aisha Buhari are expected to attend the inauguration ceremony.
The outgoing leader and his wife may fly to Daura, Katsina state, after leaving the ceremony.
Will Tinubu give Inauguration Speech?
Tinubu is expected to give an inauguration speech (or inaugural speech) after being sworn in. The speech will provide some kind of introduction to what is expected from his administration.
How to watch Tinubu's inauguration
Nigerians in the country can watch di coverage of the Tinubu inauguration live on their local television stations.
Nigerians abroad and others outside the country can watch live on Youtube channels of some of the local television stations.
Legit.ng is also reporting live updates of the history event.
Bola Tinubu's Inauguration: Venue, Time
President-elect Bola Tinubu's inauguration will take place at Eagle Square in Abuja. The event where Tinubu will take his oath of office starts at 10 am.
However, all invited guests will be seated at Eagles Square by 8.30 am.
The inauguration parade/swearing-in of di President-elect and Vice-President-elect Kashim Shettima starts at 10am.