Super Amazing: Old Oyinbo Men and Women Sing Catholic Hymn Fluently in Igbo, Video Causes Stir among Nigerians
A group of old Oyinbo men and women sang their hearts out in Igbo while practicing a Catholic hymn
Apart from the fact that they are advanced in age, it was how they sang the hymn in Igbo language for many people
While their performance has received wide commendations from Nigerians, many didn't find it deserving such
While a video of Oyinbo people dressed in white attires worshipping Ifa deity caused a stir on social media, another one with similar narrative has left many stunned.
This time, a group of old Oyinbo men and women were captured practicing a catholic hymn while speaking the Igbo language fluently.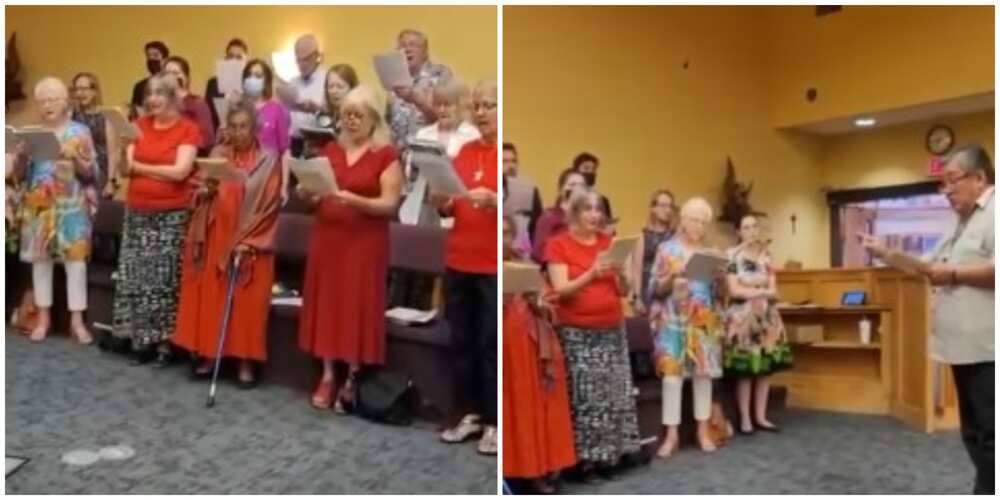 Sharing the video on his Facebook wall, a man identified as Chuks Ineh expressed joy at the development and captioned it:
"Igbo to the world."
Led by a man who appeared to be their choir master, the old choir members guided by a copy of the hymn in their hands sang with such a finesse that a non-speaker of Igbo language would want to learn it.
Legit.ng couldn't ascertain the location of the incident as of time of making this report.
The over 2 minute video has earned the old people admiration from Nigerians especially those of Igbo extraction but others are in disagreement.
Social media reacts
Kennedy C. Stephen said:
"Wow !!! This is super amazing, unity in diversity is God's plan.
"Some of you Igbo's who teach your children only English language, you don't teach them Igbo language, see how the English people are in need of your own Igbo language."
Tochi Nwagere wrote:
"Igbo Language should be mandatory in the world. White have cheated us so much. We Igbo's "Biafra" are the main owners of the whole universe. (Eg) no country on earth you can not see a true Biafra man.."
Desmond Obasi commented:
"This is absolutely wonderful. That white people are singing in Igbo language. God is great. Igbo language will eventually be a world language. Glory be to God Almighty."
Ogbedeleto Jacinta remarked:
"You people have forgot that we have been using Latin in Roman Catholic Church for centuries and we have been promoting foreign languages and now only using Igbo translation for church service we will not hear word again.
"Mediocrity is so absurd."
Oyinbo celestial church priest had sang passionately to a popular Yoruba song
Meanwhile, Legit.ng previously reported that an Oyinbo celestial church priest had sang and vibed to a Yoruba song.
The unidentified celestial church priest reportedly based in Paris, France vibed and sang the song fluently.
A short video capturing his rendition was shared on Instagram by Tunde Ednut.
The joyous priest could be heard while he sang encouraging the congregation to sing along.
Source: Legit.ng