Ikoyi Building Collapse: Take These Actions Now, Buhari Sends Message to Lagos Govt
The Nigerian presidency has expressed pain over the building collapse in Lagos on Monday, November 1
President Muhammadu Buhari has condoled with families whose members were victims in the tragedy
The president also called on authorities in the state to do their utmost in making sure there are more successful rescue operations at the scene
President Muhammadu Buhari has reacted to the tragic news of the 21-storey building collapse in the Ikoyi part of Lagos state.
Through a message shared on Facebook by one of his media aides, Femi Adesina, the president sent his sympathy to families who lost their loved ones in the disaster in Lagos as other persons are still trapped in the ruins.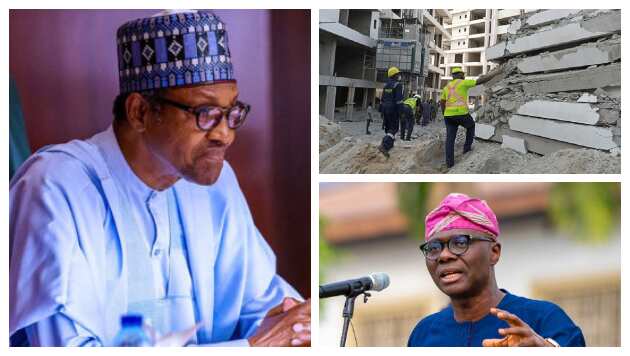 President Buhari has also ordered emergency authorities in the state to step up efforts in rescue operations.
He also directed hospitals in Lagos to provide all the necessary support to safeguard the lives of those who have already been rescued.
Ikoyi collapse: Structure consultant complained about construction error 21 months ago, withdrew service
Earlier, a piece of new information on the collapse of the 21 storey building along Gerrard/Bourdillon road, Ikoyi, emerged.
In a leaked letter the managing director of Prowess Engineering Limited, Murtala Olawale, who was the formal structural consultant of the building, clearly informed the owner of the building Femi Osibona through his company, Fourscore Heights Limited of structural defect.
Olawale went on to say in the letter, headed 'Re-Proposed Gerrard Terraces for Fourscore Limited,' that his business will be withdrawing its services because the two companies no longer have the same vision regarding the construction.
Olawale stressed that he can only guarantee the integrity of two buildings whose services his company provided for Fourscore Heights, as well as a third one up till the fourth floor, having met required concrete strength.
He also added that he will not take further responsibility for the third building, over construction errors that may occur on the project over time as his company does not have control over the concrete cube test results of each stage of the building up until the time the letter was written.
Source: Legit.ng