Ikoyi Collapse: Structure Consultant Complained about Construction Error 21 Months Ago, Withdrew Service
A letter reportedly from a formal structural consultant of the Ikoyi building that collapse on Monday, 1 November 2021 has surfaced online
In the letter, the former consultant of the building Prowess Engineering Limited clearly raised a concern about the structure plan of the building
When it seemed that the consultant's suggestion was not followed, the firm withdrew its service and requested that its trademark be removed from the building.
A piece of new information on why the 21 storey building along Gerrard/Bourdillon road, Ikoyi collapsed on Monday has emerged.
In a leaked letter the managing director of Prowess Engineering Limited, Murtala Olawale, who was the formal structural consultant of the building, clearly informed the owner of the building Femi Osibona through his company, Fourscore Heights Limited of structural defect.
Olawale went on to say in the letter, headed 'Re-Proposed Gerrard Terraces for Fourscore Limited,' that his business will be withdrawing its services because the two companies no longer have the same vision regarding the construction.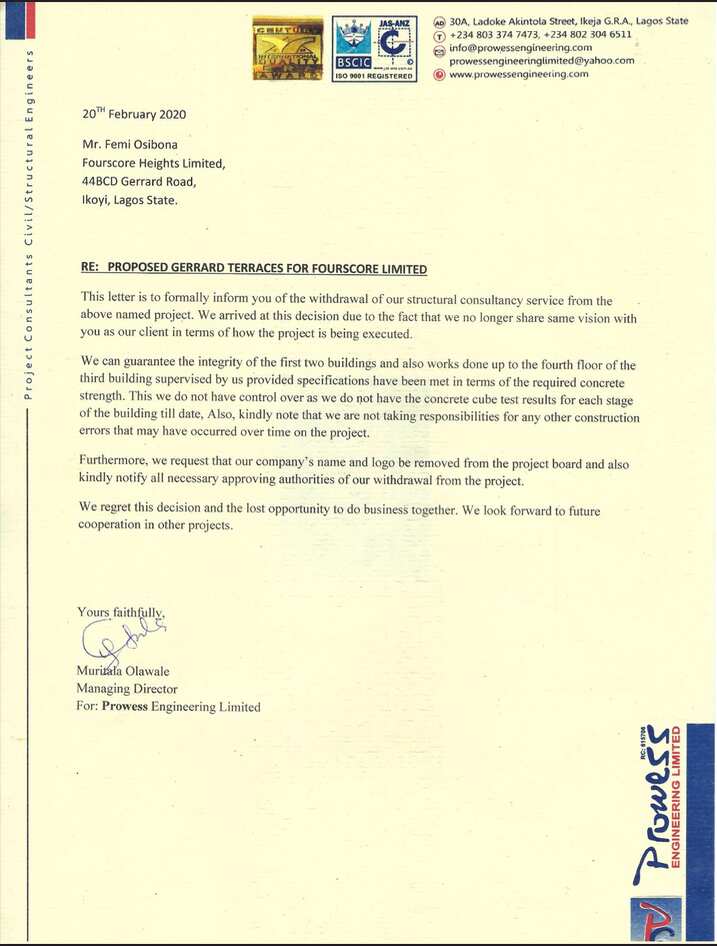 First seen by street journal Olawale stressed that he can only guarantee the integrity of two buildings whose services his company provided for Fourscore Heights, as well as a third one up till the fourth floor, having met required concrete strength.
Olawale also added that he will not take further responsibility for the third building, over construction errors that may occur on the project over time as his company does not have control over the concrete cube test results of each stage of the building up until the time the letter was written.
As at 6 pm on November report has it that a total of 50 persons are trapped with two already confirmed dead.
As 21-Storey Building Collapses in Ikoyi
Legit.ng had earlier reported on another three-story building has collapsed along Cemetery road, opposite the health center in the Ebute Metta area of Lagos state.
The Lagos State Emergency Management Agency (LASEMA) commenced operations to rescue those who may be trapped in the building.
Omolola Essien, the chairperson of the Lagos mainland local government also confirmed the incident in a social media post.
Source: Legit.ng