Actress Uche Ogbodo: I'm Very Happy about Having Children as a Single Mother
- Uche Ogbodo in a recent interview shared her views on getting married
- The Nollywood actress who is currently expecting baby number two with a different partner, spoke about being a single mother
- Ogbodo whose pregnancy has caused a buzz online, spoke about how she handles online criticisms
PAY ATTENTION: Legit.ng is on a mission to support vulnerable children of Calabar – join the initiative on Patreon, let's change more lives together!
Nollywood actress, Uche Ogbodo, is expecting to receive another patter of tiny feet in her home any time soon.
The light-skinned actress who has a child from her previous relationship says she has never been married - not to the father of her first child nor the father of her unborn baby.
In an interview with Maryjane Eze of Legit.ng, Uche revealed who is responsible for her pregnancy, why she is not ready to get married, and the importance of single ladies having children with or without getting married.
On plans of getting married any time soon, she stated that she has many reservations on the issue. According to her, marriage is something that she wanted to try but it didn't work out. For the actress, she's no longer thinking about it but, about having a kid.
Ogbodo explained that she is very happy about having a child as a single mother. She revealed that she would be okay if marriage eventually comes.
"I'm very well happy about having a child as a single mother. So many of our women are depressed and looking old and haggard because of the issues of marriage and pregnancies. In Africa, we believe that it's only a married woman that can get pregnant. In fact, that's what our parents taught us and our grandparents taught our parents.
"Lot of us in Africa, so many families believe a woman is promiscuous if you have to get pregnant out of wedlock but to whose detriment really? To the girl's detriment. So many aged, some are childless and many of them have entered menopause without kids because they were waiting for husbands to marry them first before they get pregnant. They were more concerned about what will society say about them getting pregnant out of wedlock. So many of them are depressed and dying alone and lonely and sad."
She continued:
"When you can at your youth have your kids and then what's marriage? It's a partnership, if marriage comes marriage comes. Why you going to live your life in your 20s, in your 30s, in your 40s, in your 50s waiting for a man that you don't even know if he's going to come. Waiting for marriage? What the hell is that? What is marriage? So who says that people who were single mothers don't get married? Who says that men don't come to women who have kids? Because even while pregnant men still come after me, so what's going on? If marriage is my problem I'm going to get married but right now I'm taking my time. There's still time for marriage I'm still young and beautiful and I can still get married anytime I want. But I have my kids they're blessings to me."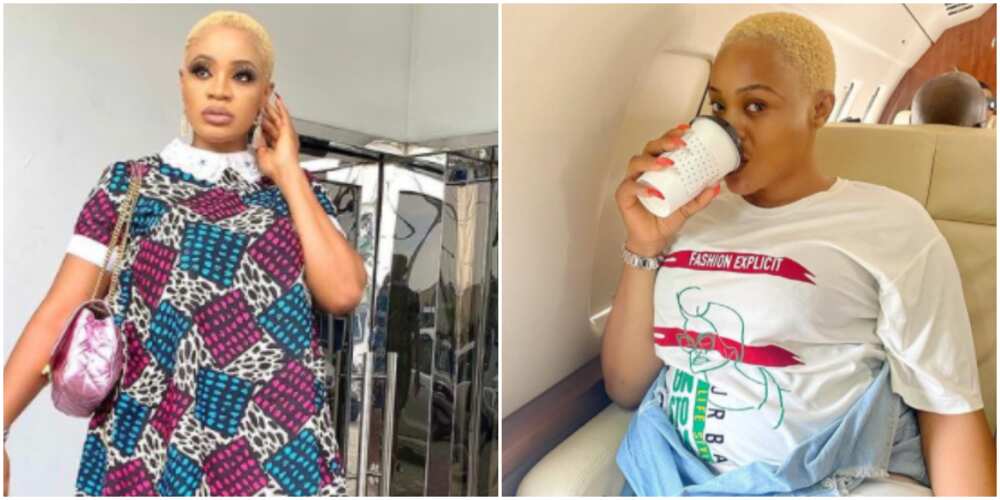 PAY ATTENTION: Join Legit.ng Telegram channel! Never miss important updates!
When asked about the advice she'd give ladies who are gradually giving up on marriage due to ugly stories here and there, she said:
"People have different reasons to want to give up on marriage. I am not giving up on marriage; marriage is a beautiful thing you know. I admire a lot of people who I see, who have peaceful marriages, who have tried to understand themselves and they are together, you know, I admire that. So marriage is beautiful but if it is something you can do, if it is something you can't do, leave it. Don't rush into it because society they are pushing you."
Her take on DNA for babies right after delivery:
"DNA is good o, e no easy say person dey train pikin wey no be hin own. So many people can be evil. They outrightly know that this baby is not this man's baby and they will force it on the man because they feel the man is capable or he can take care of them. I don't support that, that is evil. Why would you do that to someone? A human being like you, and the man will be so kind as to accept the baby and nurture the baby, can't you see he's a good man right there? Why would you take advantage of him or advantage of his trust? You know women that do this thing, I don't know, so DNA is good if you have money but it's just so expensive. It's good to do it at least to be sure if you're having trust issues but if you're not having trust issues what's the need for it if you trust your partner?"
PAY ATTENTION: Click "See First" under the "Following" tab to see Legit.ng News on your Facebook News Feed!
When asked how she plans to cope with taking care of two children considering the state of the country's economy, she stated that she was capable and a hard worker.
"My dear, hmmm you no lie but God is in control, I'm capable. I'm working hard not just sitting down and folding my arms thinking that God provides our daily food (this is wrong) God provides daily bread but not when you fold your arms and sit in one place waiting for manna to fall from heaven. I am a hard-working woman and am still working. You can see even while I am in this condition, I'm still working every minute so I am not relenting or resting, I'm trying my best as long as I have strength. I know what am going in for so I'm working hard."
Despite being pregnant, the actress has no plans to take days off as she is still doing what she knows best - shooting movies. According to her, nothing has changed.
She said:
"I didn't go off movies and I cannot go off movies, I am still shooting. That's what I'm saying there's no rest for me, I'm still working nothing has changed. The only thing is that am growing a bit fat and my tummy is coming out a little bit, it's still the same thing to me. I work hard and I'm glad that God is providing."
Speaking of when she grew a thick skin against backlash and social media criticisms, she said:
"I grew thick skin many years ago when journalists were my major problem. And I realized you can't change what you can't change. Better to tough it up! So, these social media trolls are tiny journalists to me. They are ants."
On the worst thing she has read about herself online, she said:
"Every day I read terrible terrible comments about myself but you know I always say that I know who I am for real. So, when you know who you are no matter what people say it doesn't get to you because that's basically not who you are. I don't pay mind to the kind of things I've read about myself online, and even the kind of comments I've gotten from fans. If you tell some celebrities or some artistes these things I'm sure they might commit suicide because I listen to some artistes complain about trolls and little things and I'm like what do they really say and I look at it and I'm like hmm and this thing want to make you kill yourself for real. So if you're a Uche Ogbodo what are you going to do? The most hated, the most criticized, the most misunderstood actress in the whole of Nigeria."
PAY ATTENTION: Do you have news to share? Contact Legit.ng instantly
Uche Ogbodo had a few days ago, revealed she was going to be a mother for the second time.
Not many fans had known or guessed that the film star was pregnant seeing as she was very active on social media and never made mention of the bun in her oven.
The light-skinned actress who already has a child from her previous relationship says she has never been married as the media had been circulating.
PAY ATTENTION: Get the Latest Nigerian News on Legit.ng News App
Kumashe Yaakugh is a Legit.ng journalist with three years of working experience in the media industry. She graduated from Benue State University with a Bachelor's Degree in Mass Communication. Kumashe is an entertainment and lifestyle editor reporting mostly on entertainment and human interest stories. When she isn't working, Kumashe uses her spare time to read about historical events, music and cultures around the world. Learn more about her on Twitter @kvmashe
Source: Legit.ng