Meet Sikiru Adeyemi, the JSS1 student who designed a house from waste items
- Sikiru Adeyemi is a 14-year-old boy who has designed a house from waste items
- He revealed that it took him five months to accomplish that feat
- The smart young boy shares his future dreams and aspirations with Legit.ng
PAY ATTENTION: Click "See First" under the "Following" tab to see Legit.ng News on your Facebook News Feed!
Sikiru Adeyemi is a smart 14-year-old JSS1 student of Jibowu Junior High School in Lagos. He designed a beautiful house making use of waste items. In an exclusive interview with Legit.ng, he revealed how he labored to have that work produced stating that it took him five months to get it done.
Adeyemi's interest in developing things built up at an early age. He had formed the habit of picking materials considered to be a waste and storing them in the house.
This at first had infuriated the mother who felt he was going to turn her house into a dumpsite. However, he explained to her that he wanted to build things from them and she softened.
PAY ATTENTION: Click "See First" under the "Following" tab to see Legit.ng News on your Facebook News Feed!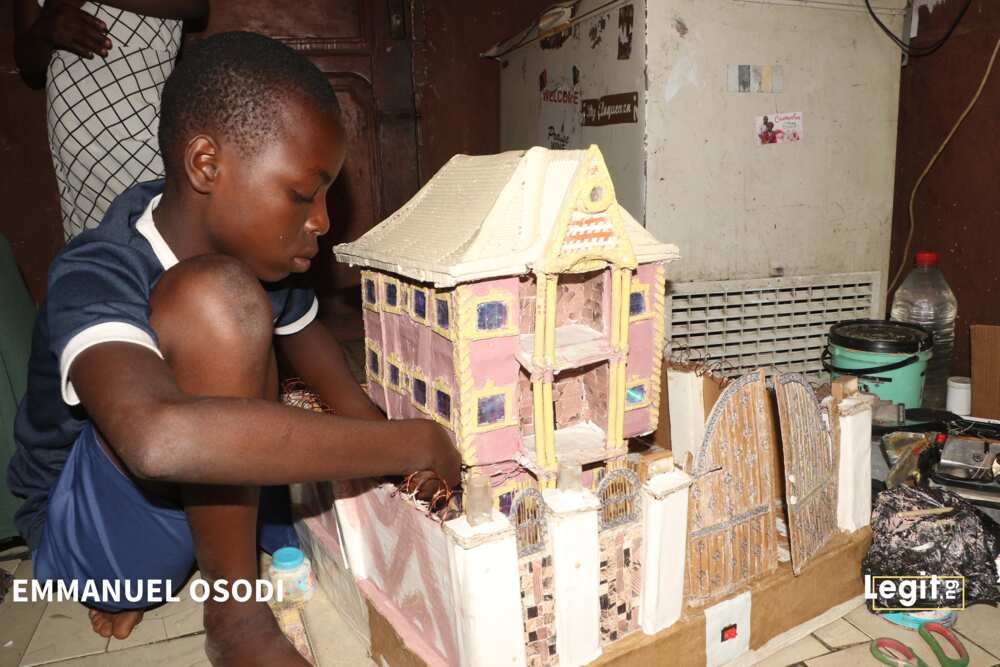 Mrs Adeyemi, the mother of the young boy revealed that he had started with torchlight making. She told the correspondent of Legit.ng that she was worried about him getting exposed to electrical wires but he was able to allay her fears.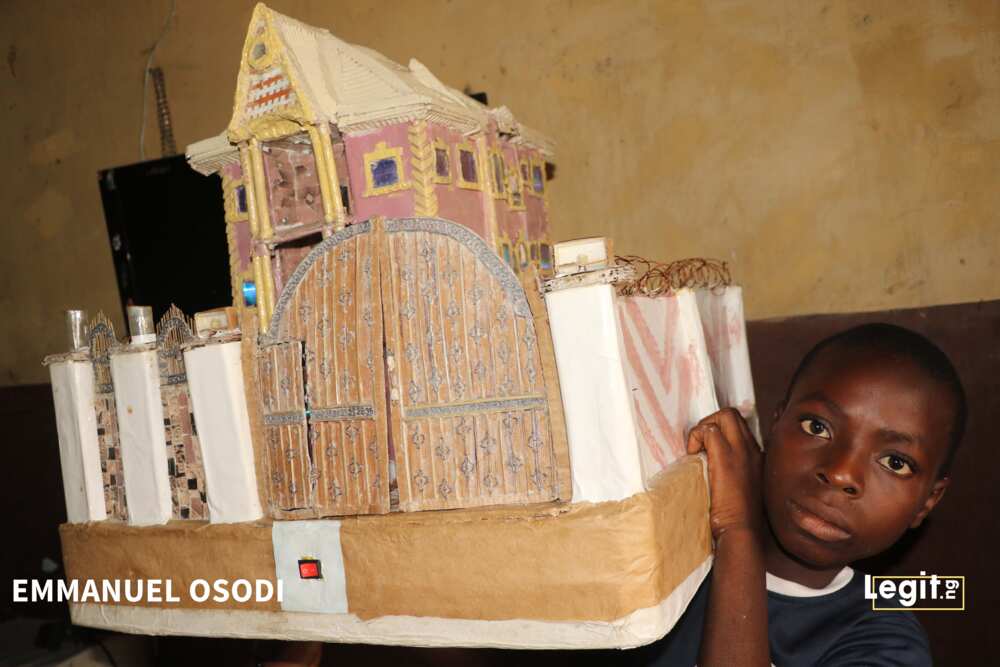 The young lad resides in Onipanu area of Lagos state; our correspondents paid him a visit to see him in his environment and know how the journey began for him. Adeyemi who is the only son of the four children had by his mother said that he saw something similar on someone's phone and decided to give it a try. His father has another wife who also has four children.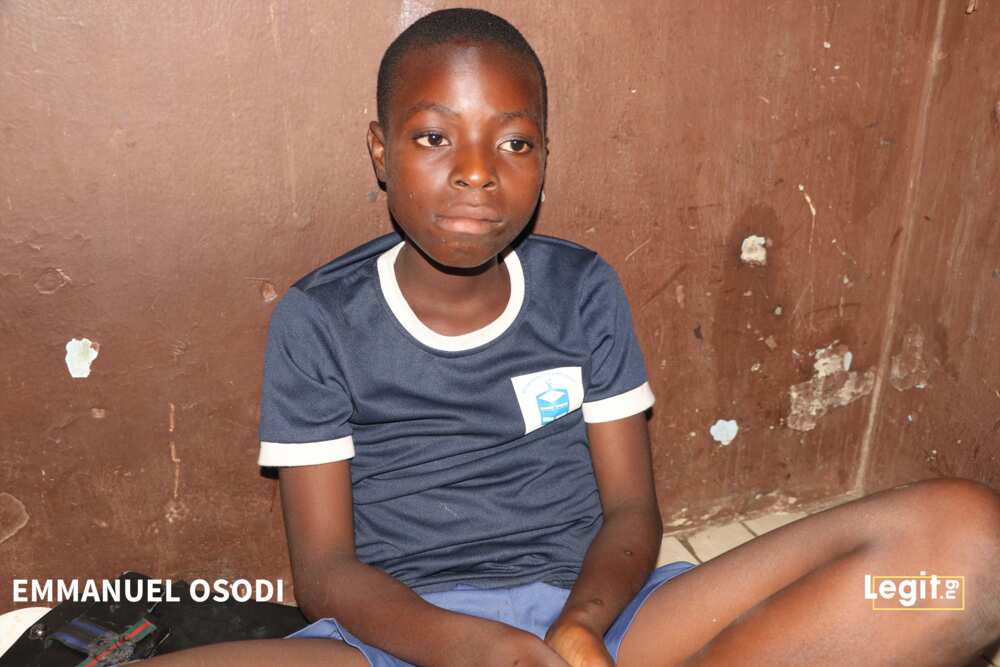 The house design he came up with is a two-storey building with an interlocking floor design. He also had wires installed on the fence and carved out a beautiful gate for it. The house also had tiles for flooring as well as pillars to support and beautify it.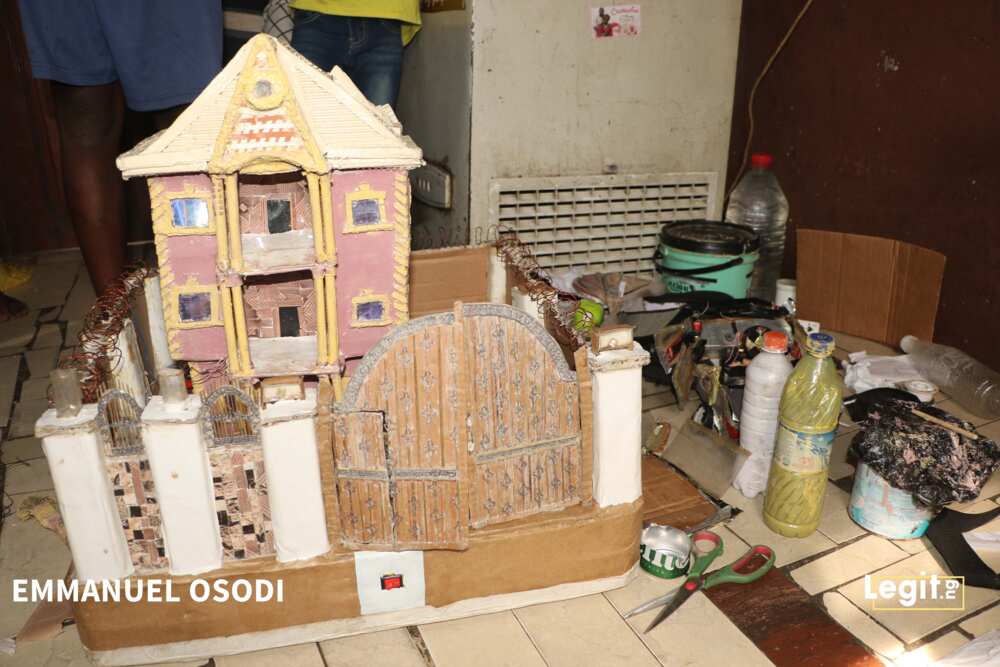 When asked if the design was an abstract creation, he said no and stated that the particular building that inspired him is somewhere around where he resides. Our correspondents also took their time to visit it to see and it was indeed, close to what the young boy had made.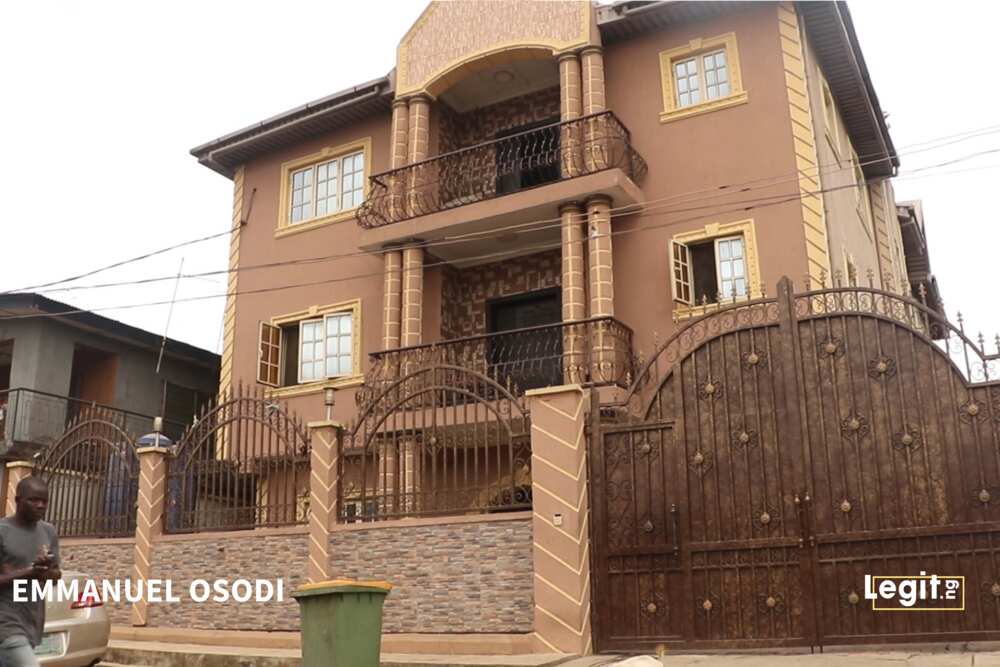 Adeyemi revealed that the owner of the house was impressed with what he had done and gave him seven thousand naira to encourage him. He also said he has never met anyone who is into architectural design therefore establishing the fact that he did not train to learn how to do this.
READ ALSO: Nehemiah Adejoh says he killed female helicopter pilot, Arotile by mistake
The beautiful house designed by Adeyemi took about five months before it finally had shape. He started the project in April 2020. He said that he spent about five thousand naira buying materials to construct it. His mother, who makes ends meet by selling moin-moin, had added to his savings to enable him finish the project.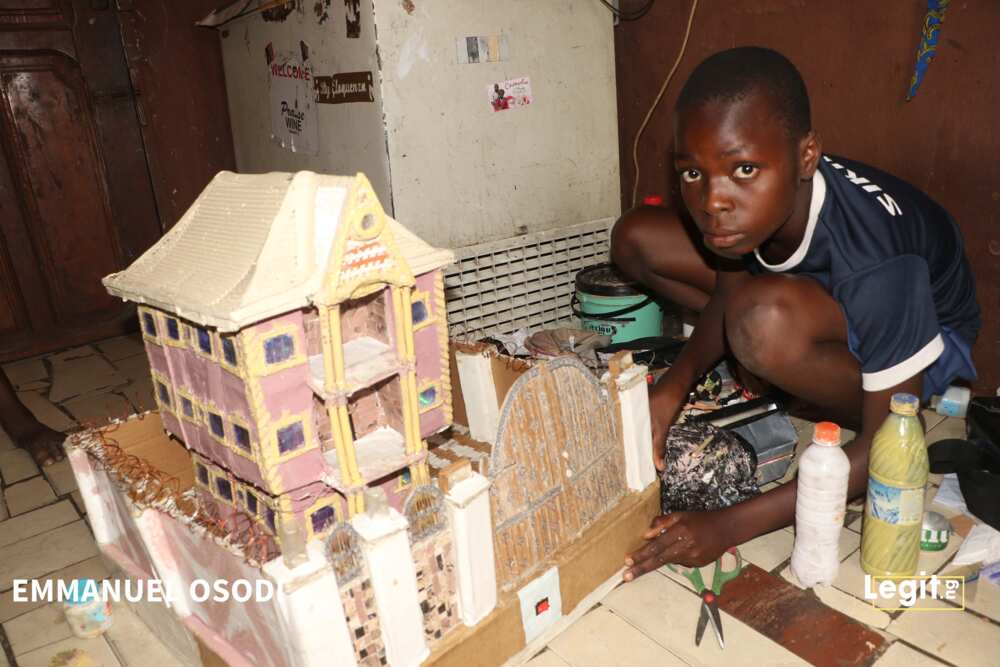 She also mentioned that his teacher when he was in primary six had called her attention to the fact that he is talented. He seldom goes on break when his mates are playing as he would rather do something productive with his time.
His future ambition is to be an architect. His parents support his creativity and he wants well-meaning Nigerians to support his dreams too. His friends are proud of him.
Talented JSS1 student beautifully designs house with waste items | LegitTV
Source: Legit.ng