30-year-old puff-puff seller shares his life journey
Sam is a 30-year-old man who has broken the fences of limitation by paving a path for himself in the entrepreneurial world. The hardworking man shared his story with Legit TV at his business spot in Iyanapaja.
The young man admitted that he was ashamed when he started the business considering the fact that he had worked with big companies in the past. Running into people he knows at the beginning made him hide as he felt he was going to be judged. However, he got past that and braced up.
Sam's nickname is Puff-puff. He had worked as a chef at Sheraton, Fine Coat and other big brands. He also worked at UBA before he decided to start his business. He told the correspondent of Legit.ng that baking and cooking is something he enjoys doing. Before he made up his mind to leave his job, he had tested the waters and was sure it was a passion that would take him far.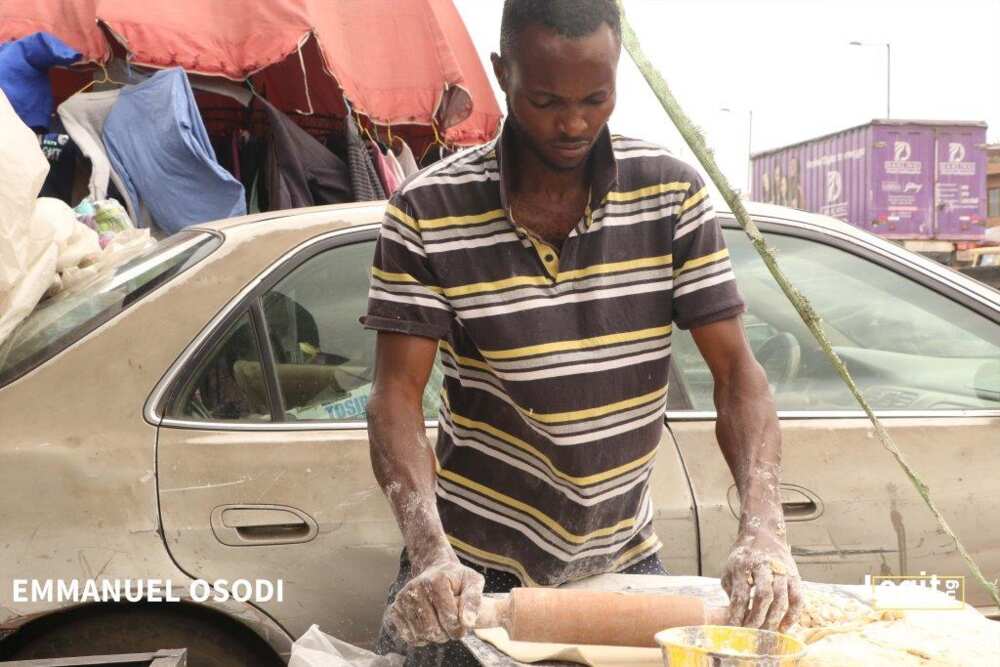 READ ALSO: Musa Baraza: Abducted wives, one-year-old baby of slain Bauchi lawmaker finally regain freedom
The vibrant young man acknowledged that he seldom believes when he hears stories about street hustlers building houses of their own and becoming property owners with their legit businesses until he joined. He started selling puff-puff on the street with Lekki as his starting point.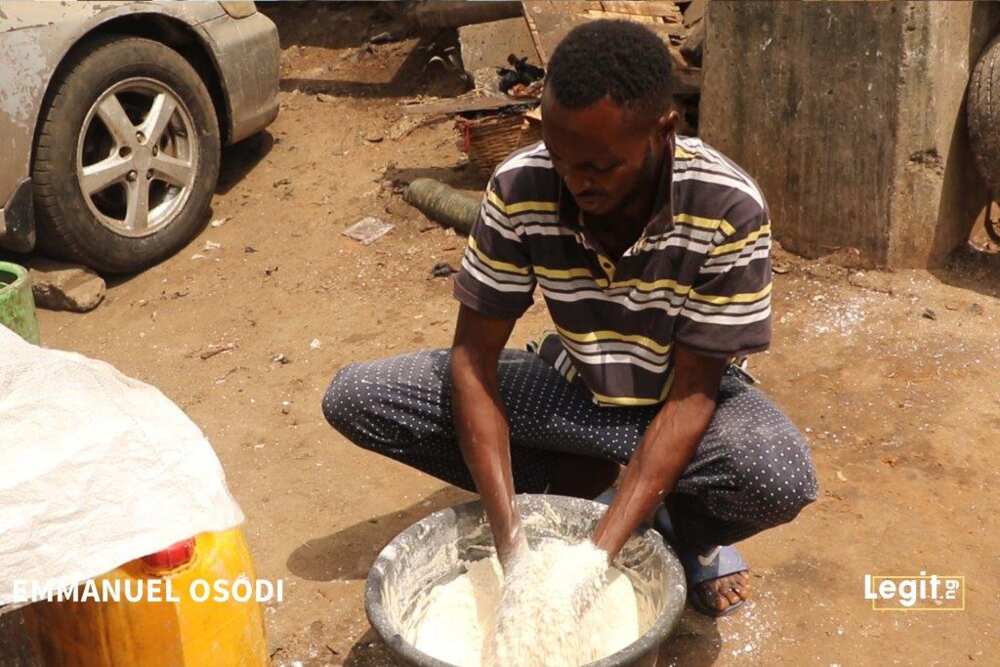 Within a short period of starting, he had three branches in Lekki axis with young boys training under him. They were managing the venture for him while learning the art of baking as well. Some of these guys have started their own businesses according to him. They are doing well too.
The correspondent of Legit.ng also got to know that Sam met his wife around 1004 estate while working as a chef during the course of the interview. As at the time of their meeting, she was working in a financial firm. She was almost being duped when he came to her rescue.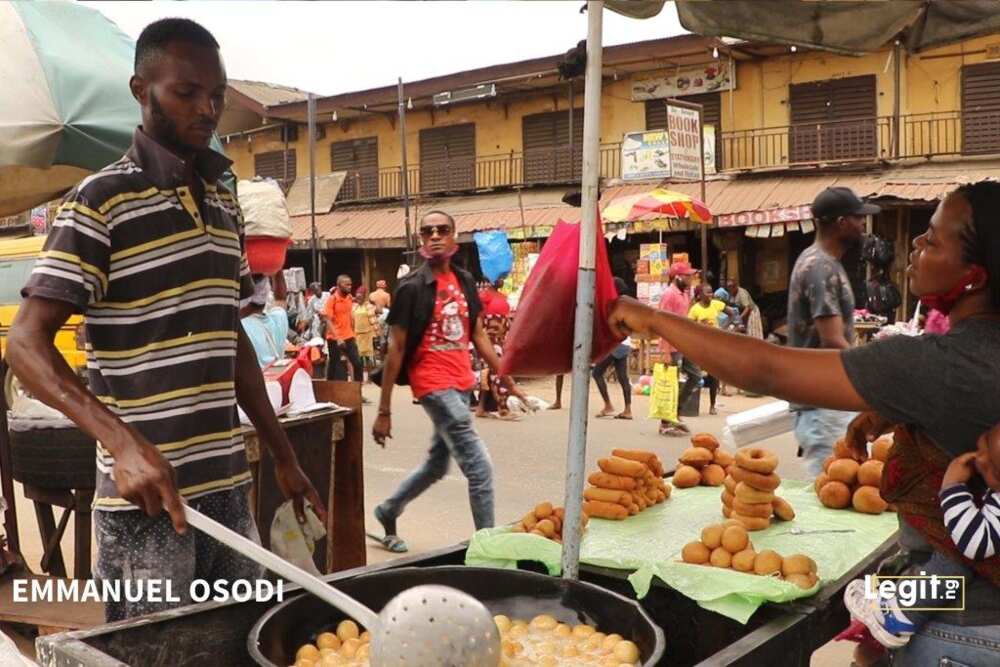 They started dating not long after that and ended up getting married. Both of them run the snack business together now. Apart from puff-puff, they sell doughnuts, egg-rolls, meat pie and fish roll.
Business is booming for the duo; they have become popular and have people trooping to buy the snacks they make. There is nothing to be ashamed of as their needs are being met and life is looking desirable.
Sam also revealed that he makes twice his former salary. What he makes at the end of the month is what he makes in a week now. Being his own boss has paved ways for him; he had endured working for others in the past.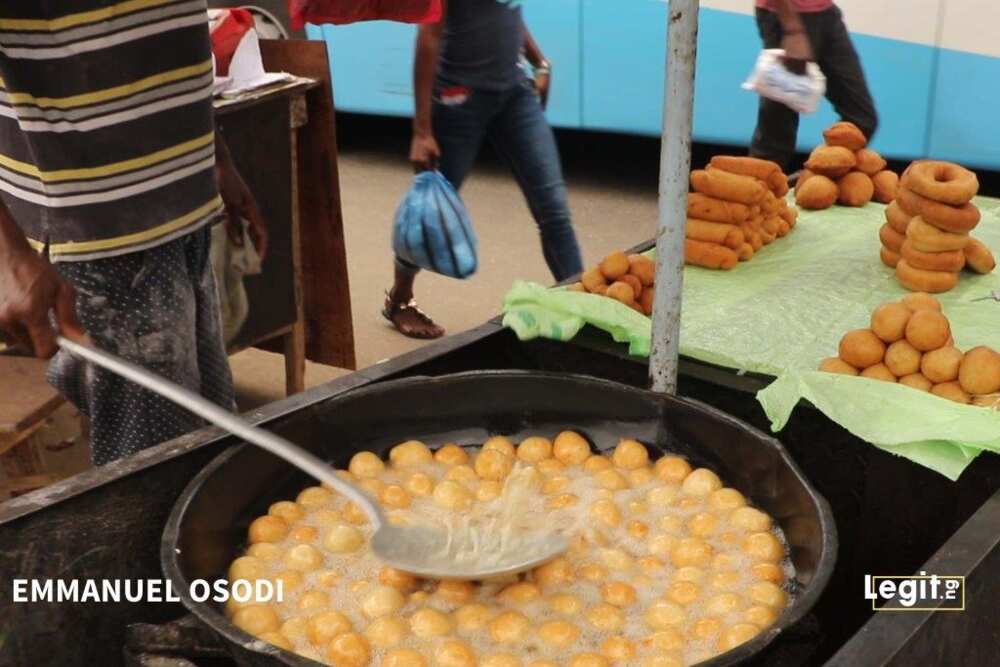 Once, he travelled to Imo state to work for one of his bosses; the man had told him people come into his compound to eat and he loves them eating to their satisfaction. Hence, it was his job to see to the cooking.
He told Legit TV that he cooked two bags of rice daily while he was there and little or no help as his employer did not give him heads up before they left Lagos. If he had, he would have taken some of his boys along to help. Sam ended up staying for about a month there while cooking morning, afternoon and night.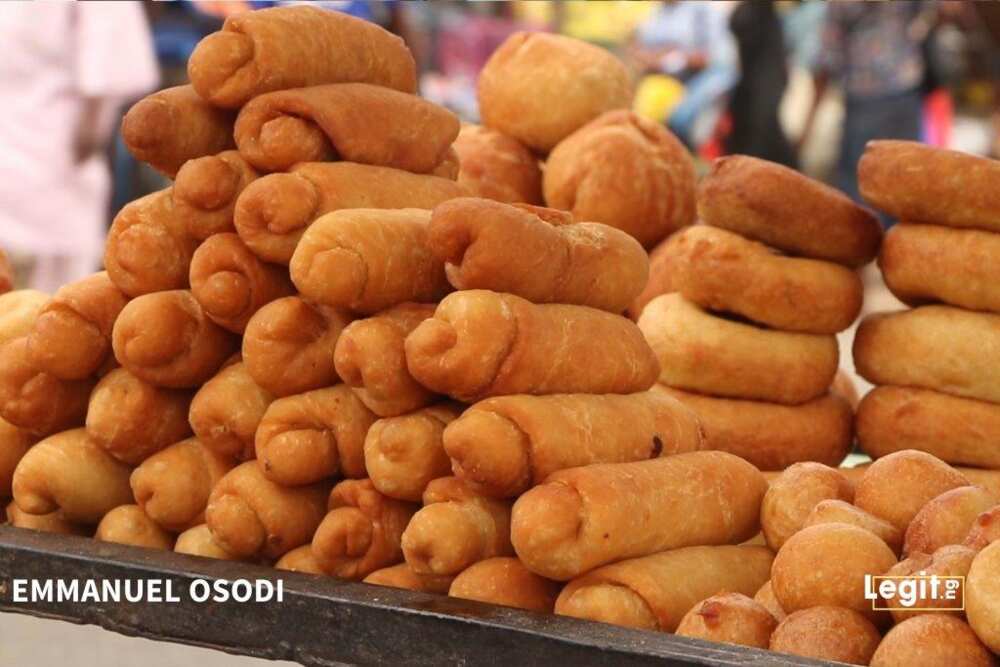 When it was time for him to leave, his boss gave him N20,000 for his services. He felt embarrassed and cheated. He knew he should have been paid more than that but the man was rude and sounded like he did him a favour. This encounter made him make up his mind about working for others. He started his business not long after that.
READ ALSO: Woman celebrates getting a divorce, social media reacts
In essence, he had mixed experiences working for people as some were incredibly nice to him while a few cheated him while belittling his effort. He has started building his own house. He is looking forward to completing it and being a house owner in Lagos.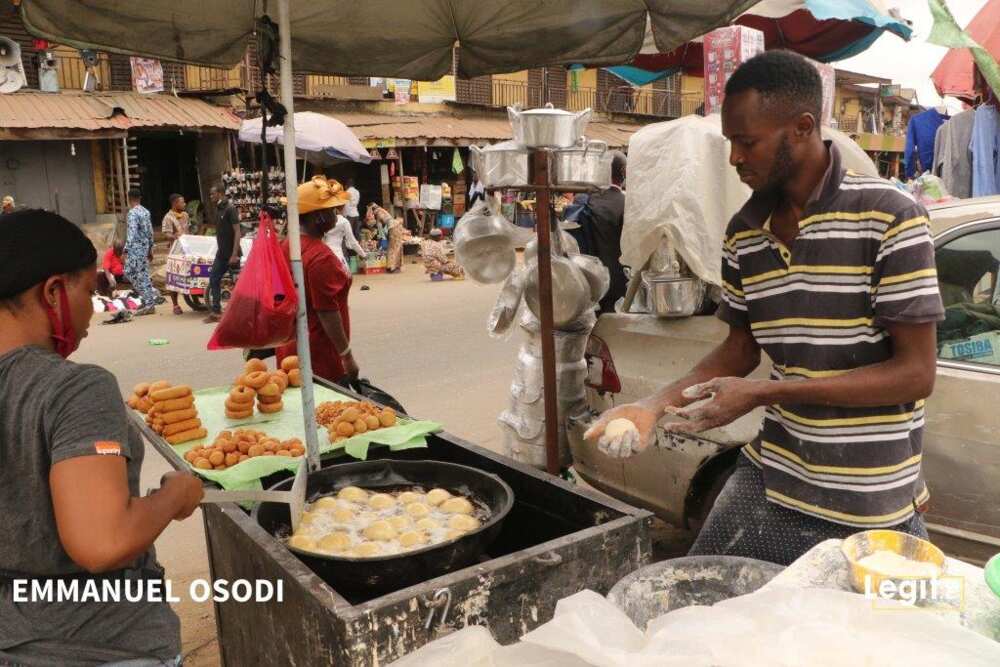 At the moment, Sam buys ten bags of flour, four gallons of oil and fifty crates of eggs weekly to run his business. His wife described him as a hardworking and focused man. She is proud of him and says she is not ashamed of what they do in as much as they are not stealing or selling their bodies for money.
The young entrepreneur believes in days of humble beginnings as he urged people toeing the same path not to despise them. Legit hustle will always pay at the end of the day.
I didn't know I could build a house by selling puff-puff | Legit TV
Source: Legit.ng