Best Ron Swanson quotes and memes from Parks and Recreation
The NBC comedy, Parks and Recreation, premiered on April 9th, 2009 and ended in 2015, but the wisdom of the lead actor Ron Swanson lives on. Some of these are captured in Ron Swanson quotes, most of which are educative and inspiring.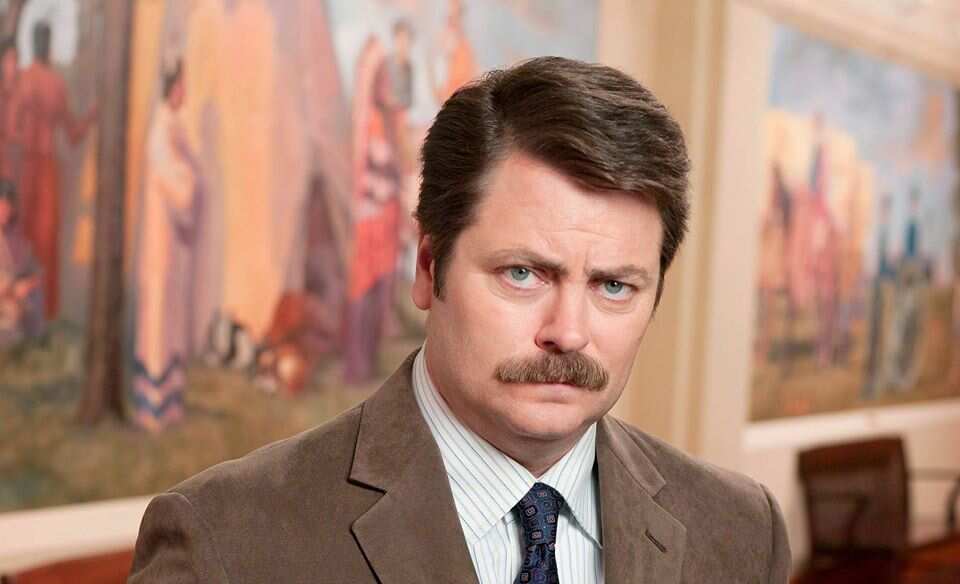 Ron Swanson was a witty character whose words made sense even when they were meant to mock or appear as sarcasm. This is probably why he was cherished by fans that followed the show. Captured below are a few of his greatest sayings that will take you back and give you something to ponder about.
Best Ron Swanson quotes
If you love Ron Swanson, then you will identify with the following quotes from the show.
There's only one thing I hate more than lying: skim milk. Which is water that's lying about being milk.
When I eat, it is the food that is scared.
I regret nothing. The end.
Fishing relaxes me. It's like yoga, except I still get to kill something
The less I know about other people's affairs, the happier I am. I'm not interested in caring about people. I once worked with a guy for three years and never learned his name. Best friend I ever had. We still never talk sometimes.
Dear frozen yogurt, you are the celery of desserts. Be ice cream, or be nothing.
I've cried twice in my life. Once when I was 7 and hit by a school bus. And then again when I heard that Lil' Sebastian had passed.
I'm a simple man. I like pretty, dark-haired women and breakfast food.
Don't start chasing applause and acclaim. That way lies madness.
If there were more food and fewer people, this would be a perfect party.
Any dog under 50 pounds is a cat, and cats are useless.
Ron Swanson government quotes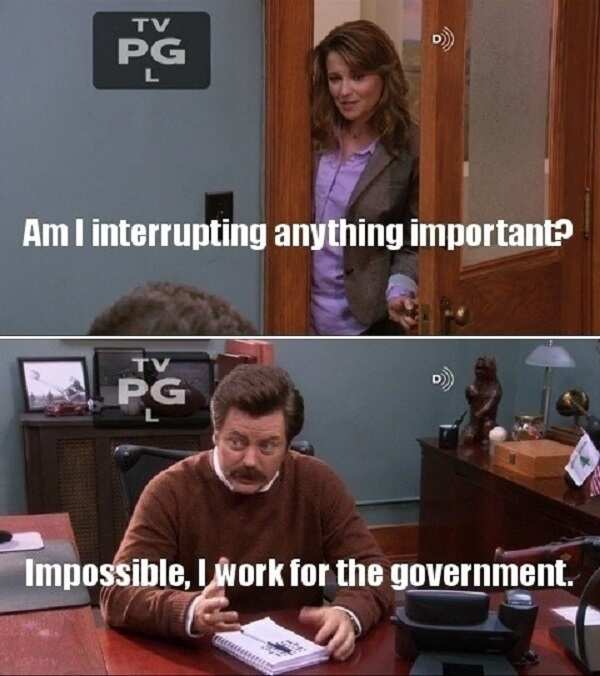 Apart from those talking about food, some of the best Parks and Recreation Ron Swanson quotes are about government. Here are a few examples.
I like Tom. He doesn't do a lot of work around here. He shows zero imitative. He's not a team player. He's never wanted to go that extra mile. Tom is exactly what I'm looking for in a government employee.
Child labor laws are ruining this country.
The government is a greedy piglet that suckles on a taxpayer's teat until they have sore, chapped nipples.
I think that all government is a waste of taxpayer money. My dream is to have the park system privatized and run entirely for profit by corporations, like Chuck E. Cheese. They have an impeccable business model.
There is only one bad word: taxes.
Ron Swanson memes
Ron was among the funniest characters in the comedy. People have since come up with memes about him and what he would say back then. These are still funny to date. Check out the examples below.
You can go to any lengths to convince the janitor!
You cannot fool me after all!
Sometimes we do things we are not in the mood for.
People can take their toll on you!
There is no better way of saying it than the truth!
Ron Swanson memes will need you to invoke your inner sense of reasoning to get them. They are fantastic even though they may not be so obvious at times.
Best of Ron Swanson quotes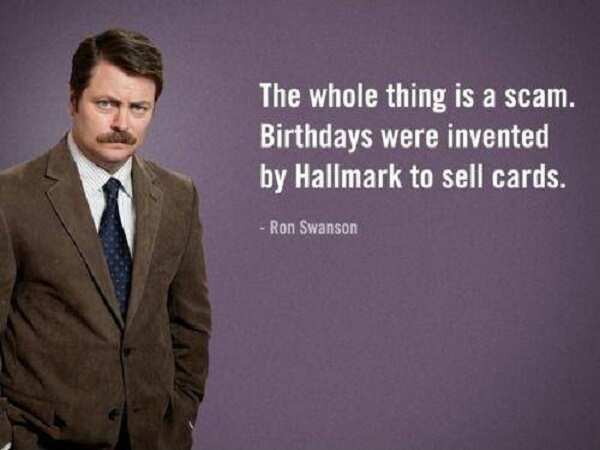 Do you have a favourite Ron Swanson quote? If not, then the following quotes should give you an idea of the character he was. It will not be surprising if you pick a quote that you like.
Clear alcohols are for rich women on diets
There are three acceptable haircuts: high and tight, crew cut and buzz cut.
It's always a good idea to demonstrate to your coworkers that you are capable of withstanding a tremendous amount of pain.
There are only three ways to motivate people, money, fear and hunger.
Great job everyone! The reception will be held in each of our individual houses, alone.
I'm not interested in caring about people.
I'd wish you the best of luck but I believe luck is a concept created by the weak to explain their failures.
Crying: Acceptable at funerals and at the Grand Canyon
Tom put all my records into this rectangle. The songs just play one after the other. This is an excellent rectangle.
Normally given the choice between to do something or nothing, I'd chose to do nothing. But I will do something if it helps someone else to do nothing. I'd work all night if it meant nothing got done.
The key to burning an ex-wife's effigy is to dip it in paraffin wax and then to toss the flaming bottle of isopropyl alcohol from a safe distance. Do not stand too close when you light an ex-wife's effigy.
On my deathbed, my final wish is to have my ex-wives rush to my side so I can use my dying breath to tell them both to go to hell one last time.
It is pointless for a human to paint scenes of nature when they can go out and stand in it.
There has never been a sadness that can't be cured by breakfast food.
No home is complete without a proper toolbox. Here is April's and Andy's. A hammer, a half-eaten pretzel, a baseball card, some catridge that says sonic and hedgehog, a scissor half, a flashlight filled with jelly beans.
Ron Swanson quotes will make you miss the show even more. The character's witty character coupled with his nonchalant nature makes him a fan's favourite.
Source: Legit.ng