Xenophobia in South Africa. What are Nigerian pop stars saying about it?
The ongoing xenophobia attacks in South Africa have especially hurt Nigerians as most Nigerian nationals in South Africa have found themselves under attack. The attacks have been strongly condemned by people from all quarters among them being politicians and celebrities. Nigerian celebrities have especially expressed displeasure in the poor treatment of their own brothers and sisters in a foreign country, with some threatening to never step foot in South Africa.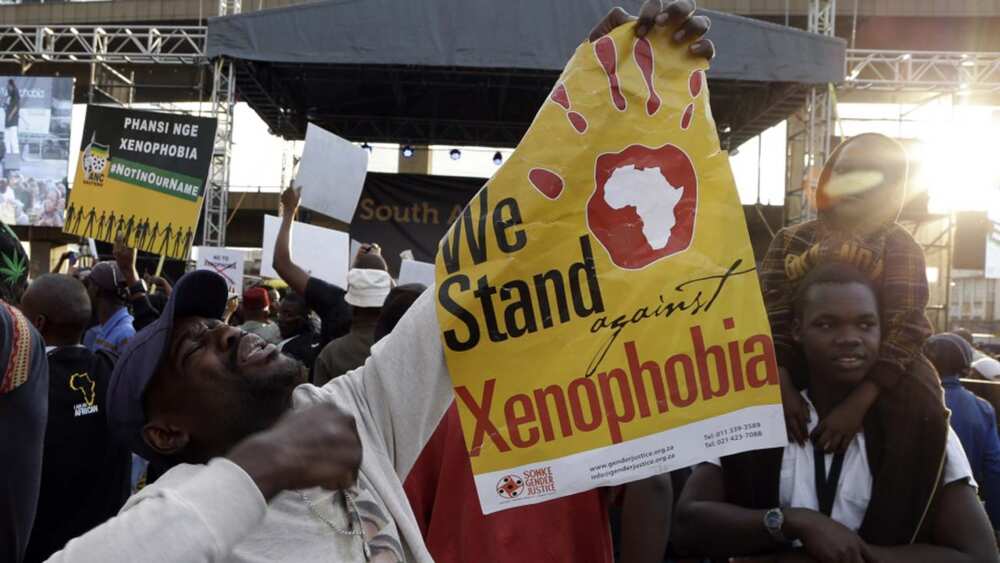 The backlash happening online is not only sad but also heart-wrenching especially if you consider the fact that people's lives are still at stake. International celebrities from Nigeria such as Tiwa Savage, Burna Boy and Davido have also joined the social media craze surrounding the discussion on xenophobia. One thing is clear though, they are not happy for obvious reasons.
Celebrities threaten to take action amidst the ongoing Xenophobia attacks in South Africa
The expression of anger on the ongoing xenophobic attacks in South Africa has been real, especially with Nigerian nationals being targeted by the criminals and perpetrators of the assault. Nigerian stars have not been left behind as many have joined others on Twitter and social media to come against the attacks, with many swearing that they would never perform in South Africa if something was not done fast. Leading the troop was Burna Boy, the award-winning artist whose fame and influence is global. He took to his Twitter page to express the following.
Burna Boy on xenophobia comments
Burna Boy was clear about wanting action to be taken by the relevant authorities. As usual, though, fans from both ends replied to the tweet, defending either sides with many trying to set their side as the right one. One thing is clear though, no matter who is on the wrong, criminal activities should not be encouraged. Period!
Burna Boy followed through with a series of tweets on the same subject.
Burna Boy revealed that he had also been a victim of the same:
He continued to express his disappointment:
He was really annoyed:
He continued to say that he would forever love South Africans:
He urged those suffering the brutality to protect themselves:
Burna ended with a #SayNoToXenophobiaAttacks hashtag:
Clearly, Burna Boy was mad and he needed a platform to vent. Fortunately, he was keen to mention and point out that there are good South Africans out there.
Tiwa Savage cancels trip to South Africa
Tiwa also joined the conversation and said that she would not be attending the show she was scheduled to attend earlier this month. Her post attracted a lot of reaction and exchanges from both Nigerians and South Africans as bile was spewed from both end. Even so, there were a few sane minds who tried to call order and ask for peace to reign.
AKA may have made things worse with his comments
AKA, a South African musician, also decide to join the discussion but his comments did not rub well with many others. He came across as a sympathizer and one who was actually encouraging the acts, even though he may not have been doing so. Even so, his comments attracted a lot of views from other artists, with Davido also expressing his disappointment.
Artists continued to bash AKA for insensitive remarks. He may not have meant to cause a stir but he did and people were not taking it lying down. Skales also expressed his view.
When AKA responded to YCee's comment on whether he was talking about someone else, Skales could not hold it as he bashed AKA for continually embarrassing himself. His Twitter post says it best.
Sadly though, AKA refused to see the point as he responded by saying that they should be cancelled and left to remain in Sandton.
Davido is disappointed!
It seems as though the disappointment in Davido is too much for him to utter any more words.
However, with time, AKA seemed to have had a change of mind even with all the roasting that was going on. He shifted his tweets to a more positive note as evidenced below.
After Burna Boy reacted with a series of Tweets, AKA also took to social media to respond. He made it clear that his comments were harmless football remarks that may have been misinterpreted. He was, however, adamant to apologize when a Twitter user called for it. Even so, in a series of Tweets that followed next, AKA called for everyone to stop as shown below.
Aka refuses to apologize:
He continued to say that it was about time the whole discussion came to an end as it did nothing but divide people further.
He acknowledged the fact that Africa is divided:
Aka finally asks people to stop the madness:
YCee emphasizes the toning down of comments being made
YCee, also an artist, had also previously called out AKA, telling him that it was important that he did something about his comments as it had serious implications.
Before this, he had followed the showdown keenly and could not help but add his view to the matter.
He continued to comment:
YCee emphasized the fact that Nigerians are friendly:
Sho Madjozi is confused about it all!
Sho Madjozi, a South African artist, was not left behind as she summarized the whole xenophobia issue in one Tweet as shown below. She called out the entire matter and reactions surrounding it as complicated because no matter what side you seemed to be in, you will be judged harshly.
In the end, it seemed as if AKA had heeded the advice from many wise people calling for the end of the social media hate. When asked by Ice Prince, another Nigerian artist, to apologize, he responded by asking God to bless Nigeria. This is something that can be interpreted as him taking the humble pie and letting things die down.
Apart from conversations happening on Twitter, more celebrities, especially those from Nigeria, weighed in on the subject from different social media sites. They include:
Toke Makinwa
Toke joined those condemning the attacks in South Africa as she expressed her shock on her Instagram page on Tuesday. She expressed her inability to come to terms with what was happening as she could not comprehend what she watched on the videos doing rounds online.
Iyabo Ojo
Also joining in was famous Nigerian actress Ojo who asked the South African government to act fast to stop the brutality.
Do2dtun
Do2dtun who is a media personality, also had something to say about the whole issue. According to him, South Africans were suffering from mental slavery, something he believed was behind their actions.
He went on to write,
"#FactsOnly This is how a typical "Myopic South African," thinks.. do we all believe @tayofaniran now... They are still at war with their souls... Unforgiven and they never see the good in others. My heart goes out to Nigerians there...
Peter Okoye
One of the PSquare brothers was also not left behind as he too had something to say about the whole xenophobia issue.
He called for all Africans to unite and to treat each other better. He even decided to move the release date of his new single titled Karma to a later date.
Uche Jumbo
The acting queen was also not left behind as she expressed her regret for having opened the videos of violence being meted out on other Africans. She could not understand why people would do that to each other.
Alibaba
The comedian directed his anger to the Nigerian president whim he accused of not being able to do anything about the ongoing killings. He referred to him as being incapable of handling the situation when it happens in his country and asked what would happen now that it was in a different country.
Mr Eazi
Closing the list of celebrities that have talked on this matter is Mr Eazi. The musician took to Twitter to call for the stop of it all. He urged everyone to realize that all Africans are one and that there was no need for the unrest and killings.
In conclusion, the ongoing unrest brought about by the ongoing xenophobia in South Africa should be worrying. The vice should be condemned in the strongest terms possible and it may be time for the authorities to sort the mess.
Source: Legit.ng