Top 50 funny animal puns and jokes
Witty and smart play of words can save you from an awkward moment of silence with the person you have just met. Now, think about this. Many people love animals. So, what if you learn a few funny animal puns and jokes to get started? The best part about it is that you will find a good collection of the same below, so you do not have to do further searching.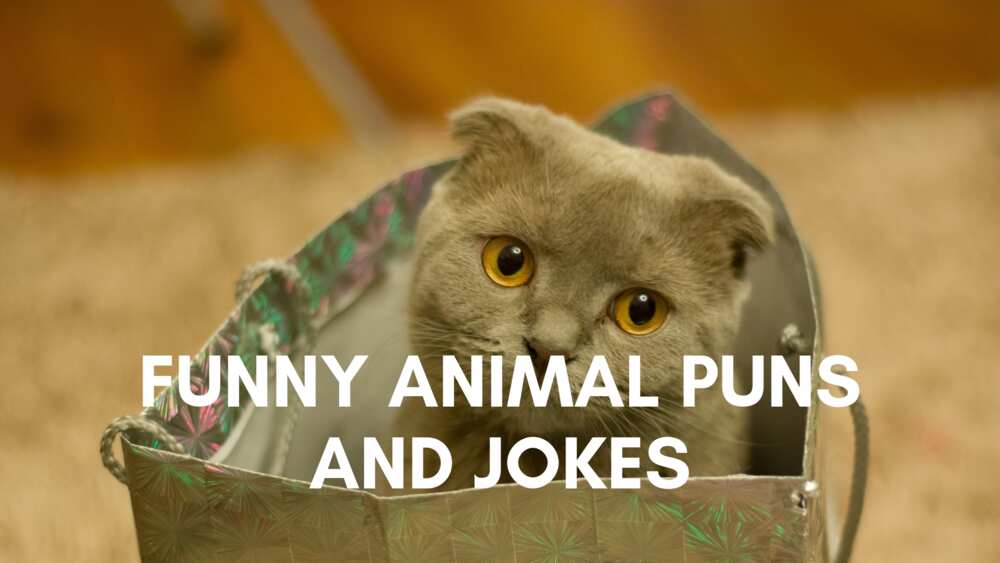 The collection below covers a wide range of jokes and puns based on names, nature, or love for animals. You will be missing a lot of funny and short lines if you do not scroll down. Let us get to the interesting part real quick.
READ ALSO: Top 50 funny cow puns, jokes, one liners and pick up lines
List of funny animal puns
In this part, anything funny about these domestic or wild creatures is good to go. Obviously, some of them are just bad animal puns.
When one hippopotamus tells another hippo that it is fat. — That is so hippo-critical.
If you want to tell someone you are lonely. — I am owl by myself.
I feel like we are drifting apart… maybe it is the time we sea otter people.
Do you want to go on a picnic? Alpaca lunch.
When you want to say sorry, not sorry in a hilarious way, — I did it on porpoise.
Sorry about the cough. I am a little horse.
That is the sealiest thing I have ever heard!
When a hawk falls off a branch. Well, that was hawkward.
When you want to tell someone they are annoying. – You are giraffing me crazy.
Here is one about pumas. – Stop making me laugh, you will make me puma pants.
What do dolphins say when they are confused? Can you be more Pacific?
What do the wild cat couples yell when they argue? You are such a cheetah!
Turning vegan would be a big missed steak.
It is that time of the year and you want to say happy birthday. – Hippo birthday to you.
Another birthday message. – I am sending you birthday fishes to you.
What do you call an alligator in a vest? An investigator.
Apparently, I am still singull.
I love you more than I can bear.
How do you tell your honey that you have feelings for them? Bee mine.
A bee that will not stop eating will eventually become a little chub-bee.
Hilarious animal love puns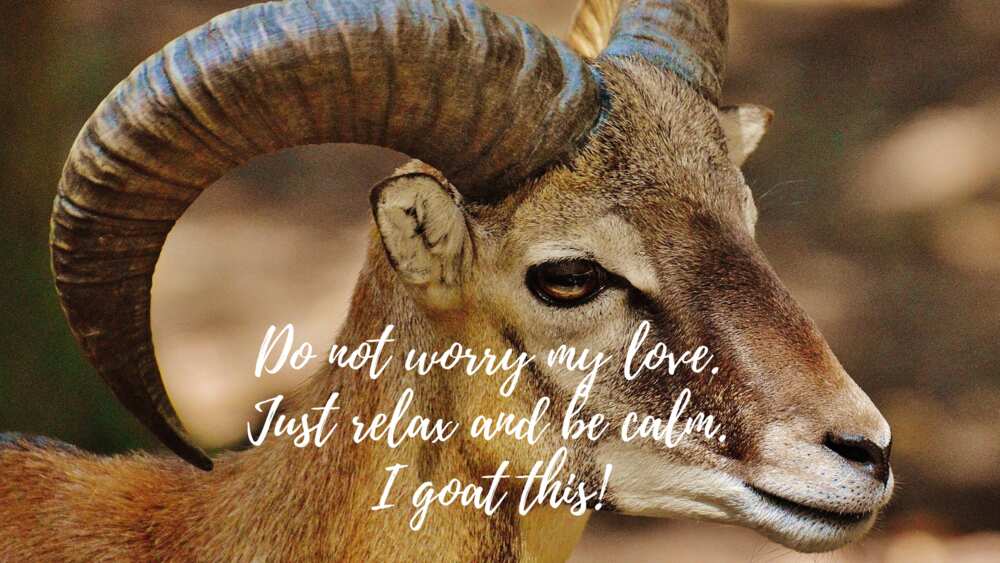 Be it your love for your domestic pet or one in the wild, or you just want to say something in the line of love, this collection is for you. Some are cute animal puns while others are borderline satire.
Do you love someone? Tell them this – Let us spend some koala-ty time together.
Here is another way of talking about love – You are my significant otter.
Do not worry my love. Just relax and be calm. I goat this!
What is every goat's favourite lyric line in a song? What is love? Baby don't herd me.
I whale love you all the days of my life.
Do you love me? Of course, I do! I love you to the baboon and back!
Roses are red, violets are blue, these puns are great and so are ewe!
Will you give me a second chance? Whale whale, I will give you a chance, just dingo breaking my heart.
I have bean thinking of you.
I love you beary much.
READ ALSO: Top 50 funny food quotes for food lovers
Zoo puns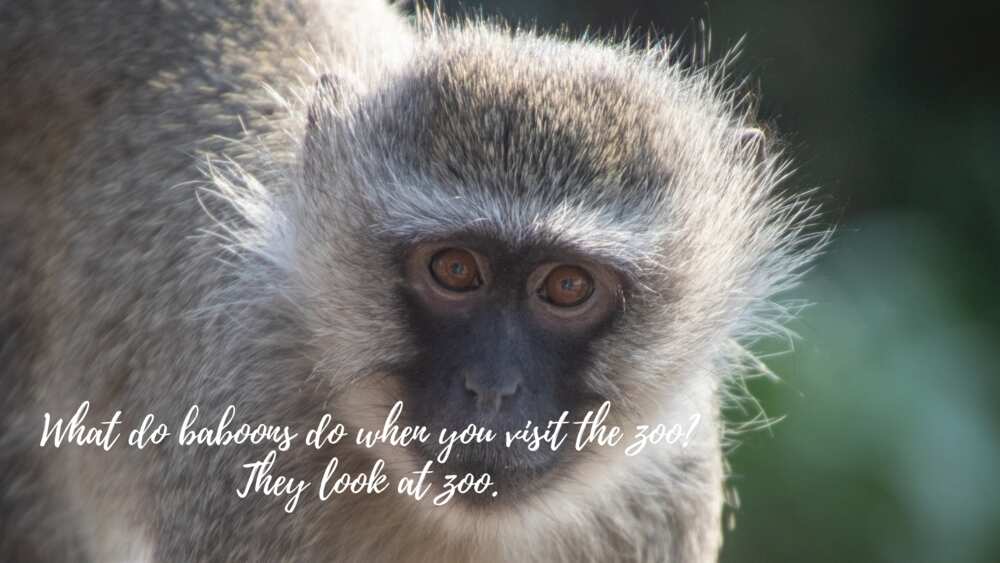 No need to look for other animal puns jokes, here is your go-to list. Here is some pun-tastic collection for you.
Saw a baguette at the zoo, it was bread in captivity.
What do baboons do when you visit the zoo? They look at zoo.
Your idea is irrelephant.
I am totally koalafied.
You seem to love animals so much. Are you Barack Ollama?
If you think the other puns were bad, wait until you sea mine.
Nice collection of animal name puns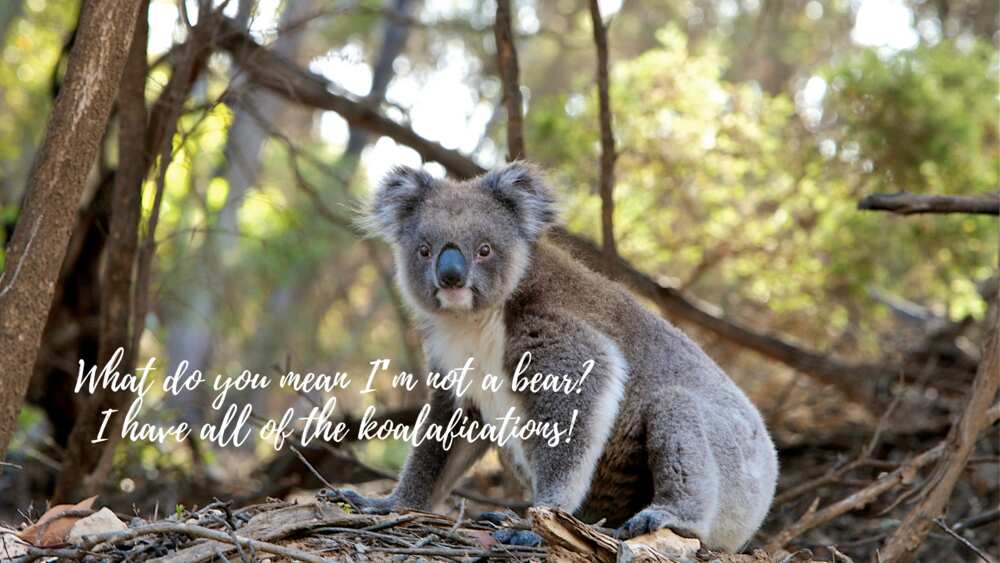 Do you love your dog or cat, but want to say something funny about it? Here you go.
I like your cattitude.
Do you have some water? I am a little horse.
What did the polite dog say? Thanks, fur everything!
The dog is so popular that the pup-arazzi took its photo.
Did you hear about the dog who gave birth on the side of the road? She was ticketed for littering!
What do you mean I'm not a bear? I have all of the koalafications!
What did the grandma cat say to her grandson when she saw him slouching? You need to pay more attention to my pawsture.
Do you want to hear a bad cat joke? I was just kitten!
Why do cats dislike online shopping? They prefer a cat-alogue.
Why is it so hard for leopards to hide? Because they are always spotted.
As a farmer, I hear lots of jokes about sheep. I'd tell them to my dog, but he'd herd them all.
Why can't the bankrupt farmer complain? Because he's got no beef.
Did you hear about the magic tractor? It turned into a field.
With all the funny animal puns above, there is no need to look further. Your task now is to read through them and practice how to use them during your conversations or chats. You will be surprised that these witty lines are great ice breakers. Which is the most pun-tastic joke from the list?
READ ALSO: Funny questions to ask a girl to make her laugh
Source: Legit.ng