Weather Channel Jen Carfagno bio: age, birthday, measurements, salary
She is bold, passionate, assertive and eloquent as she goes about her chores at work. Behind the scenes, she is a doting mother and wife and a go-getter in everything she pursues. This is Jen Carfagno who graces our television sets to give her viewers the weather updates. The allure she eludes as she conveys this important information keeps most people glued to their screens. Her calm yet lively demeanour makes her admirable and excellent at her job.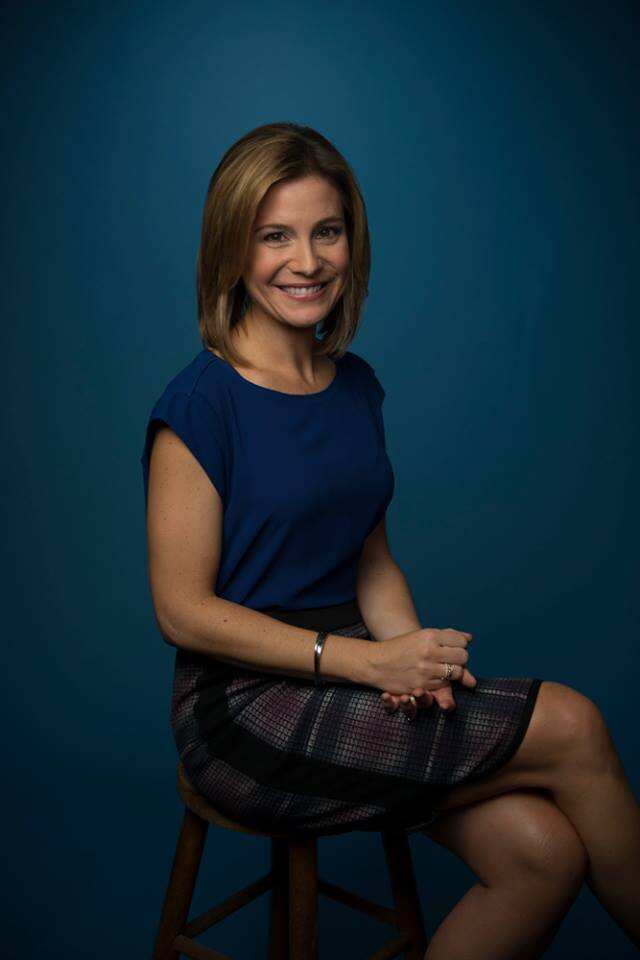 Many people are curious to know more about Jen Carfagno who works for The Weather Channel. When was Jen Carfagno born? This American meteorologist and weather reporter was born on the 19th of July, 1979. She is an American citizen by birth, but not much about her ethnicity is documented.
How old is Jen Carfagno? She is currently 39 years old and will be clocking the big 40 later this year. The Jen Carfagno age comes as a surprise to many people because she looks like a young college graduate. Typically, the Jen Carfagno birthday comes with plenty of good wishes from her fans on all her social media platforms. She is looking forward to the big day this year.
READ ALSO: Thomas Beaudoin bio: age, movies, relationship, is he married?
Jen Carfagno measurements
Carfagno has a gorgeous and sultry body that many women would love to possess. He body type is slender, and her physique is eye-catching. She is 165.1 cm (5 ft 5 inches) tall and has a waist measurement of 25 inches. Her approximate weight is 52kgs (114.6 lbs), and her overall body measures 91-64-94 cm (26-25-37 inches.) She has an hourglass body shape. Her bust is size 34B. This petite body is a dream for many American women. She has blonde coloured hair and beautiful dark brown eyes.
Schooling background
This amazing Weather Channel reporter and meteorologist was given the name Jennifer Carfagno at birth. She is yet to divulge details about her early childhood, but she grew up in Collegeville, Pennsylvania. She attended the Perkiomen Valley High School from where she graduated with impressive grades in 1994. During her high school years, she was the appointed lifeguard in the swimming pool. She always has a psychrometer that she used to measure the dewpoint of the pool. The gadget also gave more information on the weather.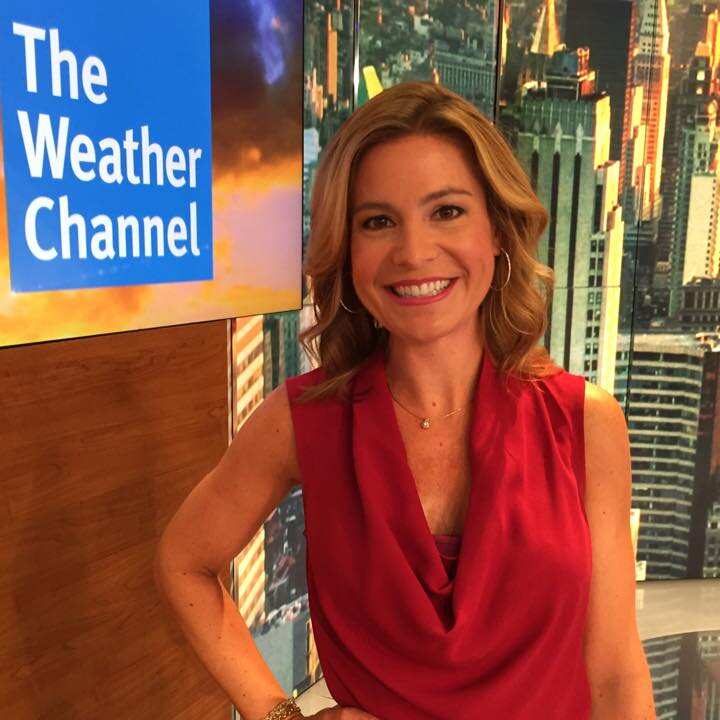 The high school position heightened her interest in meteorology. Jen later furthered her education at Pennsylvania State University. While still studying, she was actively engaged in the Chi Epsilon Pi Honour club and society. She graduated with a Bachelor of Science degree in Meteorology from this institution in 1998.
The lady has previously admitted that her dream career was piloting. Her dream of flying planes incited a curiosity in the weather. She grew fond of watching weather reports in the Weather Channel and would even set the alarm to remind her to watch all her favourite segments. She would later abandon the dream of flying planes for meteorology. Being a meteorologist and weather girl is a passion that she thoroughly enjoys now.
Her interest in this field was further fueled by living in Pennsylvania, a state that has varying weather patterns. She witnessed extreme weather events such as Hurricane Gloria in 1994 and The Great Blizzard of 1993. During her years of schooling, she woke up early to conduct a study of the weather. Often, this was followed by dialling up the nearby radio stations to make a weather prediction for the next 24 hours.
The interest in weather during her younger years earned her support and encouragement from her relatives and friends. They all said that she would become an amazing Jen Weather Channel girl. As Jen went on with higher education at the university, she was granted the chance to serve as an intern for 12 months by The Weather Channel. During this period, she graced the screens as an on-camera trainee meteorologist. Years later, the prediction of her future by her close associations became a reality when she landed a position in the same company.
READ ALSO: CNN Ana Cabrera bio: age, height, measurements, salary, net worth, husband
Career path and achievements
The Weather Channel was her first and current employer after Carfagno graduated from the University of Pennsylvania. She has served in the company since the late 90s, and her input towards the growth of the institution is indispensable. The lady asserts that she loves her job and this is evidenced by her growth over the years and the grace with which she appears on the television screen. Her fascination with weather, especially the dew point measurement, earned her the nickname "Dew point Diva."
Carfagno has risen the ranks of her meteorology career. Her primary assignment as a new employee was to amass as much knowledge about the weather as she could. This understanding would allow her to conduct on-air roles without strain. Within a short period, she proved to be very knowledgeable, confident and calm to perform these assignments. She undertook different roles both on and off the air.
She was then promoted to the position of point person for the company's tactical processes that were held in collaboration with the Environmental Protection Agency (EPA AIRNow) and the National Weather Service. She also served as the contact point between her employer and other stakeholders such as government agencies. Through her commitment and self-drive, she came up with the idea of constructing weather camps across America. This idea was implemented.
From 2010 until 2013, Weather Channel Jen Carfagno and her colleague Eric Fisher co-hosted the show Weekend View that aired from 5-11am. Before this, she and Alex Wallace co-hosted the Weather All The Time show.
She is currently working closely with Jim Cantore and Stephanie Abrams. The trio hosts America's Morning Headquarters, a show that airs from 5-9 am on the same channel. She also doubles up as a field reporter and a specialist in storms.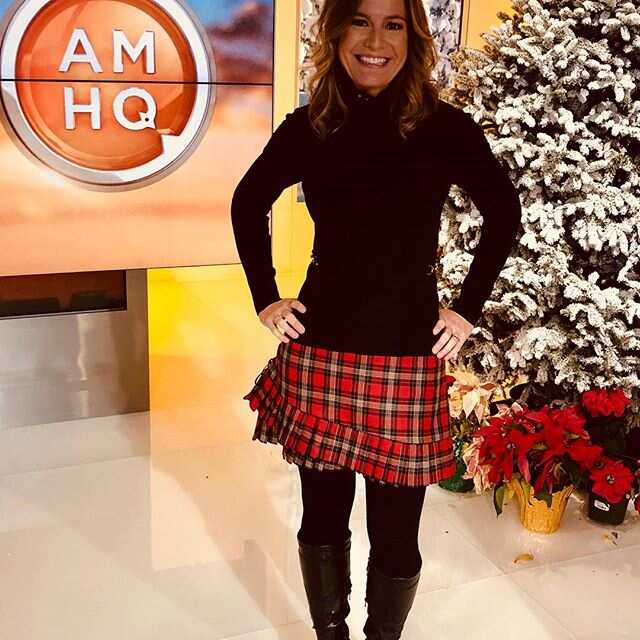 Jen Carfagno salary
In the American meteorology arena, one of the famous people is Jen (Weather Channel). Her longstanding presence in the media has ignited a curiosity into her financial status. She is yet to pinpoint the amount she makes annually. However, there are speculations that the Jen Carfagno salary is approximately $300,000 annually. This gives an average monthly remuneration of about $25,000 and a weekly average of $6,250. What is Jen Carfagno net worth? Her sum net worth is currently rated at $1.5 million.
Is Jen Carfagno married?
This lively weather girl is married to a man called Neil. Details about her husband are scarce, and the two are believed to have united in holy matrimony in a secret wedding in the mid-2000s after dating for a while. There are speculations that Neil is a sports analyst, but this is yet to be confirmed. Together, they have two amazing daughters named Kelly Carfagno and Natalie Carfagno. Their dates of birth are yet to be made public. The 4-member family resides in Atlanta, Georgia.
It is fascinating to observe that the sassy television girl rarely talks about her family in the public eye. She also seldom makes appearances in public while in the company of her husband and daughters. She, however, often posts photos of her family as they engage in fun activities on her social media platforms. Despite the limited information about her family life, it is well-known that she and her family lead a luxury life in a beautiful house.
READ ALSO: Cari Champion ESPN: husband, salary, net worth
She is a mother who ensures that her children have access to the best things that life could offer. Her family is happy and close-knit. This is a conclusion that is made from analysing her social media pages where photos of amazing family moments such as skiing are posted. Her commitment to her family is an inspiration to numerous women who struggle with the work-family balance.
One of the persistent questions by most people is how she manages her work and family life as well as her trim and desirable body. She credits this to having excellent genetic make-up and being happy in life. She makes sure that she and her family have healthy meals and she is physically active.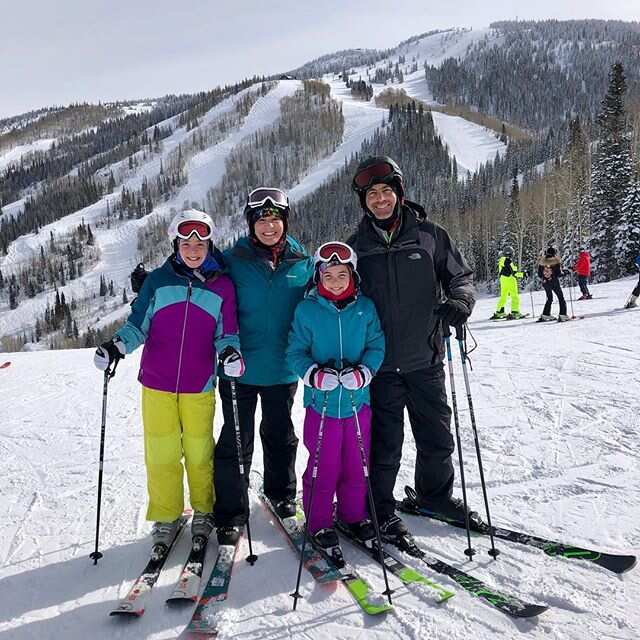 In the past, there have been rumours that Jen was in the process of filing a divorce from her husband, Neil. After much speculation, it was finally unearthed that the couple's marriage was still intact and unbreakable. Jen asserts that one of her favourite family moments is spending quality time with her loving husband and their daughters on warm days with blue skies. She dreams of living in a beach house with her husband after retirement.
Social media presence
Jen has, over the years, been an active social media user. She has accounts on Instagram, Facebook, and Twitter. Her social media followers are numerous. On her Twitter account, approximately 998k people read her, and she has sent out about 23,900 tweets. On her Facebook page, there are over 74,000 friends. Her Instagram page has over 31,000 followers. Her posts and photos prove that she is full of life, enjoys her job, and appreciates the people in her life. The lady often uses her social media pages to inspire women to chase after their dreams.
Hobbies and interests
Jen enjoys public speaking. She often schedules appointments with various schools during her free time. She meets the students and motivates them to follow their dreams, especially in science. The lady urges them to ignore the naysayers. Usually, she explains her journey so far and credits her achievements to her hard work and endless support from her family and friends. During her free time at home, you will find her running or jogging to maintain an active body or working on her yard. She also enjoys taking vacations at the beach, travelling, hiking and swimming.
Jen is also active in charity work. She is part of all the works of charity that The Weather Channel does as well as those that are organised by other organisations. One of her most memorable charitable efforts was selling 10 of her jackets to support a worthy cause in her hometown. This 2017 sale earned her $15,000.
From being a young child with dreams, the above Jen Carfagno bio proves that a woman can have it all in life. She is living her dream life both as a family person and a career woman. She has continued to grace our screens on The Weather Channel for many years during which she has proved her love and commitment to meteorology. She is a beautiful and desirable woman who inspires many people to pursue their dreams.
READ ALSO: Tyler Perry net worth, age, height, house, wife and son
Source: Legit.ng