How to join the Nigerian Navy
Being a part of the huge and impressive Nigerian Armed Forces is extremely awesome. Learn how to join the Nigerian Navy and which requirements you have to meet if this is your major dream. Navy officers are respected, well paid and have an exciting and prestigious job.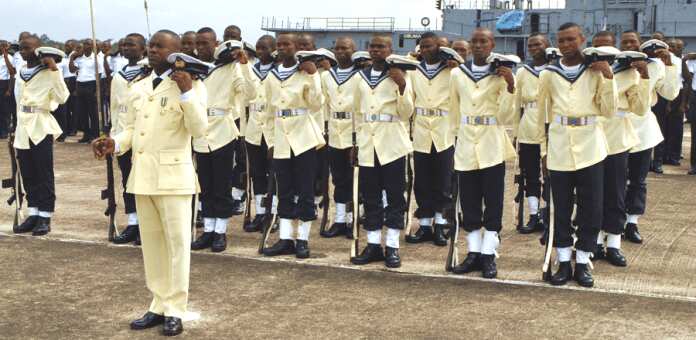 Photo: prnigeria.com
Nigeria Navy job
Every year the Nigerian Navy announces official recruitment. This happened in 2018 – 2019, and it will take place in 2019 – 2020. Thus, those of you who haven't applied in 2018 have all the chances to apply the next year.
Those of you who don't know much about Nigeria Navy job and the organization itself should read some quick details. Firstly, the Nigerian Navy is a part of the country's Armed Forces. Secondly, it is a huge organization accounting for several thousand people. Thirdly, this can be your dream job with multiple benefits.
When you have plans to join Nigerian Navy, you have to make sure that you meet all the requirements before filling out the application form. This way you can save your time and get prepared beforehand.
READ ALSO: Nigerian Naval ranks lowest to highest
Photo: guardian.ng
Joining the Nigerian Navy requirements
There are two main methods of how to join the Nigerian Navy. You can either choose DSSC (Direct Short Service Commissions) method or follow the ordinary recruitment procedure. Any method can lead you to this organization and make you one of the Navy officers in Nigeria.
Here are the requirements for getting Nigeria Navy job:
Only young people who were born in Nigeria are eligible to apply.
Make sure you are in a good physical form.
Your age should be between 18 and 30 years old (sometimes between 18-26 years old).
Applicants have to earn at least 5 credits in NECO, GCE, WASSCE or other tests with mathematics and English.
Make sure you are medically fit (you'll have to prove this with medical certificates from a hospital).
You should not have any criminal records.
Each applicant must be single (not married).
Male applicants have to be at least 1.65-1.7 meter tall.
Female applicants should be 1.6 meter high or taller.
It is necessary to be literate, and a big plus to every candidate is possessing computer skills.
An applicant cannot be a member of any Secret Society, any Cult organization, drug addict, and so on.
DSSC applicants have to go through NYSC Youth Service (have a letter of exemption or discharge certificate) and have their higher education Diploma (HND, BSc or similar).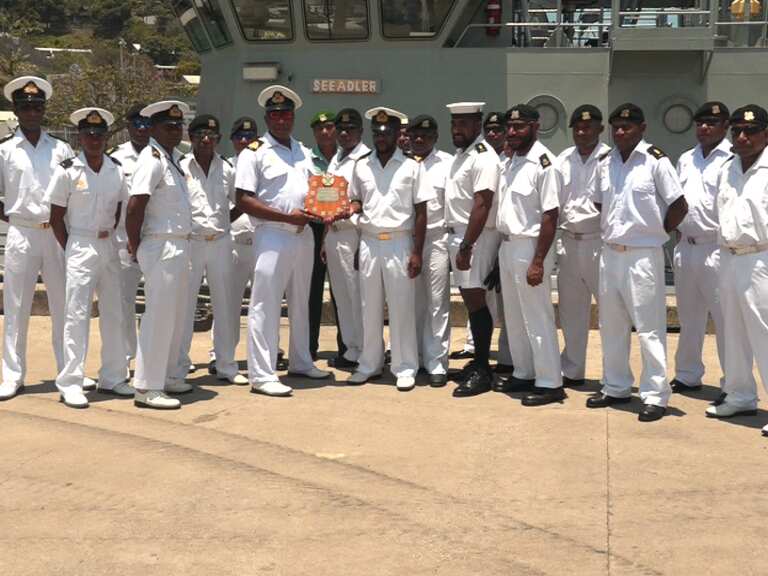 Photo: emtv.com.pg
How to apply for Nigerian Navy
Remember that it is completely free to apply for Nigerian Navy. The application costs nothing, but only some of your time to fill it out and send to the organization. Do not pay anything if you are asked by some fishing websites, and follow the official free-of-charge process.
Usually, the application portal becomes available for all eligible Nigerians in the fall. Beginning in early October (the date might change slightly year from the year), you can visit this website or follow the official Twitter account available here to receive the latest tweets about the start of the recruitment process in Nigeria.
Here is a quick instruction on how to join the Navy in Nigeria:
Download the recruitment form (either original or DSSC) if needed. Make sure the recruitment is open and not closed. It might be possible for you to register an online account and complete the application online. If you choose this method you are highly advised to print out your form after it has been submitted by you.
Fill out the form. Send it back to the organization how it is noted in the application form if you are using a printed document.
Wait for a while and check the joinnigeriannavy portal to make sure you have been selected as a shortlist candidate.
Be prepared for passing the Nigerian Navy aptitude test and numerous interviews. Successful applicants will also have to go through medical screening at the last stages of the recruitment process. It will also be necessary to bring the original documents asked by the organization.
Go through the military training to deserve your right to get the Nigeria Navy job of your dreams.
In conclusion
This was a short guide on how to apply for Nigeria Navy with all the main joining the Nigerian Navy requirements. Nigerians who wish to become a part of the big organization and take responsibility for the country's safety and security in the waters are welcome to get this interesting job.
READ ALSO: Benefits of joining the Nigerian Navy
Source: Legit.ng