How to use shea butter on face at night
Nowadays, more and more people prefer natural products to purchased cosmetics. And precisely the latest one includes the shea butter. So, is using shea butter on face at night good for your skin? Before you start actively using the product, you need to know its main features.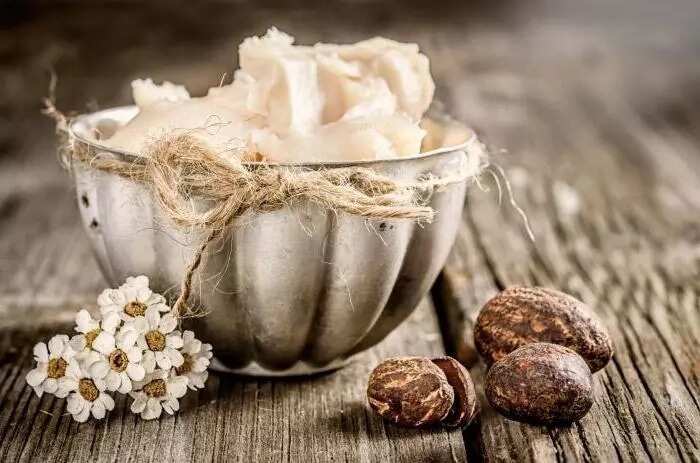 Shea butter is a fantastic and valuable product that provides therapeutic, preventive and cosmetic effects on the face. Its vitamins composition improves the appearance skin, smooths its surface, moisturizes and nourishes it. This cosmetic product is suitable for women of all ages. It helps to fight small wrinkles, protects from adverse external influences. In general, this is a wonderful product that any woman can afford.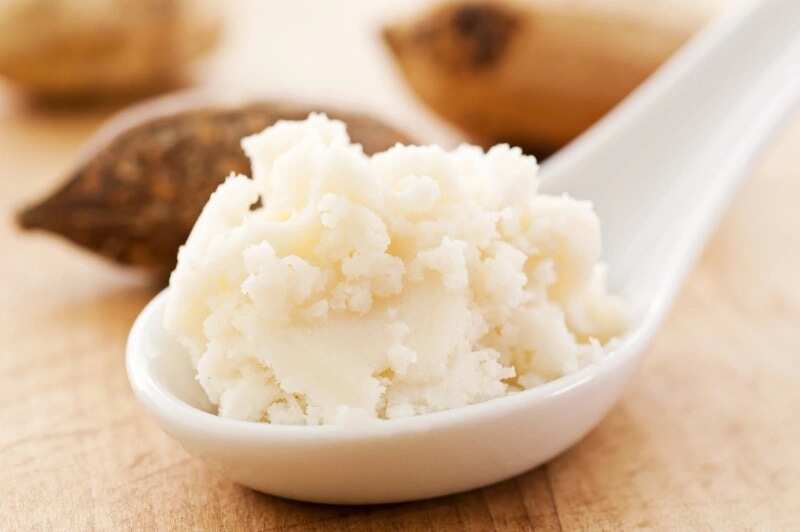 READ ALSO: Shea butter for skin lightening
Can I use shea butter on my face?
In cosmetology shea butter is highly valued, thanks to the emo properties and other excellent characteristics of this extraordinary African essential remedy. Cosmetologists recommend using it instead of cream, in the pure form applied to the cleansed face and body. Shea butter awaken the processes of deep regeneration, stimulates the synthesis of natural collagen, restores the complexion and at the same time serves as a reliable shield against the effects of ultraviolet rays.
This product is used to care for the face skin in two main ways:
in its pure form
as one of the components of home masks, scrubs, creams, and massage mixtures.
Shea butter can be used for daily and special skin care of entirely any type, including damaged, problematic and dry skin. Due to its unique softening properties, it is also suitable for the care of hypersensitive skin.
In addition to the basic form, today you can find in the cosmetics stores water-soluble shea butter, which is specially designed for personal care products and cosmetics for bath and shower. The water-soluble form has low irritant properties and moderate acidity.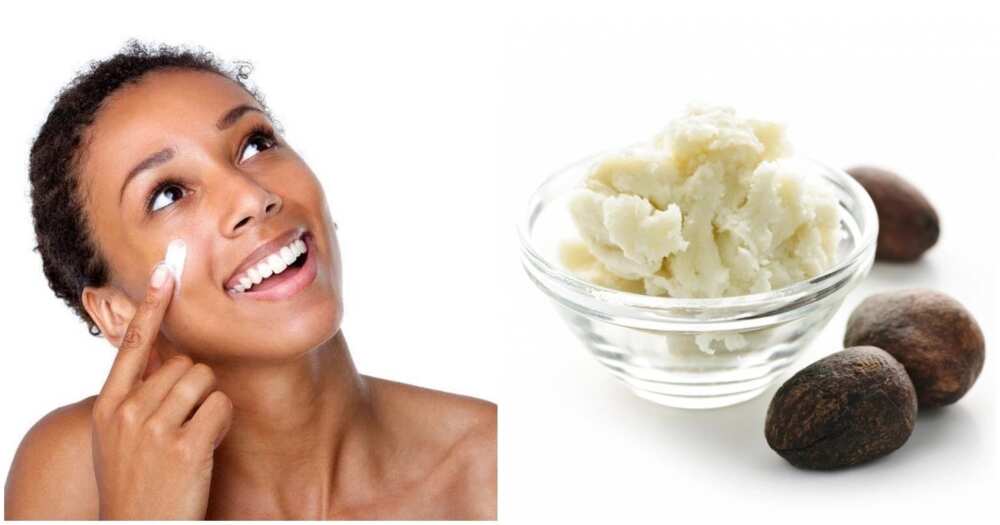 READ ALSO: Benefits of shea butter and coconut oil for skin
Shea butter on face at night
Due to its composition and solid consistency, shea butter is a real find for modern women. This product isn`t only included in the structure of cosmetic masks and mixtures for the message but makes on its basis excellent multi-functional creams for daily skin care. Shea butter for skin is perfect for masks or creams at night.
If you want to rejuvenate tired, fading skin, you need to use shea butter. Rapidly penetrating through the layers of the skin, the product saturates it with light fats, vitamins, straightens wrinkles, and removes inflammation. Positive feedback is the result of using this product.
Shea bitter mask to treat acne
Shea butter is a natural remedy used to treat acne. For the preparation of medicinal mask it will be required:
Melt shea butter and honey - 100 ml each.
Pour 1 tbsp. walnut butter.
Enter 1 ml of salicylic acid.
Apply the mass to the face, bypassing the area around the eyes, and leave for 20 minutes, then wash with warm water.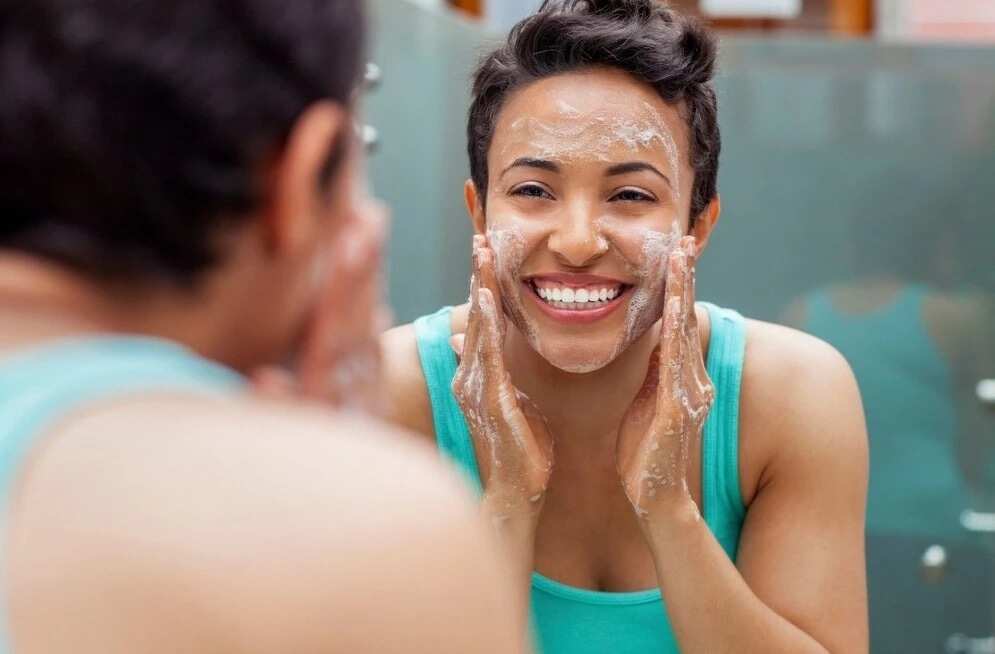 A beautiful mask to nourish your skin, give it radiance and reduce small wrinkles
This mask fills the lack of organic acids, smooths the existing static wrinkles and prevents the formation of new ones.
Ingredients for this mask are:
3 g. shea butter;
2 quail eggs;
17 g. cottage cheese.
Preparation and method of application:
rub cottage cheese with eggs;
add shea butter;
cleanse face and apply the mixture of a thick layer;
after twenty minutes, remove the remaining components with a wet sponge.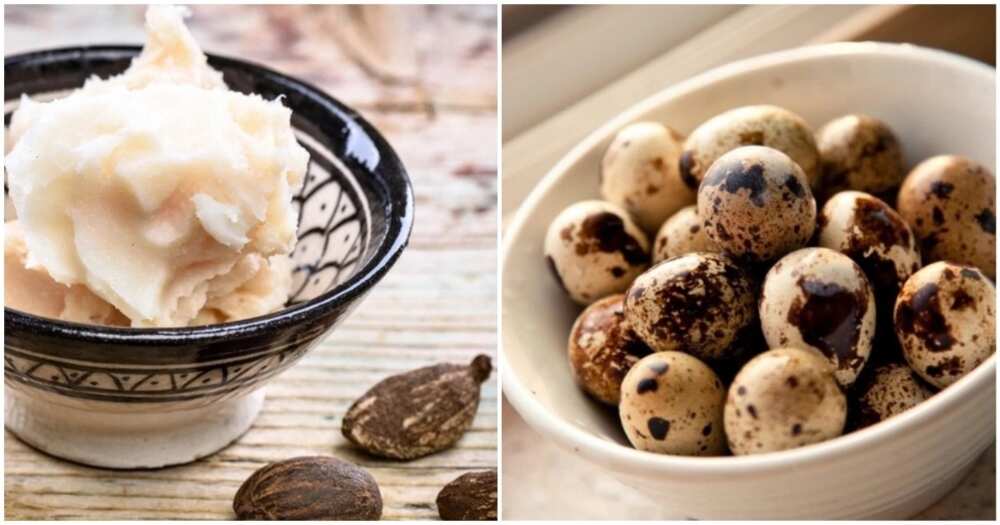 The mask quickly restores the balance of liquid, vitamins, minerals and acids
Applying this effective mask of nutritional components, you can keep a beautiful young skin for a long time.
Ingredients are the following:
4 g. shea butter;
2 ripe apricots;
essential oil of oregano.
Preparation and method of application:
don`t peel the fruits;
take out the stone and rub the apricots into a single mixture;
add warm butter and oregano oil;
mix everything with a cosmetic spoon;
before applying the mask, clean your face, apply the mass and leave for half an hour;
remove with water and grape seed oil.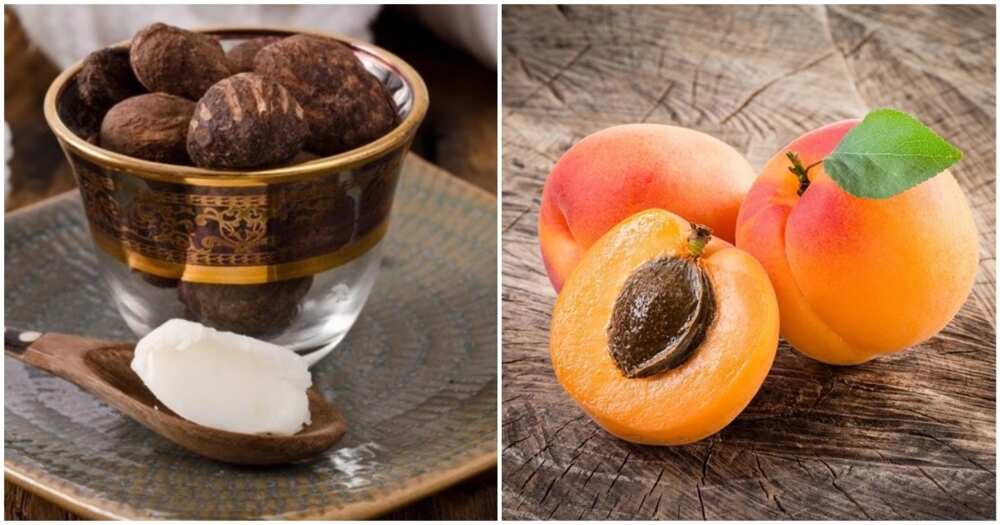 READ ALSO: Shea butter for face: benefits
If you want to moisturise your skin and give it a healthy shine, prepare a mask with the following components:
shea butter - 1 tsp;
olive oil or almond oil - 1 tsp;
creamy yoghurt - 1 teaspoon;
vitamin E in capsules - 1 pc.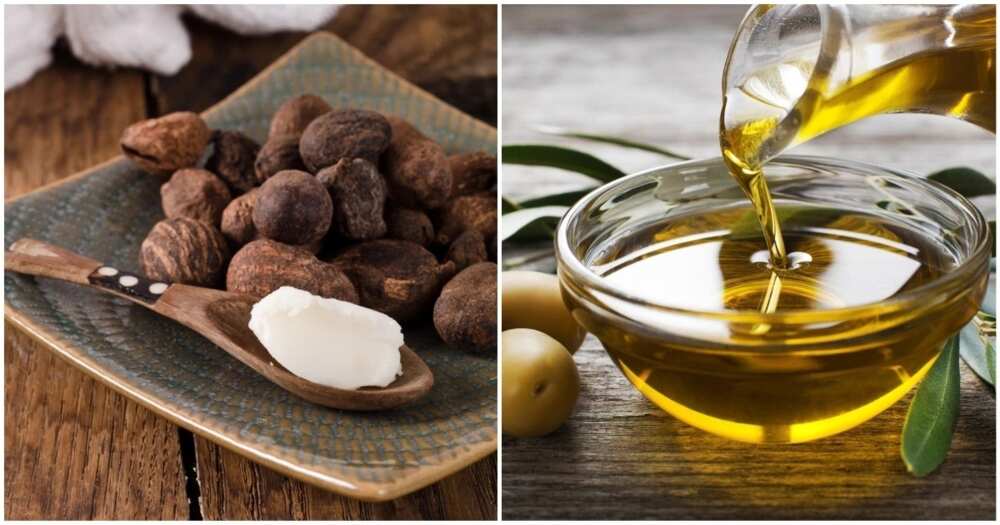 Wonderful effect of shea butter on the skin
Helps to normalize the work of sebaceous glands and to narrow pores. This will be relevant only if the product is mixed with other ingredients, for example, with lemon juice or fermented milk products.
Disperses the metabolism inside the cells of the dermis, due to which noticeably improves the colour of the skin and increases its tone.
Promotes rapid regeneration. The product helps the wound and other skin lesions to "tighten". It happens due to the presence of fatty acids in the composition of the oil.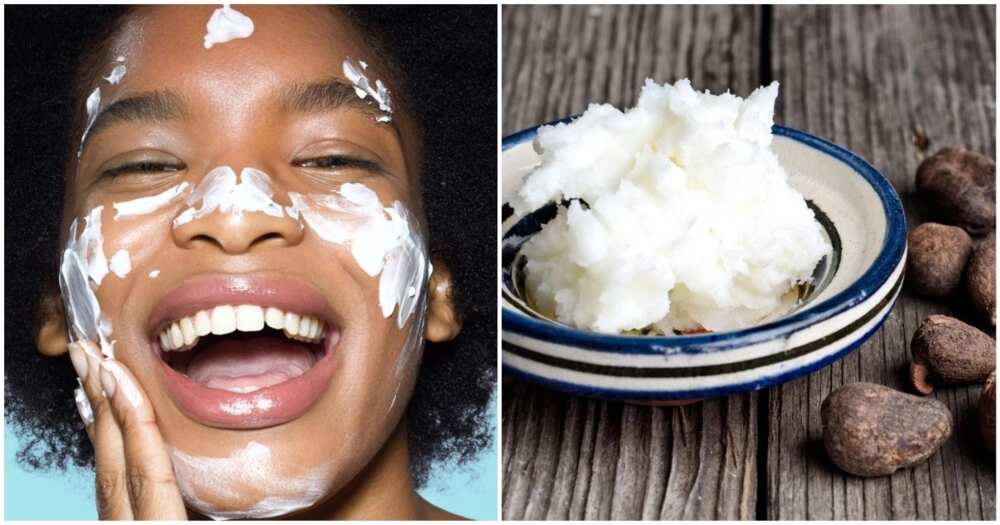 Shea butter quickly and effectively removes redness.
Accelerates the blood flow. Abundant saturation of cells with oil ensures their normal functioning.
Provokes an increase in the production of collagen and elastin (these substances are responsible for the elasticity of the skin).
Promotes the removal of toxins from the tissues.
Clears the surface of the skin from dead particles.
Intensively softens the skin.
Helps tighten the sagging parts of the face with regular use.
Eliminates cracks on the lips.
Strengthens the growth of hairs.
Prevents loss of eyelashes.
Many women have already appreciated this natural product, which is suitable for all skin types. Use shea butter on your skin at night and enjoy the result!
READ ALSO: Raw shea butter for hair growth: benefits and usage
Source: Legit.ng