Live Updates: Intrigues, Drama as Atiku Storms Tinubu's Lagos for Presidential Campaign
The presidential candidate of the Peoples Democratic Party (PDP), Alhaji Atiku Abubakar, staged a campaign rally in Lagos state on Monday, December 5.
The PDP campaign was held in the centre of excellence 10 days after the ruling All Progressives Congress (APC)'s presidential flagbearer, Asiwaju Bola Ahmed Tinubu, held his rally at Teslim Balogun Stadium, Surulere, Lagos.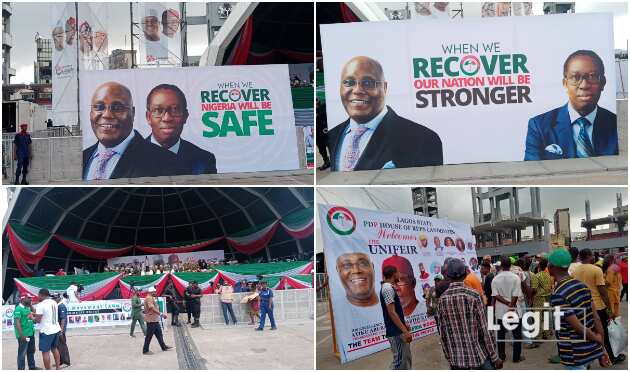 The rally was very interesting and historic because Atiku came to hold his campaign in Tinubu's strongest domain, Lagos.
It would be recalled that recently, a former Nigerian president, Olusegun Obasanjo, was said to have lent his voice to the call for the presidency to be rotated to the south come 2023.
Atiku delivers his speech
Alhaji Atiku Abubakar, the Peoples Democratic Party (PDP)'s presidential candidate, promised to set aside $10 bn fund if elected that would take care of MSMEs in the country.
He also charged Lagos residents to vote for the state governorship candidate, Olajide Adediran, saying the same family has been ruling the State since 1999.
Atiku said:
"My government will create an environment that provides employment and fulfilment to youth and women through education, mentorship, vocational training, technology, and entrepreneurship initiatives. This will be done in collaboration with the private sector and the local communities.
"My commitment is to source 10 billion dollars to empower the most vulnerable in society implement policies that will discourage unfair exploitation and persecution of women."
He added:
"APC told you they develope Lagos; they're telling lies. I want to tell you this is a fact that you can verify. The second Mainland Bridge, Third Mainland Bridge, and Agege Motor Road were built by Federal Government.
"It is time to liberate yourself from the same family that has been ruling Lagos since 1999. You have to elect the people's Goverment by voting for Jandor not a family Government."
Atiku noted:
"All who support the calls for restructuring our federation are united in the desire to live in a society that works for its people. They are also united by their love for their country.
"I will attract direct foreign investment by providing tangible incentives to investors; the government will also strengthen credit guarantee initiatives; the government will work to achieve lowest corporate income tax as well as lower transaction costs to help emerging companies. The government will also prioritise providing a level playing field for all investors everywhere in the country."
Atiku's wife, Titi, delivers campaign speech
The wife of Atiku, Titi, has lent her voice in full support of her husband's presidential ambition.
Titi called on Lagosians and Nigerians to vote for Atiku as she believes his government will end poverty in Nigeria.
She stated:
"Nigerians are suffering, enough is enough. We must put a stop to APC government. I want the people of Lagos to cote for my husband. He is a trustworthy somebody. He would alleviate your suffering."
Okowa delivers speech
The PDP's vice presidential candidate, Governor Ifeanyi Okowa and governor of Delta state, has delivered his campaign speech.
Okowa said:
"I bring you greetings from the south-south. We know that it is Atiku who is the only presidential candidate that is accepted in all geopolitics zone in Nigeria.
"We want Nigeria that can work for everybody. We must use Lagos to uplift our youth. In 2015, people said they wanted change, but now you can see what we are experiencing."
All I know is that Atiku is acceptable in all the geo-political zones. He is the only one that has the experience.
"We want a Nigeria that works for everybody. Lagos must be used to uplift our youth. I want to urge you all to go out there and campaign for Abubakar."
PDP's Jandor delivers speech at Atiku's campaign rally
The PDP's governorship candidate, Olajide Adediran (Jandor), has mounted the stage to deliver his speech.
Jandor said:
"This is my message to Lagos, you keep on saying that the NURTW terrorising you but the truth of the matter is that it is your government that terrorises you in the name of NURTW.
"I am going to put an end to the harassment of people by the members of NURTW. If they want to stop it, they would have done that.
"Poverty level when Sanwo-Olu came on board, it was 4.5% but now it is 8.5%
"Unemployment rate 14.6%, now it is 36.5%.
"By the time we win the election, they will leave the state and run away."
Atiku arrives TBS in pomp, pageantry
Atiku Abubakar has arrived at the venue of his campaign in pomp and pageantry.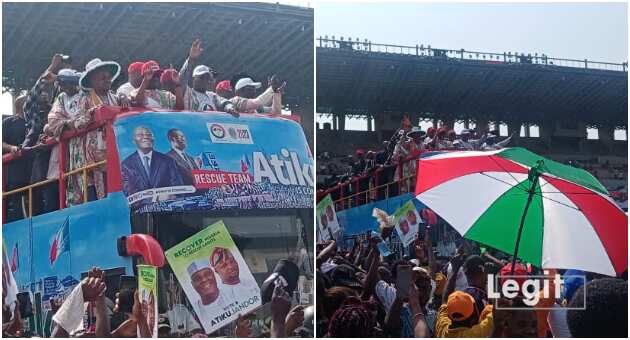 PDP supporters struggle for Atiku-branded umbrella
At the gate of TBS, the venue of Atiku's campaign rally, some supporters of the PDP were seen struggling to get branded umbrellas.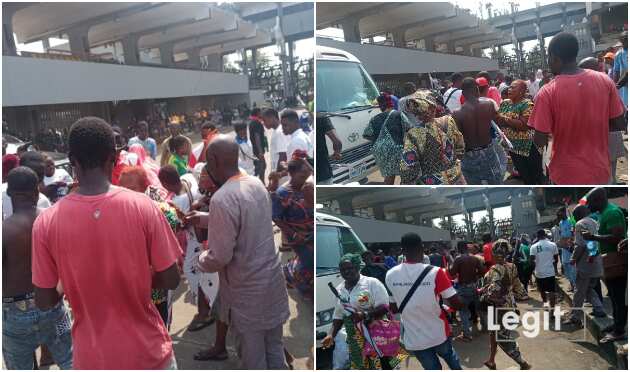 Jandor arrives TBS for Atiku's presidential rally
The governorship candidate of PDP Lagos, Olajide Adediran, popularly called Jandor, has arrived at the venue
Former SGF Pius Anyim, others arrive venue for campaign rally
A former Secretary to the Government of the Federation (SGF), Anyim Pius Anyim has arrived at TBS for his presidential campaign rally.
He stormed the venue and some other high-ranking PDP chieftains.
The former Senate president stormed the venue in convoy. The sophistication of SUVs conveying Atiku and his team bespeaks eminence and class.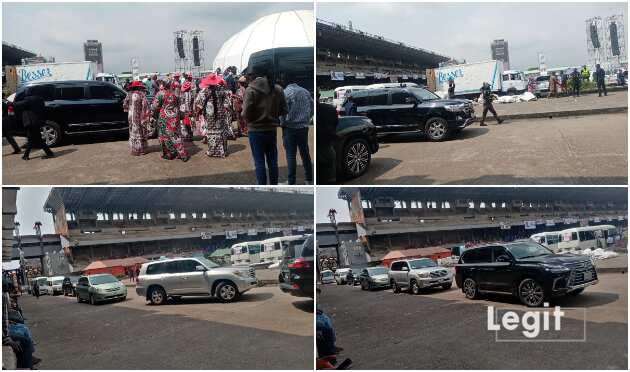 Jimi Agbaje arrives venue of Atiku's Lagos campaign
Former PDP Lagos state governorship candidate Jimi Agbaje just arrived at Tafawa Balewa Square (TBS), the venue for Atiku's campaign rally in Lagos.