Gov Udom Emmanuel's Achievements in Road Construction Baffles his Greatest Critics
Governor Udom Emmanuel State has made good his promise to the people of Akwa Ibom with the construction of several roads across all the Senatorial districts of the State.
Within his seven years in office, Governor Udom has opened up several villages with the construction of roads that will outlive several generations.
Recently as part of activities to mark the 35th anniversary of the State's creation, Governor Emmanuel led dignitaries to the inauguration of several roads including the 10km Idongesit Nkanga and Clement Isong ten lanes road project.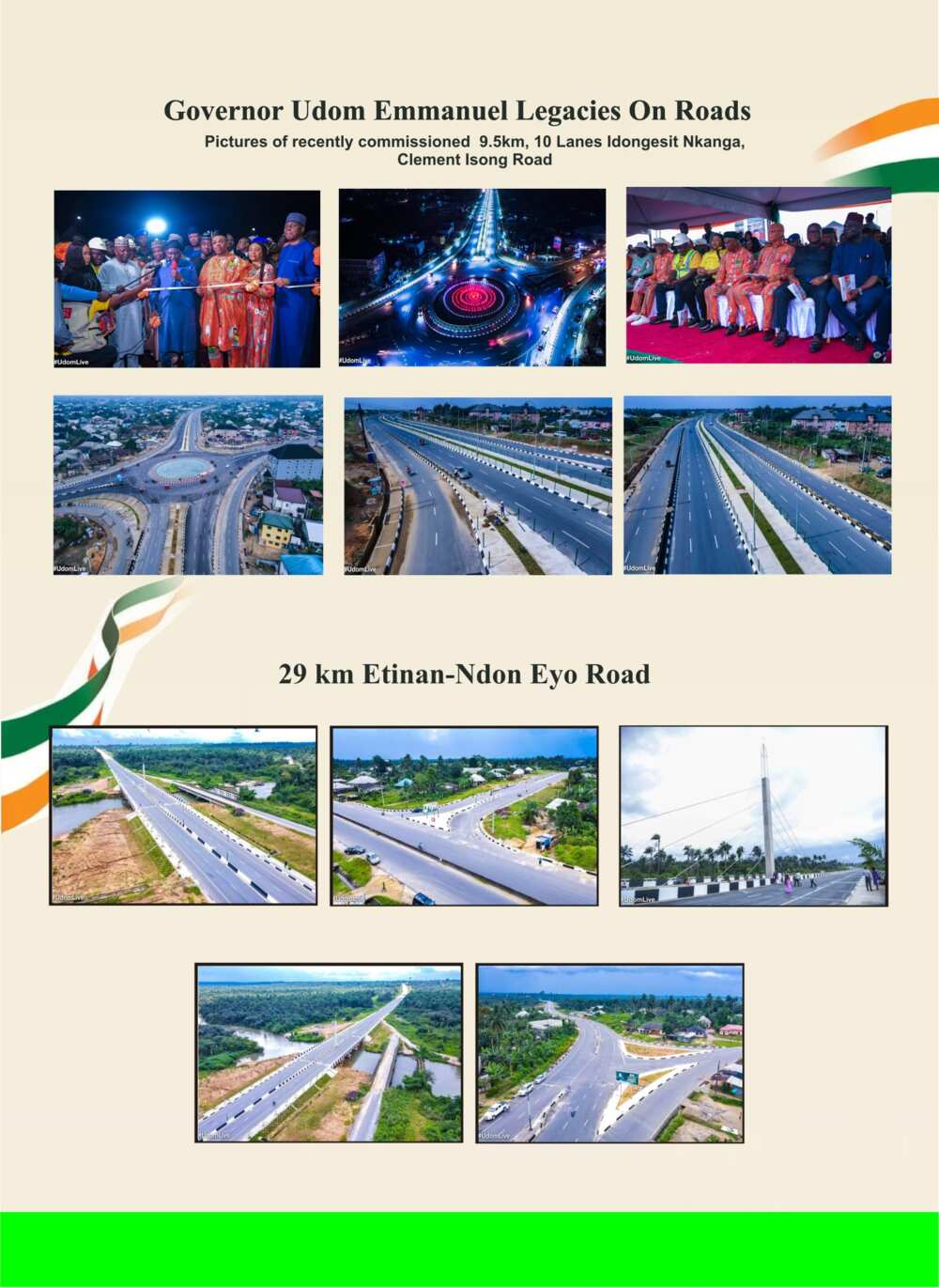 The project came with a 5.4kilometers underground drainage tunnel and three roundabouts of which two have rainbow water fountains.
The Governor announced that the road which is divided into two has the portion from Oron Road to Nwaniba Road named after former Governor, Idongesit Nkanga, while the stretch from Oron Road to Aka Road is named after former Governor of old Cross River State, Clement Isong.
The projects were commissioned by the Governor of Adamawa State, Ahmadu Fintri, who represented Alhaji Atiku Abubakar as well as Governor Okowa of Delta
Atiku Abubakar said that through Governor Emmanuel: "Akwa Ibom has become a hub for aviation, a hub for infrastructure, a hub for healthcare delivery and above all what has endeared me to him is that he is making Akwa Ibom a hub for agriculture in Nigeria, no to talk of the industrialization that he is doing."
He said the various projects of the Governor are very exceptional and capable of attracting investors to the State.
In his Goodwill message at the commissioning, the Chairman of the Nigerian Governors' Forum, and Governor of Sokoto State, Aminu Bello Tambuwal, said he has been part of history in Akwa Ibom State on several occasions and was proud to be part of the historic unveiling of the 9.5km, ten lane road has this to say
"If you multiply 9.5km by 10, that gives you 95 kilometres of this road executed by the Governor of Akwa Ibom State. He has done very well in virtually all sectors of Governance.
The Sokoto Governor maintained that "from aviation to industries, agriculture to human capital development, education to health, Udom Emmanuel is a blessing to Akwa Ibom State.
Meanwhile, Former President Olusegun Obasanjo has officially unveiled the dualized 29km Etinan-Ndon Eyo road with two cable bridges and spur from Mbioto-Ekpene Nten in Etinan to Ikot Akpan in Onna local government area of Akwa Ibom State.
Also commissioned the same day was the 2.59km Atiamkpat-Ikot Ese Ishiet road with spur in Onna. The Etinan - Ndon Eyo Road, is the first of its kind in Akwa Ibom State with two cable bridges. The Etinan-Ndon-Eyo road handled by a Chinese construction firm, Wizchino Engineering, connects several communities in Etinan and Onna with the East-West road and grants access to the industrial belt of the State.
The dual carriage - 6 lanes Road also comes with walkways, street lighting, cable bridges and has three beautiful roundabouts, with two adorned with the Dakkada icon. Residents and motorists on the road poured encomium on the Governor for the road and promised to remain supportive of his administration.
Ekpene Ukpa bridge was a nightmare, giving road users a horrendous experience. Several lives were lost on the old Ekpene Ukpa bridge, before Governor Emmanuel for coming to the rescue.
In July last year, Chief Obasanjo visited Akwa Ibom to commission the 1km flyover constructed by Governor Emmanuel at Ikot Oku Ikono in Uyo. It will be recalled that at his inauguration in 2015, Governor Emmanuel Udom laid out his eight points agenda for the people of Akwa Ibom State.
This was followed in 2019 with the completion agenda. Within this period, road construction has been at the forefront of his infrastructural developmental programmes. Under his administration road projects running into hundreds of kilometres have been constructed despite the dwindling revenues accruable to the State due to the current economic meltdown.
[Sponsored]
Source: Legit.ng