BREAKING: Deadly armed robbers, kidnappers escape after Boko Haram attack Kuje prison
Over 600 inmates have escaped from the Kuje Custodial Centre in Abuja after an attack on the facility on Tuesday night
Recall that Kuje Medium Prison on Tuesday night came under heavy bombardments by unknown terrorists, a development that threw the entire Area Council into confusion
According to federal government while confirming the deadly attack, the correctional facility houses 994 inmates
The deadly attack on Kuje Correctional Centre on Tuesday, July 5 by suspected terrorists has been confirmed by the federal government.
According to the permanent secretary of the Ministry of Interior, Mr Shuaibu Belgore about 600 inmates escaped from the facility.
Going further, he explained that over 300 of the inmates have been retrieved and more are on the way.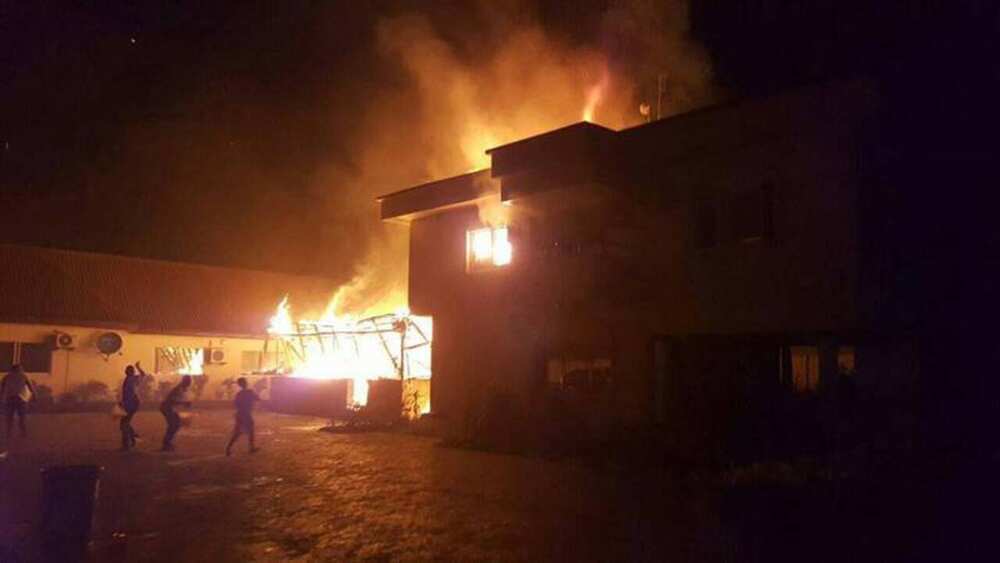 He added that the facility houses 994 inmates and that the attackers, which he suspects are Boko Haram terrorists, attacked the facility to rescue their co-conspirators.
He also added that one person died and three others were injured during the attack.
However, Leadership newspaper reports quoting a source at the facility claimed that when the roll call was made after the deadly attack, "it was noticed that all the white-collar detainees were on ground while about 1,350 violent criminals and terrorists escaped from detention."
According to the news outlet, over 300 attackers invaded the facility few hours after they got security report, alerting them of possible attacks.
Where is Abba Kyari, controversy surrounds whereabouts of suspended police officer
Meanwhile, following the daring attack on the Kuje Correctional Centre in Abuja, the nation's capital by suspected Boko Haram terrorists on Tuesday evening of July 5, the whereabouts of suspended deputy commissioner of Police, Abba Kyari, is generating controversy.
During the attack which lasted hours, many inmates were said to have escaped. The Kuje prison is famous for holding high-profile inmates and suspects, including former governors and ministers.
A source at the correctional facilities claimed that the he has not seen the former police officer.
He was quoted to have said:
"We have not seen him today. He didn't also come for Subhi (early morning) prayer as usual. But I don't know what is happening."
Source: Legit.ng