Breaking News: Mark Zuckerberg Changes Facebook's Company Name to Meta
Facebook finally changed its corporate name to Meta, as the company takes on a new path in the advancement of technology
The name Meta was taken from the word, Metaverse, which is a 3D virtual world where people connect without being together physically
The technology company's social media will keep the name, Facebook, so the change will only reflect on the corprate organisation which houses Instagram and WhatsApp
Mark Zuckerberg's Facebook has changed the company's name into Meta as the tech giants look to distance itself from the many controversies trailing it.
The change is coming after 17-years of bearing the corprate brand, Facebook, which is identical to its social messaging app, which will continue to carry the name.
Legit.ng gathered that the new brand identity is short for metaverse, which is what its founder, Zuckerberg, want the entity to be known as following its intense drive into the world of AI.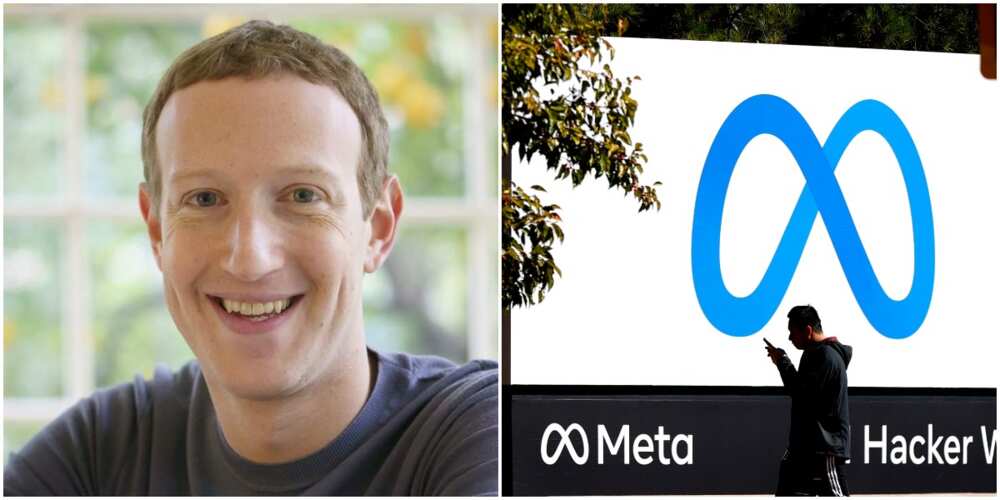 Two reasons Zuckerberg changed Facebook name?
The reason for the change of name is two sides of a coin; controversy and advancement in technology capabilities that Zuckerberg want to compete in.
PAY ATTENTION: Install our latest app for Android, read best news on Nigeria's #1 news app
For the controversy side, the Corporate name, Facebook, has been immersed in accusations, with the most recent being from a whistleblower, Frances Haugen, who previously worked for the firm.
She shared documents that shows Facebook's role in aiding the Capitol attack, incite division and the enormous power the technology company has over countries.
This is aside from the Cambridge Analytical scandal. Also, just last week, the parent company of Instagram and Whatsapp was fined $70 million by U.K regulator for intentionally hiding information of its acquisition deal with Giphy.
But if you check on the other side of the coin, you will see a whole new world of technology that Zuckerberg wants to reflect in the company's brand.
Before the name change, Facebook has spent millions on virtual reality hardware, but Zuckerberg's focus is now on Metaverse, and he's believed to be betting all his hope on ot.
Metaverse is known as a 3D virtual reality environment where an individual that be with people that are not physically around them by wearing a technology enhanced glass.
According to Facebook, which is the biggest company currently staking millions of dollars in Metaverse development, defined it as;
"The 'metaverse' is a set of virtual spaces where you can create and explore with other people who aren't in the same physical space as you."
Zuckerberg has disbursed $50 million for research on building the Metaverse, and to spur developers, the company announced $10 million creator fund for its Horizon Worlds platform.
Social Media Outage: I'm Not Worried About Money Lost, Says Mark Zuckerberg
Billionaire, Zuckerberg, said he's not bothered about losing money after the company's social media apps crashed for hours.
Facebook, Instagram, WhatsApp and other apps owned by the company shutdown for hours, affecting businesses and communication of people.
Millions of people around the world couldn't reach themselves as Facebook's connectivity was taken offline.
Source: Legit.ng