10 legacies of Asiwaju Bola Tinubu as Lagos state governor
- National leader of the All Progressives Congress (APC), Asiwaju Bola Tinubu turned 64 today
- Tinubu was celebrated by many prominent Nigerians from all walks of life in the Federal Capital Territory (FCT) today, March 29
- He spearheaded the good governance that Lagos state is known for today
As Tinubu celebrates his birthday today amidst praises from his friends, family and associates, The Bola Colloquium has reeled out some his achievements for public consumption.
READ ALSO: 10 things to know about Bola Tinubu as he clocks 64 years today
Legit.ng has obtained a list of legacies Tinubu is associated with, after he governed Nigeria's most viable commercial state - Lagos and in his political life.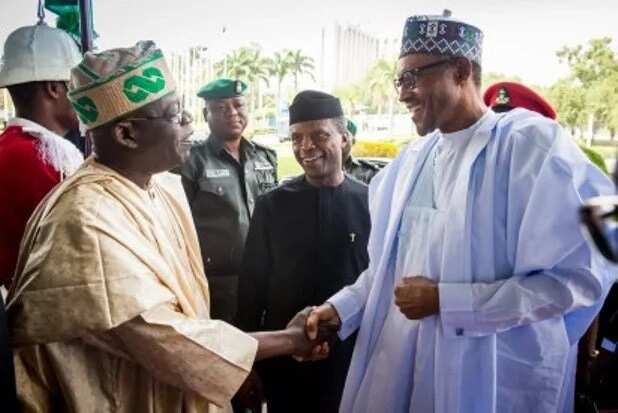 Read below:
1. Tinubu instituted of a reform plan that greatly improved the welfare of judicial officers including magistrates
2. He revamped the civil and criminal procedure rule as well as creation of the Citizens Mediation Centre; a well-staffed and independent Office of the Public Defender, offering legal services for the poor.
3. He established additional 5 general hospitals in Lagos state
4. He upgraded facilities at the Lagos State Teaching Hospital (LASUTH)
5. He provided free healthcare services including free ante-natal care for women, free eye treatments and free glasses, popularly called 'JIGI BOLA'.
6. He pioneered the Bus Rapid Transit System and LAGBUS
7. He established the Lagos State Traffic Management Authority (LASTMA)
8. Reference of at least 13 matters related to the principle of federalism to be tested by the Supreme Court
9. Tinubu created 37 Local Council Development Areas
10. He spear-headed the political merger that produced the APC.
Source: Legit.ng