7 Things You Should Know About NCS New Boss
Although there were speculations that President Buhari's soft spot for Colonel Hameed Ibrahim Ali (rtd.) would get him an appointment, no one knew he was going to be made the Comptroller-General, Nigerian Customs Service.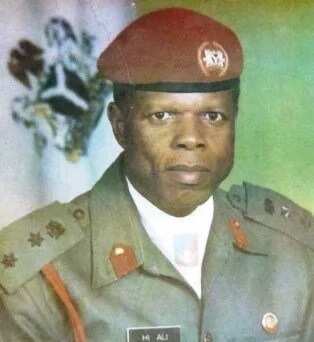 Born January 15, 1955, Col. Ali was a military administrator of Kaduna State, Nigeria from August 1996 to August 1998 during the military regime of General Sani Abacha. Below are top 7 things you need to know about the new Nigerian Customs Service (NCS) boss.
READ ALSO: Breaking: Buhari Appoints SGF, CSO, Others
[article_adwert]
1. The prominent figure during the military era holds Bachelors and Masters Degrees in Criminology.
2. For years, President Buhari has had a soft spot for Colonel Ali and his life style, hence the new appointment.
3. Colonel Ali who was in charge of the management of Buhari's campaign funds has just one wife and four children.
4. The newly appointed NSC boss retired from the army unceremoniously when Olusegun Obasanjo was the Nigerian presidency. This, he did, without any scandalous report.
READ ALSO: Buhari Replies To Accusation Of Lopsided Appointments
5. Just like President Buhari, Colonel Ali is a farmer, a poultry farmer that still drives a 504 Peugeot saloon car.
6. After retiring, Colonel Ali who is of steely character suitable for incorruptible values became Secretary of the Arewa Consultative Forum, a northerm lobbying group, and a supporter of Major General Muhammadu Buhari in his bid to run for president. In June 2006 Ali was reported to have said that the North would get back the presidency in 2007.
7. He was the Chief of Staff to Muhammadu Buhari before being appointed as the Comptroller-General, Nigerian Customs Service.
Source: Legit.ng