Return Our Vehicles To Us, Education Agency Tells Wike
Governor Nyesom Wike of Rivers state may be in trouble following a revelation made by an education body in the state.
The Universal Basic Education Commission (UBEC) in the state has stated that buses belonging to it were used by the governor for his campaign rallies and they are yet to be returned since Wike became governor.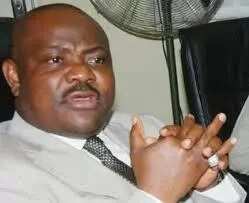 READ ALSO: PDP Will Continue To Rule Rivers – Governor Wike
The commission is asking the governor to return the 15 Toyota Hilux trucks he took from them, with sources confirming to Global Village Extra, a US-based online medium, that he must return their vehicles to them.
One of the drivers at UBEC, who pleaded anonymity, said: "if you ask the governor, he will tell you that he still has the 15 Toyota Hilux trucks which we were told he borrowed to go and run his governorship campaign with.
"I know for a fact that the vehicles are not part of the monetization policy of the federal government which allows public officers to leave government with their official vehicles. He already took his official cars with him in lieu of vehicle allowance.
READ ALSO: Amaechi Emptied Rivers State Treasury – Wike
" I believe it is wrong for a political appointee to abuse his office by taking advantage of the government resources in their possession, and using it for politics."
The vehicles taken by Wike, the driver further explained, were meant for the rural communities by village educational programmes being embarked upon by the UBEC.
He also lamented the absence of the vehicles, noting that many of UBEC's programmes have been sharing the remaining fleet of vehicles since the governor has refused to return the vehicles at his disposal.
READ ALSO:
" I have been at this job for over 20 years now, and the immediate past minister of state for education, Nyesom Wike, really messed things up for us, he needs to return the 15 Toyota Hilux trucks as soon as possible because we really need them," declared the anonymous driver.
Wike has been in the news for the past two weeks following his probe of his predecessor, Rotimi Amaechi and his attempt to retrieve some of the allegedly 'stolen' vehicles of the state government by the immediate past administration.
Source: Legit.ng