Founders of PiggyVest Failed in Eight Businesses Before Succeeding with PushCV
Before they became successful with PiggyVest, the co-founders of the savings platform had failed in eight businesses
Somto Ifezue, Odunayo Eweniyi and Joshua Chibueze started their entrepreneur life from their school years at Covenant University, and remained business partners afterwards
The three co-founders established 500Dishes, 99Startups, FrontDESK, amongst many others before they succeeded in PushCV, which aided their success in PiggyVest
PAY ATTENTION: Join a community of CEOs, founders, and decision-makers: subscribe for a free monthly business newsletter Digital Talks and succeed BIG!
Marilyn Monroe, the late beautician, once stated that because someone fails once doesn't mean the person will fail at everything - these words are the foundation that built PiggyVest.
The startup was established by three friends, Somto Ifezue, Odunayo Eweniyi and Joshua Chibueze, who have not only failed once but many times together.
Failures of the co-founders before PiggyVest
Prior to their success with the savings platform, they had 'tasted several waters' as students of Covenant University looking for a solid foundation: from 500Dishes to 99Startups, and FrontDESK and many more.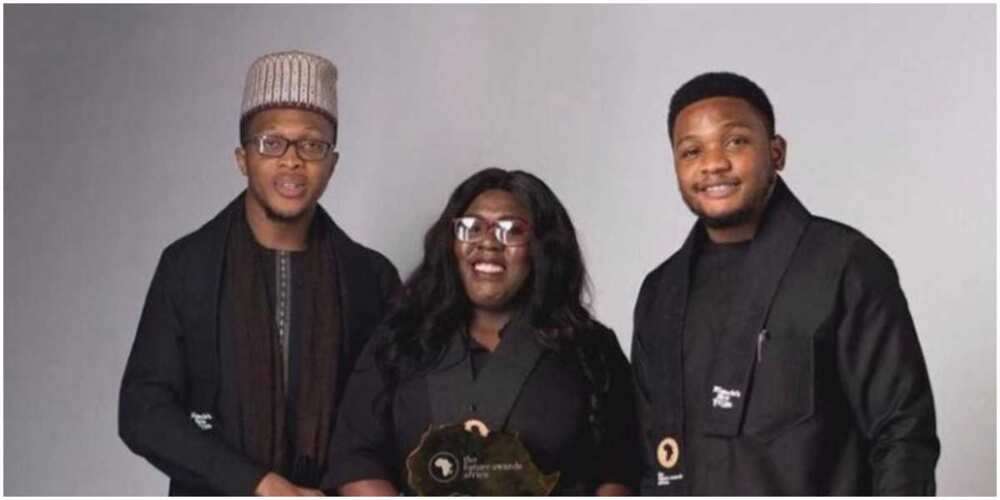 These startups crumbled like a pack of cards, but failure didn't stop Ifezue, Eweniyi and Chibueze, as they were convinced by the words of U.S actor, Mickey Rooney, which states that one always pass failure on their way to success.
In an interview with Digital Talks, Chibueze said:
"Before PiggyVest, we had a bunch of other things that we had actually failed at. We built about eight different products [failed at]."
He added separately that:
"Success is not overnight. Right from school, we started building things, and thankfully, we stuck together."
PushCV: The thin line between failure and PiggyVest
American philosopher, Elbert Hubbard, once said the line between failure and success is so fine that people hardly know when they pass it, but for Ifezue, Eweniyi and Chibueze, the thin line can be vividly seen - it was PushCV
The co-founders had equipped themselves with the experience of their failures and continued to dig and explore the Nigerian market until they struck gold with PushCV - the three finally found a problem they could solve without external factors deciding their fate.
Yes, the failure of their startups, for instance, 500Dishes was caused by factors beyond their control, as they couldn't prevent offline transactions among merchants and customers.
Failure was key to unlocking PiggyVest
PushCV's growth prepared Ifezue, Eweniyi and Chibueze for the success that the untapped savings culture embodied - just like failure didn't stop them from moving to the next one, success in their consultancy hire business didn't stop them from innovating a new idea now called PiggyVest.
Chibueze had seen a tweet on Twitter talking about the local personal savings called "kolo", a box shape plank or tin young and adults use to save their money back in the days.
That was when the idea to establish PiggyVest came alive. He stated that while they learnt a lot from the failed service, experience from PushCV played a crucial role in the savings platform as well:
"With PushCV which we were successful at, we had over a million users. So we already knew how to build a big customer base-type business.
"We had the knowhow. So when the idea came [or saw the tweet], it was easy to say, "Oh, we can do something about this." If we hadn't been building and failing, we won't be able to say we could do something about this [PiggyVest] right.
"So we already had the technical knowhow, we already had the right partnership, we already had the right people to talk to, to get started."
Meanwhile, Legit.ng had earlier reported that Chibueze advised Nigerian entrepreneurs on building a successful business within the country's environment.
The co-founder of PiggyVest said business owners must know when to give up and move on to another venture in order not to waste their time.
He stated that the founders shouldn't spend too much time trying to fix a failed business, and should instead put their resources on another idea. Chibueze made this known in the business tips he gave Legit.ng.
Source: Legit.ng