Iniubong Umoren: How I Killed Akwa Ibom Job Seeker, Frank Akpan Makes Video Confession
- Reactions have continued to trail the killing of a job seeker, Iniubong Umoren
- The Nigerian police are investigating Uduak Frank Akpan, the suspected killer of the lady
- Akpan said he did not kill the job seeker intentionally
PAY ATTENTION: Join Legit.ng Telegram channel! Never miss important updates!
Uduak Frank Akpan, the suspected killer of a job seeker, Iniubong Umoren, has narrated the circumstances surrounding her death.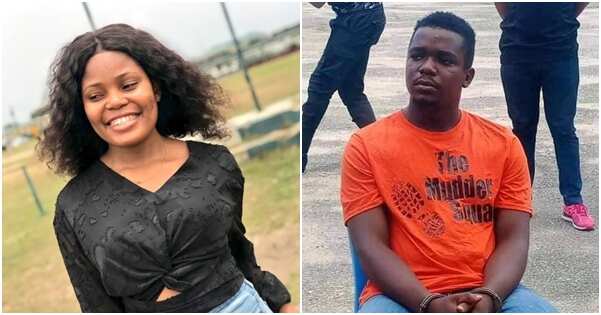 The suspected killer was paraded on by the Akwa Ibom state police command on Friday, May 14.
Akpan who was paraded alongside his father told journalists in a video shared on Twitter by EKA @Lionezz__ that he killed the girl in self-defense and not intentionally.
The suspect said after he invited Iniubong Umoren for a fictitious job, he admitted to her that the job never existed.
According to Akpan, he and the lady were about to have consensual lovemaking when things escalated.
He said:
"I asked her whether she can work on a farm as a secretary, she said she can and that she's ready to do the job. So, when she came, I revealed to her that this farm doesn't exist and that it was just a hoax.
"I told her that before she leaves that I'll like to have sex with her, and she agreed. But she gave a condition that I should use a condom, which I did. When I removed the condom, she became furious, so she took the nearby stabiliser to hit me on my head. Then she bit my left ring finger.
In a bid to stop her, I used the stabiliser to hit her and she fell and started bleeding, thereafter she died."
He told journalists that he lured her by using reverse psychology on her. According to the suspect, he wanted to take revenge on Umoren for all harm prostituted have caused him.
PAY ATTENTION: Install our latest app for Android, read the best news on Nigeria's #1 news app
When asked if Iniubong Umoren was his first victim, the suspect said no.
He stated that six other victims have fallen for his scheme but claimed they were not killed like Umoren.
Akpan said no other accomplices helped in carrying out the crime. He stated he hurriedly buried the girl because he was afraid.
Meanwhile, Senator Godswill Akpabio and his wife, Ekaete, have reacted to a publication by David Hundeyin, a journalist, which accused them of being linked to the alleged killer of Iniobong Umoren.
In a statement released on Friday, May 14, the couple threatened to sue Hundeyin and stated clearly that they do not own the hotel where the suspected murderer of Umoren, Frank Uduak Akpan, reportedly contacted a worker in the Niger Delta civil service, Kufre Effiong, The Punch reports.
The rebuttal signed by Akpabio's lawyer, Otobong Inyang, denied the duo's knowledge of any relationship between Effiong and Akpan and threatened to sue the journalist.
Source: Legit.ng