If you kill herder, don't sleep we'll revisit you, tension as Fulani cattle-rearers threaten
- Miyetti Allah has backed Governor Mohammed Bala's position on herders carrying AK-47 for self-defence
- The Fulani cattle-rearers' association said nobody can evict herders from any part of Nigeria
- Miyetti Allah's spokesperson, Saleh Alhassan, said there will be retaliation for a Fulani herder killed or harmed
PAY ATTENTION: Join Legit.ng Telegram channel! Never miss important updates!
Amid mounting tension characterising the ethnic farmer-herder crisis, a cattle-rearer Fulani group Miyeti Allah has threatened to unleash violence if any of its members is harmed.
Saleh Alhassan, a spokesman of the group, made the declaration on Sunday, February 14, saying "nobody has right to evict herdsmen."
According to him, Fulani herders "will resist eviction" and there will be retaliation for any killing of Fulani herders in the southern part of the country.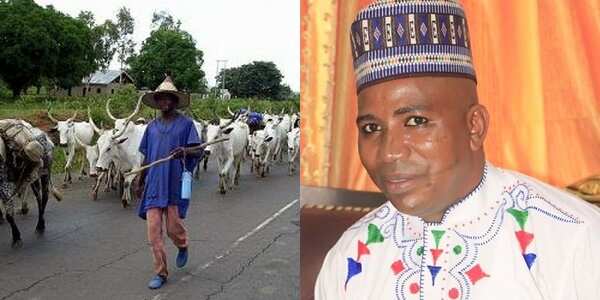 The Miyetti Allah leader also lauded the Bauchi state governor, Bala Mohammed on herders carrying AK-47 for self-defence.
Bala, speaking at the launch of the inaugural edition of the Bauchi correspondents' chapel of the Nigeria Union of Journalists (NUJ)'s magazine on Thursday, February 11, had said the AK-47 rifles carried by herders are just weapons to tackle cattle-rustlers.
The Bauchi governor's statement has since generated a mixed reaction, with Samuel Ortom and Rotimi Akeredolu of Benue and Ondo state respectively slamming him for justifying illegal handling of firearms.
The Miyetti Allah said:
"Nobody has the right to evict herdsmen. If you say you are going to evict us, we will resist eviction. We have been surviving in harsh environments. If we do not resist, we will be wiped out of the planet.
"If you kill a herder, don't go and sleep, we will revisit you, and it's not because we hate your tribe. People attack herders, and in one way or the other, herders have found a way to retaliate."
PAY ATTENTION: Install our latest app for Android, read best news on Nigeria's #1 news app
Meanwhile, Sheu Sani has slammed the governor of Bauchi state, for defending and justifying Fulani herders carrying AK-47 rifles.
In a tweet on Friday, February 12, the former senator who represented Kaduna Central at the 8th Senate, said justifying bearing of the dangerous weapon by herdsmen "amounts to baptizing infamy."
According to him, such a statement capable of stoking ethnic tension was not expected from the number one citizen of a state.
****
Rahaman Abiola is a result-oriented journalist and content writer with a firm grip of over 5-year corporate experience stranding diverse roles in digital & traditional media and social media communication.
A published literary writer, freelancer and public commentator, he has written over 100 essays covering diverse issues on economy, politics and current affairs, entertainment and leadership published in virtually all notable Nigerian national dailies and digital media in Nigeria.
He is a graduate of English Literature, Obafemi Awolowo University, Ile-Ife. Follow him on Twitter via @ShugabanR
Source: Legit.ng