- Anala Beevers is a child prodigy who could identify and point to letters of the alphabet at just 10 months old
- By 18 months she was reciting numbers in both Spanish and English
- Anala was accepted into MENSA with an IQ of 145 at the age of 4 years
- The exclusive high-IQ club accepts only those who score in the 98th percentile on an IQ test
PAY ATTENTION: Click "See First" under the "Following" tab to see Legit.ng News on your Facebook News Feed!
At the age of just four years old, New Orleans native, Anala Beevers, was reported to possess an IQ of over 145. Her IQ helped her learn the alphabet at just four months old.
Legit.ng gathers that when she was a few months old she would mouth the ABCs along with her mother, Sabrina Beevers.
At just 10 months old, Beevers could identify and point to each letter, and by 18 months she was reciting numbers in both Spanish and English.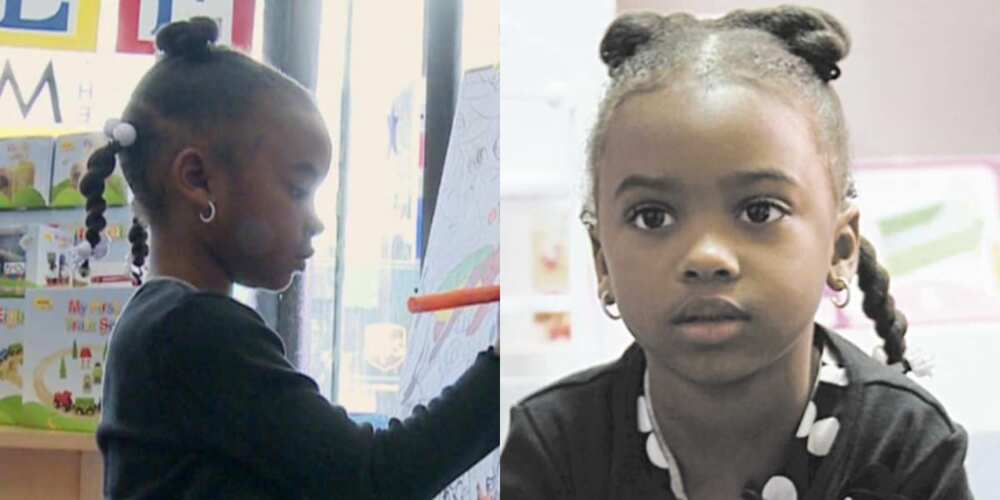 Beevers skipped pre-K and was enrolled directly into kindergarten at the Marrero Academy for Advanced Studies in Jefferson Parish.
Democraticunderground.com reports that Beevers was invited to become one of 2,800 MENSA members under the age of 18.
The exclusive high-IQ club accepts only those who score in the 98th percentile of an IQ test.
Alana Beevers placed in the 99th percentile range, putting her intelligence in the top one per cent of all humanity.
Her parents said she always has a new pursuit and she's a multi-tasker.
In other news, there are geniuses around the world who do awe-inspiring things that leave people wondering where in the planet they must have come from.
This is the story of a nine-year-old primary five pupil of Carol School in Lagos, Siju Olawepo, who is able to tell the day of the week of any year without checking the calendar.
It will not be out of place to say Siju is a genius and a boy who definitely will do great things. The boy was discovered by an ICT teacher at the school, and he is on his way to becoming a star.
His parents did not know he had this rare talent until the ICT teacher noticed it in him.
Since Siju's discovery, his school has set up a special curriculum for him, allowing him to work at his own pace.
There is a 'genius' in every Nigerian family - Comic Con founder | Legit TV