- Governor Yahaya Bello says he knows nothing about the campaign posters spotted in Lokoja
- The posters suggested the governor is interested in the 2023 presidency
- Governor Bello says he has no link with the group or individuals circulating the posters
PAY ATTENTION: Click "See First" under the "Following" tab to see Legit.ng News on your Facebook News Feed!
Kogi state governor, Alhaji Yahaya Bello has distanced himself from the circulation of his posters and flyers for the 2023 presidential race.
A statement by the governor's spokesman, Onogwu Muhammed on Tuesday, July 1, stated that the Kogi state chief executive has no prior knowledge of the purported materials or having any link with the group or individuals circulating the posters.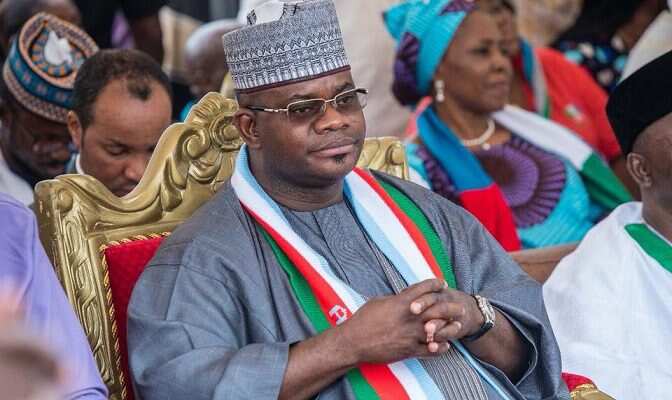 PAY ATTENTION: Install our latest app for Android, read the best news on Nigeria's #1 news app
Part of the statement read: "The governor's attention has been drawn to posters and flyers designed with his pictures being circulated on social media, campaigning for 2023 presidential ambition on his behalf.
"We want to state categorically that Governor Bello has no prior knowledge of that, neither the group nor the individuals behind the posters and flyers are known to His Excellency.
"His Excellency as a responsible governor who is very sensitive to the plight and wellbeing of the citizens cannot and will not support that kind of premature intentions especially at this crucial moment that the nation and the world is facing the challenges of containing the spread of Covid-19.
"2023 is in the hands of the Almighty God, who is indeed the benefactor of each of His own dear ones, who alone can enthrone and dethrone."
The governor urged the people of the state not to allow anybody or group to misled them in using his name to achieve their political goals while reaffirming his commitment to the plight and wellbeing of Kogites.
Although, still in 2020, the 2023 presidential election has somewhat dominated political discourse in Nigeria.
Political commentators, both online and offline, have started discussing the permutations ahead of the polls.
One Abdul-Aziz Na'ibi wrote on Twitter: Come 2023 we are not going to vote for any tribalistic and religiously fanatical candidate, we need someone who will unite Nigeria and do justice for all Nigerians.
Usman Gaskiya wrote: I can only turn my vote and support against Atiku 2023 when he is contesting with Professor Babagana Umara Zulum. I see a better working Nigeria with Atiku.
Meanwhile, former Lagos state governor, Asiwaju Bola Ahmed Tinubu, has dismissed insinuations that the dissolution of the All Progressives Congress (APC) National Working Committee (NWC) has ended his purported 2023 presidential ambition.
In a statement sent to journalists on Saturday, June 27, the APC national leader said those making the assumptions "have assigned colourful epitaphs to the 2023 death of an alleged political ambition that is not yet even born."
"At this extenuating moment with COVID-19 and its economic fallout hounding us, I cannot see as far into the distance as you. I have made no decision regarding 2023 for the concerns of this hour are momentous enough," he added.
Osinbajo, Atiku, Tinubu: Nigerians speak on who becomes next president | Legit TV