Having the perfect body is the dream of most people, especially celebrities. Many famous people have documented their weight loss journeys to encourage other people. It is not unusual for celebrities to endorse particular products that promote weight loss. Scarlett Moffatt, an actress who is best known for appearing on Gogglebox, is one of the celebrities who have struggled with weight-related issues.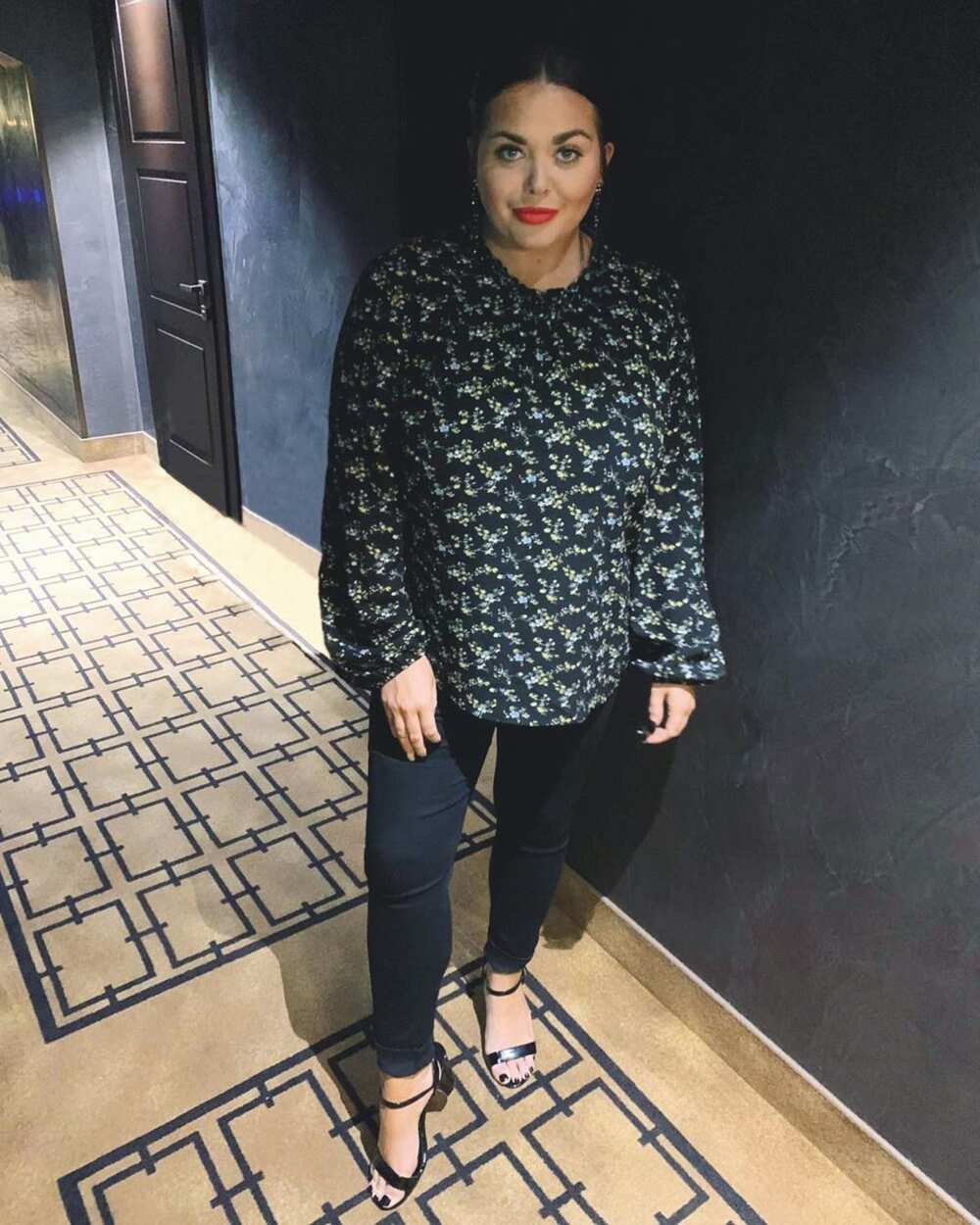 Who is Scarlett Moffatt? Scarlett Moffatt is a famous English reality television star and presenter. She was born on the 17th of October 1990 in Bishop Auckland, County Durham, England. Currently, Scarlett Moffatt age is 29 years. Her nationality is British, and Libra is her Zodiac sign.
Profile summary
Name: Scarlett Moffatt
Age: 29 years
Date of birth: 17th of October 1990
Place of birth: Bishop Auckland, County Durham, England
Nationality: British
Zodiac sign: Libra
Height: 5 feet 0.5 inches (154 centimetres/ 1.54 metres)
Shoe size: 7.5 (US)/ 38 (EU)
Father: Mark Moffatt
Mother: Betty Moffatt
Sister: Ava-Grace
Alma mater: York St John University
Profession: Media personality and presenter
Scarlett Moffatt family & childhood
The media star is the first of two children. Her father's name is Mark, while Betty is her mother's name. She has one younger sister whose name is Ava-Grace. In her childhood years, the famous presenter wanted to become a dance teacher.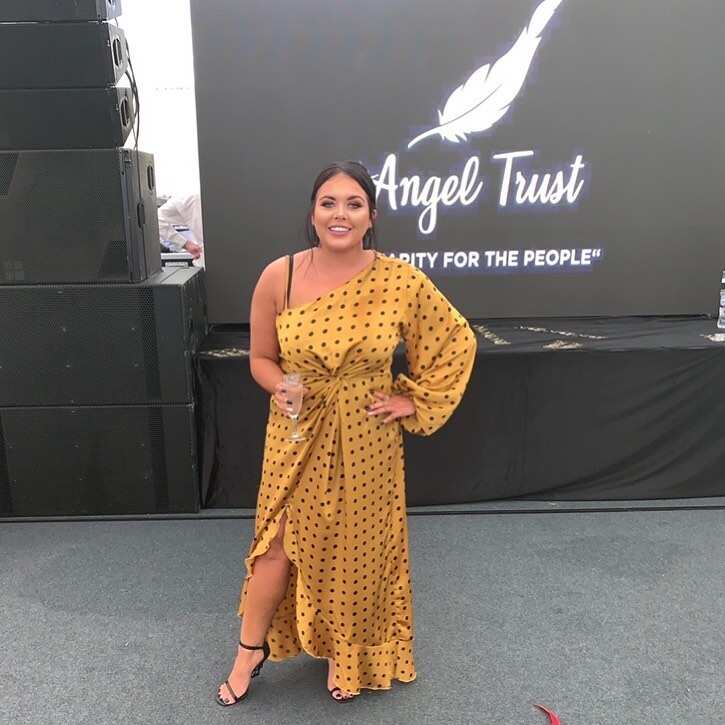 When she was 11 years old, a car ran over her. Luckily, she survived it. She was diagnosed with Bell's palsy after the accident.
Education
The reality television star went to York St John University for her higher education. She joined the institution to pursue a degree course in dancing. However, she switched paths a few months after. Instead, she pursued a course in sports coaching and physical education. Her life in the institution was fun because she was outgoing and had good friends.
Scarlett Moffatt height & measurements
The reality television star and presenter has a short stature. She is 5 feet 0.5 inches (154 centimetres/ 1.54 metres). Scarlett Moffatt weight is difficult to verify because she has lost weight then gained again in recent years. She has blue eyes and black hair. Her shoe size is 7.5 (US measurements) or 38 (EU measurements).
Career
Before all the fame she enjoys today, the media sensation worked for ASDA in Bishop Auckland as a checkout operator. On the 24th of September 2013, the relevant authorities announced that she would be featuring in Beauty School Cop Outs, an MTV series. The show follows Irish and British young people as they graduate from a Manchester-based beauty school to the real world where they learn the tips and tricks of the beauty business.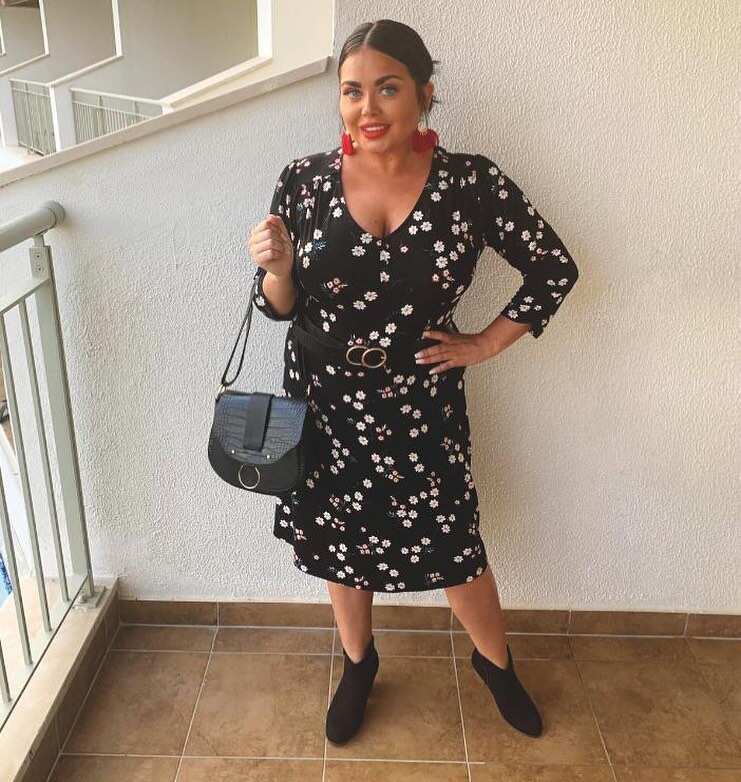 In one episode of Beauty School Cop Outs, the reality television star went topless to get a spray tan. Scarlett Moffatt spray tan proudly exposed her bare top, showing that she was proud of her body. Unfortunately, Jeremy McConnell had unkind words as he commented on her body.
The following year, she was selected as one of the participants in the reality show, . The show airs on Channel 4. She made her debut in the show in March 2014 and appeared alongside the rest of her family members. These were Mark and Betty, her parents, and her younger sister, Ava-Grace. At the time, she was in a relationship with Luke Crodden, who also made an appearance on the show. The two broke up in 2017.
After featuring in the two shows, she had captured the attention and hearts of many people. It did not come as a surprise, therefore, when she became one of the presenters on Capital North East. She assumed the role on the 20th of November 2015. She exited from this position on the 16th of December 2016.
Her next appearance would be on I'm a Celebrity...Get Me Out of Here! She was confirmed as a participant on 16th November 2016. This was the sixteenth series of the show. She emerged the overall winner. After this win, she was selected as one of the panellists on Virtually Famous, a role which she took in December 2016.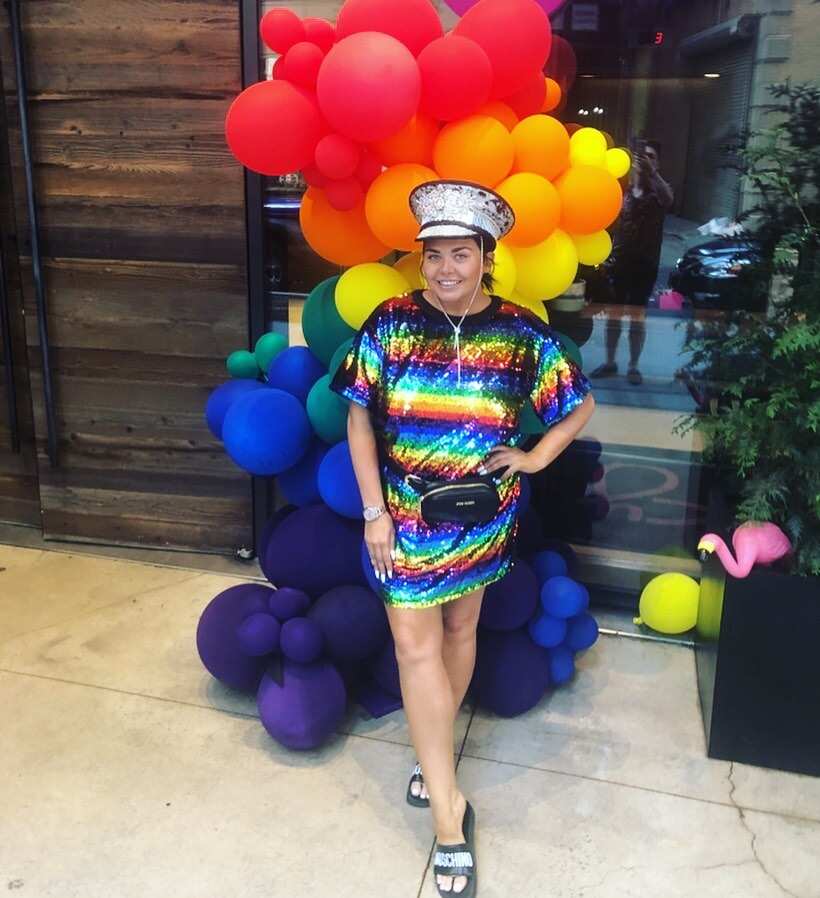 In early 2017, Channel 4 announced that it would be reviving the show, Streetmate. She became the new presenter of the show and was elated when she received the news. During the 2017 National Television Awards that were held in January, she was the backstage presenter.
January 2017 also marked the time when the reality star joined the Ant & Dec's Saturday Night Takeaway show team. She joined Ant and Dec who she had grown up watching and admiring. On the 2nd of April 2018, she was a guest host for the Heart's Feel Good Easter Weekend show on Heart radio.
Controversy
The reality star has struggled with body image issues. In 2016, Scarlett Moffatt hot body caught the attention of many people. She claimed that the trick to her drastic weight loss was her SuperSlim Me Plan, which she documented in a fitness DVD. The DVD was released on the 26th of December 2016. Scarlett Moffatt diet for weight loss had 1200 calories a day.
In 2018, information that she was a fraud spread across different media platforms. Initially, she claimed that the regime in the DVD allowed her to lose weight, from 11 stone 8 lbs to 8 stone. She claimed that her dress size had dropped from 18 to 8. The cause of the controversy was that she had been attending fitness sessions before the DVD was filmed.
The reality star's trainer was David Souter from Big Shot Productions Limited, which is a fitness centre that is owned by TV presenter, Jayne Irving. She had signed with the company to release the DVD. She had also attended a six-week boot camp in Anzere, Switzerland to lose weight. During the boot camp, her daily diet contained only 700 calories.
Shortly after releasing the DVD, Scarlett Moffatt weight gain was evident. This was adequate proof that the DVD was a mere sham. Big Shot Productions Limited, with whom she had a contract, was not pleased with her weight gain because it impacted negatively on its business image and revenue. The company sought legal measures to get a return payment worth £100,000 from Moffatt.
Is Scarlett Moffatt pregnant?
In 2017, Scarlett was trolled online. Different people on social media questioned whether she was pregnant because she had gained weight. Was Scarlett Moffatt pregnant? She was not. She responded to the troll by stating that all women were beautiful regardless of their body size. She also called out people who body shame others online.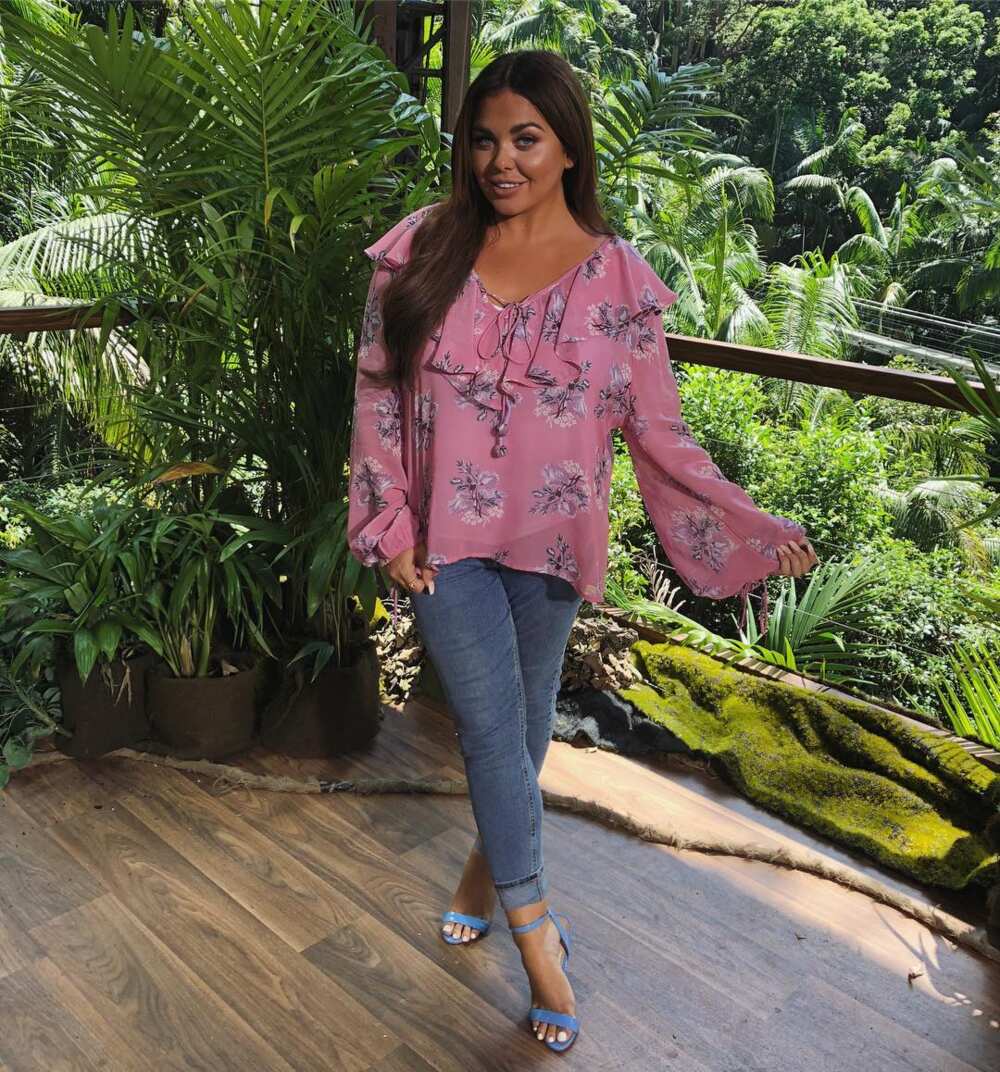 Scarlett Moffatt weight loss journey
After regaining her weight, the star decided to make a lifestyle change to lose excess weight. During a medical appointment, her doctor told her that her body mass index was in the danger zone, and she was pre-diabetic.
She started going to the gym regularly and hired Lee Constantinou as her personal trainer. Her workouts stretch five to seven minutes, and her focus was lifting weights and cardio workouts. She lost three stone and four lbs of excess weight through exercise. Instead of cutting out her favourite foods, she now watches her portions. Scarlett Moffatt now looks leaner.
Scarlett Moffatt net worth
How much is Scarlett Moffatt worth? Her exact net worth is yet to be established. According to the Daily Feed, she is worth over £1 million.
Scarlett Moffatt boyfriend
The reality star was in a romantic relationship with Luke Crodden until 2017. The pair first met in New York in 2013 and began dating much later. When the two split, she said that she wanted to focus more on her career.
Presently, she is in a relationship with Scott Dobinson. The relationship is loving and exciting, and she cannot stop smiling about it. Recently, she moved in with Scott who is a police constable.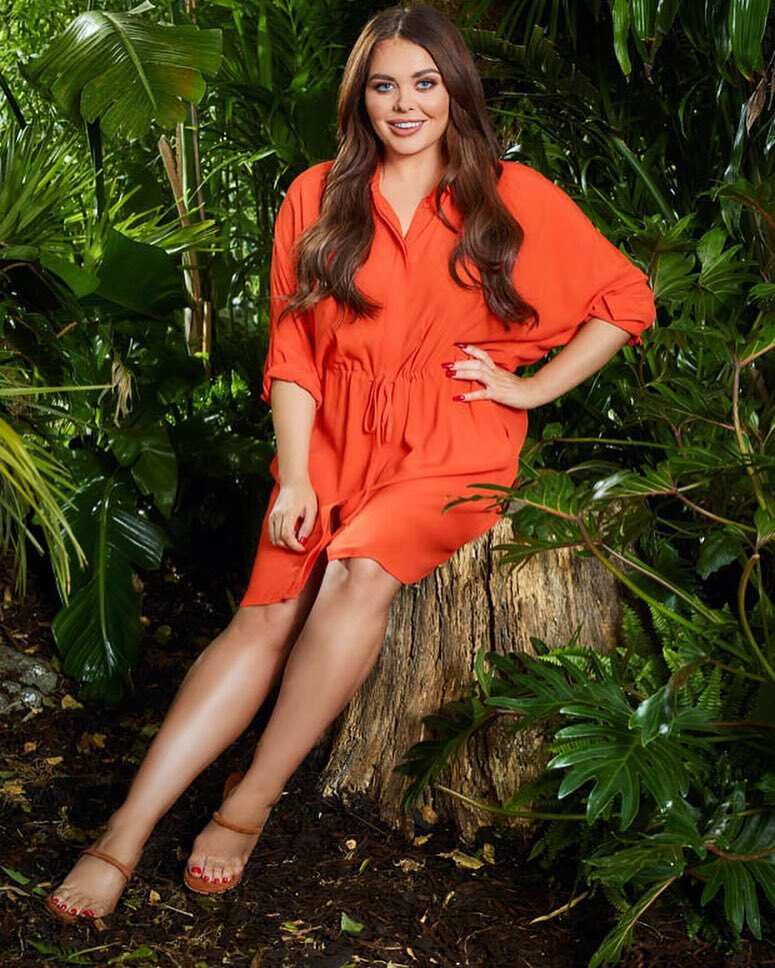 Social media
The reality television star and presenter is active on social media. She has an Instagram account with 2 million followers and a Twitter account with over 655k followers. She often uses these accounts to spread positive vibes and body appreciation.
Scarlett Moffatt is a famous reality television star and presenter from England. She is best known for appearing on shows such as Gogglebox, and I'm a Celebrity...Get Me Out of Here! One of her biggest challenges has been bodyweight and image issues. She has lost and gained weight and has been trolled online for this. Regardless of the trolls, she stands strong and often promotes self-love.