Mark Angel's biography: interesting facts you should know
Read Mark Angel biography to know the success story of the YouTube celebrity. How did this charming star manage to win the love of fans and gain national popularity? Who is Emmanuella and what place does she take in Mark's heart? Keep on reading to stay up to date!
Photo: Facebook.com
Biography of Mark Angel
Mark Angel is a famous figure in the world of YouTube production. He is the founder of Mechanic Pictures and "Mark Angel Comedy". His comedy series gather thousands of subscribers every day.
Who is Mark Angel?
Photo: Facebook.com
The journey of a skillful comic started on a sunny day of May 27, in 1991. His is from the city of Port Harcourt, located in Nigeria.
The career journey of this young man was full of experiments, professional growth and success:
Education. In 2008, he got admission to Obafemi Awolowo University. Unfortunately the sudden death of his uncle and, and as a consequence, financial issues made him leave the idea of studying medicine. Who knows was it failure or luck!
Early career. In 2011, the destiny led him to Lagos, where he started photography for some time. Later he left for India to study the cinematography and comedy production. There he joined the theatre Gingertainment as a comic and dramatic actor. After the return to Nigeria, he took several unsuccessful attempts of co-work within the Nollywood industry. Despite ups and downs, Angel's mother always gives support to her son. She is the first spectator and critic of his satirical sketches. Mark Angel says his mother to have more of a comedian than he does.
The first great business. In 2012, together with his friend Dennison Igwe Mark Angel started his own media company due to the immaturity of the movie industry in Nigeria. Their business saw the world officially in 2013. The friends called the company Mechanic Pictures. The main task of this establishment was to create photos and videos for skits running regularly on YouTube.
Expect more talents. The versatility of Mark Angel's skills is surprising: he does excellent work as a comedy writer, who creates joke programs for some celebrated comedians. Before giving his jokes to a comedian, he carefully checks them to make sure about the effectiveness on a viewer.
READ ALSO: Mark Angel posts photo of new car, gets tongues wagging
Emmanuella and Mark Angel
Photo: Facebook.com
Have you seen that little beauty standing right beside Mark Angel at his photos? Is she his daughter or, more likely, a niece? What if she is a rising star discovered by the celebrity trainer?
The truth is rather simple. The girl is his niece. Her name is Emmanuella Samuel. When she was a toddler, Mark Angel noticed that she possessed the talent to act. She lives together with Mark Angel's family and participates in his skits. In 2014, she took part in "Oga Landlord", which brought fame and popularity to both of them as well as many Nigerian and International awards.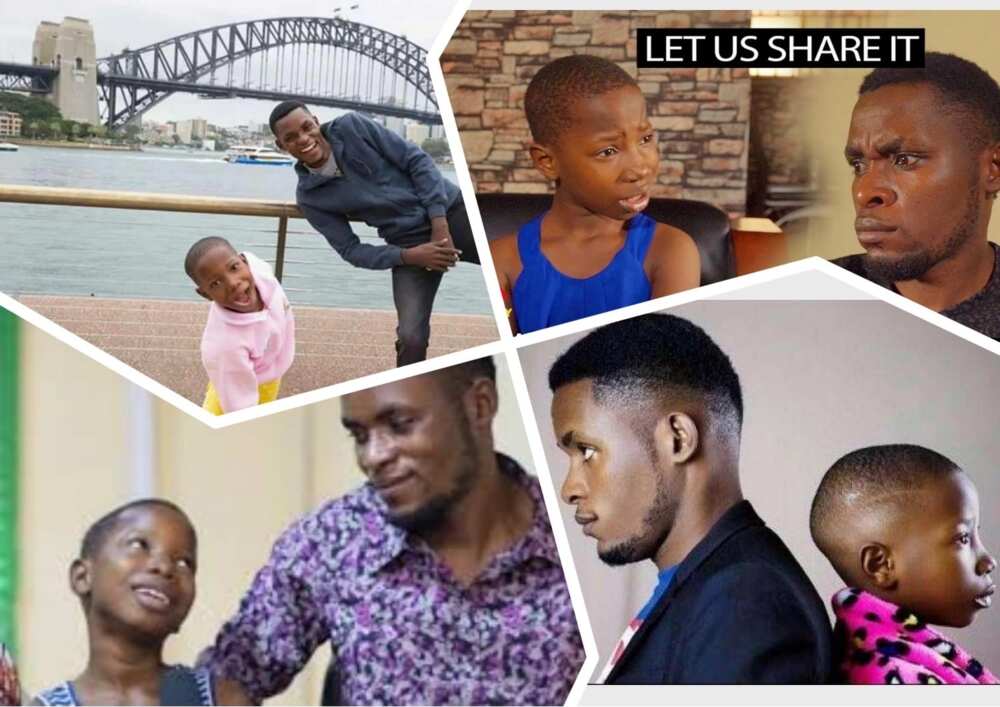 READ ALSO: Comedian kid Emmanuella biography
Currently, Mark Angel is one of the most influential Nigerian comics. His YouTube channel is of great favor among Nigerian subscribers. People, who follow him, see that there is nothing impossible in this life. If one has a strong desire to realize his creative abilities and bring joy to the people, he should keep on working over it and success will surely come.
READ ALSO: Top 5 richest comedians in Nigeria
Source: Legit.ng