Meet Kaduna's amputee labourer defying the odds to live
Overtime, Nigerians have proven to be hardworking individuals both home and abroad.
Few weeks ago, Legit.ng reported the case of one Abdulraheem from Unguwan Dosa Kaduna who melted the hearts of all after his pictures were shared on social media.
Abduraheem who is an amputee has now shared his story and how his leg was amputated. According to him, it all happened 6 years ago after he was involved in an accident.
30-years-old Ogun state-born Abdulraheem revealed that he was an apprentice motor mechanic in Kawo area of Kaduna state when his life changed. In his words:
READ ALSO: Meet Kaduna-based man who works hard with one leg just to earn a living
"We were bringing the car when we had an accident along Mando Road. I sustained various degrees of injuries and my leg got infected so it had to be amputated. I have been living like that since then," he told Daily Trust in a chat.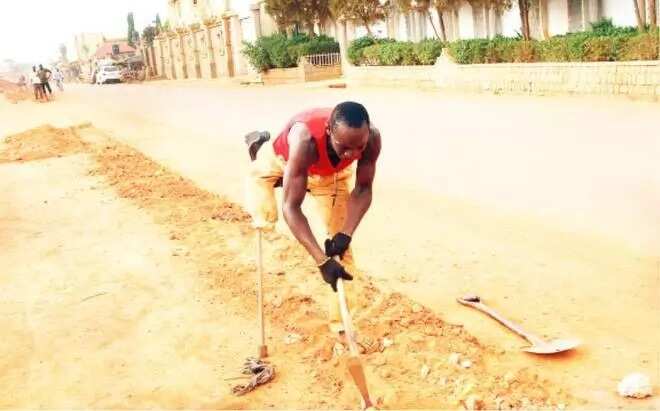 However, Adbulraheem has fought a good fight as he did not allow his challenges take over his life even though it took over his career. He had to put up with manual labour to fend for himself. In fact, he is a known figure along Ungwan Dosa-Kawo road in Kaduna metropolis, where he works as a labourer in an ongoing road construction.
Speaking on why he dropped out of school, he revealed that after finishing secondary school at Sardauna Memorial College, Kaduna, his father passed away.
"I had no resources to send myself to school. At that time my friend's father used to repair television sets, so I started learning from him and later he passed away too," he said.
According to him, it was after that he started training as a mechanic before he was involved in the accident. He said, "since that time, I became idle. I did not know what to do or where to start from so I decided to come and meet the workers at the construction site and asked if they could give me work to do."
Speaking about his family, Adbulraheem sadly narrated how he was married for nine years before he lost his wife in 2017 during the birth of their 4th child.
On how he is coping, he said "challenges are inevitable in life. It's just that when you are physically challenged, it is more strenuous. I have instances when I go to look for work, people upon just seeing an amputee will think I have come to beg and send me away."
He however said he thanks God that he has been given the opportunity to show the world that he can do what able-bodied people are doing and pray it's the beginning of more opportunities to come.
Besides, he advised young and healthy people not to depend on others saying doing that will make ones faith in God weak.
"The best way to avoid that is by working hard, this is what I have to say to the youth out there. Try and be self-employed and do not wait for anybody to give you. I also want to thank President Muhammadu Buhari because it is during his regime that I was able to convince myself not to wait for people to give me and started working," he said.
PAY ATTENTION: Get the Latest Nigerian News on Legit.ng News App
Recall that the story of Abdulraheem went viral after President Buhari's speech in London, stating that Nigerian youths are lazy and basically want everything to be handed to them rather than working hard for it.
My noodle business will build me a house - Hausa trader on Legit.ng TV
Source: Legit.ng