TB Joshua predicts Hillary Clinton as winner of US election
- Many across the world, including presidents, believe in prophecies that come from Nigeria's popular cleric TB Joshua
- The prophet, whose church is headquartered in Lagos, has revealed who among Donald Trump and Hillary Clinton would win the US presidential election
Popular Nigerian prophet Temitope Joshua of the Synagogue Church of All Nation (SCOAN) has revealed the winner of the presidential election in the United States of America even though the actual result is yet to be officially announced.
The election is basically between Hillary Clinton and Donald Trump and Prophet Joshua whose videos are known to surface immediately after events, made his prediction with specifics ahead of the conclusion of the exercise.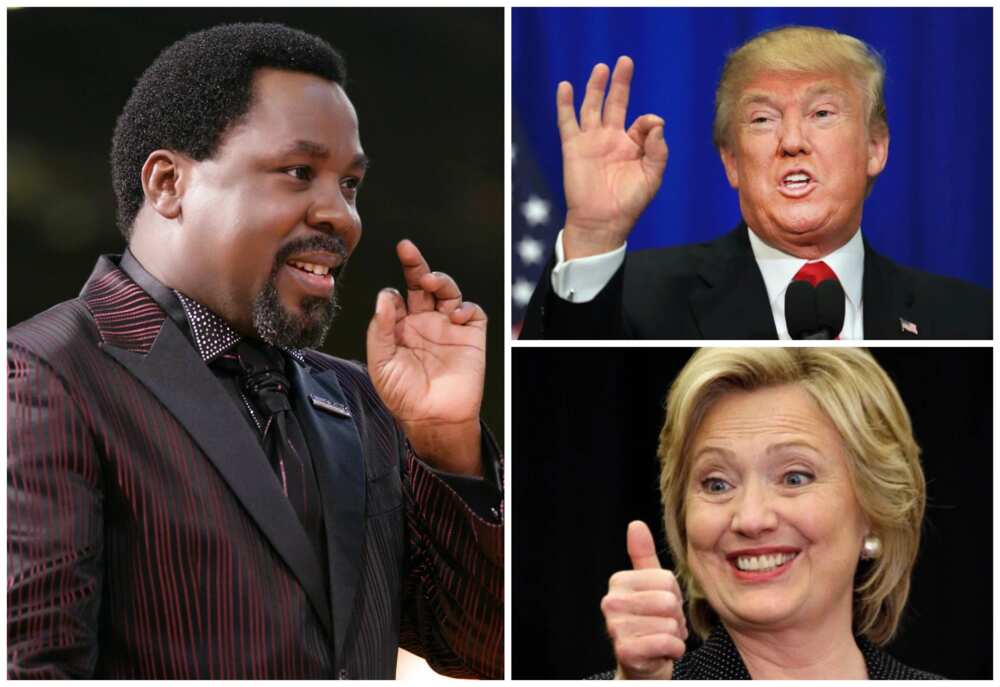 TB Joshua, who has successfully predicted major world events and incidents, did not mention any particular name but said he saw a woman as the winner of the election.
READ ALSO: Kenya elections - Elections 2017
If that is the case therefore, it means Hillary is the predicted winner of the election and successor to Barack Obama, who is leaving the seat after two terms as president.
The revered prophet made his prediction on the church's official Facebook wall.
"Ten days ago, I saw the new president of America with a narrow win. The new Ppesident will be facing several challenges over many issues, including: passing bills, attempts to possibly pass a vote of no confidence on the new president. The boat of the new president will be rocked.
READ ALSO: 4 controversial relationship advice by Ghanaian pastor
"By the way, in order not to keep you in suspense, what I frankly saw is a woman," he predicted.
READ ALSO: Ten Amazing High-Adrenaline Activities To Do In Kenya
Source: Legit.ng