PDP National Convention 2021: Winners, Losers Emerge as Opposition Party Elects New Leaders (Live Updates)
After the huge distraction and anxiety created by the suit by Uche Secondus, its suspended national chairman, the Peoples Democratic Party (PDP), Nigeria's main opposition party, is finally set to begin its national convention.
The convention is scheduled to take place at Eagles Square in Abuja today, Saturday, October 30 and Sunday, October 31.
No fewer than 3,600 delegates from across the country have converged on Abuja to vote for candidates vying for different positions in the party's National Working Committee (NWC).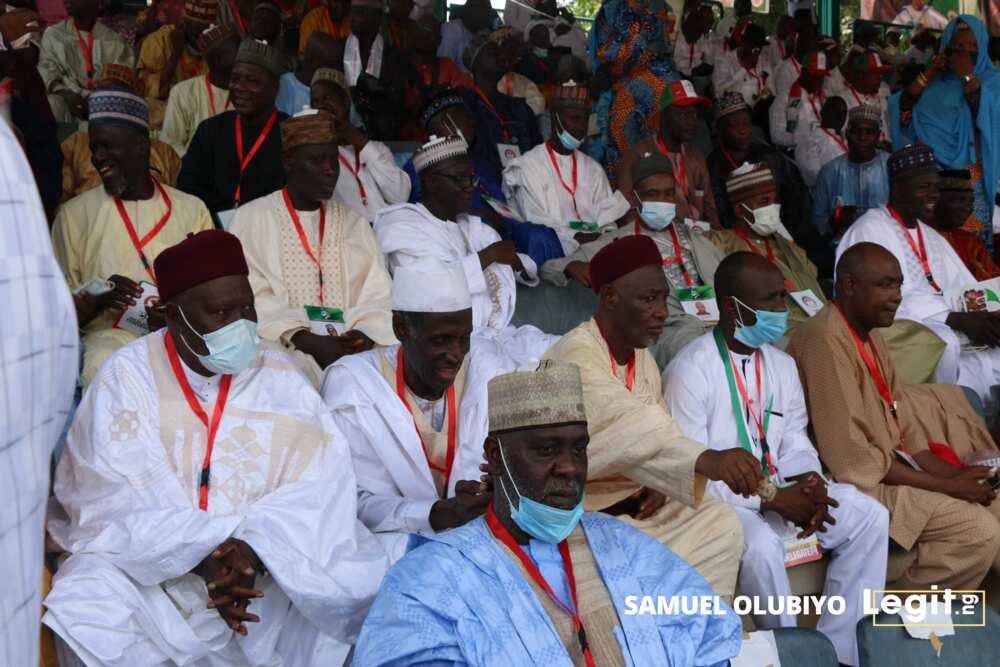 There are 21 seats to be contested in the National Working Committee of the PDP.
However, the governor of Adamawa state and chairman of the PDP National Convention Planning Committee, Ahmadu Fintiri, said only three positions are now to be contested at the national convention.
The positions are:
Deputy National Chairman (South)
National Auditor
Youth Leader
The battle for the position of the deputy national chairman (South) is between a former governor of Osun state, Olagunsoye Oyinlola, and a former deputy governor of Osun state, Taofeek Arapaja.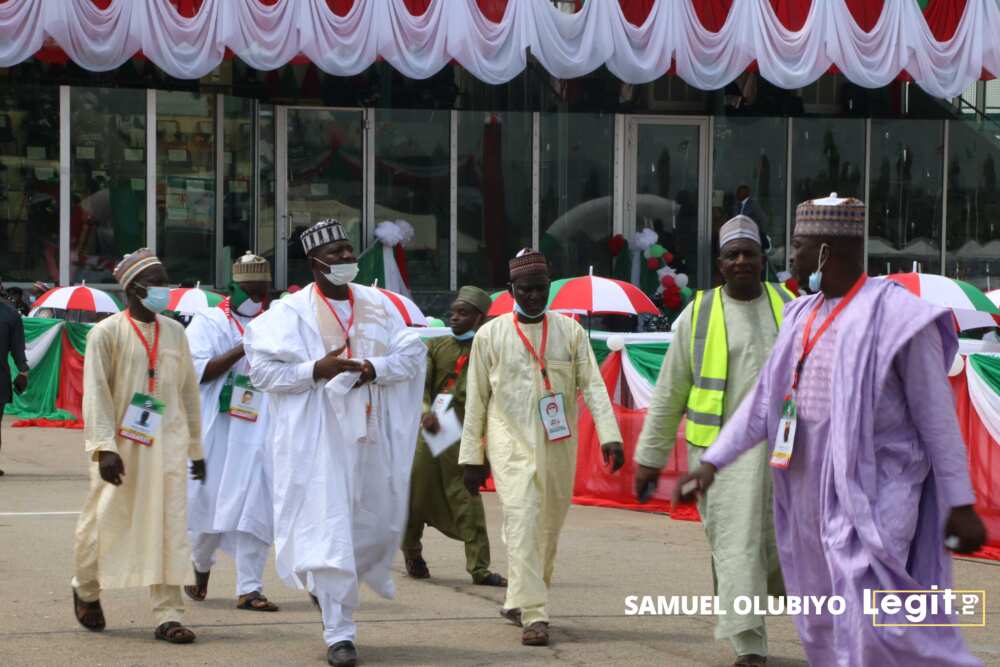 Governor Fintiri claimed that consensus arrangements have been reached for other positions, including the national chairmanship seat which was zoned to the north.
The north picked Iyorchia Ayu, a former senate president, as its consensus candidate.
Nevertheless, the Adamawa governor said delegates would still cast ballots for all the positions despite that 80% of the positions in the NWC would be contested unopposed.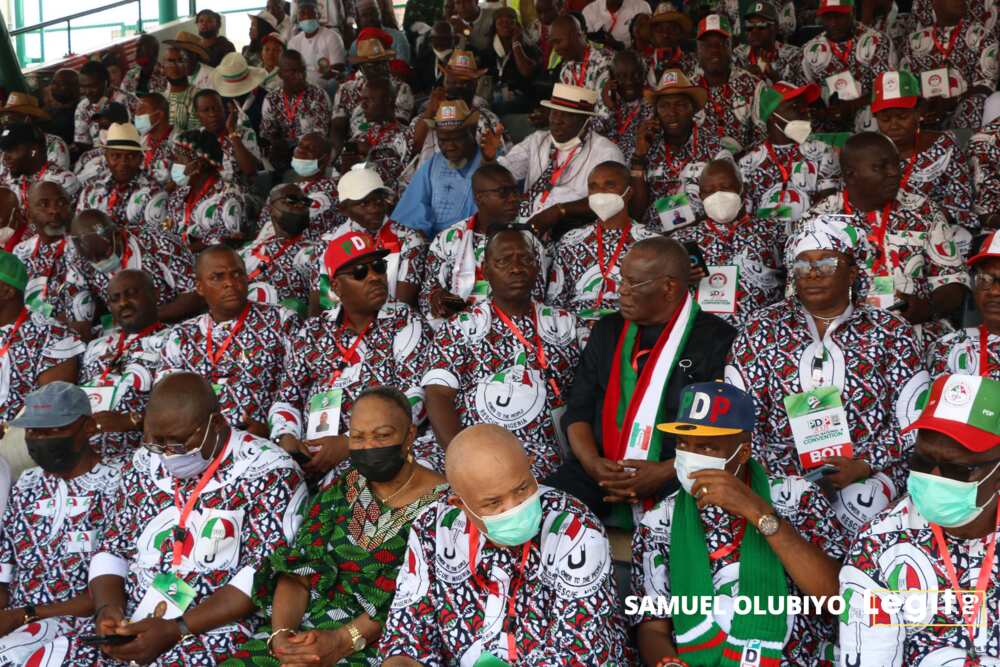 The PDP's fate in the 2023 elections, especially as it seeks to take over the presidency from the All Progressives Congress (APC), is hugely dependent on the success of the national convention.
Stay tuned as Legit.ng provides you with live updates of the events as they unfold at the PDP's convention at Eagles Square in Abuja.
Full list of the newly-elected national officials of the PDP
National Chairman – Iyorchia Ayu
Deputy National Chairman (North) – Umar Damagum (Contested)
Deputy National Chairman (South) – Taofeek Arapaja (Contested)
National Secretary – Samuel Anyanwu (Unopposed)
National Treasurer – Ahmed Mohammed (Unopposed)
National Organising Secretary – Umar Bature (Unopposed)
National Financial Secretary – Daniel Woyegikuro (Unopposed)
National Women's Leader – Professor Stella Effah-Attoe (Unopposed)
National Youth Leader – Muhammed Suleiman (Contested)
National Legal Adviser – Kamaldeen Ajibade (Unopposed)
National Publicity Secretary – Debo Ologunagba (Unopposed)
National Auditor – Okechuckwu Daniel (Unopposed)
Deputy National Secretary – Setoji Kosheodo (Unopposed)
Deputy National Treasurer – Ndubisi David (Unopposed)
Deputy National Publicity Secretary – Ibrahim Abdullahi (Unopposed)
Deputy National Organising Secretary – Ighoyota Amori (Unopposed)
Deputy National Financial Secretary – Adamu Kamale (Unopposed)
Deputy National Women's Leader – Hajara Wanka (Unopposed)
Deputy National Youth Leader – Timothy Osadolor (Unopposed)
Deputy National Legal Adviser – Okechukwu Osuoha (Unopposed)
Deputy National Auditor – Abdulrahman Mohammed (Unopposed)
Iyorchia Ayu emerges new PDP national chairman
Senator Iyorchia Ayu, A former president of the Senate, has emerged as the new national chairman of the PDP.
Senator Ayu, a consensus candidate for the position, took over the leadership of the main opposition party alongside 20 others elected into various positions within the PDP National Working Committee.
Winner emerges: Oyinlola versus Arapaja
A former deputy governor of Oyo state, Taofeek Arapaja, has emerged winner of the election into the office of the deputy national chairman (south).
Arapaja, an ally of Governor Seyi Makinde, garnered 2,004 votes to defeat his opponent, Olagunsoye Oyinlola, a former governor of Osun state, who got 705 votes.
Plateau state voting
The 65 delegates from Plateau state are also on the queue leading to the voting point to cast their votes.
Rivers state's time to vote
Governor Nyesom Wike of Rivers state leads the 130 accredited delegates to the voting cubicles to exercise their franchise.
Ogun, Ondo states delegates are about to vote.
Delegates from Ogun state and Ondo state ready to vote. Osun and Oyo states delegates have also been invited to cast their votes.
Osun and Oyo States delegates stepped out to vote after Ogun and Ondo.
Drama ensues between Oyo and Osun delegates
There is an ongoing drama between delegates from Osun and Oyo states over the deputy national chairmanship (south) position.
The two states have candidates contesting for the position of deputy chairman (south): Oyinlola (Osun) versus Arapaja (Oyo).
Former governorship candidate in Osun state, Ademola Adeleke is leading the supporters of Oyinlola, while Governor Seyi Makinde of Oyo is leading the supporters of Arapaja.
Delegates of both states are singing offensive songs and hauling insults at each other.
It's time for Kwara and Lagos delegates
Delegates from Kwara and Lagos states delegates are currently voting while delegates from both Nasarawa and Niger states have been told to get ready.
No fewer than 58 delegates from Nasarawa are expected to participate in the exercise while 76 delegates from Niger will cast their votes at the same time.
Kaduna, Jigawa delegates voting
Delegates from Jigawa and Kaduna are voting.
The former governor of Jigawa state, Sule Lamido, led the delegates from his state.
Kano delegates, led by Ex-Governor Rabiu Kwankwaso, are also preparing to vote.
Voting continues
Voting continues as delegates from different states take turn to cast their ballots.
So far, delegates Abia, Anambra, Adamawa, Akwa-Ibom, Bauchi, Benue, Borno, Cross River and Ekiti delegates have voted.
Voting finally begins as Atiku participates
Delegates from Abia state and Adamawa state are voting.
Former Vice President Atiku just has cast his vote as one of the delegates from Adamawa state.
Former VP Atiku speaks
Former Vice President Atiku Abubakar addreses the convention.
The former VP said Nigeria is going through the most difficult time ever, adding that he is 70 years old, and has never seen "this type of hardship, insecurity and disunity before in Nigeria."
Atiku who was once a member of the APC before he returned to the APC said the ruling party has shown itself to be ill-equipped and corrupt.
Abia delegates to start voting
Abia State delegates have been called upon to come forward to vote. Adamawa State is to follow.
The Senate minority leader, Enyinnanya Abaribe, addresses the convention on behalf of the PDP caucus of the National Assembly.
He also criticised the APC administration, saying millions of Nigerians are following the proceedings of the convention because they are anxiously waiting for the outcome and can't wait to vote the ruling party out.
After his speech, former Benue governor, Gabriel Suswam, was invited to move the motion to adopt the congress.
Voting set to commence
Supporters of the candidates were directed to vacate the premises while delegates were asked to take their seats at their allotted space.
The electoral officials have also taken their respective positions.
It is gathered that delegates will cast their votes in alphabetical order.
Yemi Akinwonmo, acting national chairman speaks
After Governor Fintiri, the interim national chairman of the, Yemi Akinwonmo, briefly addressed the convention.
He lambasted the APC after which he declared the election open.
Governor Fintiri speaks
The governor of Adamawa state, Ahmadu Fintiri, who doubles as the chairman of the 2021 PDP National Convention Organising Committee, speaks.
He said there is a need for the PDP to return to power in 2023, adding that Nigeria had never had things this bad until the emergence of the APC administration.
Fintiri also noted that a total of 3,600 delegates are expected to elect 21 NWC members.
Photos: National Anthem, Opening prayer
The convention starts fully. Governor Ortom and the Kano state PDP chairman, Shehu Wada, deliver the opening prayers (Christian and Muslim versions respectively) for the convention shortly after the national anthem.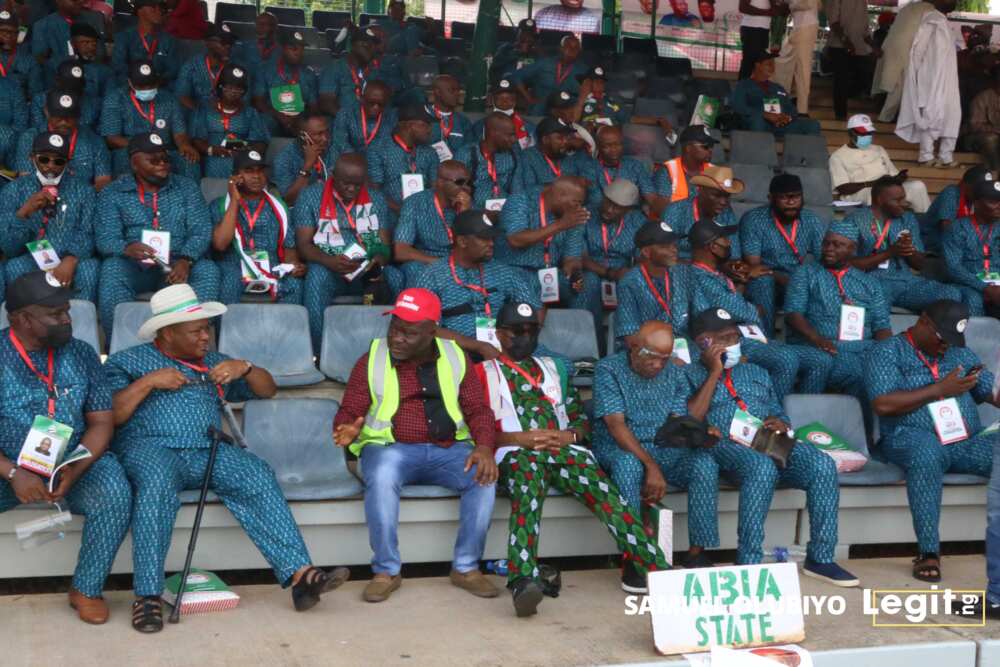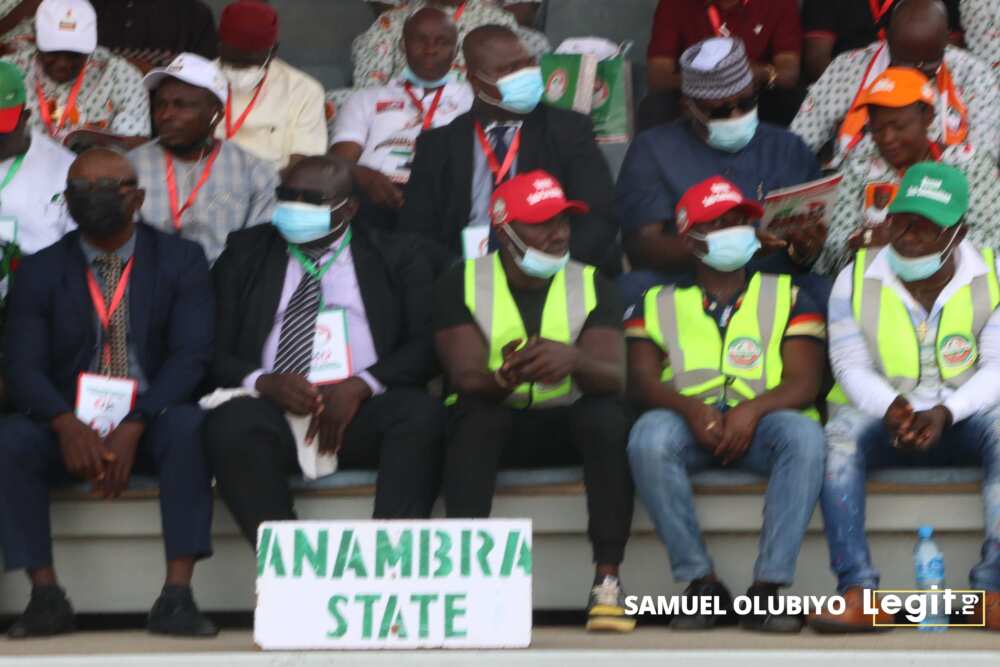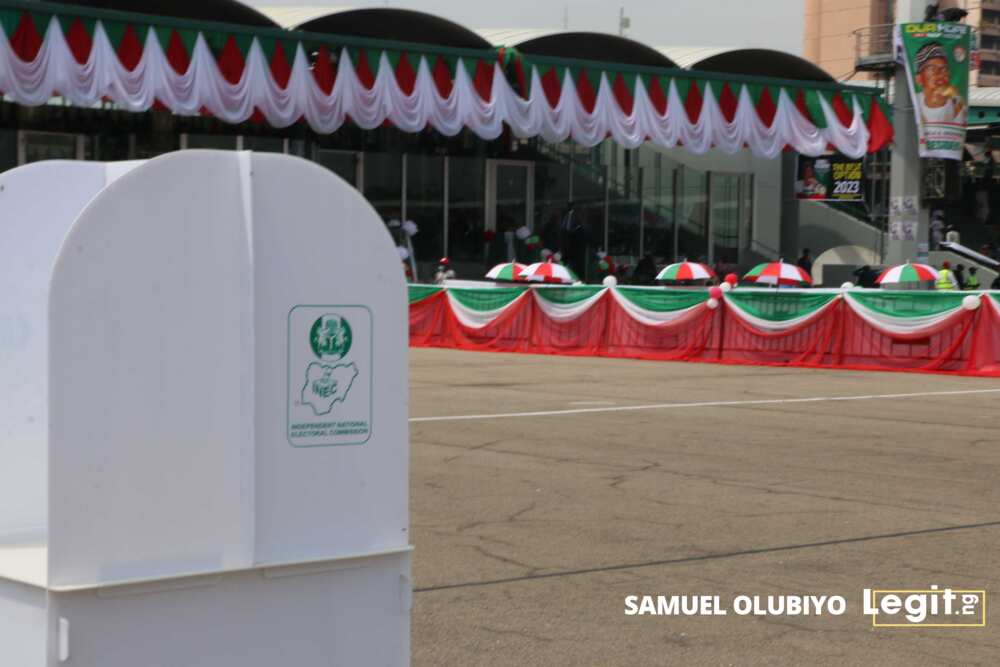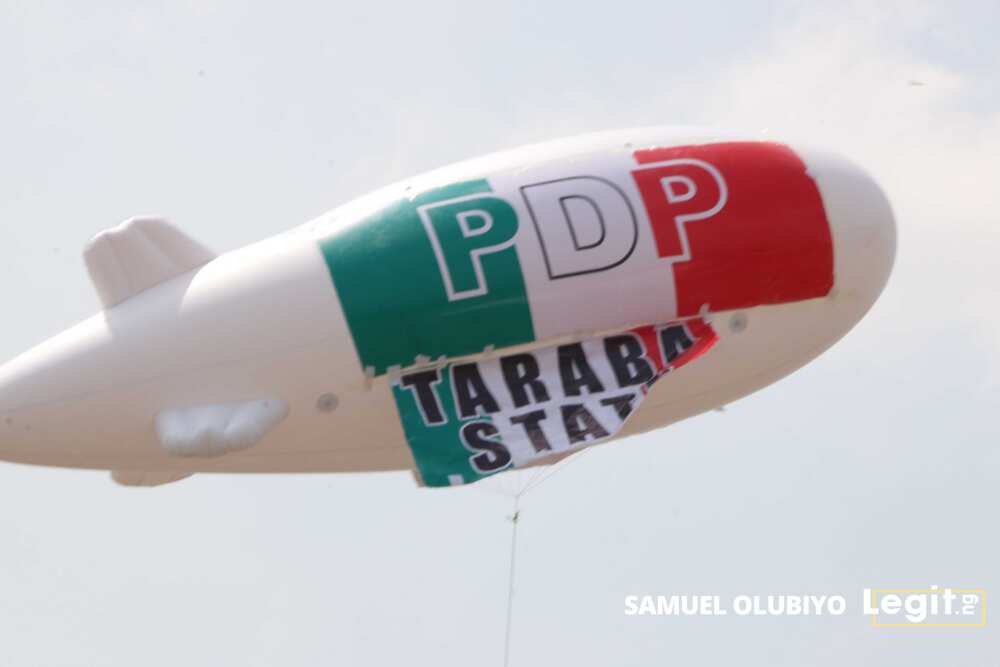 Benue governor Samuel Ortom, other chieftains arrive
The governor of Benue state, Samuel Ortom, Jerry Gana, a former minister, and former senator Dino Melaye arrive at Eagle Square.
PHOTOS: Bala Mohammed for President, Wike, Shehu Sani, other banners flood convention's venue
Eagle Square is currently littered with various banners and posters of prospective political aspirants.
Some of such posters include that of Bauchi state governor, Senator Bala Mohammed; former PDP presidential candidate in the 2019 general election, Atiku Abubakar; former lawmaker, Shehu Sani; Governor Nyesom Wike of Rivers state; Doyin Okupe; Governor Aminu Tambuwal among many others.
While Senator Bala Mohammed, Atiku Abubakar and Rabiu Kwankwaso's read 'for President', Shehu Sani's read Governor of Kaduna 2023.
Most noticeable and appearing to be making a statement is that of Senator Bala Mohammed whose large draped banners are widely spread across the breadth of the convention venue including the VIP area.
Also littered around the venue are banners indicating that the former Senate President, Bukola Saraki would be running for the presidency in 2023.
Okupe's banners were also found both inside and outside the arena.
While some of his banners did not indicate any position which the former presidential spokesperson might be interested in, one particular banner had "Okupe for president 2023".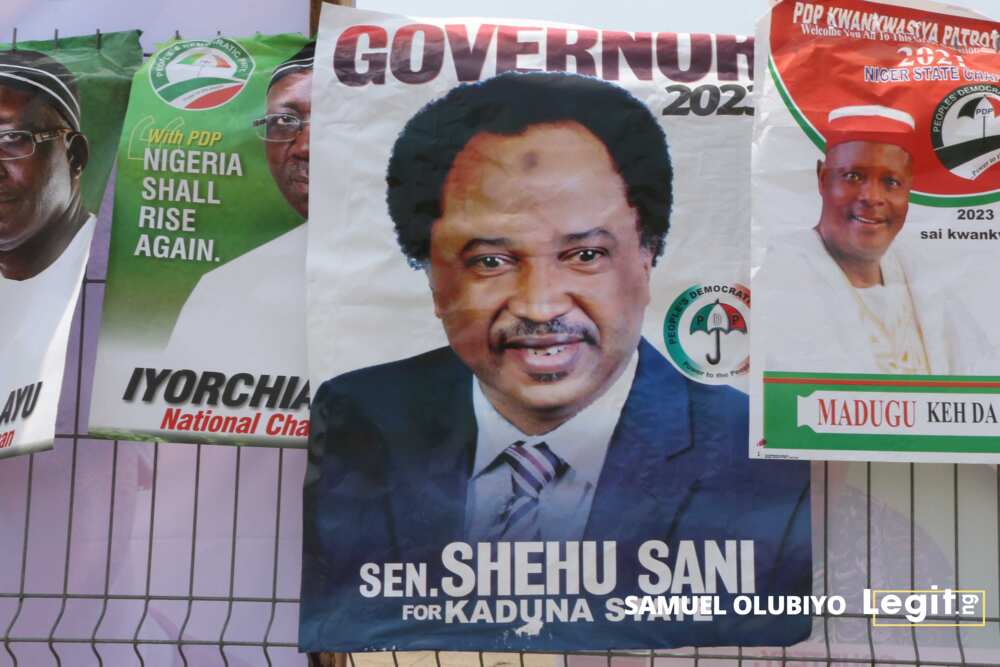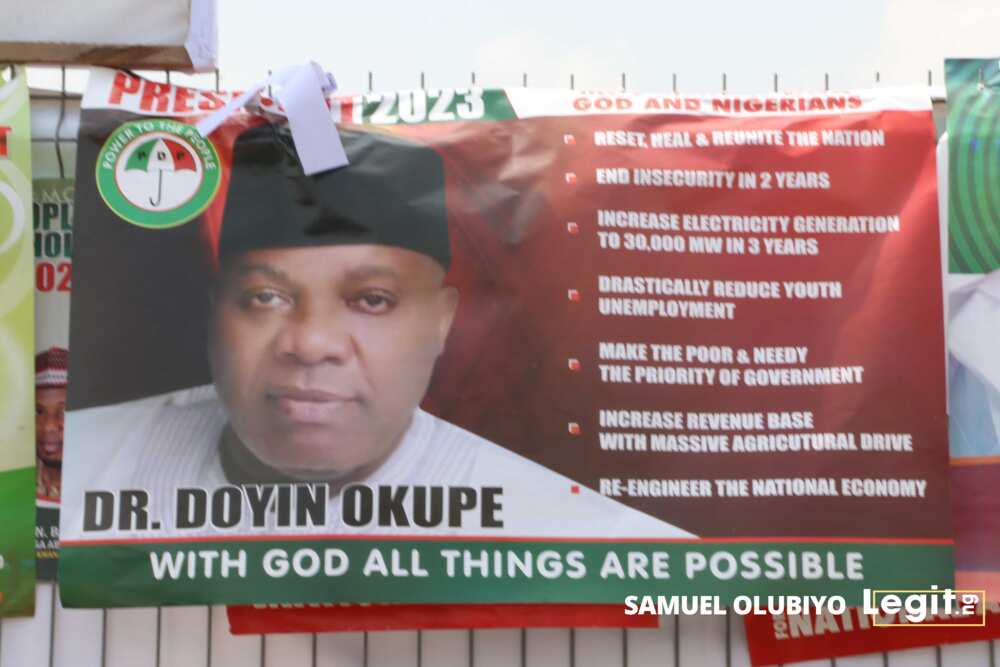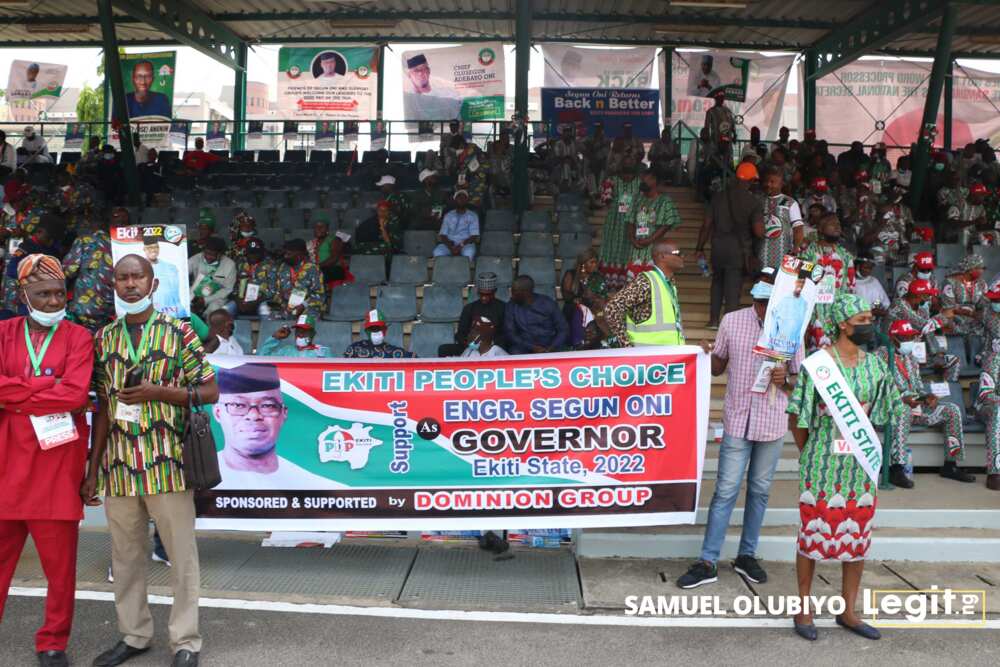 Photo: Officials and delegates arriving at the venue
Delegates are arriving at Eagles Square. The accreditation process has also begun.