Man Visits City of Gold where People Wash their Faces with Gold, Shares Video as he Eats Ice Cream & Tea in it
An explorer, Joe Hattab, has stunned the internet as he visited the famous city of gold situated in Japan
The Japanese city which has gold in surplus is said to supply the natural resources to almost all areas in the Asian country
In a video he shared, Joe washed his face with gold instead of water as well as had tea, ice cream covered with the precious metal
While gold is regarded as one of the most valued natural resources on it and costly at that, in the city of Kanazawa it is just like a normal commodity.
This was discovered by an explorer identified as Joe Hattab when he visited the Japanese city.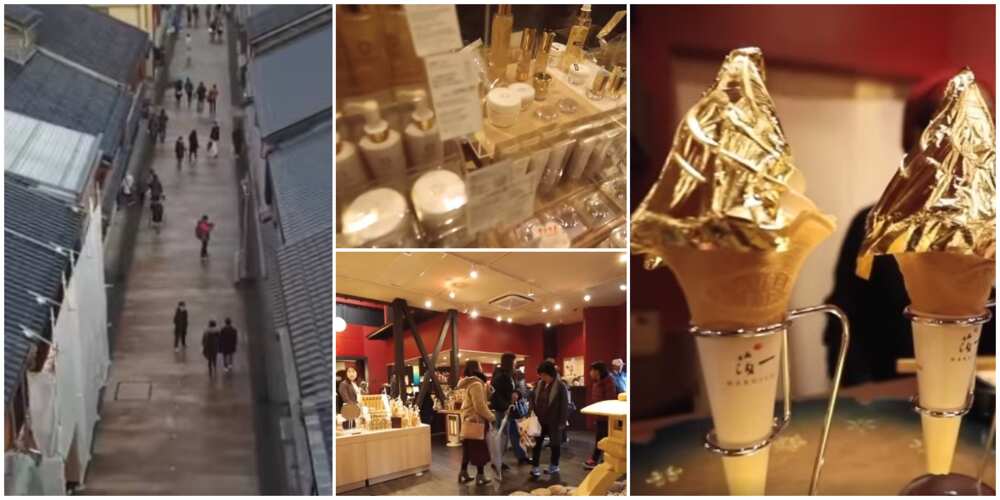 Joe, in a video he shared on Facebook, showed some sections of the blessed city and its people.
They have added gold to virtually everything
Kanazawa people are so blessed with gold that it is added to almost everything they do. The city which is reported to supply more than 90 percent of the gold in Japan has ice cream with gold in it.
PAY ATTENTION: Install our latest app for Android, read best news on Nigeria's #1 news app
In the video, Joe was made to wash his face with gold as he visited one of the stores.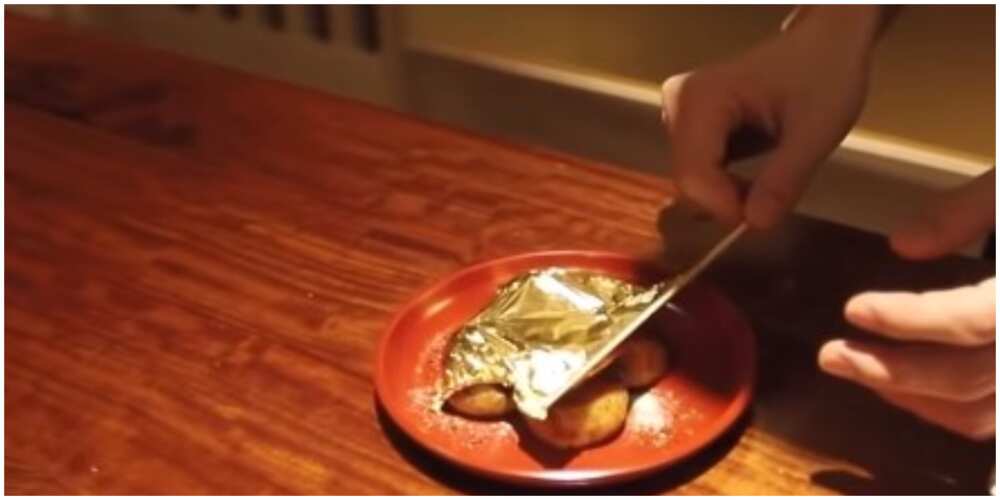 Joe wondered why the people of the city eat ice cream and drink tea with gold in it and came to the conclusion that it was because of the value attached to it.
A waiter while handing a gold ice cream to the explorer revealed that chances of picking up a sickness after consuming items in gold are about 0.0001 percent.
Though when consumed, the gold is without a taste.
Watch the video below:
Mixed reactions trail the video
Aemie Xierah stated:
"Gold ruin your health. Doesn't it?.. well nvm, everything can ruin someone's health even veggies n fruits that grew with chemicals."
Sami Radcliffe said:
"Ridiculous absolutely ridiculous W*tf eat gold still comes out stinking doesn't give no benefits to the body … feed the poor billons of kids dieing of hunger all u care about is going around the world eating gold when ur going drop it into the toilet lmfao lol u can use that money to build houses feed the poor."
Shailendra Patil wrote:
"Gold is good for health , if you see in Indian medicine Ayurveda you will understand the metal like gold, silver small quantity is beneficial to health."
Khalid Hassan Raza remarked:
"Human desire is endless if one can't control him self they end up wasting and the gold goes in the toilet while billions starve around the world big sadness "
Man finds abandoned billionaire house built with gold and marble
Meanwhile, Legit.ng previously reported that an explorer had discovered a house built with gold and marble that was abandoned after a billionaire's death.
A video creator, Steve Ronin, said that the owner was an Arabian king and also a leader of the house of Saud. According to the clip posted on Facebook, it was built to be a replica of the American White House.
Before the man died in 2005, he was estimated to be worth $32billion (N13,138,880,000,000). Steve said that finding a path into the house was a difficult task.
Source: Legit.ng