White Man Recites Figures in Yoruba, Reads Numbers Up to 26 in Entertaining Video
An oyinbo man has without any help recited the Yoruba figures up to 26 in a video posted on Instagram
With a shaky voice that suggested it must have been a tough task, the man struggled through some of the numbers
Before starting his performance, the white man gave a nice introduction in the language to show he has some level of mastery
A white man has in a short video recited Yoruba figures with a sterling performance. Just when you think he is stuck, he surprises you even more.
Before his performance, the man greeted his viewers in the Yoruba customary way. After that, he told people what he is about to do.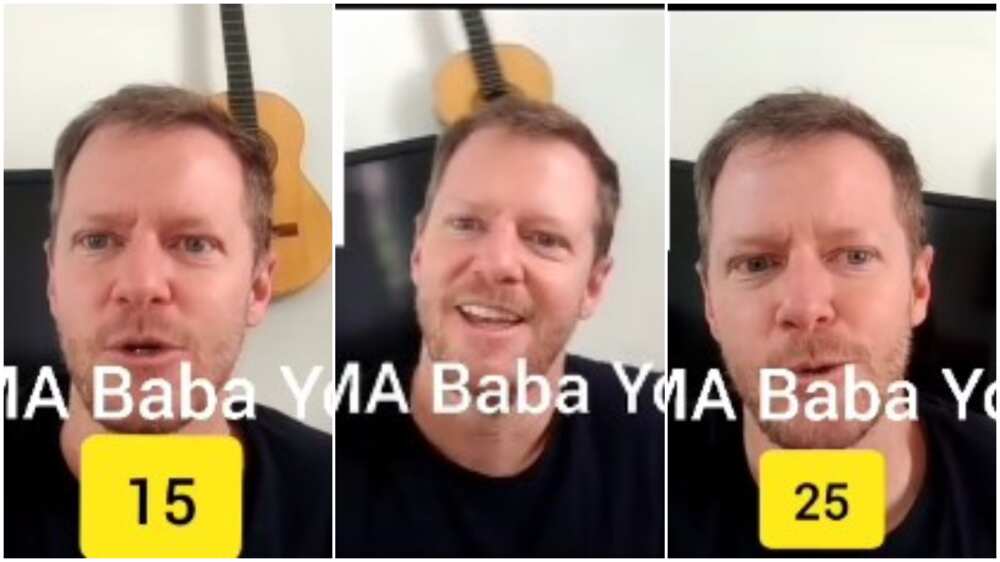 An applaudable performance
When he had read to number 3, he faltered a bit and you would think that is the end. He soon picked up speed and wowed his audience till he got to 26.
The video was shared by @yoruba_tutor teacher, a page dedicated to teaching the language to people who are interested online.
Watch the video below:
Another White man spoke Yoruba
He would not be the first white man who had spoken the language. Days ago, it was reported that a white man entertained many with his command of the language.
He walked into a Yoruba woman's shop and spoke her language. Before he showed his spoken skill of the language, the man asked the woman if the clothes she is selling are from Nigeria.
When the woman answered affirmatively, the oyinbo man asked her in smattering Yoruba if she speaks the language. The woman who was caught unawares looked at the man dumbfounded before saying yes.
Man amazed Nigerians in Dubai with Igbo
Meanwhile, Legit.ng earlier reported that an oyinbo man in Dubai amazed some Nigerian Igbo men shopping for clothes in Dubai in a video posted by comedian Mc Zanzino on Instagram.
In the short clip, the white man conversed with four Nigerians who walked into his shop to buy clothes.
His conversation with them was so fluid. The oyinbo man even did the popular Nigerian handshake to show them he knows their culture.
Source: Legit.ng