4 Facts about Olaudah Equiano, the Man Who is Reported to be the First-Ever Educated Nigerian
For everything that is a trend or norm at the moment, there always is a person or group of persons that started or experienced it first and this is applicable in all fields of endeavour.
While some of these history-makers are lucky to be documented, others remain subjects of speculations and debates.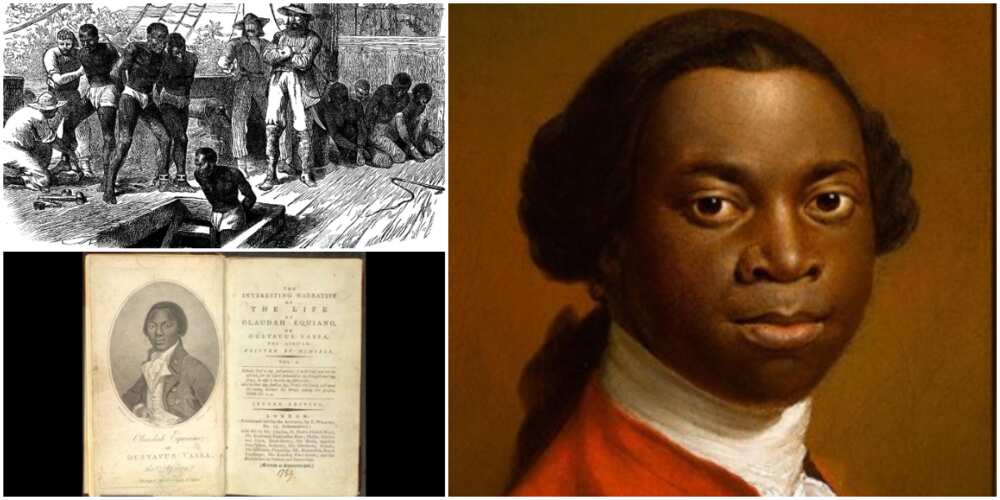 Formal education was started in Nigeria in 1842 but there existed a man who is reported to be the first to have acquired this education.
According to Wealth Result, Olaudah Equiano is not only the first Nigerian to be educated but is also the first African author.
Legit.ng highlights 4 facts about Equiano you may not have heard of.
1. He was born in Essaka, Eboe which is in present-day South-East Nigeria
Wikipedia has it that the well-read Nigerian man was born in Essaka, Eboe in the year 1745 in the kingdom of Benin. His village is now part of the present-day South East.
In his memoir, it is documented that he is the youngest son of his parents. His family of seven comprises 6 males and a female.
2. He was kidnapped at the age of 11 and sold to slaveholders
His journey into the harsh world of enslavement began when he was kidnapped at the age of 11.
Wealth Result reports that Equiano and his sister were first sold to native slaveholders after which they were acquired by European slaveholders after changing hands severally.
It is also reported that he and 244 other enslaved Africans were moved across the Atlantic Ocean to Barbados in the West Indies after which they were taken to the British colony of Virginia.
3. He purchased his freedom in 1766
Olaudah Equiano purchased his freedom in 1766 from a merchant named Robert King. The price for his purchase according to the king was pegged at 40 pounds (equivalent to £5,500 in 2019 which is present-day N3,119,258).
After purchasing his freedom, he would later escape being kidnapped again into enslavement while loading a ship in Georgia. By 1768, he moved to England to continue working at sea.
4. He was an active part of the movement to end the slave trade
The well-read man became an active player in the movement to end the slave trade.
In 1783, he was also involved in helping the Black Poor of London who were majorly African-American slaves freed during and after the American Revolution by the British.
Nigeria's first-ever billionaire
Meanwhile, Legit.ng previously reported about Louis Odumegwu Ojukwu who is considered to be Nigeria's first-ever billionaire.
According to Forbes Africa, Sir Louis Odumegwu Ojukwu was worth an estimated $4 billion (N1,645, 960,000,000) in today's economic value.
Ojukwu was so influential with his wealth to the point that he helped the British during World War II with a fleet of trucks and this earned him knighthood by Queen Elizabeth II.
Wikipedia reported that he was president of The African Continental Bank. Companies he is either a chairman or board member include Nigerian Coal Corporation, Costain West Africa Ltd, John Holt, Nigerian Marketing Board and so forth.
Source: Legit.ng