Buhari rejects N1.7 trillion ransom for Chibok girls
- President Muhammadu Buhari rejected a whooping €5billion ransom (about N1,706,850,000,000) for 219 kidnapped Chibok girls by Boko Haram
- On several occasions, prisoners were taken to Maiduguri to facilitate an exchange of the Chibok girls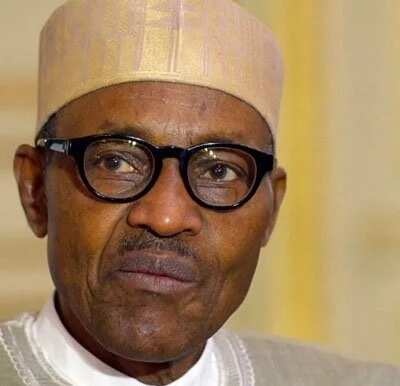 While parents of the kidnapped Chibok school girls wait endlessly for the return of the children, details have emerged that President Muhammadu Buhari rejected a whooping €5billion ransom (about N1,706,850,000,000) for 219 kidnapped Chibok girls by Boko Haram.
This revelation is contained in the book, "Muhammadu Buhari: The challenges of leadership in Nigeria", authored by Prof. John Paden.
The author also revealed that President Muhammadu Buhari allegedly got wind of the August 27, 1985 coup d'état against him as a military Head of State but he did not foil it to avoid executing some senior Army officers.
Providing fresh details into the Chibok girls rescue operation, some excerpts from the book reads: "An additional issue was the status of the Chibok girls. Secret negotiations had been held regarding an exchange of Boko Haram prisoners for the girls.
READ ALSO: Buhari, Turkey clash over arrested Nigerian students
"On several occasions, prisoners were taken to Maiduguri to facilitate an exchange. But these negotiations stalled when Boko Haram demanded a ransom of €5billion for the girls.
"The dilemma for the DSS, which was handling the negotiations, was that a military assault to rescue the girls would almost certainly result in their deaths at the hands of their Boko Haram captors.
"But the Nigerian government was not going to accede to Boko Haram's extra-ordinary demand for a vast sum of money which would no doubt be used to fund future attacks.
"One or two girls were able to escape their captors in May, but the rest remained captive and the impasse continued
"The Chibok girls were not alone in their grim fate. Hundreds if not thousands, of persons had been captured by Boko Haram in the North-East. Buhari would need to continue degrading Boko Haram until he could tighten the noose around its Sambisa hideouts and bring a close end to this painful episode."
Why Buhari's ministers on lower salaries and allowances
The book said the President wanted to make ministerial appointment less attractive as a way of curbing corruption in public office.
 "Buhari was trying to eliminate the allure of ministerial appointments as a means of accruing wealth either through receiving a generous salary or through exploiting power for corrupt personal gain.
"Of course, the effort to combat corruption also required creating disincentives for corrupt practices strong enough to dissuade ministers from 'chopping' on the side. The penalty if caught would be dismissal and public shaming."
Why he didn't stop the 1985 coup
The author said President knew a plot was coming but he did not want to shed blood.
The book reads: "The question has arisen subsequently as to whether Buhari knew about the countercoup in advance.
"Given his 'appreciation' of complex situations, it is argued by some, how could he not have known? Some of those closest to Buhari at the time have subsequently argued that he did know a countercoup was coming. They insist that Buhari calculated that to preempt this plan would have meant executing six or eight senior officers. This he was unwilling to do."
Explaining further, the book states: "Babangida also tried to look for ways to indict Buhari personally, but his integrity and grassroots popularity helped protect him.
READ ALSO: BREAKING: CCT convicts Goodluck Jonathan's minister Godsday Orubebe
"After the Babangida countercoup, three of the ministers were retained. Babangida also set up the Aboyade probe into the finances of Buhari and some key ministers but the investigators could find no evidence of any personal aggrandisement on his part during his term as Head of State.
"Significantly, the three ministers retained from the previous administration by Babangida-Lukman, Bali and David-West— strongly defended the integrity of Buhari and his close associates, and no charges were ever brought against Buhari.
"Meanwhile, Buhari had been taken from Lagos by plane to Akure in Ondo State. After a few months in Akure, he was taken to Benin City in the south of the country, where he would stay under house arrest until his release in December 1988."
Meanwhile, despite Nigeria's economic situation, President Muhammadu Buhari has effected over 50% increase the Presidential Villa security agents' allowance popularly referred to as Risk Cautious Allowance.
The President also cleared the backlog of allowances of security agents therefore dousing the tension that was brewing among the operatives.
Source: Legit.ng