- The Ekiti governorship election held on Saturday, July 14, was characterized by massive vote buying
- Political parties tried to outsmart themselves in open display of reckless spending to buy voters loyalty
- A group has condemned the conduct of the politicians, but commend the electoral commission for not being distracted
The Centre for Transparency and Advocacy (CTA) an election observer and monitoring group monitoring the Ekiti governorship election has commended the peaceful conduct of the exercise, saying there was great improvement in the conduct and performance of the Independent National Electoral Commission (INEC).
Addressing journalists on its preliminary report of the election, the CTA executive director, Dr Chima Amadi however condemned the widespread cases of vote buying by politicians and their agents which was a major feature in the keenly contested poll.
Chima said contrary to earlier fears that the election would be marred with violence, the process was peaceful. He commended the electorates and security agencies for their professionalism.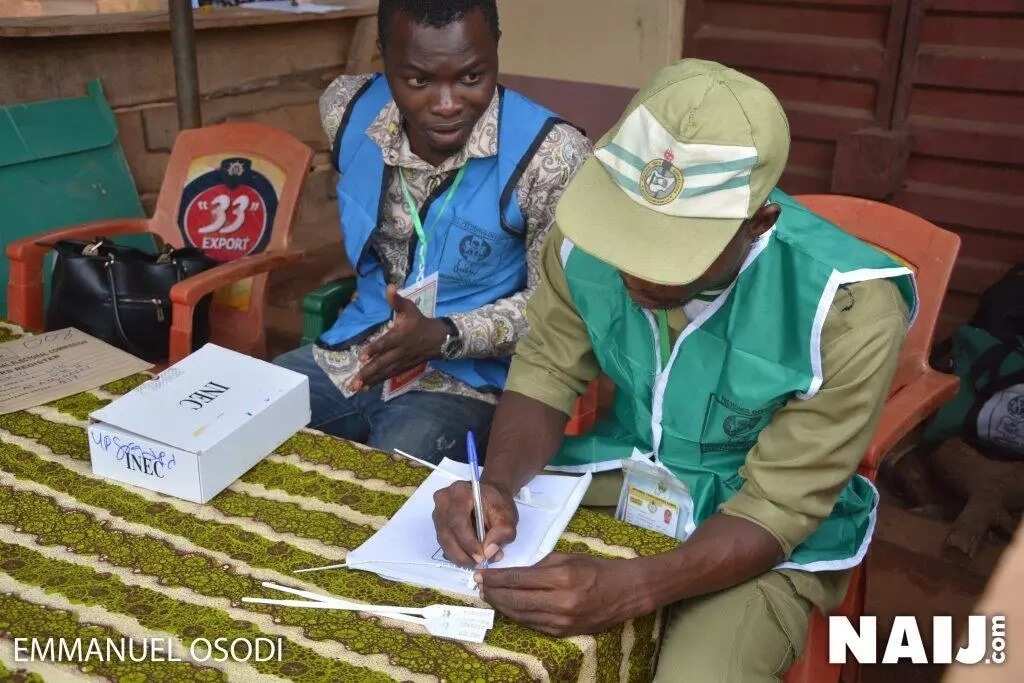 READ ALSO: Governor Fayose accuses police of hijacking Ekiti election
His words: "Contrary to widespread fears that the massive deployment of security personnel will scare away voters from polling booths, the turnout was generally massive.
"We note with satisfaction, that there was a tremendous improvement in the performance of INEC. Such innovations as simultaneous accreditation and voting, tracking of movement of materials and electronic transmission of results to the collation centres have improved election management as was clearly shown in this election. Although, there were reports of dysfunctional card readers, INEC made prompt effort to address these hitches."
On issue of voters buying, he said, "this election more than ever before was characterized by brazen and scandalously high level of vote buying and selling by agents of political parties and voters.
"This development more than other cast serious slur on the credibility of the elections. We call on INEC and the security agencies to think seriously about measures to address this malignant problem of our electoral process."
Speaking on the performance of security agents, Chima said from observers' report, security agents drawn from the police and other security agencies perform creditably well.
He explained that cases of harassment and intimidation were minimal, saying the only area of concern was the inability and or failure of security agents to arrest people openly buying and selling votes.
The CTA director expressed sadness that although the election was generally peaceful, vote buying seems to have become the new sore point in elections in Nigeria starting from Edo, Anambra and now Ekiti.
"While we commend INEC for the incremental improvement in the management of elections in Nigeria, we hope that INEC and security authorities will take step to prevent in subsequent elections especially the 2019 elections," he concluded.
PAY ATTENTION: Install our latest app for Android, read best news on Nigeria's #1 news app
Meanwhile, a resident of Ado Ekiti, the Ekiti state capital, has accused personnel of the Nigeria Police Force of assaulting voters in her polling unit.
Revealing this via her Twitter handle @MrsBlinky_, the resident simply referred to as 'Abisola', said the polling unit at Ado community high school was not well coordinated, adding that the security agents weren't helpful in ensuring the exercise was hitch-free.
"One of the police officers was hitting voters with a leg of a plastic table. A police woman threatened to use tear gas on us, she actually brought it out," she tweeted.
Follow live updates on the election here.
Heavily Armed Female Police Officers Show Readiness for Ekiti Election | Legit.ng TV
Source: Legit.ng