LIVE UPDATES: I thank President Buhari for his fight against terrorism, corruption - President Trump
President Muhammadu Buhari is currently holding a joint press conference with his American counterpart, Donald Trump at the White House in Washington D.C.
7.05pm: President Trump says the US will soon release fighter helicopters to Nigeria
6.55pm: President Buhari assures that his administration will do everything to rescue the abducted Chibok and Bauchi girls
6.53pm: "We commend the United States in their effort in helping to recover stolen fund which is over $500 million stashed in foreign banks around the world", President Buhari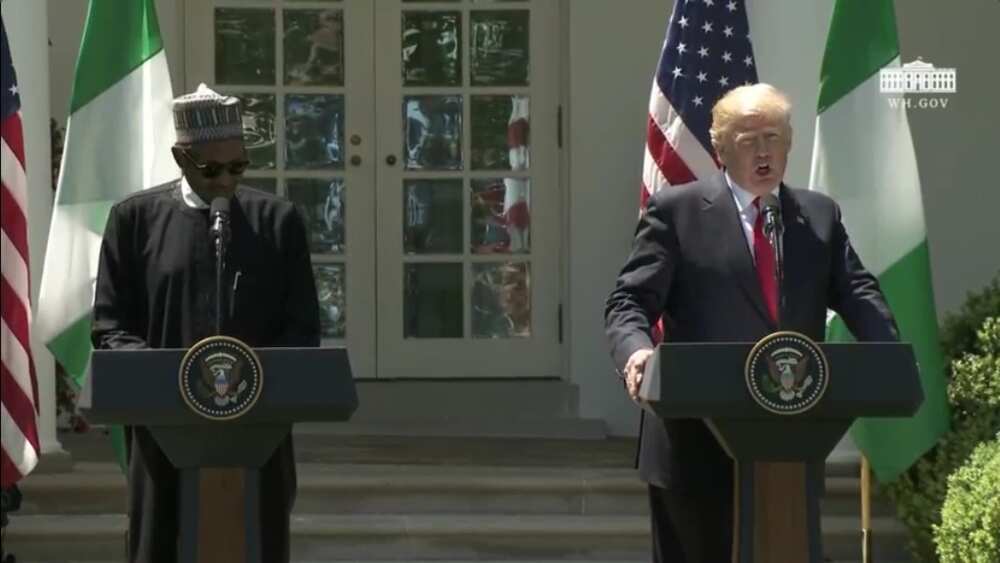 6.52pm: President Buhari said he is working towards diversifying Nigeria's economy particularly into the non-oil sector ans says the country will welcome the US' investment
6.51pm: President Buhari says his administration is working towards fostering better relationship between farmers and herdsmen
6.49pm: "We commend the US for their support in the fight against Boko Haram and we will continue to appreciate any support we can get from the us", President Buhari
6.47pm: President Muhammadu Buhari notes that the US and Nigeria have a strong relationship particularly in the fight against terrorism.
6.46: pm: President Trump thanks President Buhari for coming to the US and applauds his fight against corruption.
6.44pm: "We recently sold Nigeria 12 great aircraft to improve Nigeria's effort to fight terrorists." President Trump
6.43pm: President Trump recognizes President Buhari's effort in fighting Boko Haram
6.40pm: President Buhari and President Trump at the Rose Garden. Trump says Nigeria is one the US main trading partner
6.04pm: Top government officials between Nigeria and the US engage in a bilateral meeting before the press conference.
5.51pm: The white House driveway wears a new flag line for welcoming ceremony of President Buhari.
5.45pm: Security and economy are top of the agenda as the two leaders speak about US;Nigeria relationship.
5.37pm: President Buhari and President Trump meet at the Oval Office before their scheduled press conference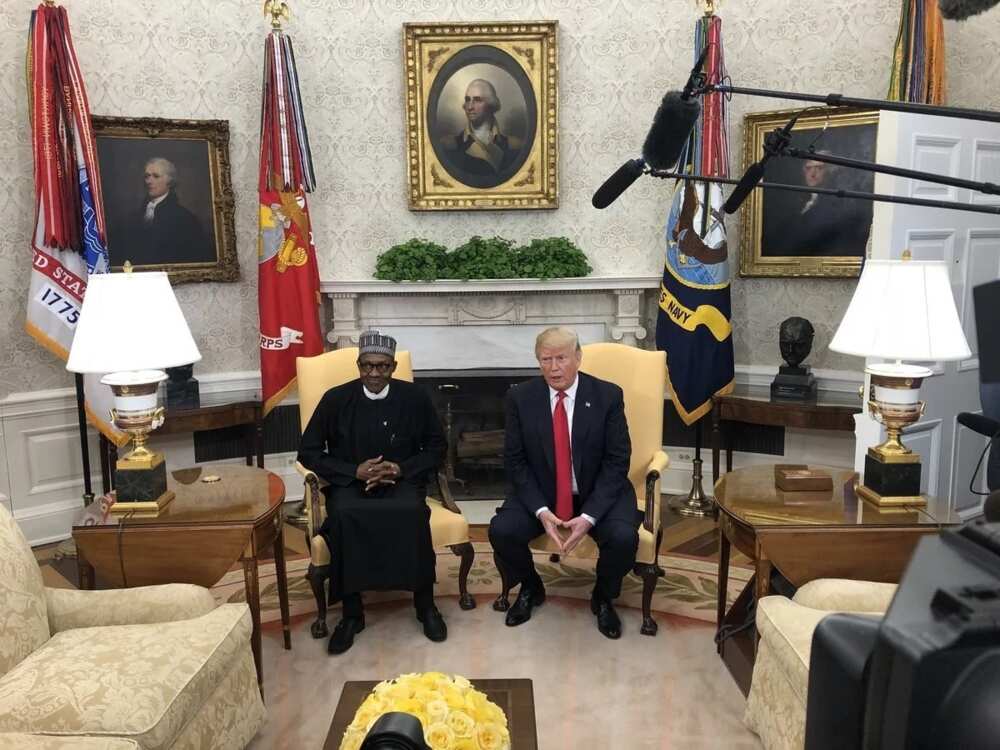 5.20pm: The White House administrative staff prepares for the historic meeting between President Muhammadu Buhari and President Donald Trump.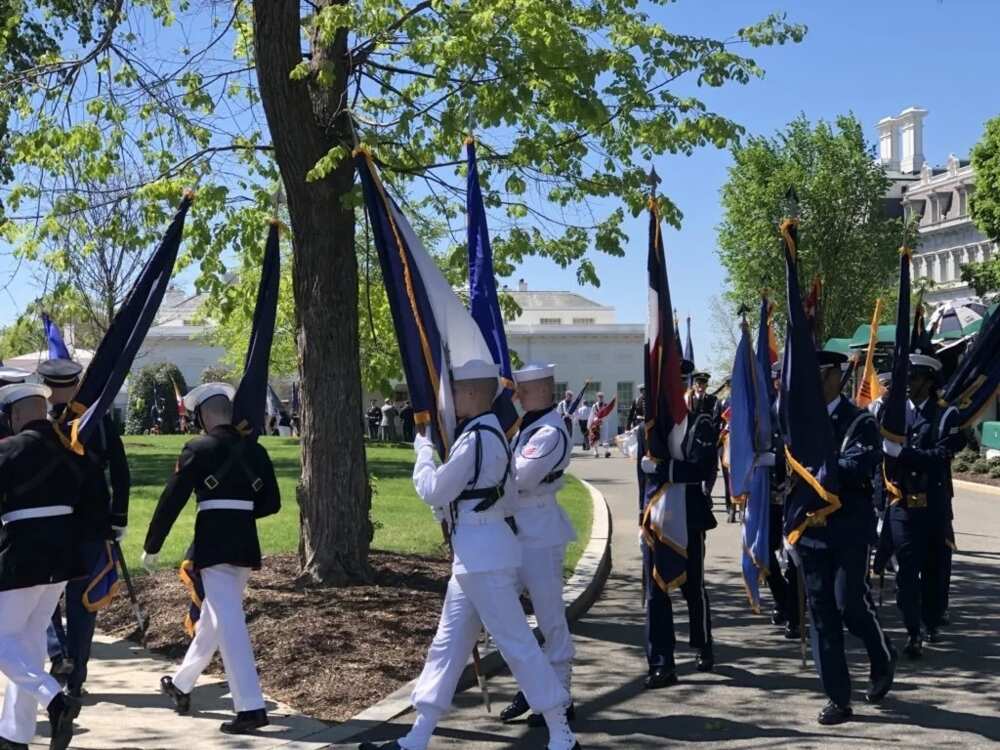 Security and economic issues are expected to top the agenda for the bilateral meeting and working lunch.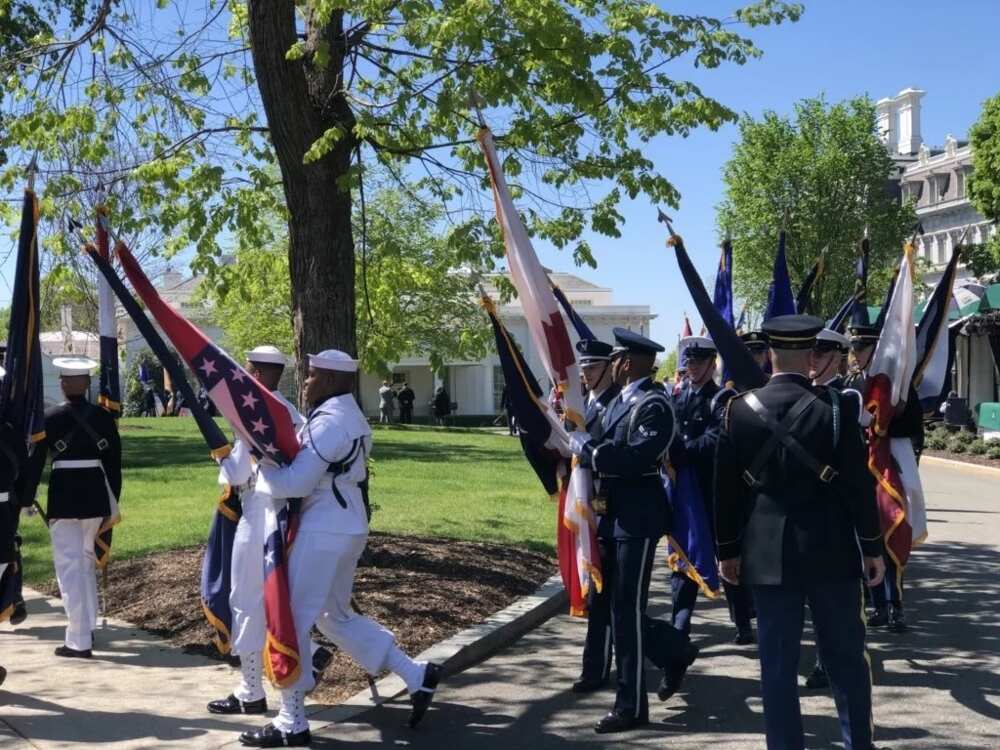 Nigeria, the most populous country in Africa with almost 200 million people, is the largest economy on the continent and the leading crude oil exporter.
Aso Rock Villa in a statement said President Muhammadu Buhari and US President Donald Trump will hold a joint press conference in the Rose Garden of the White House today Monday April 30, 2018 at 1.30pm ET (6.30pm Nigerian Time).
"Nigerian President Muhammadu Buhari will become the first leader from sub-Saharan Africa to be received by US President Donald Trump when he arrives in Washington for talks later."
Recall that President Buhari was one of the first two African leaders Trump called after he took power, along with South Africa's president.
READ ALSO: Judge convicts senior advocate of Nigeria
As a guest of the US government, President Buhari is staying at Blair House, the US President's guest house.
Sometime, last year, the Trump administration tied up a $600 million deal with Nigeria over the sale of military aircraft intended to be used in the fight against Islamic extremist group Boko Haram.
Legit.ng had reported that the United States president, Donald Trump, invited President Muhammadu Buhari to a meeting at the White House on April 30, 2018.
According to a statement released by the US government, Trump is expected to discuss issues such as promoting economic growth and fighting terrorism with Buhari.
PAY ATTENTION: Read the news on Nigeria's #1 news app
"President Trump looks forward to discussing ways to enhance our strategic partnership and advance our shared priorities: promoting economic growth and reforms, fighting terrorism and other threats to peace and security, and building on Nigeria's role as a democratic leader in the region," the statement read in part.
Buhari to Contest for Presidency in 2019 on Legit.ng TV:
Source: Legit.ng