Pro-Biafra supporters plan mass protest at UN headquarters on September 19
- Allegations of attacks on IPOB members by the Nigerian army have continued to grow
- The alleged attack on Nnamdi Kanu's compound in Abia state has gained a lot of attention
- It has been reported that members of the IPOB in USA have decided to hold a rally at the United Nations
In a statement sent to Legit.ng on Thursday evening, September 14, Kanu's lawyer, Ifeanyi Ejiofor, said the soldiers forcefully gained entrance into his client's house after shooting for about 40 minutes.
He said the entrance gate of the Indigenous People of Biafra (IPOB) leader's residence was broken-down and forced open. Following the alleged invasion, a video surfaced showing people allegedly killed by the Nigerian army.
As the reports continue to spread, IPOB members in the United States have resolved to hold a rally to let the world know what is happening in Nigeria.
READ ALSO: Suspected IPOB members attack police station in Abia state
In a message posted on the Radio Biafra London Facebook page, they said they were protesting the alleged attack on the life of Nnamdi Kanu by the Nigerian government at his home in Afala Ibeku, Ibeku, Abia state.
Below is the statement in part:
IPOB:USA!!!
Rally at United Nations in New York USA!!
On: September 09/19/17
TIME: 12pm
VENUE: 47th Street and 1st Avenue, New York (NY). Close to United Nations!!!
Come with your family and friends.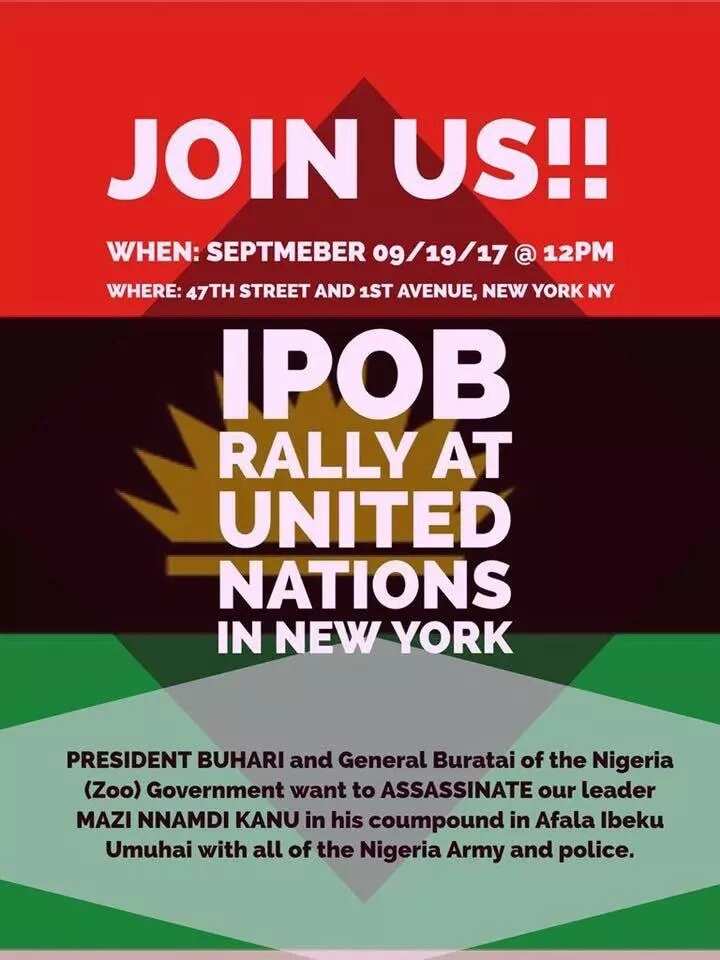 Meanwhile, the Nigerian army has said its operations in Abia state would continue because its men are yet to receive any order from the general officer commanding the 82 division.
PAY ATTENTION: Watch more videos on Legit.ng TV
This is against claims that the governor of the state, Okezie Ikpeazu, has declared that the soldiers would leave the streets of Abia on Friday, September 15.
A statement by Brigadier General Sani Kukasheka Usman, the director of army public relations, confirmed that the soldiers are not prepared to leave the state.
Watch this video of Nnamdi Kanu's lawyer speaking on the alleged invasion:
Source: Legit.ng