- The police has warned the Indigenous People of Biafra (IPOB) not to disrupt the peace in Port Harcourt, Rivers state
- The police said the group must not jeopardize the provision of the 1999 Constitution as amended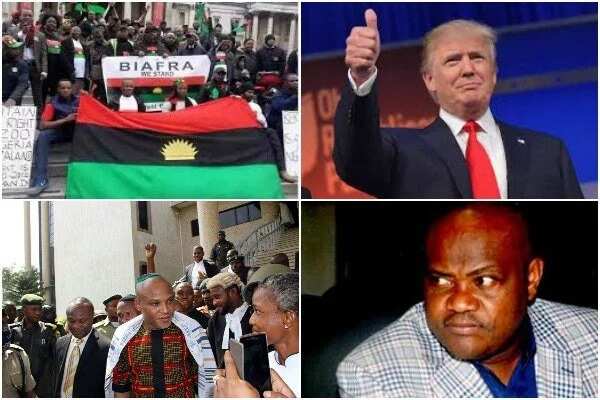 The Nigerian police issued a warning to members of the Indigenous People of Biafra (IPOB) and the Movement for the Actualization of the Sovereign State of Biafra (MASSOB).
The police warned the group not to disrupt the peace in Port Harcourt, Rivers state on Friday, January 20.
READ ALSO: IPOB invites DSS, police to join its Trump solidarity rally (SEE EVIDENCE)
The IPOB had on Sunday, January 15, announced that it will embark on a Donald Trump solidarity rally in Port Harcourt, Rivers state.
The group in its statement said the rally will be aimed at throwing its support behind a peaceful power transition between the United States President Barrack Obama and the President-elect Donald Trump.
The group also sent an invitation to the police, the Department of State Securities and some other agencies.
READ ALSO: Hope rises for Nnamdi Kanu as Ohaneze Ndigbo moves to call for his release
But speaking on the rally, the Abia state commissioner of police Leye Oyebade said that group should not move against the provision of the Nigerian constitution.
Oyebade warned the pro-Biafra activists not to take actions that would jeopardize the free movement of residents in Rivers state.
He also noted that the Nigerian police will not fold their arms and watch the activists disrupt the peace in the city.
"There can never be a Republic within a Republic; the Police will con-tinue do their best to ensure that peace reigns." Oyebade said.