Live Updates: Atiku Defeats Wike As Voting Ends in PDP Presidential Primary
The Peoples Democratic Party (PDP) will be conducting its much-awaited presidential primary after which a flagbearer is supposed to emerge to face candidates in other parties during the 2023 general elections.
The date and the venue of the primary are Saturday, May 28, and M.K.O Abiola Stadium, Abuja, respectively, and all seem almost set for the battle to commence.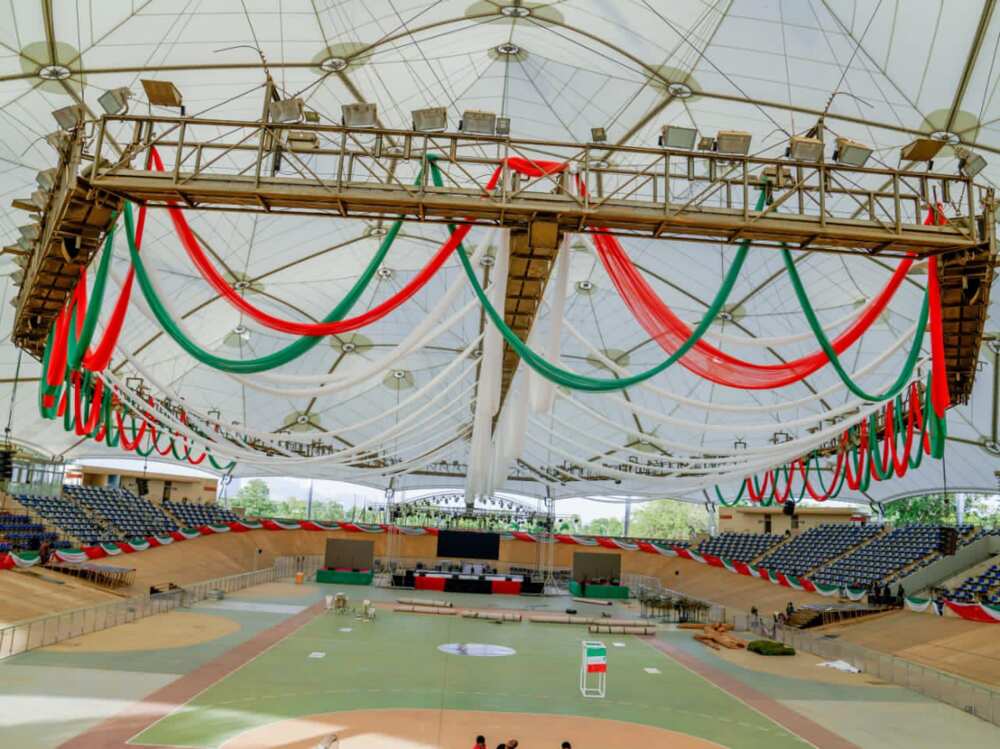 The fate of the aspirants, after many campaigns, consultations, and tours, will be decided by 811 ad hoc delegates of the PDP.
Not less than 774 delegates were elected at the local government congresses of the opposition much earlier.
The PDP aspirants ex-Vice President Atiku Abubakar; a former Senate President, Bukola Saraki; Governor Nyesom Wike of Rivers State; a former governor of Ekiti, Ayo Fayose and Teriela Oliver.
Governors Aminu Tambuwal, Bala Mohammed, Udom Emmanuel, and an investment banker and economist, Mohammed Hayatu-Deen are also in the race
The rest are former Senate President Pius Anyim, ex-President of the Pharmaceutical Society of Nigeria, Sam Ohuabunwa, the publisher of Ovation Magazine, Dele Momodu; Charles Ugwu, and Chikwendu Kalu.
Although former President Olusegun Obasanjo had stated that Hayatu-deen has the knowledge to turn Nigeria around, especially in terms of national economy, political observers believe that the primary is a battle for supremacy majorly between Wike, Atiku and Saraki.
But politics is volatile in Nigeria, so stay glued to Legit.ng for live updates on the primary.
PDP national convention officially ends
The former Katsina state governor, Ibrahim Shema brings the convention to an end. Thanks all members for participating in the process.
He also thanked INEC, security agencies, and all the aspirants.
On his part, the PDP national chairman, Senator Iyiorchia Ayu has handed the PDP victory flag to Atiku.
Atiku speaks
Atiku speaks:
''Today we are making another history. We have witnessed another one of the freest elections to be conducted by our great party. Today marks another milestone in the process to consolidate our democratic gains.
''The government of APC has disunited Nigerians completely. I promise to unify Nigerians irrespective of their faith or ethnic background.
''I look forward to working with you very closely so that we can win the general elections.''
Atiku calls for all aggrieved party members to take advantage of the internal mechanisms of the PDP to address the grieviances.
Atiku wins
Alhaji Atiku Abubakar, former vice president has been announced as the winner of the 2023 PDP presidential electiojn.
Ibrahim Shema addressing delegates
Former governor of Katsina state and member of the convention committee, Ibrahim Shettima has asked delegates not to have their phones with them while voting.
He also announced that there are about 11 INEC staff who will monitor the electoral process.
Aminu Tambuwal addresses delegates
Aminu Tambuwal has announced that he will be withdrawing from the race and urged his supporters to vote for Atiku Abubakar.
Rules for the primary read out
Governor Ifeanyi Okowa addressing the convention on the way and manner the election will be held.
He also reeled out the number of delegates per state and urged the participants to be orderly. He also announced that 767 delegates will vote in alphabetical order according to their states.
Nyesome Wike addressing the delegates
''I have come to your states to speak to you. I want to thank you for your energy since morning. Anybody that emerges, I will support the person. I love this party, I have worked for this party. This is my party. The major problem we have in Nigeria is leadership.
''You must vote for a leader who can win the APC. Send me to win this power for you. Thank you.''
Aminu Tambuwal addressing the delegates
Aminu Tambuwal addressing the delegates:
''Nigeria is at crossroads. We are in a critical moment in the life of our country. I accepted to throw my hat into the ring after consultations and I possess the necessary intellect required to be the president of Nigeria.
''I have been in the House of Representatives for 12 years and I rose to be Speaker. I am now serving as governor of Sokoto state. With all these, my competence, my character and my temperament, I believe I have the qualities to preside over Nigeria.
''I am a bridge between the young and the old. I am not too young to run and not too old to run.''
Bukola Saraki addresses delegates
Senator Bukola Saraki addressing the delegates:
''We must choose peace and security over fear and terror. The destiny of 200 million Nigerians is in your hands. It is important we get it right this evening. We must elect a candidate that can unite the country. We must elect a candidate that has experience.
''I believe I am a candidate that ticks all those boxes. I have worked in the private sector and the legislature and executive in the public sector. As I have said, enough talk, let us fix Nigeria.''
Sam Ohuabunwa addressing the delegates
Sam Ohuabunwa addressing the delegates:
''I will work with the PDP leadership to implement my proposed policies. We are going to deal with poverty, by ensuring that we become an investment haven.
''We will work with the party and my team to take away poverty from our country through expansive policies. We need to introduce a new culture, a culture of accountability. We want to elevate the dignity of Nigerians. God bless Nigeria.''
Dele Momodu addressing the delegates
Dele Momodu addressing the delegates:
''Because of the dollar rain, a lot of people have absconded. But I am still standing. I come from a family of teachers. I have the experience, global contacts, and exposure. I love you all.''
Senator Bala Mohammed addresses the delegates
Senator Bala Mohammed addressing the delegates:
''I am offering myself to serve this nation. Beyond everything else, we are on the verge of history. Nigeria is on precipe. We have never reached this point in our national life. I understand the diversity of the country, I have gone everywhere. I know everything about this nation.
''In Bauchi today, we are leveraging on small resources to do so much. We need to close ranks and bring knowledge to governance. We need to redeem our national esteem. I have won elections under very difficult circumstances.''
Ayo Fayose addressing the delegates
Ayo Fayose addressing the delegates:
If given this opportunity, I will defeat President Muhammadu Buhari. I warned Nigerians against voting President Buhari. Now, Nigerians are suffering.
''PDP should be the bigger picture. Whosoever becomes the candidate, we should support him. I also want to remind you that I have the penchant of defeating incumbents.''
Udom Emmanuel addresses the delegates
Udom Emmanuel addressing the delagates:
''I stand to solicit the support of all our party men. Here standing before you is a man with capacity to rescue Nigeria, rebuild Nigeria's economy, a man with integrity, a man with sincerity of purpose.
''A vote for Udom Emmanuel is a vote that will make Nigeria a great nation. I stand to rescue and restore Nigeria.''
Senator Anyim Pius Anyim
Senator Anyim addressing the delegates:
''This moment is not a time for speech making. But I want to say the challenge before our party is how we and shall deliver on the expectations of Nigerians. Nigerians expect the PDP to return to power and provide leadership, rebuild the nation, rebuild the economy, and create jobs and protect lives and properties.
Nigeria is a country in search of nationhood. The process of that search starts with this convention. If you support me, I will lead that search to regain our search to nationhood. I will unify Nigeria, build consensus and make Nigeria proud in the comity of nations.''
Dr Anachukwu Nwakwenze pulls out of the race
Dr Nwachukwu Anakwenze, another aspirant addressing the delegates.
''I am the aspirant sponsored by Nigerians in the diaspora. We want a country where every ethnic and religious group feel that they are part of the equation. Nigeria is richly endowed by God more than other countries.
''God has blessed us with everything except good leadership. That is what we want to correct. We have a solution to deal with the issues such as corruption, chop-I-chop politics, sound education system, 24-hours electricity, modern healthcare, create jobs and so on.''
Dr. Anakwenze, however, said he is pulling out of the race because it was not zoned to the south. He also said he didn't get the delegates list until yesterday without phone numbers.
PDP National Secretary addresses convention
PDP national secretary, Senator Samuel Anyanwu addresses the convention.
''Nigerians are looking up to the PDP to rescue this country from the misrule of the APC.''
Aminu Tambuwal arrives
PDP presidential aspirant and Sokoto state governor, Aminu Tambuwal arrives amidst cheers from his supporters.
PDP presidential primary: Accreditation of delegates begins
The Peoples Democratic Party (PDP) has commenced the accreditation of its delegates ahead of the presidential primary.
811 PDP delegates from 774 local government areas of the country are said to be undergoing accreditation exercise at MKO Abiola International Stadium, Abuja.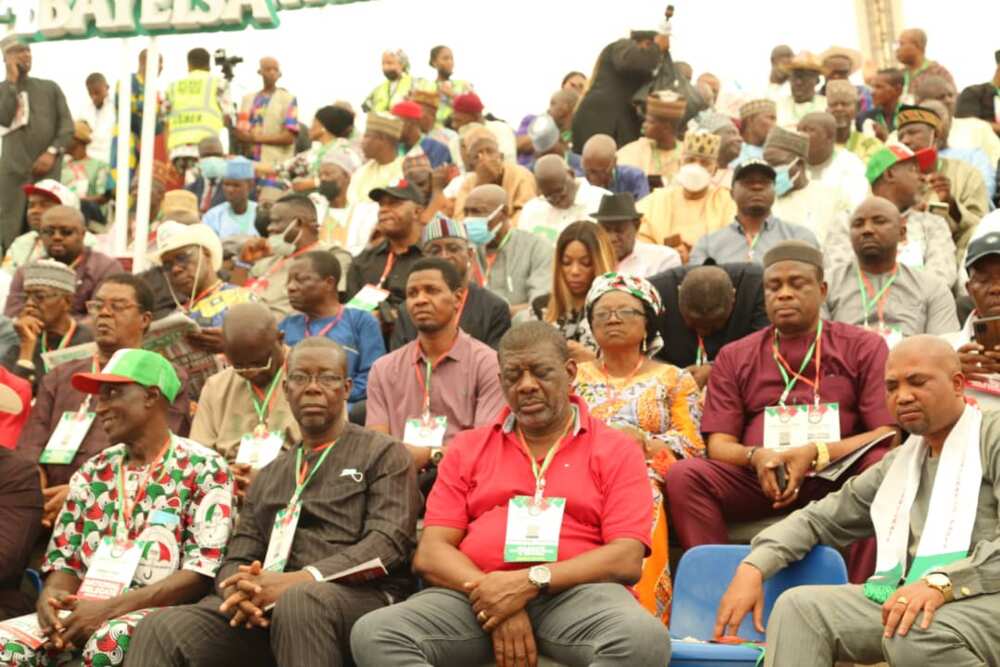 The means of identification include driver's licence, INEC Permanent Voter Cards, and National Identity Cards, The Nation reports.
States whose delegates have concluded the process are Adamawa, Sokoto, Nasarawa, and Ebonyi.
Those who are yet to be accredited include Oyo, Lagos, and Ondo.
Former Minister of FCT, and Governor of Bauchi State, Bala Mohammed, arrive at venue of PDP primary
A former minister of the Federal Capital Territory (FCT), and Governor Bala Mohammed of Bauchi state, have arrived at the venue of the PDP's presidential primary.
Delegates from various states, PDP chieftains arrive venue of presiential primaries
Delegates from some states who are supposed to cast their votes at the PDP's presidential primary have begun to arrive at the venue.
So far, delegates from Gombe and Osun have arrived at the venue.
Former Senate President David Mark who is the chairman of the national convention organising committee has taken his seat at the venue.
Other PDP chieftains already present at the stadium include the BoT Chair, Walid Jibril, and Prof. Jerry Gana.
Governor Emmanuel of Akwa Ibom, his entourage, Dino Melaye arrive PDP primary venue
The governor of Akwa Ibom, Udom Emmanuel, has arrived at the venue of the PDP's presidential primary in Abuja, alongside his entourage.
Also, Dino Melaye of Kogi state is now at the venue.
Hayatu-Deen's posters Displayed at venue of PDP presidential primary despite his withdrawal from race
Hours after Mohammed Hayatu-Deen declared that he has pulled out of the Peoples Democratic Party (PDP)'s presidential primary, his campaign poster was seen on Saturday, May 28, at the venue of the primary.
In his letter addressed to Ayu Iyorchia, the PDP's national chairman, Hayatu-Deen had claimed that the process leading to today's event has been "obscenely monetised".
But the appearance of his poster at the venue has left many wondering whether his campaign team was not carried along on his latest decision.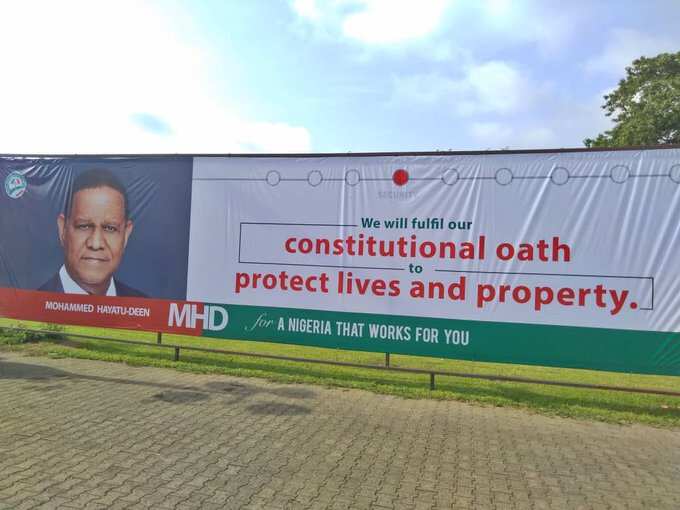 Amid arrival of PDP officials, security operatives prevent entry into venue for primary
Some officials of the Peoples Democratic Party (PDP) have arrived at the venue for the presidential primary.
Photos of the officials sitting at the stadium were shared by Daily Trust.
Meanwhile, police officers at the entrance of the venue are said to be denying some persons entry into the arena. This has made the atmosphere tense.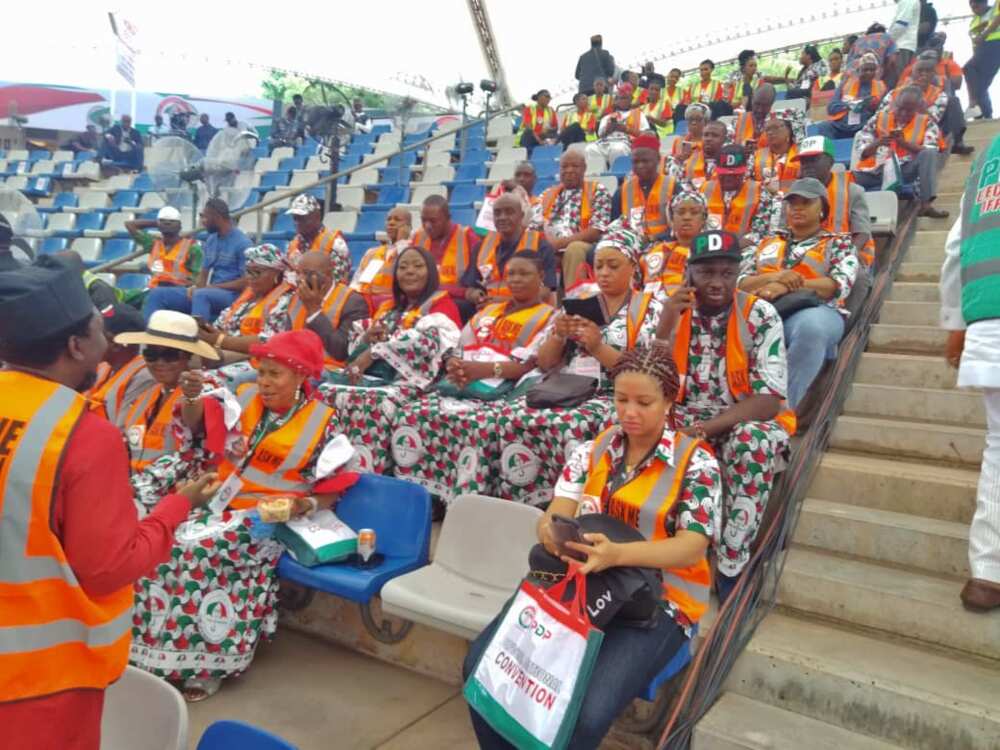 Heavy security at venue of PDP presidential primary
Heavily armed security operatives were seen around Moshood Abiola Stadium, the venue of the Peoples Democratic Party (PDP)'s presidential primary on Saturday, May 28.
The aim is to subdue any form of crisis, chaos or violence that may ensue during before or during the all-important event.
Photos of the security personnel were shared on Twitter by Daily Trust.