APC Comes from Behind, Wins 3 Area Councils as Results from FCT Council Elections Troop in (Live Updates)
The much-talked-about Federal Capital Territory (FCT) area council elections which will be conducted by the Independent National Electoral Commission (INEC) are here at last and political parties are bracing up to lock horns in the battle.
As scheduled by INEC, the elections are expected to begin by 8:30 am and end at 2:30 pm.
Not less than 473 candidates from 14 political parties are contesting in the polls, while 363 of the candidates eyeing 62 councillorship positions in the six area councils.
But the INEC chairman, Mahmood Yakubu, had earlier disclosed that there will be no voting in 593 polling units during the elections.
To ensure utmost security across the areas, the police force has reinstated a curfew from 8am to 3pm.
APC wins Abaji
INEC has declared the APC winner of the chairmanship election in Abaji area council.
Daily Trust reported that the INEC returning officer of the council election in at Abaji, Prof Gabriel Mordi, announced the result. He declared that APC scored 7, 289 votes to defeat the candidate of the opposition PDP, Alhaji Yahaya Garba Gawu, who got 4, 062 votes.
With the result, it means the PDP and the APC win three area councils each.
APC has won another Area Council
INEC has declared APC's Danladi Chiya as the winner of the Kwali Area Council chairmanship election.
Chiya defeated his closest rival, Haruna Pai of the PDP to win the election.
According to the INEC Returning Officer for Kwali Area Council, Wesley Daniel, Chiya polled 7,646 votes while Pai garnered 7,345 votes, a difference of 301 votes.
Chiya who is the council's incumbent chairman will now serve his second term in office.
See the results of some of the wards in Kwali below.
Ashara
APC – 632
PDP – 616
Kilankwa
APC – 635
PDP – 508
Kundu
APC – 286
PDP – 430
Yangoji
APC – 1234
PDP – 1163
Yebu
APC – 536
PDP – 426
APC wins Gwagwalada
Jubrin Abubakar, APC candidate, has been declared as the chairman-elect of Gwagwalada Area Council.
Abubakar, a former chairman of the council, defeated his opponent, Mohammed Kassim of the PDP by polling 11,125 votes as against Kassim's 9,597 votes.
PDP records another victory in Kuje
In Kuje Area Council, INEC has declared Suleman Sabo of the PDP the winner.
Sabo is the council's incumbent chairman.
gathered a total of 13,301 votes to defeat his closest rival, Sarki Hamidu of the APC who secured 7,694 votes to emerge second.
Sule Magaji, the INEC Returning Officer for the Kuje Area Council election, announced the final results.
Results of wards officially announced:
Kuje Central (ward 01)
APC- 1717
PDP-3671
Chibiri (ward 02)
APC- 1,172
PDP–1,839
Gaube (ward 03)
APC – 1793
PDP -2,226
Kwaku (ward 04)
APC - 562
PDP - 1450
Kabi (ward 05)
APC- 271
PDP-433
Rubochi (ward 06)
APC – 1047
PDP – 1506
Gwargwada (ward 07)
APC- 365
PDP-583
Gudrun Karya ( ward 08)
APC -420
PDP -1032
Kujekwa (ward 09)
APC-76
PDP:106
Yenche (ward 10)
APC:271
PDP:455
PDP wins Bwari Area Council
INEC has also declared the PDP candidate, John Gabaya, as the chairman-elect of Bwari Area Council.
Gabaya was re-elected for a second two-year term.
He defeated his closest rival, Audi Shekwolo of the APC by polling 13,045 votes as against Shekwolo's 7,697 votes.
INEC Returning Officer, Amochi Madu, announced the result on Sunday morning, February 13, Premium Times reported.
See the official result declared for Bwari below.
Chairman Bwari Area Council Result
Total valid vote - 21,990
Total Rejected voted - 456
Total Vote cast - 22,646
Total number of Registered votes - 23,1215
Total number of Accredited voters - 22,706
PDP wins AMAC
INEC Returning Officer, Sani Saka, declares Christopher Zakka (Maikalangu) of the PDP as the winner of the chairmanship poll in AMAC.
He defeated his closest rival, Murtala Karshi (Yamarayi) of the APC to clinch the seat.
Zakka polled 19,302 votes while Karshi secured 13,249 votes.
Below are the final results of the 12 wards in AMAC Area Council.
WARD – NYANYA
APC -1,199
PDP – 1,861
ACCREDITED VOTERS – 3,301
REGISTERED VOTERS – 53,237
WARD – JIWA
APC -1,224
PDP – 1,429
ACCREDITED VOTERS – 2,831
REGISTERED VOTERS – 43,572
WARD – GUI
APC -834
PDP – 1,606
WARD – KARSHI
APC -1,477
PDP – 180
ACCREDITED VOTERS – 1,678
REGISTERED VOTERS – 13,943
WARD – GWAGWA
APC -1,158
PDP – 1,624
ACCREDITED VOTERS – 2,952
REGISTERED VOTERS – 39,960
WARD – OROZO
APC -335
PDP – 674
ACCREDITED VOTERS – 1,051
REGISTERED VOTERS – 30,417
WARD – CITY CENTER
APC -1,093
PDP – 1,137
ACCREDITED VOTERS – 2,360
REGISTERED VOTERS – 74,245
WARD – GARKI
APC -914
PDP – 2,983
ACCREDITED VOTERS – 4,385
REGISTERED VOTERS – 86,109
WARD – KARU
APC -863
PDP – 1,848
ACCREDITED VOTERS – 2,857
REGISTERED VOTERS – 59,485
WARD – GWARINPA
APC -2,086
PDP – 2,609
ACCREDITED VOTERS – 4,953
REGISTERED VOTERS – 99,384
WARD – WUSE
APC -933
PDP – 857
ACCREDITED VOTERS – 1,897
REGISTERED VOTERS – 88,070
WARD – KABUSA
APC – 1,124
PDP – 2,494
ACCREDITED VOTERS – 4,154
REGISTERED VOTERS – 71,448
TOTAL
APC – 13,240
PDP – 19,302
PDP wins in three Area Councils
So far, the opposition PDP is taking the lead in the FCT local elections, winning three out of the four Area Councils declared so far by INEC.
PU004 Angwan Fulani/Town Hall II, Gwagwalada
Chairmanship
APGA 4
APC 46
PU 004, Bonugo Primary School.
Kwali Area Council.
Chairmanship
APC - 136
PDP - 199
Councillorship
APC - 104
PDP - 230
PU 027 Anagada Town, Tungamaje, Gwagwalada Area Council
Councillorship
APC 46
PDP 39
PDP chairmanship candidate wins own polling unit by landslide
Christopher Zakka, the chairmanship candidate of the Peoples Democratic Party (PDP) in the Abuja Municipal Area Council (AMAC) election, has defeated his closest challenger and candidate of the All Progressives Congress (APC), Murtala Karshi, alias Yamarayi, in his polling unit.
APC loses PDP senator's polling unit
The All Progressives Congress (APC) has lost the Saturday's Federal Capital Territory (FCT) council area elections in the polling unit of the senator representing the capital city in the National Assembly.
It lost the polling unit to the opposition Peoples Democratic Party (PDP), the party to which the FCT senator, Philip Aduda, belongs.
It took me 2-hours on my rollers to get to my polling unit - Person with disability
With the Federal Capital Territory area council elections currently ongoing, some persons living with disability have decried the challenges faced in accessing their polling units and areas.
This comes as several organisations have also called on the Nigerian government to ensure their work with relevant stakeholders to provide voting processes and platforms that fits all.
Slow accreditation process, faulty machine at Chief Palace, Kabusa polling units
One George Gonma feels bad about the slow pace of accreditation at the polling unit located at Chief's palace Garki.
At the Sheritti polling unit in Kabusa, information reaching us shows that the machine is faulty. These voters have been accredited but have been told that unless the Machine recognises their thumbprint they will not be able to vote. The voters are complaining and asking to be allowed to vote.
Huge crowd seen at PU003 LEA primary school Area 1 Garki
A huge crowd is seen at PU003 LEA primary school Area 1 Garki (Behind shopping complex). The accreditation and voting processes are ongoing.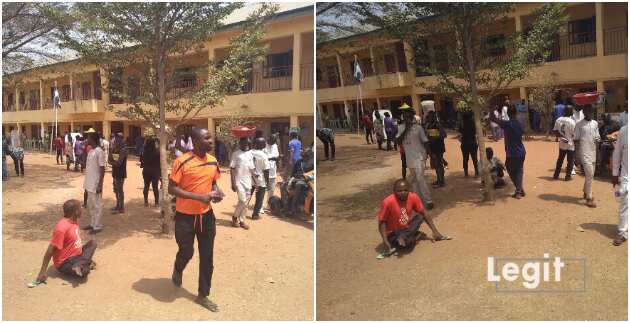 Voters apathy, lack of uniformity, frustration in FCT council elections
Activities across the polling units in the ongoing FCT council area elections are not uniform as some voters are still waiting to be accredited others have started casting their votes elsewhere.
Below are the activities and experiences in some of the polling units:
Kuje local council area
Voting is yet to start at Wuru polling unit 093 in Kuje local council area. A few voters waiting for the INEC officials who just arrived to start. The unit is opposite the INEC office in the area.
BVAS is ready to be used by INEC in Kuje local council area.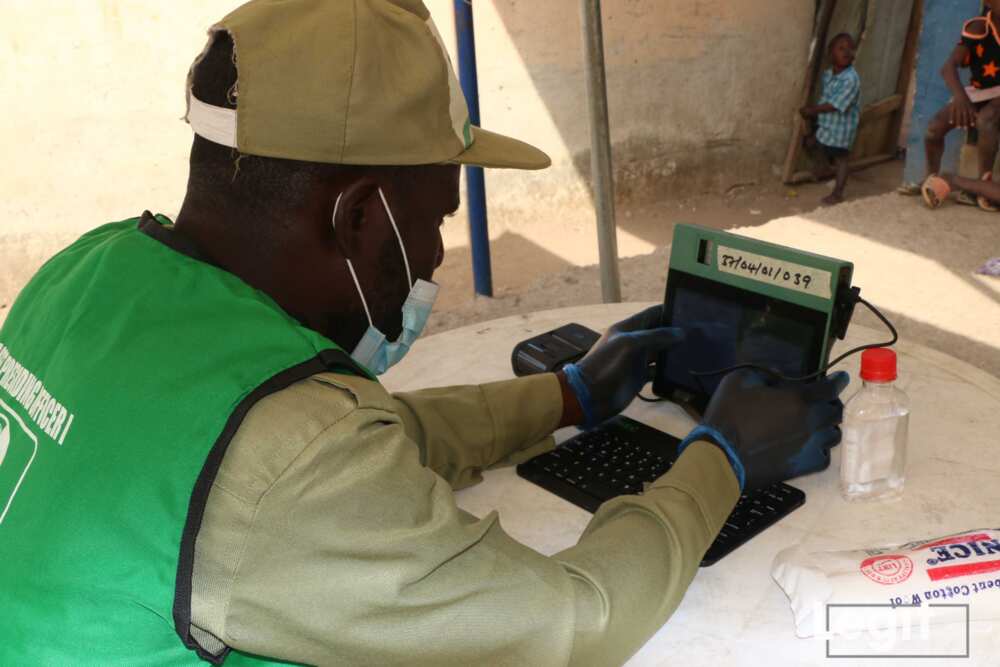 Suncity Estate Polling unit, AMAC
Accreditation and voting are about to commence at Suncity Estate Polling unit, AMAC.
Few voters and party agents were present.
The first voter casts his ballot after successful BVAS accreditation at Suncity estate polling unit.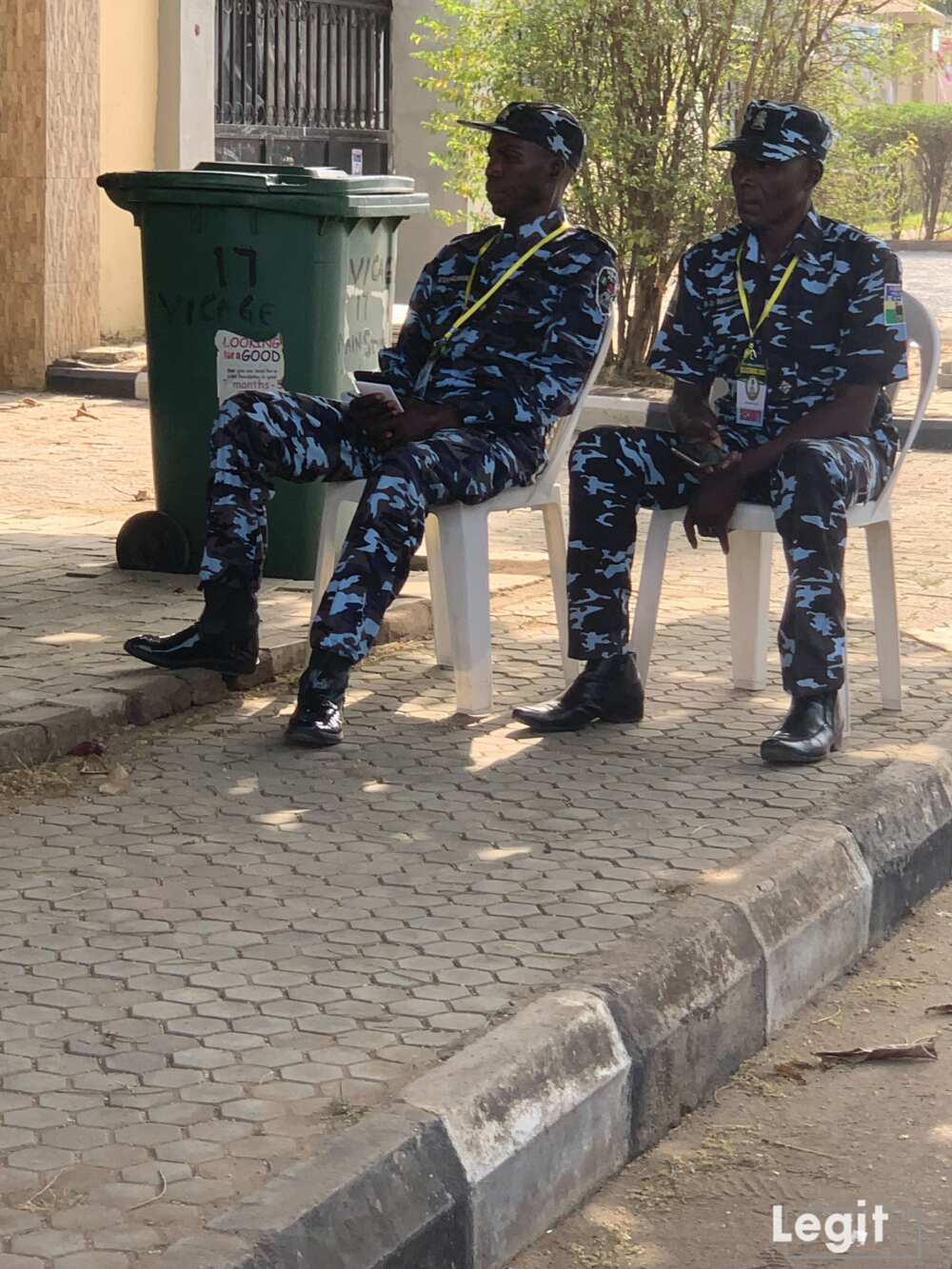 Sunnyvale Polling Unit
INEC officials still arranging the PU, few voters have arrived. Security agents are present.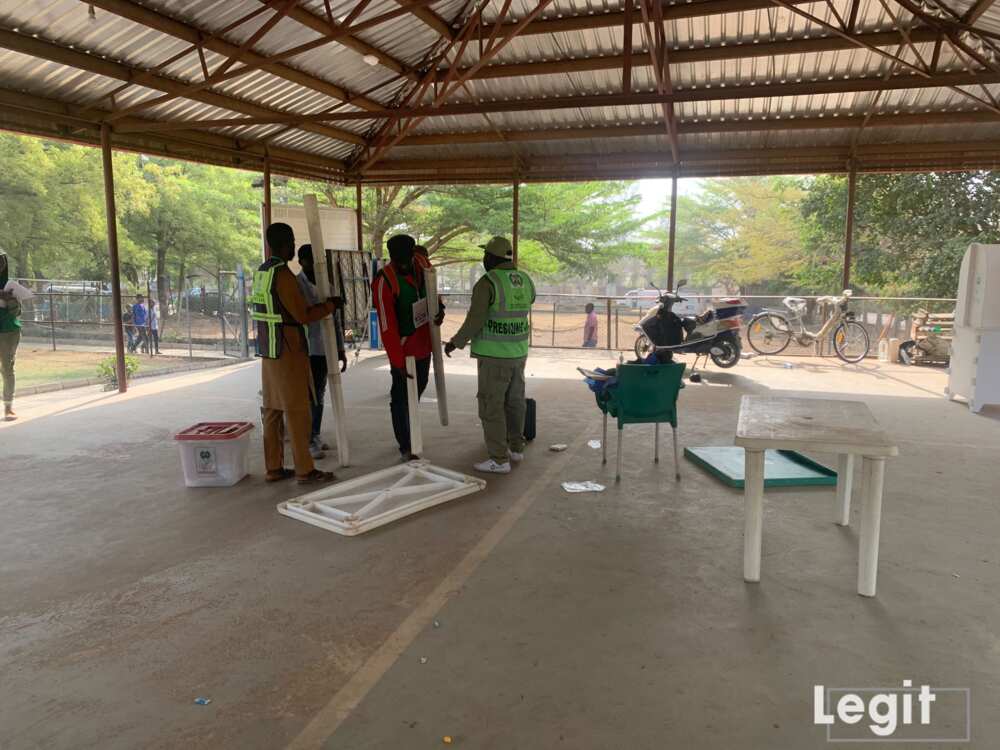 Chief Palace polling
Accreditation has commenced at Chief Palace polling unit near Amebo Market, Pasali Ward in Kuje area council.
Priority is given to a man on a wheelchair as the accredit begins.
Amsco Estate Galadimawa
INEC officials present, no voters at all, the number of registered voters for the PU is Five (5).
PU 014 Gwarimpa Ward
At Jabi Sariki Primary School, PU 014 Gwarimpa Ward, accreditation and voting are ongoing with security operatives present.
PU 108
At PU 108, the polling area is empty. No voter is present but officials are seated and prepared.
Officials at the PU108, Gwarimpa ward also said that they have been present at the area as early as possible and they have only one person on the voters' register.
"It is a new polling unit, just created and there's only one person registered here," an official said.
Galadimawa Primary School Polling Unit
INEC officials are yet to arrive. Many voters present, party agents but no Materials, no officials.
PU 106
The INEC ad-hoc staff said they have been here once at the area since 8 am but have yet to see any voter come around.
The officials also said the PU is a new one and just has one person on its register of voters.
55-year old Christiana Ejukwu who has a disability has voted and declared:
"My vote is my voice, no condition will make me not to vote. I came early and I was given priority. I am grateful."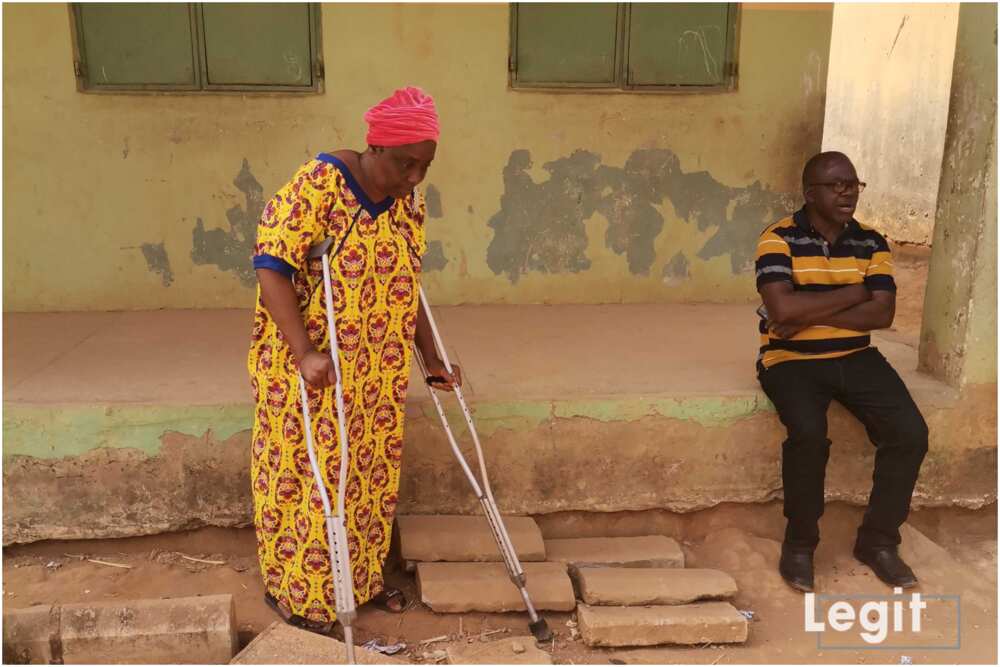 Kalu Okechukwu of the Lotus Initiative for the Blind tells Legit.ng in Kuje area council that INEC failed to supply magnifying glasses for blind voters. He also complained about inaccessible polling units for people with disability.
Polling unity 021 Pasali Primary School
One of the new polling units was set up by INEC with just two registered voters. The two voters have not shown up as at 10:30 am. Polling unity 021 Pasali Primary School, Kuje local area council.
PU 014
At PU 014, an agent of the Peoples Democratic Party (PDP), Godiya Danladi told Legit.ng that voting at the unit started a few minutes to 9 am.
Danladi said:
"So far, things have been okay but some of the machines are not working so they (INEC officials) have been managing."
She added:
"People are also coming out well to vote, you can see them on the line."
While the Berger area of Abuja appears to be deserted, other locations like Utako, Jabi are booming with business. Shops are opened with slight vehicular movement around the areas.
PU 088
At PU 088 just by Utako market, officials are seated and waiting for voters to arrive. An official said there is only one voter on the register at this polling unit.
Also, two party agents were present at PU088... The APC party agent said the atmosphere is peaceful and she is hoping that voters turn up.
"And let the best candidate win," the APC party agent said.
For the PDP agent at the unit, hopes are high as he also said he hopes voters come out en masse to exercise civil rights.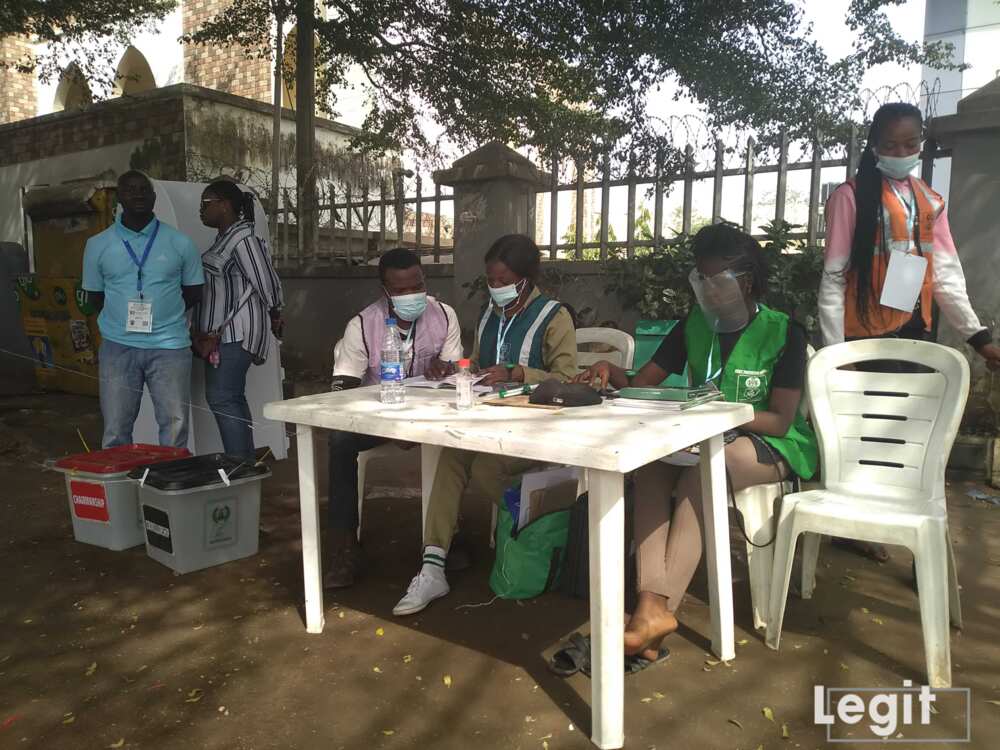 PU040
As at 10.49 am, only two voters have cast their votes at the PU040 on Lagos street by Drumsticks, Garki Ward. There are also 11 registered voters on the register.
Polling Unit 001
A huge crowd of voters waiting in Polling Unit 001 in Chibiri Primary School in Kuje area council
Also, members of the Nigeria Hunters Council are part of the security operatives deployed to ensure there is peace at all polling units in Kuje area council.
Polling unit 006 Low cost/Mass Agency
Polling unit 006 Low cost/Mass Agency in Kuje area council waiting to exercise their franchise.
"We want to vote, we are tired. The INEC machine is not working. They should use manual" Voters complain in Kuje area council.
Haruna Yerima Sunday, a resident in Kuje area council says:
"Our people are ready to vote, but INEC is sabotaging their efforts by insisting we can't vote manually even when their machines are not working. We are ready to wait here till next tomorrow to vote. Nobody will disenfranchise us."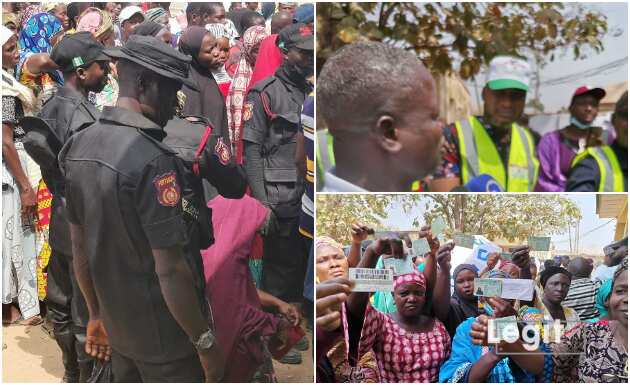 Dakan Shan, PDP's national vice chairman, northcentral, observed:
"We realized that the BVAS works in Polling units with small numbers. But where the voters are in thousands, the BVAS does not work."
Police command in FCT reveals criminals' evil plot during elections
The police command in the FCT has disclosed that some criminals are plotting to disrupt the elections.
Babaji Sunday, the commissioner for police in the FCT made this revelation in a security briefing on the election.
Sunday stated:
"Based on credible intelligence available to FCT police command, criminals are planning to explore the absence of restrictions of movement earlier announced to disrupt the peaceful conduct of the area council elections."
Absence of election officials drags suspence
No election officials as at 8:58 am at Customs, Karu FHA. Security operatives said they have been on ground since 6am. Helicopters also hovering around the area.