Ekiti Governorship Primary: PDP Finally Elects Candidate (LIVE UPDATES)
As members of the Peoples Democratic Party (PDP) in Ekiti cast their vote to elect a candidate to represent the party in the June 18 governorship election in the state, Legit.ng brings you live updates from the venue as well as bringing you to date with all the details you need to know about candidates and other political situations.
Bisi Kolawole wins PDP's governorship primary
Bisi Kolawole has won the governorship primary! Below is the result:
Kayode Adaramodu— 10
Kazeem Ayodeji— 6
Olusola Kolapo— 93
Deborah Ali— 1
Ojo— 1
Makanjuola— 1
Biodun Olujimi— 2
Aderemi Adewumi— 1
Adewale Aribisala— 56
Segun Oni— 330
Bisi Kolawole— 671
Kolawole is former governor Fayose's preferred candidate.
Early lead: Bisi Kolawole
So far, Bisi Kolawole has had the most mentions since the sorting started. Kolawole who is Fayose's anointed aspirant is closely followed by Segun Oni.
Fayose's anointed aspirant
Ahead of the declaration of the winner of the primary, former Governor Fayose's anointed aspirant is Bisi Kolawole.
Fayose snubbed his former deputy, Kolapo Olusola, who is also participating in the primary.
In 2018, Olusola was Fayose's anointed aspirant.
Olayinka is the spokesperson and director of media and publicity of Kolawole's campaign organisation.
Voting is over
All the delegates from all the LGAs in Ekiti state have now voted.
Governor Udom who is the chairman of the PDP primary election committee has announced that sorting of the votes will start now.
Fayose votes
Former governor Fayose who is a delegate representing Irepodun LGA, has now cast his vote.
Delegates from three more LGAs vote
Delegates from three more LGAs, Ikere, Ikole-Ekiti and Ilejeme, have voted.
Delegates from Ijero LGA cast their votes
Ijero local government area delegates are casting their votes. So far, delegates from eight LGAs have voted. Eight more LGAs remain.
Delegates from Ekiti West, Emure LGAs cast their voters
Ekiti West delegates have cast their votes. Their counterparts from Emure LGA have started voting too.
Delegates from Gboyin LGA voting
Accredited delegates from Gboyin LGA, five of them, are casting their votes now.
It's the turn of delegates from Ekiti East
Delegates from Ekiti East are now voting for their preferred governorship candidate.
Delegates from Efon LGA voting
Delegates from Efon LGA are now voting. It was gathered that accredited delegates from the LGA are 78.
Former governor Fayose arrives
Ayo Fayose, former governor of Ekiti state, has arrived. He exchanges pleasantries with Governor Udom.
First delegate votes
The first delegate to vote; she's from Ado LGA.
Voting begins
Voting has begun while Governor Udom threatened to eject anyone who misbehaves.
He said:
"I brought my security men from Uyo, if you misbehave, they will send you out. So you won't go and claim I brought security men from Ado, they are all from Uyo. Also, if you don't have any business to do in this hall, please go out now."
Governor Udom arrives
Governor Emmanuel Udom of Akwa Ibom state who is the chairman of the primary election committee has arrived at the Great Eagles Hall to supervise the voting.
Ballot boxes ready
Ballot boxes are already in place as voting will start soon.
Accreditation coming to an end as voting is about to commence
Accreditation is now rounding off at the Pastoral Centre in Ado-Ekiti. The next agenda is the voting proper.
Breaking: Abiodun Olujimi pulls out of Ekiti state PDP primary election
Senator Abiodun Olujimi has withdrawn from the PDP primary election. She said she is disappointed with the process.
She said:
"I feel disenfranchised, I feel like the party does not believe in my presence there. I believe the party does not believe in whatever I have done, so I have pulled out."
Some accredited delegates are already at the Great Eagle Hall
Some accredited delegates are already at the Great Eagle Hall. This is where they will cast their votes for today's exercise.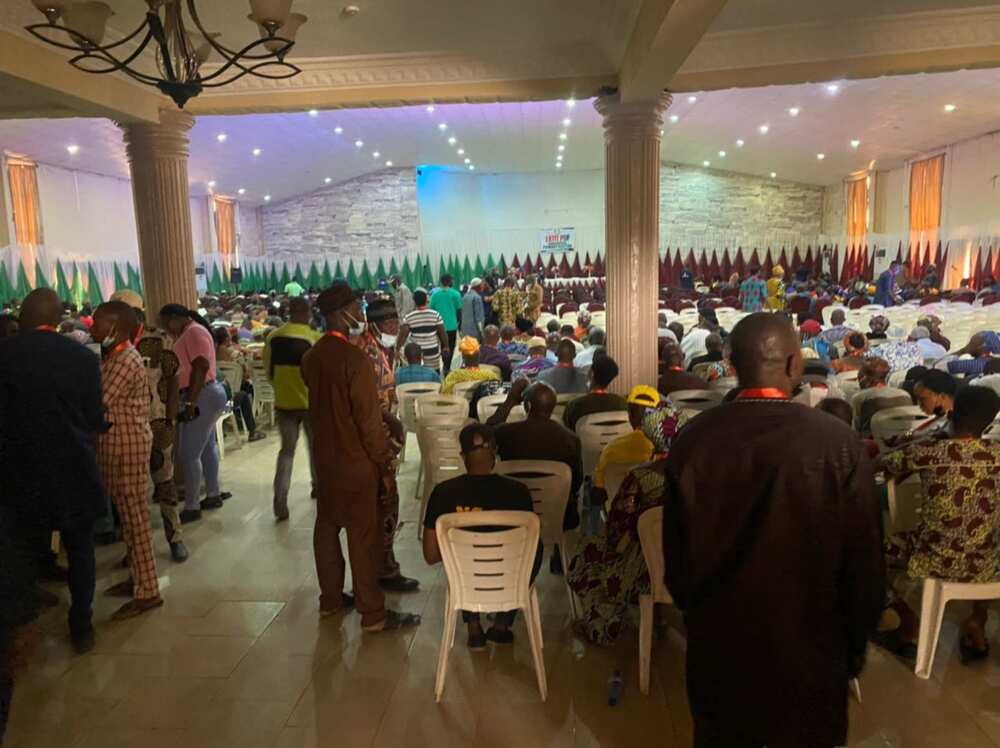 A brief recap
Ekiti has been an APC state since 2018.
In the 2018 election, Kayode Fayemi, the incumbent governor, secured 197,459 votes to defeat his closest challenger, Kolapo Olusola Eleka of the PDP.
None of the other 33 candidates in that election had up to 10,000 votes.
The PDP is keen to retake control of the state, hence, the party will be hoping to field a strong candidate at the governorship election on June 18.
Segun Oni, Biodun Olujimi, Kolapo Olusola Ereka and Bisi Kolawole are the leading horses in the race.
The APC will hold the primary election to choose its candidate tomorrow.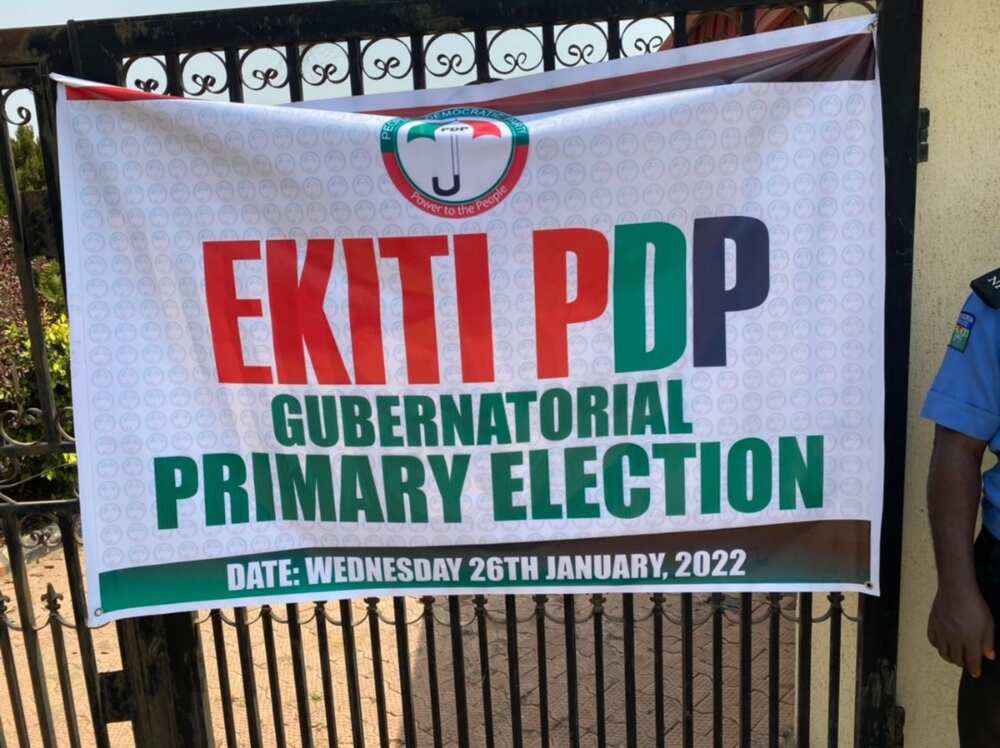 Accreditation still ongoing
While many have done their accreditation, some delegates are still waiting for their turn, after which they will proceed to Eagle Hall where the voting will take place.
Delegates from Irepodun LGA on the queue for accreditation
Delegates from Irepodun LGA are now on the queue for accreditation. This is the LGA of Ayo Fayose.
Delegates heading to the voting centre
Delegates are now heading to the voting centre at Great Eagle Hall, Ado-Ekiti
Emmanuel promises level playing field
Meanwhile, addressing the delegates, Emmanuel called for calm, promising to ensure a level playing ground for all the aspirants.
He said that the five -member electoral committee in collaboration with security agencies would not allow accreditation and voting process to be disrupted or manipulated by anybody.
Why Udom Emmanuel is present
Prior to this exercise, the Peoples Democratic Party (PDP) named a five-member committee to oversee the conduct of a special congress in Ekiti state ahead of the governorship election.
The party, through the national organising secretary, Umar Bature, said the team will be led by Akwa-Ibom state governor, Udom Emmanuel.
Other members are Nigeria's former minister of State for Defence, Olusola Obada, the deputy minority leader of the House of Representatives, Toby Okechukwu (secretary), Michael Mku and Ibrahim Khalid.
The committee has been tasked to elect the PDP governorship flag bearer in January 26, 2022 exercise.
Emmanuel Udom overseeing the exercise
As the delegates get accredited, Emmanuel Udom, Akwa Ibom governor, is overseeing the exercise.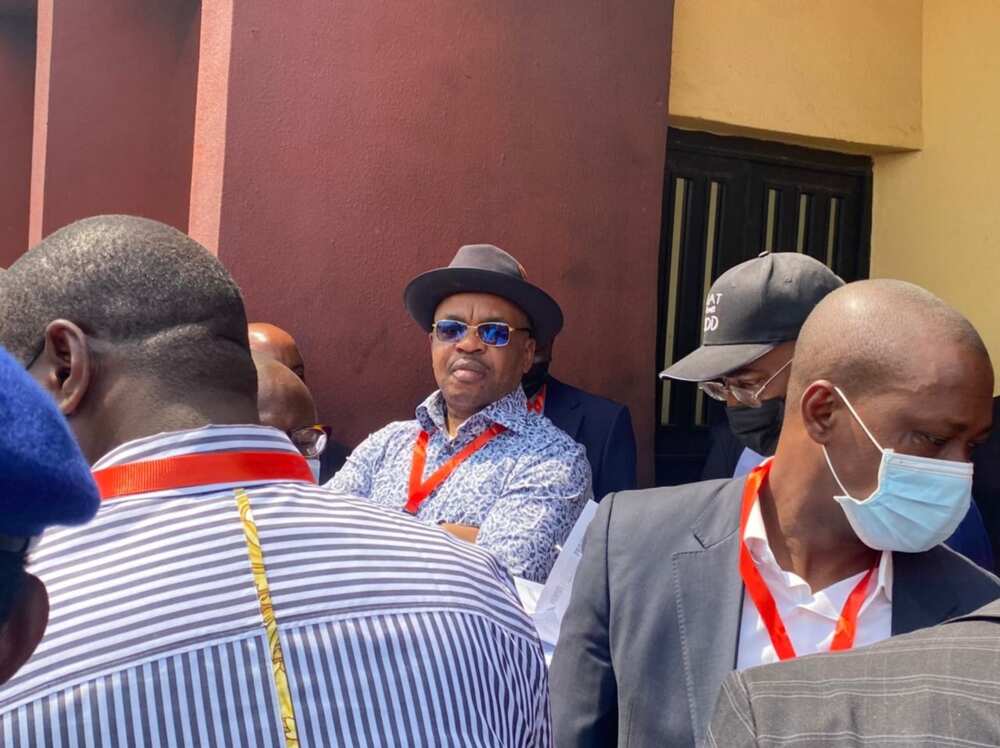 Delegates from Oye-Ekiti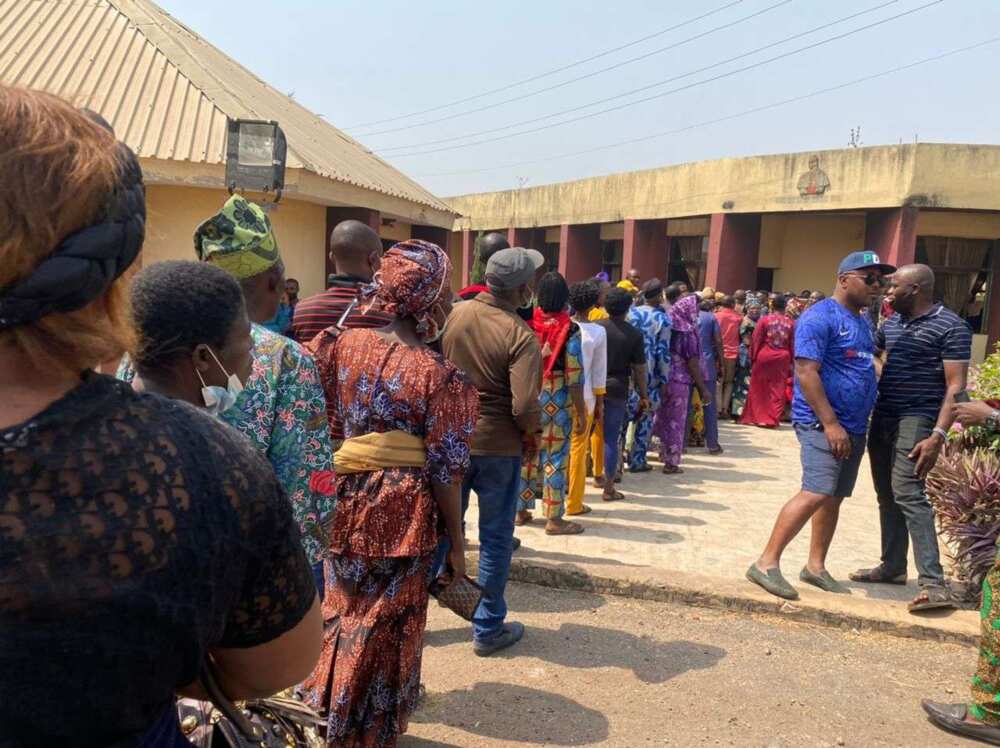 Segun Oni joins the queue for accreditation.
Segun Oni, a former governor of Ekiti state and one of the aspirants, joins the queue for accreditation.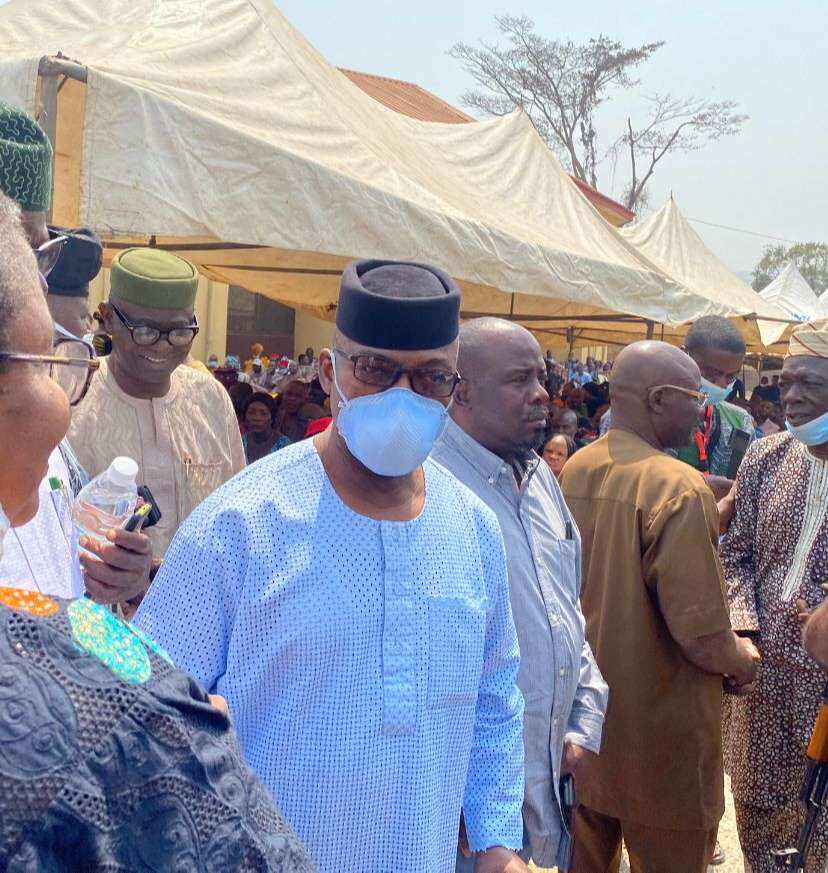 Lere Olayinka sitting with delegates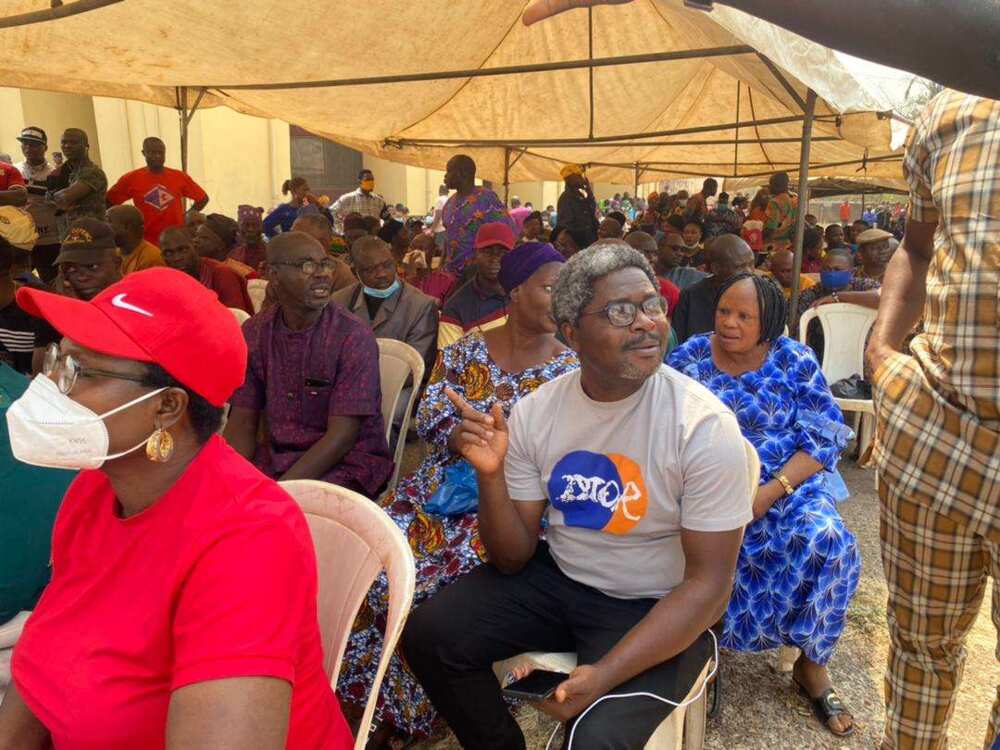 Cross section of delegates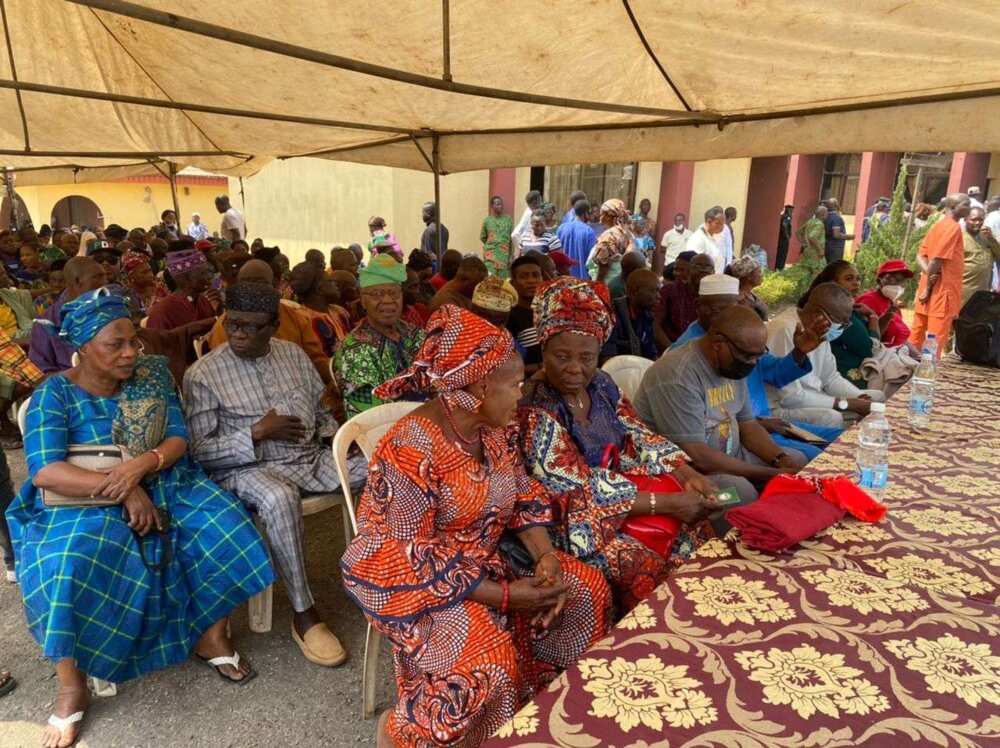 Protest against 'doctored' list
Allegation of doctored list
A report by the Cable indicates that some delegates from Ikole, Ido-Osi and Oye LGAs fear that the delegate list may have been doctored. Some of them said their names are no longer on the list they believe was originally submitted.
Delegates from Ikere-Ekiti LGA wait to get accredited.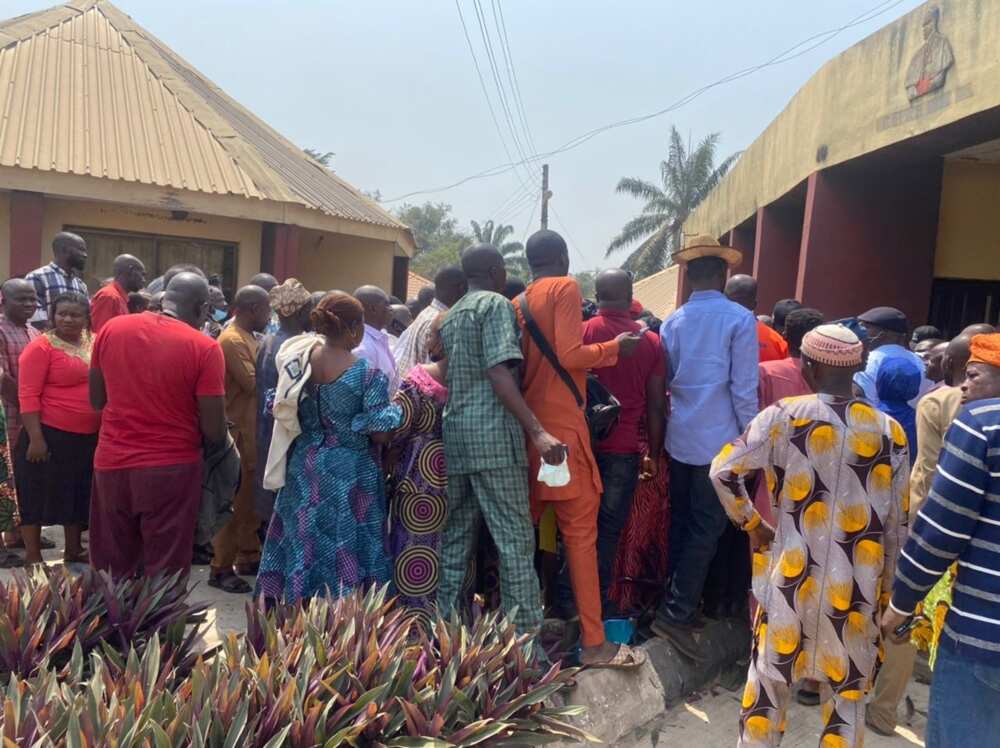 Gov primary: Soldiers arrest 150 armed thugs in Ekiti
Soldiers of the 32 Artillery Brigade of the Nigerian Army in Ondo on Wednesday, January 26, nabbed about 150 political thugs in the Efon Alaaye area of Ekiti.
Punch reports that the arrested persons were on their way to the Ekiti primaries when they were nabbed in the early hours of Wednesday.
The thugs will be taken to Owens Barracks in Akure, the Ondo state capital for further investigation.
The incident was confirmed by the Brigade's spokesman, Akin Omojokun.
Political thugs from Ibadan with guns heading for Ekiti PDP primay election
The Nigerian Army has reportedly intercepted some armed members of the Oyo state Park Management System otherwise known as National Union Workers (NURTW) at Ita Awure/Efon Junction, Osun state.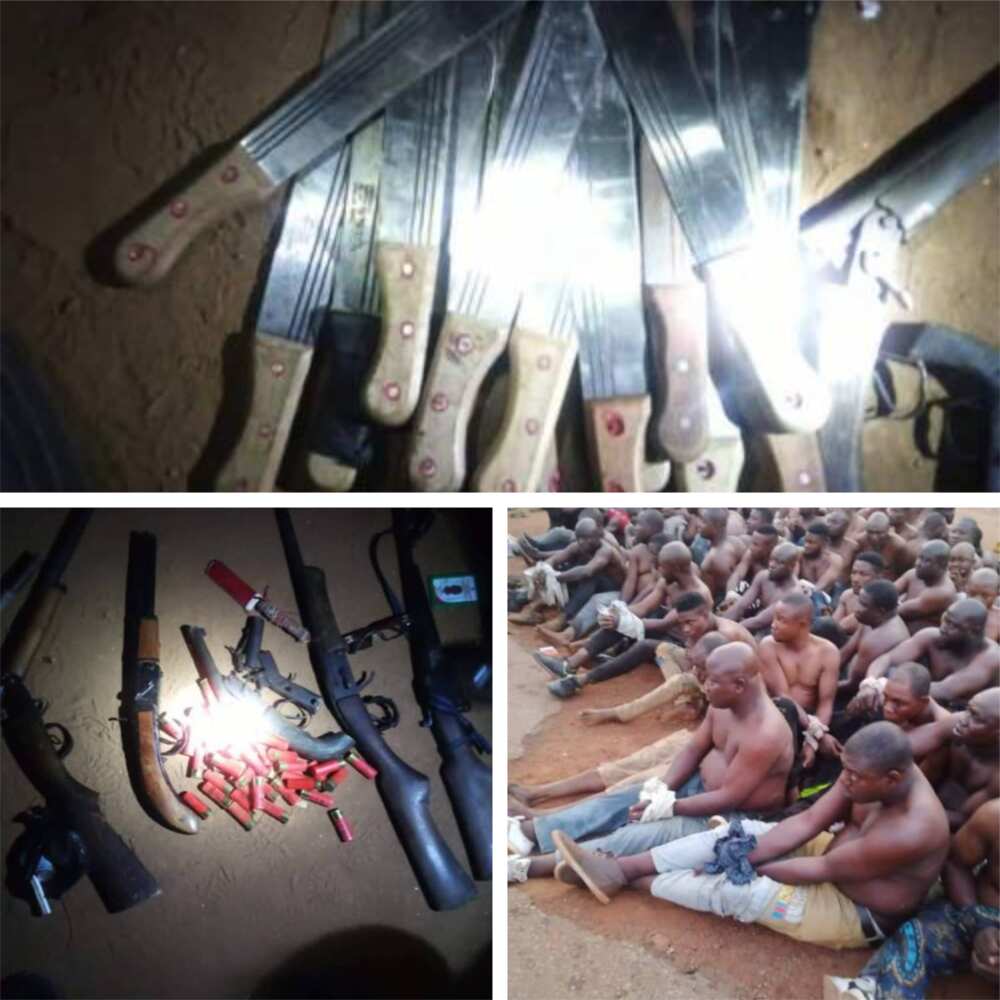 They were reportedly heading for Ekiti, to disrupt the Peoples Democratic Party (PDP) Primaries, slated for today.
Governor Seyi Makinde reportedly backing Segun Oni
A report by Sahara Reporters claimed that Oyo state governor, Seyi Makinde, is supporting emergence of former governor Segun Oni.
Here are the contestants
A strong contestant in the primary is former Senate minority leader and Senator representing Ekiti South, Mrs. Biodun Olujimi.
Another strong contestant is Bisi Kolawole. He was a former chairman of the PDP in Ekiti who resigned his position to contest the governorship election. He is the preferred aspirant of Ayo Fayose, former governor of the state.
Segun Oni, a former governor of the state who returned back to the party, after a stint with the ruling APC, would be on the ballot for today's primary.
Other contestants are: Senator Olujimi, a renowned Architect, Mr. Lateef Ajijola, former House of Representatives member, Hon Wale Aribisala; former Deputy Governor Kolapo Olusola; Otunba Yinka Akerele, former banker, Kayode Adaramodu, among others.
17 candidates vying for one position
At the last count, 17 contenders have expressed interest in being the PDP's candidate in the election which is just about five months away.
Delegate shows off card