I Am Getting Married Next Year- Dj Lambo
One of Nigeria's hottest Disc Jockey, DJ Lambo is known not only as a music lover but for her signature hairstyle and her unique dress sense.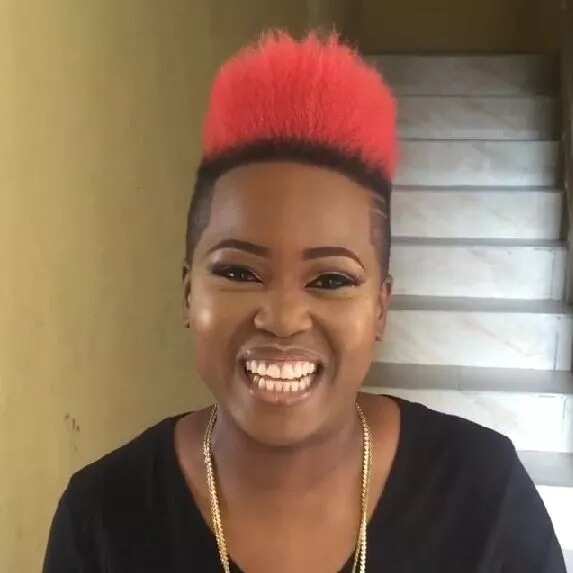 DJ Lambo would never be caught in a female outfit as she finds it comfortable dressing like a man. This has made many confused about her true identity. Many will be shocked that the Disc Jockey is in a relationship.
READ ALSO: What Celebrities Wore To City People Award 2015
[article_adwert]
According to Punch, DJ Lambo disclosed that she would be getting married soon and despite her dress sense, men still make advances at her.
She said "have you seen my booty? Despite my looks, I get a lot of advances from men. In fact, I am getting married next year by the grace of God. When I get married I would still be a disc jockey and I doubt anything would change about me".
DJ Lambo added that, the fact that she is getting married does not mean anything would change about her, including her dressing.
She said "the whole point of being with someone you love is about understanding. It is about being with the person regardless of stereotypes and the norms. If my spouse likes me the way I am, then I don't see a reason I should change because I am getting married. I'm a non-conformist and a rebel so I would do whatever suits me. Even if I am going to change my style in the long run, it would be because I decided to and not because of what anybody would say or as a result of societal pressure".
READ ALSO: Chocolate City Shut Down 2015 Beat Of Lagos Event
When asked about how she decided to become a Disc Jockey, she disclosed that, she got the inspiration from her father.
DJ Lambo said "my father was a disc jockey and his stage name was, DJ Tony Lewis. He was the one that inspired me to become a DJ. Also my love for music made me to be a part of the entertainment industry".
DJ Lambo is signed on to Chocolate City.
Source: Legit.ng